Due to the proximity of Lake Starnberg to Munich, this beautiful watery expanse is an ever-popular place for Bavarians to live, as well as being a much sought-after destination for München day-trippers.
Well known for its crystal-clear water and stunning views, Starnberger See is located just south of Munich. At over 20 kilometers long Lake Starnberg is dotted with picturesque villages, and with its mountainous backdrop, the lake actually appears to disappear into the Bavarian Alps themselves.
Visitors to Lake Starnberg can enjoy swimming, sailing, fishing, kayaking, hiking, and more, making it a year-round Bavarian tourist destination. With dozens of hotels and restaurants on the lake, it's very easy to see why this part of Bavaria entices people to stay long beyond just a day trip.
LAKE STARNBERG HISTORY
First mentioned in any sort of document under the then name of Uuirmseo, Lake Starnberg has a long and interesting history. This watery expanse lies in a valley formed from glacial movement over millions of years known as a "glacial hollow" (Zungenbecken).
Over the next half a millennium the original Uuirmseo name for the lake became Wirmsee as it evolved through the ages as a derivation of the River Wurm which flows out of Starnberg Lake. In the 19th century, the River Wurm spelling was altered to be River Würm, and thus the lake became known as Würmsee.
It wasn't until the arrival of the industrial revolution in the 19th Century that the emergence of steam trains saw the lake truly become a destination for Müncheners which again saw a name shift as the trains from Munich to Starnberg departed from the Starnberger Flügelbahnhof (Starnberg Branch Station).
And so it was that finally, in 1962, that the Würmsee became the Starnberger See – Lake Starnberg.
Famously immortalised in many great paintings, musical compositions, and more, Starnberger See is probably most famous for its mention, just like the Munich Hofgarten, by the famous poet and literary T. S. Eliot in his wonderfully evocative piece of prose entitled The Waste Land.
STARNBERGER SEE FACTS AND STATS
Lake Starnberg is a gorgeous and unique part of Bavarian nature, and here are some of the reasons why it is so famous, and infamous, and is an exciting destination for tourists!
At 21 kilometers from North to South (approx 13 Miles) and up to 5 kilometers in width at the widest point, this is the second biggest lake in Bavaria after the Chiemsee which is 80 kilometers to the west of Starnberg. The third biggest lake in Bavaria is Lake Ammersee just 7kms west of Lake Stanrnberg.
The banks of Lake Starnberg are supposed to house the highest concentration of millionaire inhabitants in the entire country.
Starnberger See is plunges to 127 meters at its deepest point.
There are UNESCO recognised pre-historic settlement remains dating back over 5,000 years at the bottom of Lake Starnberg near Rose Island.
A specialised circular sewerage pipe and drainage system collects water waste from all the settlements about the lake which is why it is so famous for being crystal clear despite there being an urban population on the shores of the lake.
The all-powerful Wittelsbach ruling family of Bavaria built their summer residences here from as far back as the Middle Ages for tranquility, hunting, fishing and all manner of other entertainments.
From small to large there are 7 different castles dotted around the perimeter of Lake Starnberg.
King Ludwig II lived on the shores of the lake and in the nearby principalities and mysteriously died here in the lake as well.
The cycleway around the lake is 75 kilometers long.
THINGS TO DO ON AND AROUND LAKE STARNBERG
Yachting: Sailing is a massive pastime on the lake and on a sunny afternoon you'll see dozens and dozens of yachts dotted about the surface of the lake.
Pleasurecrafting: Aside from sailing this is a destination that is massive for those who love the pursuits of Kayaking, Canoeing, Windsurfing, and Paddleboarding which are very popular activities on the lake. As well as the opportunity for sailing there are numerous places to rent paddle boats or small motorboats as well.
Hiking and Cycling: With numerous walking and hiking tracks around the lake and a 47-mile cycleway that circumnavigates the entire lake you won't run out of new places to explore about the lake on foot that's for sure. Explore the wonderful Maisinger Schlucht Nature preserve in Pöcking or the Ilkahöhe hike that starts in Tutzing.
Swimming and Diving: Clearly more popular in the warmer months swimming is a joy at Lake Starnberg thanks to its crystal clear waters. Diving is also possible with a few places actually offering SCUBA Courses. You'll need special permission access to dive on the lake but it certainly is a possibility and indeed many divers every year visit the area to experience Lake Diving.
Fishing: Anglers love the Starnbergersee where catches can include trout, perch, pike, eel, and carp. Fishing here, much like yachting, does require a valid license, so make sure you do check on all the local rules and regulations.
Shopping: With such a high disposable income demographic living in the area, Starnberg does have a number of fashion label stores and designer outlets. However, just like the Second Hand Munich experience, there are still bargains to be found in the area with a number of Second Hand and Reclaim Stores available in the shopping district of Starnberg. Other towns on the lake have shops also and there are numerous touristic and souvenir stores from where to buy postcards and the like.
Eating and Drinking: Germans, and Bavarians in particular, LOVE to eat outside and with such a spectacular backdrop it's no wonder that Starnberger See has so many varied types of culinary establishments about the lake. There would have to be literally hundreds of places to enjoy Eating and Drinking (Essen und Trinken) on the Starnberger See.
Sightseeing: There are several towns on the lake and loads of parks, gardens, museums, castles and more to explore both on the lake and in the very near vicinity to the lake. Take Seefeld Castle for example which is just 6kms to the west. In a week you won't have time to see everything of interest on Lake Starnberg or in this region, there are simply too many activities and attractions/sights things to fill your time.
Aside from the main town of Starnberg itself, right at the north of the lake, there is Seeshaupt on the south banks and Tutzing, Pöcking, and Feldafing on the western side of Starnbergersee. Smaller villages and hamlets caress the lake shores also such as Berg, Bernried, and Wimpassing.
From the Air: Hot Air Balloon rides and flyovers in small aircraft are possible, and you'll often see a balloon gliding gracefully over the waters of the lake.
THE FERRY AT LAKE STARNBERG + BOAT TOURS
The Starnberger See is so vast that it has its own Ferry services that are operated by the company Bayerische Seenschifffahrt GmbH. This company also offers passenger boats on other lakes in Upper Bavaria at Königssee, Tegernsee, and Ammersee as well.
There are several ferry stations about Lake Starnberg and it takes around three hours to complete the entire circuit by ferry. The ticket you purchase from Bayerische Seenschifffahrt permits passengers to get out at any station and look around, then reboard the next boat and carry on about the circuit.
Private tour guides are possible to hire for lake boating tours many of whom utilise the ferry services for their tours but some smaller operators also provide tours with much smaller craft. Contact Bayerische Seenschifffahrt GmbH for more information or check out personalised tour companies such as those similar to Tours By Locals who use fantastic local tour guides such as FRANZ FROM MUNICH
Starbergersee also hosts both a Sailing and a Rowing Regatta each year. Both are very well attended and provide for some wonderfully colourful boating photography and video on the sparkling summer waters of Lake Starnberg.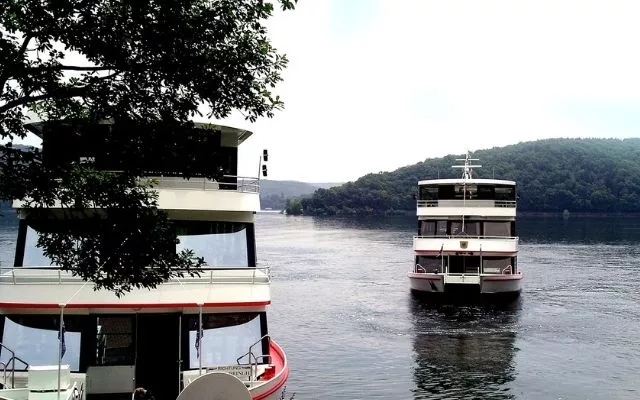 LAKE STARNBERG AND KING LUDWIG II
The most famous of Bavarian rulers, King Ludwig II, lived by Lake Starnberg in the summer months. He would usually make the move out to BERG PALACE (Schloss Berg) on May the 10th each year to seek solitude from court life.
Rose Island Lake Starnberg (Roseninsel)
King Ludwig's father – Maximilian II – had overseen the construction of a Royal Villa on Rose Island featuring pergolas, wonderful gardens, galleries, and even a lookout! It was here that as an even further withdrawal from the public eye, the Fairytale King Ludwig would ofter seclude himself on Rose Island and receive only his closest friends and carefully selected confidants and guests.
Some of his visitors here included world-famous composer Richard Wagner, Russian Empress Maria Alexandrovna, and most regularly the Empress Elizabeth of Austria, known to Ludwig as his cousin "Sisi".
Rose Island is also the location of where the 3,000-year-old UNESCO recognised dwellings were found. In the shallow water of the northeast of the island, these Pile Dwellings are vitally important to the history of the Island and of this area that has been occupied since the pre-historic.
The Death of King Ludwig In The Lake
King Ludwig was well known to have expensive escapist fantasies and outrageously extravagant architectural ideas. His constant expenditure was not looked favorably on by his government and had bought both the Crown and the State of Bavaria to the brink of ruin. As a result, his own ruling cabinet declared the King as being mentally ill and had him deposed from power.
Just days later, in the most mysterious of circumstances, and a topic of hot gossip until this very day, King Ludwig and his physician were found drowned in Lake Starnberg on June 13, 1886. To commemorate his death an eerie wooden cross can be seen that appears to emerge from the depths of the lake in the place where the King's body was found.
King Ludwig left an artistic legacy behind in this part of the world, as he had overseen the construction of some of the greatest of Bavaria's most famous tourist attractions such as Neuschwanstein and Linderhof Palace
Because of the close ties of the lake to the Bavarian rulers of Wittelsbach and also King Ludwig II himself, the lake is also known locally as the Prince's Lake (Fürstensee). Accessed only by boat Roseninsel (Rose Island) is now an idyllic destination for private events and is particularly sought after as a wedding venue.
WHERE IS LAKE STARNBERG? HOW TO GET THERE!
Being so close to Munich Lake Starnberg, as you can imagine, has very good transport links and is VERY easy to get to via car, cycle, train or bus. Loads of people even make the 5.5 hour hike out from Munich each weekend to enjoy the watery scenes, maybe have a spot of lunch and then catch the train back to town.
Getting to Lake Starnberg By Train
With over 400 trains a week between Munich and Starnberg you certainly won't have long to wait for a train. The 27-kilometer (17 mile) train trip between Munich and Starnberg takes just over 25 mins min.
Deutsche Bahn Regional is the rail operator and the train departs from München Hbf to arrive in Starnberg on the S6 Line. Schedules can always vary especially in high season, in school holidays and on weekends so make sure you check timetables in advance. Click HERE for a Munich Train Map PDF Download.
Getting to Lake Starnberg By Car
It couldn't be easier to get out to Lake Starnberg by car – simply take the A95 motorway in the direction of Garmisch-Partenkirchen and take the Starnberg turn-off which takes you onto the A952 for 5 kilometers into Starnberg. From Starnberg, you'll have easy access to the entire lake as there is a ring road that traverses the circumference of the Starnberger See.
Getting to Lake Starnberg By Bus
There are a number of buses than run through, and to Starnberg from different directions. The MVV Website is the best resource available for Train and Bus timings and routes to Lake Starnberg and for all routes around the lake as well.
Getting to Lake Starnberg By Cycle
So many people prefer to ride their bikes to Lake Starnberg. ; Indeed we've done this many times. The best thing about cycling to the lake is the feeling of freedom and achievement as you pass through a range of different countryside scenes. Urban areas, parklands, farmland, forests, shady trails and more will greet you on a bike ride to Lake Starnberg.
The ride takes around two to two and a half hours depending on your ability and fitness with only a couple of hilly spots on the ride out. But be warned, if you are going to cycle onto Kloster Andechs, there is a "killer hill" just as you depart Starnberg! Not a climb for the feint-hearted we can assure you!
Getting to Lake Starnberg On Foot
The walking route from Munich out to Lake Starnberg is basically the same as the cycle route as there are purpose-built walking paths pretty much the entire way taking in the same enjoyable countryside scenery.
The walk will take around 5 to 6 hours depending on fitness and your speed of step with a lot of walkers choosing to leave Munich at 6 or 7am to arrive in Starnberg at the Lake in perfect time to take in some lunch before heading back to Munich on an afternoon rail or bus service.
Lake Starnberg Location Map
We actually have an entire travel page dedicated on all the best options of Getting From Munich To Starnberg so please do check that out. There is also an entire resource on Munich Travel that you might be interested in.
LAKE STARNBERG: WOULD YOU LIKE TO VISIT?
There you have it – this is all you needed to know about Lake Starnberg Germany! There is so much history and so much to see and do here that it's practically impossible to get sick of this beautiful part of Bavaria!
We love it out here and regularly visit on our bike rides from Munich out to Kloster Andechs as we go right past Starnberg. Would you like to visit Starnberg?. Have you already been to the Starnbergersee yourself? Have you competed in a Lake Starnberg Boat Race? If so what was your favourite part when visiting the area?
For more on where to swim in the city if you cannot make it out to Stanrnberger check out our article on Lakes in Munich.
Let us know on our Contact page and thanks for reading! Have a great Day – Schoenen Tag wunshe ich Ihnen
For more on Lakes in Munich please do have a look at THIS ARTICLE about Lakes in Munich.