Snow in Munich: The Facts
Yes, it does snow in Munich! Typically, it can snow quite a lot between the months of November and March where the overall average snowfall in Munich Cities "snowy" period amounts to around 2.5 centimeters (1 inch) each month. Whilst this might sound like a lot of snow, in reality, heavy snowfall in Munich is actually quite rare with most snowfalls occurring as light snow which may not settle on the ground for too long.
Bavaria's Capital City is located between the Isar River and the Alps at an altitude of over 500 meters and experiences cold air masses "coming down" from the ALPS each winter which ensures Munich is recorded as the coldest city in Germany.
Despite this fact, the climate of Munich is actually known as being "Continental", meaning that in general, the city experiences cold winters with warm (but not hot) summers.
So whilst there are many reasons to visit Munich, if you wanted to visit the city because you love snow, then this post is for you, as we'll outline the best places to visit in the city during its snowy period, and provide all the information, tips, and guidance on what to do and what to avoid!
When Does it Snow in Munich?
As we said earlier The Snowy Period in Munich is between the start of November and the end of March. With temperatures often dipping below freezing in Winter Munich experiences snow quite regularly, but often it's actually too cold to snow as snow will only fall between ZERO degrees Celcius and -2 degrees Celcius.
February is usually the biggest Month for snowfall in Munich where the average snowfall is around 7 centimeters (2.7 inches). Conversely, February is also Munich's driest month.
March is usually the lowest Month for Snowfall in Munich during the city's snowy period and has the least likelihood of heavy snowfall occurring in the city's snow period.
It does regularly Snow in December in Munich when the city is transformed into an almost fairytale-like funland, where the famous red rooves of Munich are covered with a white blanket that glitters in the faint winter sunlight.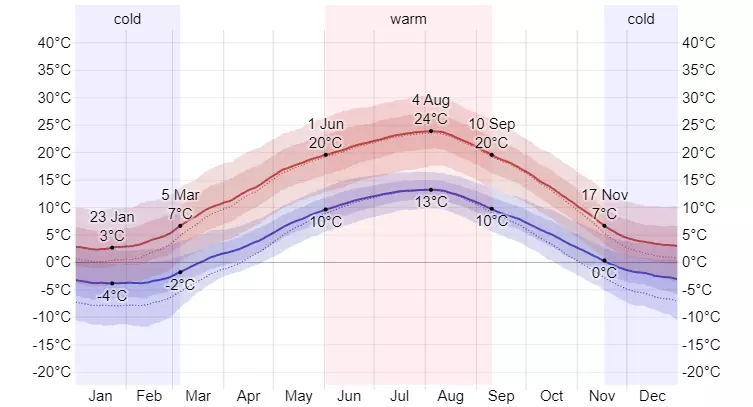 Winter in Munich
Envisioning Winter in Munich probably brings forth images of boutique Christmas markets, baked sugar-coated nuts, steaming mugs of Gluhwein, warm baked chestnuts, and outdoor ice skating among other things.
Rightly so too, as all these things are part of the city's winter charm.
Thanks to those multiple Christmas Markets scattered about the city, December is the month of winter in Munich that attracts the most tourists. And, because of that fact, the city provides plenty of organised events to enjoy in accompaniment.
But besides the Christmas Markets, there are festive tram rides to enjoy, Skiing Day Trips to the Zugspitze, heated pools to immerse yourself, and much more that awaits the intrepid winter traveller, as well as for Munich locals alike.
What to Do in Munich When it Snows?
Here is our recommended list of the 7 Best Things To Do In Munich When it Snows.
All are gained from our own experiences here in the city. Obviously, some of these activities are suitable whether there is snow or not!
Atop of this, there are many more activities that are on offer in the city over the colder months and we'll elaborate further on those in our upcoming article on visiting and enjoying Winter in Munich.
Get a Birds Eye Snow Scene of the City
Experience a Body Warming Thermal Bath
Try Some of Munich's Best Coffee
Witness the Unique Krampus Run
Go Sledding on the Hills of Munich
Visit the Warm Interior of Munich Museums
Enjoy the Taste of a Bavarian Hot Chocolate or Glühwein at the Christmas Markets
Public Transport When it Snows in Munich
Winter in Munich, and indeed this part of Alpine Europe, is all set up to cope very well with snowfall.
Munich's public transport systems are always very efficient and even during the wintertime when there are unusually high periods of snow, still they remain operational and generally always run to schedule. Cancellations and delays on public transport in Munich are rare, even in the coldest winters.
To find out more about Munich's Public transport please check out our post on Getting Around Munich and if you need any of the local Public Transport Maps in PDF check out our page on Maps of Munich.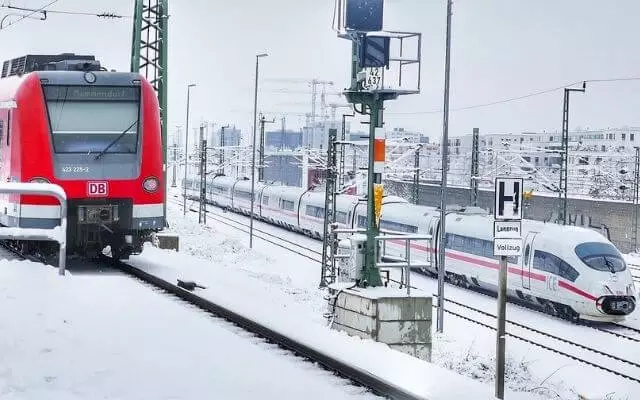 Munich Airport Snow Delays
If the snowfall in Munich overly affects visibility, the arrival and departing intervals of aircraft into Munich Airport (Flughafen München) will tend to increase. These lengthened intervals may cause delays on particularly snowy Munich days which may, in turn, lead to flight delays and cancellations at short notice.
In the rare cases that flight operations are impacted at Munich Airport, there will always be additional personnel on hand across all terminals to answer passenger's questions and queries arising from snow delays and other concerns that might arise from flight delays or cancellations.
As most visitors to Munich utilise Munich Airport as their entry point into the city it's pertinent to be aware that ALWAYS, as you would expect, safety is the number one priority. The airport's Winter Services crew works very hard to keep runways free of snow and ice, and every year they de-ice up to 15,000 aircraft.
Check out the short video below on just how switched on and prepared the authorities at Munich Airport are when it comes to tackling large snowfalls at the airport.
Snow in Munich: What to Wear
To take full advantage of any snowfall in Munich, correct footwear will be your most important ally. With so many outdoor activities to enjoy when the city is under snow, your first thought should be to have comfortable waterproof shoes or boots to traverse the icy streets along with a quality warm jacket as standard.
If you really feel the cold some thermal undergarments will also serve you well as will a scarf, gloves and ear warmers, or a beanie (bobble hat).
If you have dressed appropriately, no matter what the temperature fluctuations in the Munich Winter, you'll have less to worry about giving yourself more time to enjoy everything this amazing city has to offer.
Snow in Munich: Final Thoughts
There is so much to do, and so much enjoyment that can be gained from visiting Munich during winter (and during its snowy period in particular) that you'll never run out of entertainment options.
When the Snow Falls in Munich adults are swept up in the pure delight that snowfall brings to children, and many can be seen sledding and "whooping it up" with their kids on the snowy hills of Munich's Many Parks.
The picture-perfect Snow Sprinkled City of Munich can be a veritable Winter Wonderland and we do hope you'll decide to come to visit Munich in the Winter and enjoy everything Munchen has to offer!
Thanks for reading and as always, if you have any comments or information on our blog or in regard to experiencing Snow in Munich – we'd love to hear from you. Simply drop us a line using our Contact Us page where we'll be very happy to hear from you.

Schnee in München | Schnee in Bayern | schneit es in münchen