Nestled within the breathtaking Bavarian Alps, the Königssee is a true gem and harbinger of natural beauty in Germany.
We still remember discovering this lake way back in 1995 on our very first trip to Germany, and we've been in love with Lake Konigsee ever since.
Known as the country's deepest and cleanest lake, it promises visitors an unforgettable experience filled with stunning landscapes, historical attractions, and a myriad of activities to suit every traveler's taste.
We've previously covered Lakes in Munich and now we have an ULTIMATE list of the 20 Best Lakes in Bavaria for you to check out. Don't miss these articles guys!
In this comprehensive guide, we'll explore everything there is to know about the Königssee so that you can plan an amazing trip to this spectacular destination.
So whether you're looking to kick back and relax on the water, or sight-see nearby towns and villages around the area in Berchtesgaden National Park, Konigsee seriously is well worth the effort of visiting.
Let's jump in and rediscover this watery beauty together! 
History of The Konigsee
The history of the Königssee is intrinsically linked to the Berchtesgaden region, which has been inhabited since the Stone Age.

The lake's name, which translates to "King's Lake," is derived from the Bavarian Royal Family, who once owned the entire area.

However, legends also state that the name refers to a magical king who resides in the lake's depths.
Over time, the region transformed into a coveted vacation spot where people could escape urban hustle and enjoy serene Alpine views.

The lake and surrounding area served as a refuge for famous personalities like Wolfgang Amadeus Mozart and Emperor Maximilian I of Bavaria throughout history.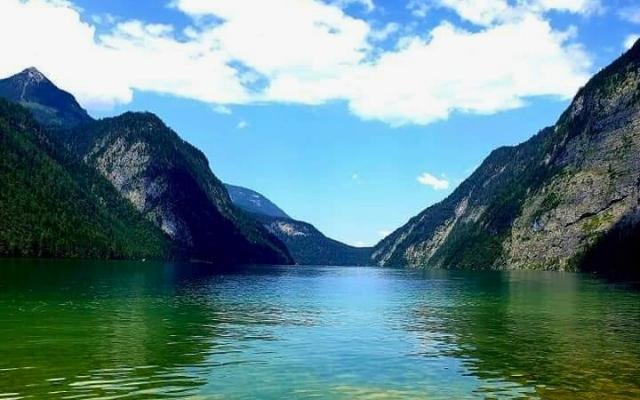 Everything About the Königssee?
This area of Berchtesgaden surrounding the Konigsee is a very popular touristic location in Germany, especially for Germans themselves.
Here we take an in-depth look into the Königssee's breathtaking geography, unique microclimates, precise location nestled deep in the Bavarian Alps, and other fascinating details that make this lake so special.
Where is Lake Königssee?
The Königssee is located in southeastern Germany near the border with Austria.
The closest towns are Schönau am Königssee just at the north end of the lake and Berchtesgaden just a couple of kilometers further to the north.

Whilst in Germany Lake Konuigsee is actually much closer to Salzburg than Munich as the city is only just over the border about 25 kilometers away.
Geographical Features of The Lake and Area
The lake has long captivated travelers with its crystal-clear waters and surrounding Alpine scenery.
Depth: As Germany's deepest lake — reaching a depth of 190 meters (623 feet) — it holds immense ecological value and is part of the beautiful Berchtesgaden National Park. 
Length & Width: The lake stretches for 7.7 kilometers (4.8 miles) in length and 1.7 kilometers (1 mile) in width, surrounded by dramatic mountains that provide a stunning backdrop for countless photo opportunities.
Water: The uniqueness of the lake lies not only in its depth but also in its clarity. On our first visit here we seriously thought the entire vista of the lake was fake, like a gorgeous photographic backdrop on a movie set.
The water of the Königssee has excellent visibility due to its high quality and purity.
With an average depth of 76 meters (249 feet), sunlight can penetrate deep into the waters, creating a beautiful blue-green hue that continues to attract travelers from all over the world.
Area: When you're actually on the lake itself, you'll be treated to one of the best views in the Alps, absolutely worth seeing.
The stunning beauty of the surrounding Bavarian Alps that are oh so close is absolutely breathtaking and is enhanced by the contrasting rocky peaks and beautiful coniferous pine trees that abound here.
Climate & Weather Around Königssee
The region surrounding the Königssee boasts a temperate climate with warm summers and snowy winters, making it an attractive destination year-round.
The best time to visit depends on your preferred activities: hiking enthusiasts will enjoy the summer months, while those seeking snow sports can plan a visit in winter.
Average temperatures range from -1°C (30°F) in January to 20°C (68°F) in July, with varying precipitation levels throughout the year.
Practical informTION ABout Lake Königssee
Entry to the Königssee and Berchtesgaden National Park is free, but some attractions and activities may require fees, such as boat tours or entry to the salt mines.

The local currency is the Euro, and most businesses accept cash and major credit cards. However, it is always wise to carry some cash for smaller establishments or emergencies.

Be respectful of local customs and etiquette, such as observing quiet hours (usually between 10 p.m. and 7 a.m.) and wearing appropriate attire when visiting religious sites.

With over 4000 Google Reviews the Königssee has to be one of the highest-rated places to visit in this part of the world!

For any emergencies during your visit, dial 112 for immediate assistance.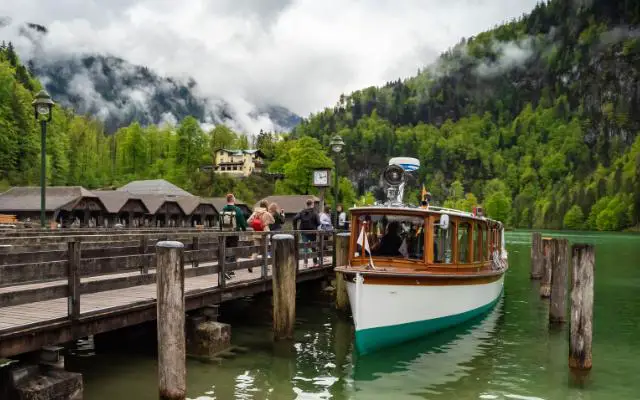 Things to See & Do at Lake Königssee
From serene boat tours to thrilling alpine hikes, the possibilities for adventure and relaxation around the Königssee are seriously endless and you could easily spend days here at the lake.
Boat Tours
Boat tours are a must-do activity when visiting the Königssee. Choose from various options, including electric-powered boats that minimize environmental impact and allow passengers to glide silently over the lake's pristine surface.
Konigsee Boat Tours typically last between 1 to 2 hours, featuring captivating sights such as the famous St. Bartholomew's Church and including engaging experiences like echo performances where boatmen play traditional instruments and demonstrate the lake's incredible acoustics.
To avoid crowds, consider booking a tour early in the morning or late in the afternoon. Some companies offer private tours for a more intimate experience.
Prices for boat tours vary depending on duration and type of boat.
St. Bartholomew's Church
This iconic red-roofed church is accessible by boat or a challenging hike. Its distinctive architecture and serene atmosphere make it a must-see destination.
The church dates back to the 12th century and has undergone several renovations throughout history. Visitors can explore the interior, which features beautiful frescoes and Gothic elements.
Hiking Trails
For those seeking adventure and exercise, several hiking trails crisscross the area around the Königssee. Ranging from leisurely strolls for beginners to challenging treks for experienced hikers, there's a trail for everyone.
Malerwinkel Trail
The Malerwinkel Trail is a short, easy walk offering panoramic views of the lake. The trail is accessible year-round and takes approximately 20-30 minutes to complete. The path is wheelchair accessible and ideal for families with children.
Jenner Mountain Trail
The Jenner Mountain Trail is a more demanding hike that culminates in spectacular vistas from an altitude of 1,874 meters (6,148 feet).
The trailhead is accessible by cable car from the town of Schönau am Königssee.
The cable car ride alone offers breathtaking views of the surrounding mountains and lake. Once at the top station, hikers can choose from various routes that cater to different skill levels.
Röthbach Waterfall Trail
The Röthbach Waterfall Trail is a moderate hike to Germany's highest waterfall at 470 meters (1,542 feet).
The trailhead can be accessed from the town of Ramsau via public transportation or personal vehicle. The trail takes approximately 2-3 hours to complete and offers stunning views of the Berchtesgaden National Park.
Always check weather conditions before venturing out and be prepared with appropriate gear and supplies. Proper hiking boots, clothing layers, and a sufficient water supply are essential for a safe and enjoyable hiking experience.
Swimming
Swimming in the crystal-clear waters of the Königssee is a refreshing way to cool off during warm summer days.
Designated swimming areas, such as the Schönau Beach, offer lifeguards and facilities to ensure a safe and enjoyable experience.
Be aware that the water can be cold even in summer, so take the necessary precautions and respect local guidelines. Swimming in unmarked areas or outside of designated hours is prohibited and can result in fines.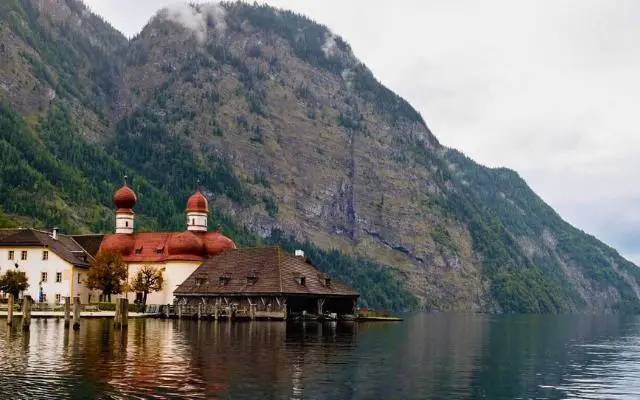 Local Attractions & Eateries Near Konigsee Lake
A journey to the Königsee offers visitors a chance to immerse themselves in nature while exploring historical sites and indulging in mouthwatering regional cuisine.
Berchtesgaden National Park
A haven for nature lovers, this park offers numerous hiking trails, wildlife spotting opportunities, and awe-inspiring views of the Watzmann, Germany's third-highest mountain.
The park covers over 200 square kilometers (77 square miles) and is home to diverse flora and fauna such as eagles, ibexes, and marmots. Guided tours are available for those who want to learn more about the park's ecology and history.
Salt Mines in Berchtesgaden
Delve into the region's history of salt mining with guided tours showcasing the fascinating process and providing a unique underground experience.
The salt mines have been in operation since the 12th century and played a significant role in the region's economy. Visitors can learn about the miners' daily routines, ride a miner's train, and slide down a wooden chute.
It's been a few years since we visited here but we loved the experience we had at the Salzbergwerk Berchtesgaden and it is very family friendly!
Food & Drink
Indulge your taste buds in regional specialties such as Kaiserschmarrn (fluffy shredded pancake), Weisswurst (white sausage), and Apfelstrudel (apple strudel).
To sample a variety of dishes, visit one of these highly recommended restaurants all of which we've visited before.
Restaurant Grünstein (Grünsteinhütte)
Located near the Königssee, Restaurant Grünstein offers panoramic views of the surrounding Alps while serving traditional Bavarian Cuisine.
The menu features homemade sausages, grilled meats, and vegetarian options. Prices range from 10-25 EUR per dish.
Read reviews of the Grünsteinhütte HERE
Restaurant Panorama
Right in the middle of the town the Panorama Restaurant offers offers a charming Alpine atmosphere and a menu that blends traditional and modern dishes.
Outside on the terrace, you have beautiful views of the mountains, and it's a great place to watch the evening turn into night. The service is careful & attentive and probably the best vanilla ice cream we've ever had!
Prices might be a fraction higher than other places locally but with this Panoramic view, one should expect that perhaps. Read reviews of the Restaurant PANORAMA here!
When we were there last they had a small band playing but that's probably just an addition in the warmer months!
Gaststätte Echostüberl
You cannot get much closer to the Königssee to eat than to be seated on the terrace of the Gaststätte Echostüberl which is on the eastern side of the lake.
Featuring Seasonal fish & winter fondue, plus awesome schnitzels & beer, you can't go wrong here.
This is very popular in the evening so the suggestion is that you make a booking in advance and these guys have English menus available if you're struggling with basic German.
Read reviews of the Gaststätte Echostüberl HERE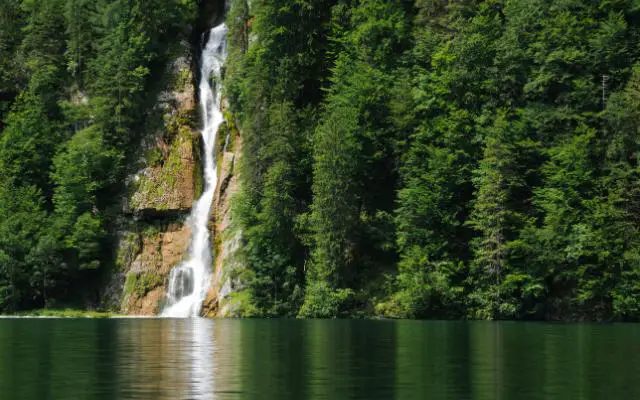 Konigssee Accommodations
We stayed in a little bed and breakfast on our last trip here – just look out for the signs that say Zimmer Frei! The English meaning is Vacancies available or Rooms available! And believe us, there are plenty in the area.
Whether you prefer a luxury hotel, cozy guesthouse, or budget-friendly hostel, you'll find various accommodations to suit every preference and wallet.
For a unique experience, consider staying in an alpine hut or eco-lodge nestled amid the stunning landscapes. Here are some recommendations for your consideration.
Kempinski Hotel Berchtesgaden
This five-star hotel is located on a hill overlooking the Berchtesgaden Valley, offering panoramic views of the Alps and Königssee.
The hotel features luxurious rooms and suites with modern amenities such as private balconies and spa facilities. Prices start from 250 EUR per night if you can get a special rate. Read the Reviews.
Ferienparadies Alpenglühn
For a more affordable option, consider Ferienparadies Alpenglühn in Schönau am Königssee.
This family-friendly guesthouse offers apartments with fully equipped kitchens and mountain views. The property also has a garden and playground for children. Prices start from 80 EUR per night.
Hotel Königssee
With a traditional lake-view restaurant and a waterside beer garden here, you'll find this a very comfortable place to stay when visiting the Konigsee.
Admittedly we haven't stayed here for some years but the location is perfect and the rooms are large with balconies and great views. Read the Hotel Königssee Reviews HERE!
Getting To Lake Königssee & Around Berchtesgaden
By Car: The Königssee is about a 2.5-hour drive from Munich or a 30-minute drive from Salzburg.
Renting a car in Germany is a convenient option that provides flexibility during your trip. Parking facilities are available near the lake, but be prepared for fees.
When driving in Germany, make sure to follow the local rules and regulations, such as adhering to speed limits and carrying necessary documentation such as a valid driver's license and insurance.
By Train or Bus: Trains and buses connect the region to major cities such as Munich and Salzburg.
Travelers can take Deutsche Bahn (DB) trains to Berchtesgaden Hauptbahnhof, the main train station serving the area.
From there, local transportation options like buses (RVO Bus 841) and shuttles can take you to the Königssee and its attractions.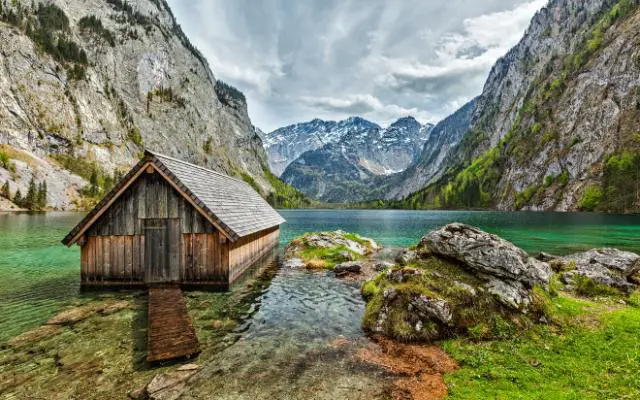 Lake Königssee: What Does Absolute Munich Think?
As a premier destination in Germany, the Königssee offers a unique blend of natural beauty, cultural treasures, and exhilarating experiences.
We absolutely LOVE IT HERE and whether you're planning a laid-back vacation or an action-packed adventure, hopefully, our comprehensive guide to the Konigsee has helped you make the most of planning your trip to this enchanting Alpine retreat.
The town has plenty of accommodation with a wide range of Guest Houses and Pensions to choose from and there is heaps to do in the area.
Will you visit Berchtesgaden, Schönau am Königssee and its marvelous lake? If so we'd love to hear from you and of your experiences in the area. 
Take care, thanks for reading, and enjoy your travels!
Can You Swim In Lake Königssee?
Yes, you can swim in the lake although only specifically in the designated area. And look out, its cold!
How Big Is Lake Königssee?
 5 miles (8 km) long and from 1,500 feet (457 m) to more than 1 mile (1.6 km)
How Deep Is Lake Königssee?
 The lake at its greatest depth is about 617 feet or 188 meters deep.
Is There Camping At Lake Königssee?
There are 5 campsites (Campingplatz) in Schönau am Königssee and all within about 4 miles of the lake.