Munich is the 4th biggest car producer in the world with 33% of its population claiming car travel as their main mode of transport. Yet despite these facts, the city has a very "user-friendly" public transport system which means Getting Around Munich is a breeze.
You only need one ticket to use the extensive network of trains (S-Bahn), underground (U-Bahn), trams (Straßenbahn) and buses. In 2020, the MVG (Munich Transport Corporation) expanded the central M-zone to be more cost-effective for everyday travellers.
In saying that, the cost of public transportation in Munich is not cheap, so knowing which ticket to buy will help you save your pocket. If you plan to stay in Munich long-term, getting a bike is definitely the way to go.
When first arriving in Munich, perhaps at Munich Airport, it's absolutely recommended that you download and register on the Munich Transport Corporations fantastic MVG app. The app has a journey planner and it's very user-friendly. You can enter either an address or the station name to find the quickest and/or easiest route. Through the MVG app, you can also buy tickets directly. View a whole range of Munich Maps HERE.
We've found this app to perform way better than Google Maps and it has proven to be more accurate. It provides constant updates, especially when there are road disruptions. Unfortunately, this is very common these days, especially as there are many train construction works over the weekends.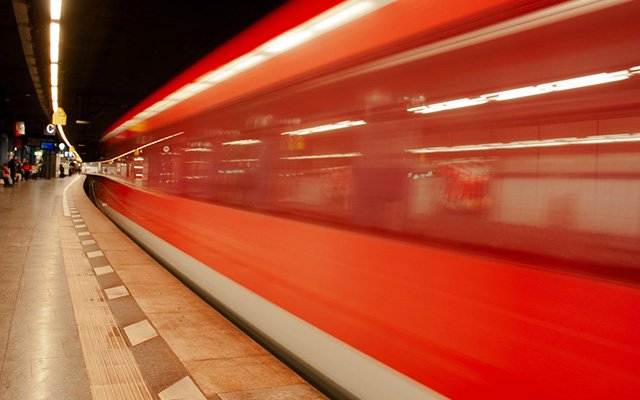 If you're not using the app, the best way to buy a ticket is with the automatic machines located at each train station and on the bus or tram.
Unlike many cities, you likely won't find a service counter at Munichs many rail stations, even at the Main Central Train Station (Hauptbahnhof). Luckily, the touch screen machines are available in several languages including English and they accept both cash and card payments.
One thing you should definitely remember is to validate your ticket before the ride. There are no gates or staff at the entrance to check. Instead, you'll find poles with a blue box at the entrance of the platform or inside the bus/tram.
Make sure is stamped! Otherwise, you may face a fine of 60Euro (Schwarzfahren) given by an undercover staff. They come more often than you expect!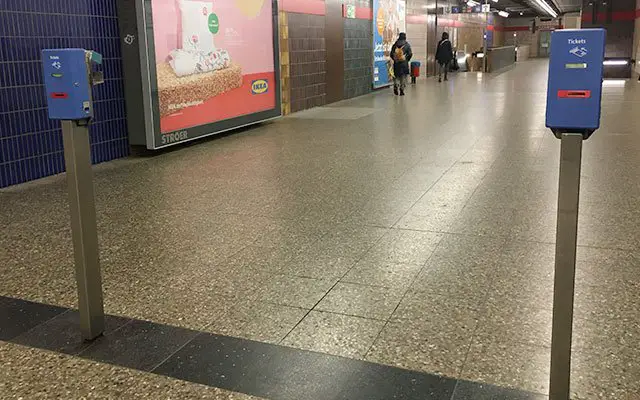 Single Ride Ticket (Einzelfahrkarte)
It is best to be used for rare or spontaneous rides. With this ticket, you are allowed to change and interrupt your trip and also interchange with different transport mediums. Return trips, however, are not permitted.
Stripe Ticket (Streifenkarte)
This is the most convenient when you don't have a regular travel schedule, but would most likely travel multiple times. There are 10 stripes on each card. You will need to use 2 stripes inside Zone M and between 1-2 zone. Any additional zone beyond M-zone will be an extra stripe.
Day Ticket (Tageskarte)
It is worthwhile if you are a single traveller travelling multiple (3 or more) destinations within a day, or if you are travelling with a partner or in a group of up to 5 people. The same ticket allows you have an unlimited amount of destinations within one zone till 6 am the following day. Children between 6-14 are counted as "half-person".
For long-term-based travellers, there is also the Monthly and Yearly Ticket. Obviously, the more frequently you travel, the more value you get from it.
Tourist Ticket
City Tour card and Munich Card are also available. It works like the Day ticket with options of 24 hours up to 6 days. Check out the discount pamphlet to see if it makes sense for your trip.
Note: Public transports in the city centre do run all night long, but after 2 am, it does get less frequent and you are most likely have to mix different transportations. So it's always a good idea to check on the MVG app.
Biking in Munich with MVG
Munich being a relative size city (in comparison with New York or London) and being very flat, you can conveniently transit with a bike. There are numerous bike shops around the city for rental and you can also use the government bikes with the "MVG More" app.
This MVG bike rental system is very similar to many cities.

You can locate the closest bike to you with the app and once confirmed, you get a PIN. You can leave the bike at your destination, as long as it is within the city. If you park the bike at the MVG designated parking spot, you can even get up to a 10-minute ride credit!
The MVG bike rental is very cheap, it starts from 5 cents per minute! For most touristic destinations, since they are reachable within 15mins, this is the perfect opportunity to get fit, get fresh air, and enjoy the roadside scenery.
For more information, you can read here, but unfortunately, it is only in German.
One major thing I miss about living in Asia is the convenience of hailing a cab or using Uber after a long exhausting day at work or partying late at random hours. Unfortunately, taxis in Germany are expensive, and ride-sharing is also not so common.
However, if you do have the money to splurge, taxis are widely available in the city centre and they are also very safe and reliable. With the "MVG More" app, you can call a taxi in der Nähe (nearby) or use FreeNow app.
As a tourist, you would probably spend most of the time in the city center. For this reason, it doesn't make much sense to rent a car. One, renting is expensive in comparison to public transportations. Two, traffic jams are not uncommon, and three, it is an absolute nightmare to find street parking.
However, if you find yourself needing a car, we suggest using car-sharing rentals. It is safe, clean, and much more economical, and environmentally friendly than most commercial car rental agents.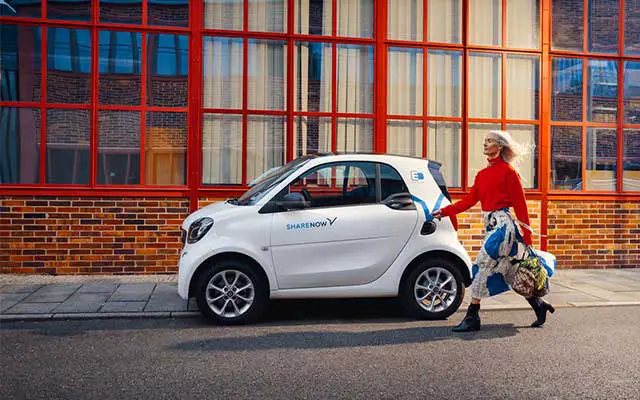 This is the most commonly used car-sharing app in Munich. It is easy and economical.

You can choose different plans by minute/hour/day rate according to different car models. The advantage of this is that so you do not need to worry about paying additional fuel or battery charging. You can find a car in your area with their app and drop it off wherever in the city.
If you want to take a car outside the city for a multi-day trip, you can book ahead and it will be delivered to you. (How very convenient!) In this case, day rate is applied with additional mileage cost. Of course, you must also return the car back to the city at the end of the trip.
For more information, click here.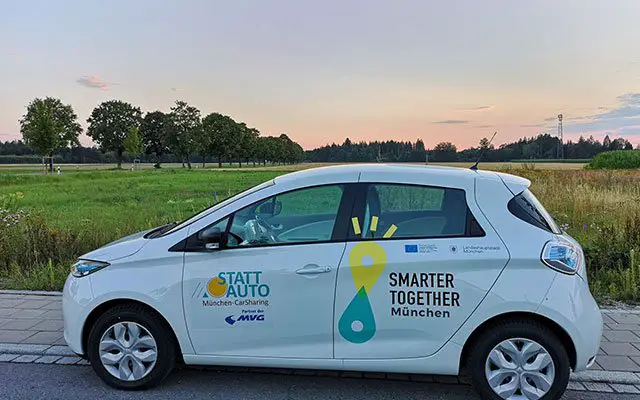 For ex-pats and locals living in Munich, we do 100% recommend using Statt Auto. It is run by a non-profitable self-started association (Verein) to encourage car-sharing in Munich. And don't you just love the play on words (Stadt = city, statt = instead of)?
It works similarly to Share Now, but you must return the car at the same spot. This however means, if the car your pick up is from a car park, you don't have the hassle to find a parking spot (a definite serious problem in Munich).
To use Statt Auto, you are required to be a registered member. The advantage is, your partner can also drive, as long as you are accompanied. It makes a huge difference if making a long trip.
Although cars are not as fancy as Share Now, if making a comparison of the basic car range, calculated by the average hourly rate, Statt Auto is relatively cheaper even with the membership fee. This is because it only charges by mileage, not by time or fuel.
Whilst Share Now has a more diverse model range, Statt Auto offers large transporters and vans, which is great if you ever need to umziehen (move).
More information here.
Getting Around Munich: Other Options
Recently, E-scooters have been increasingly visible in Munich. However, in terms of sustainability and environmental factors, we are not impressed by it.
Without doubts it is a convenient option, it is however not as environmentally friendly as it claimed. At the end of the day, a separate vehicle needs to pick up these scooters to be charged. So energy-wise, it does not make a positive impact.
More annoyingly, often they are discarded randomly and neglected on the roadsides blocking pedestrian paths. The MVG bikes are definitely our better recommendation.
We hope this guide has resolved some of your queries on how to get around Munich without a car. Especially if you want to explore a new place or take a walk, we encourage you to travel green!