If planning a visit to Lake Forggensee in Germany is on your touristic radar, and you don't quite know where to begin then this guide is for you.
We'll outline all you need to know about Lake Forggensee including advice on how to spend your time around the lake, what places you should visit, and what activities are best suited for the weather around this picturesque Bavarian region of the country.
Lying at an elevation of over 2500 feet, we love the Forggensee for its 23 miles of diverse shoreline, breathtaking views, and a plethora of interesting touristic sights in the area. 
We've previously covered Lakes in Munich and now we have an ULTIMATE list of the 20 Best Lakes in Bavaria for you to check out also. Don't miss these articles folks!
So whether you're looking to kick back and relax on the water, or sight-see nearby towns and villages, Lake Forggensee is well worth a visit. 
Where is Lake Forggensee?
Lake Forggensee Is Located Just North Of The Town Of Füssen In Southern Germany In The Bavarian County Of Ostallgäu.
This area of Bavaria – thanks to various projects envisaged by King Ludwig II, is often locally referred to as the Königswinkel or the King's Nook.
Depending on which route you take out of Munich, Lake Forggensee is between 110 km and 130 km from Munich to the southwest.
Just a few kilometers south lies the Austrian border and Germany's most famous of Castles – Neuschwanstein, is just 5 km away to the southeast. 
Activities and Attractions of Lake Forggensee
This breathtaking lake offers plenty of activities and attractions to keep you, and your family well entertained, as Lake Forggensee offers something fun for everyone.

For the adventurous types, there are numerous water sports to choose from including swimming, canoeing, paddle-boarding, windsurfing, kayaking, and sailing.

For those who prefer something more laid-back, there are almost unlimited opportunities to relax on the banks of the lake, from soaking up the summer sun to crisp cold weather winter hikes.

There are several hiking trails that are perfect for exploring the shoreline area and discovering its many hidden gems. Hidden picnic spots, wonderful scenery, and bike trails are many.

As well as numerous watersport rentals about the lake, there are also plenty of bike rental providers available so exploring the region's stunning scenery at a leisurely pace is very possible.

Camping is possible about the Forggensee, with designated camping areas located in a few spots around the lake.
Lake Forggensee is also home to festivals throughout the year and these celebrations of Bavarian culture often include traditional music, food, and entertainment for all ages.

Towns of Lake Forggensee
Füssen
This small town situated at the south end of the lake has around 14,000 inhabitants. One of the main reasons Füssen is so popular with tourists is its scenic location at over 2600 feet (808)  meters above sea level.

Füssen has a rich culture and a long heritage with this enchanting town showcasing a grand castle, an ancient church, a local museum, and a working monastery.

The old-town area is compact and beautiful and offers some old and new-world shopping, as well as many drinking and dining opportunities.

The entire area is encompassed by stunning scenic surroundings ensuring Füssen is regarded as a most magical place no matter what the season.
Schwangau
The smaller settlement of Schwangau just a few kilometers east of Füssen is the penultimate town on the Romantic Road and has only about 3500 inhabitants. Known as the gateway to Neuschwanstein, Schwangau boasts what we think is the wonderful and very interesting Museum of Bavarian Kings, and the body-warming Königliche Kristall-Therme (Royal Crystal Thermal Springs).
Just above the town is the small ski resort of Tegelberg – Schwangau. With just under 3 km of slopes and 6 different lifts, this is an ideal ski resort for beginners at between just 830 and 1730m in elevation.
Obviously also having lake frontage Schwangau, like all the lake towns, also provides for a range of fun watersports and hiking opportunities.
Roßhaupten
Situated at the north of the lake the smaller town of Roßhaupten is known as the hiking center of the Forggensee.
There is a robust network of hiking and cycling trails out of Roßhaupten covering all types of terrains and fitness levels with all paths and cycling access routes being continually improved.
There are fewer options here in terms of accommodation and dining but that does not mean quality is lacking. The town has a small Local History Museum and there is a campsite here right on the lake itself called Campingplatz Seewang, which is a popular base for nature lovers to base themselves on the Forggensee.
Rieden am Forggensee (and Osterreinen)
These conjoined towns are probably the most popular towns for watersports on the lake. Osterreinen showcases a very long foreshore, a sailing school and a small marina.
Rieden am Forggensee sports the majority of the shops for this small municipality, and has a dozen (or more) Guest Houses (Gasthaus) to choose from as well as the majority of the restaurants.
Halblech
Whilst not actually on the lake, gets a mention as it is very close, and it too has an adjoining ski area to the town which is extremely popular with winter hikers. 
With just one double chair lift ascent to transport guests, the Ski Resort Halblech is also ideal for beginner skiing and snowboarding. There are around 3 kms of slopes available with the slopes situated between 823 and 1,043 m in altitude.
The town has plenty of accommodation with a wide range of Guest Houses and Pensions to choose from.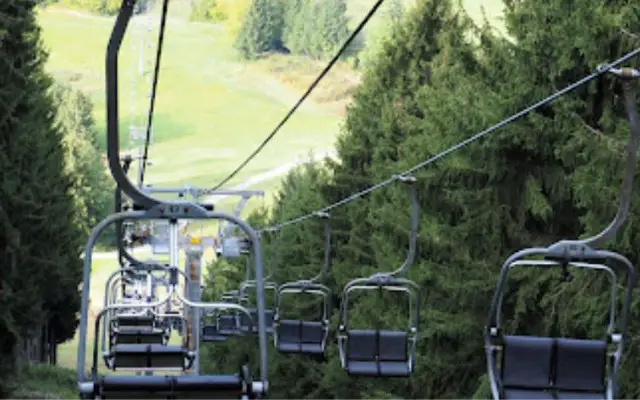 History of the Lake
Formed by the remnants of the Lech-Wertach glacier at the end of the last ice age more than 14,000 years ago, Lake Forggensee was an important travel route through the alps from Venice to Burghöfe during the Roman Empire's occupation of the area.
Maximilian I, the Holy Roman Emperor from 1508-1519, has been documented as favouring this area for his royal court hunting and fishing expeditions.
It was not until 1898 however, to meet the area's increased demands for electrical power, that plans for a reservoir here were drawn up, with project agreements not actually struck until around 1910.
At this point, the "Royal Supreme Construction Authority" (Königliche Oberste Baubehörde) published their water power memo outlining requirements for hydro-electric power in the area and plans were agreed upon.
However, with the instigation of the Great War in Europe, construction was delayed due to economical and political reasons. 
So, whilst originally a natural glacial lake, the Forggensee was finally realised as a project by the damming of the River Lech through various construction stages between 1940 and 1954 and is now a "man-made wonder".
Having undergone a 16-month restoration in 2018 which the lake had to be almost entirely drained, Lake Forggensee was again opened to the public in July of 2019 and remains one of the area's primary touristic destinations.
As this is a man-made lake the Forggensee is also known as the Roßhaupten Reservoir (Ross Haupten Reservoir) and services the entire area in terms of electrical power and water supply.
The Roßhaupten Reservoir is the largest reservoir in Germany.
How to get to Füssen and the Lake
Overall, getting to Lake Forggensee is quite simple. With its proximity to major cities like Munich and Innsbruck, as well as its well-marked roads, you should have no problem finding your way to this beautiful spot in Bavaria.
Coming from Munich by car you'll head west out of the city on motorway 96 in the direction of Memmingen and Lindau then turn south on Route 17 at Landsberg am Lech. This road will then take you all the way to Füssen and the lake and will take about an hour and a half.
Buses from Munich depart from the Hauptbahnhof and, on average, take approximately 2 hours and 50 minutes to get to Füssen.
A train trip takes about 2 hours on the fastest route from Munich Hbf to Füssen.
From Füssen there are actually direct buses out to many other cities such as Venice, Frankfurt, Zurich, and more.
Where to Stay at Lake Forggensee
If you're looking for the perfect place to stay while visiting Lake Forggensee, you won't be disappointed as there are a variety of accommodation options available to suit all budgets.
For those who are looking for a more luxurious stay, there are a few four-star hotels and resorts located near the lake. From spa experiences and private lake access to golf courses and fine dining, you'll find they provide all the amenities you'll need for the perfect decadent break.
For budget-conscious travelers, there are plenty of guesthouses (Gasthaus) and bed and breakfasts (Pensions) near the lake. These accommodations offer a more intimate atmosphere at a more affordable rate. Whether you're looking for a cozy cabin or an apartment overlooking the lake, there's something to suit your needs.
Camping is also a great option for those looking for an affordable way to stay near Lake Forggensee. There are several campgrounds located within walking distance of the lake, offering a variety of sites to choose from. You can enjoy breathtaking views of the lake while cooking your meals over a campfire or relaxing in a hammock in the shade.
No matter what type of accommodation you choose, a stay at Lake Forggensee is sure to be a memorable one. From luxury hotels to camping sites, there is something for everyone when it comes to finding the perfect place to stay while visiting this beautiful Bavarian lake.
Füssen, being the biggest metropolitan area around the lake, understandably has the most accommodation. However there are numerous places available around the entirety of the lake, so just choose your preferred vantage point, and take it from there.
Tips for Visiting Lake Forggensee
It sounds like stating the obvious, but definitely plan your visit to the Lake Forggensee area ahead. As this is Bavarian "King's Country" and due to the number of castles and natural wonders in the area, this is a very popular spot. With so many activities and attractions you really must research ahead of time to determine which ones are most important for you to experience. In addition, keep an eye out for special events that may be happening when you visit. You don't want to miss out on something unique or exciting during your time here!

Second, dress for the occasion. Even in Summer, the weather can change quickly at the lake, so be sure to bring layers in case it gets colder. In addition, bring appropriate clothing for swimming or other water-based activities. A pair of sandals or water shoes will also come in handy if you plan to explore the shoreline. For winter it goes without saying that if you're not used to cold weather big jackets and thermals might be in order, especially if heading up any of the nearby slopes.

Third, be CERTAIN to bring a camera or make sure your phone takes great landscape snaps! Lake Forggensee is one of the most photogenic spots in the region and you'll want to capture its beauty forever. There are plenty of great photo opportunities along the lakefront, many of which include views of Neuschwanstein Castle in the distance and the mighty Zugspitze in the distance.

Finally, make sure to take time to relax. Spend a few hours just taking in the beauty of the lake and its surrounding landscape. The fresh mountain air here does wonders for the soul (and for the brain).

Lake Forggensee Facts and Figures
At its farthest shores, the lake is 8 km s long and 2.8kms wide with a surface area of 15.2kms
The small hamlets of Brunnen, Deutenhausen and Forggen totalling 32 separate residential buildings, now lie below the lake's surface with the latter giving name to the lake.
The depth of the lake at a maximum is about 35 meters.
The reservoir holds somewhere near to 168 Million m3 (so 168 cubic meters of water).
The material used for the building of the reservoir was largely obtained from the lake itself before the Rover lech was dammed.
Lake Forggensee is the 5th largest lake in Bavaria and the LARGEST reservoir in Germany.
Under the administration of the Bavarian State Office for Monument Protection are the protection of a number of Ancient remains from Roman Settlements and travel ways, as well as what are thought to be excavations showcasing traces of Mesolithic hunting stations..
Lake Forggensee | Our Verdict
We've visited here many times, and with its stunning scenery and ample opportunities for relaxation and recreation, this breathtaking lake is always a highlight of any trip to this part of Bavaria.
And with Fussen and the idyllic Lake Forggensee being at the very end of Germany's famous Romantic Road, it's no wonder this is such a popular destination.
So, if you're looking for a getaway to a stunning Bavarian location then Lake Forggensee might just be the perfect destination for you, and we hope this article has helped in ensuring you'll be able to make the most of your time here. 
No matter what you choose to do during your stay at Lake Forggensee or what season in which you intend to visit, it's sure to be an unforgettable experience, we guarantee it!
Will you visit Fussen and Lake Forggensee? If so we'd love to hear from you and of your experiences in the area. 
Take care, thanks for reading, and enjoy your travels!
Can You Swim in Lake Forggensee?
Yes, you can swim in the lake although it's certainly not advised in the winter when its almost entirely frozen over.
How Far Is It From Lake Forggensee to Neuschwanstein Castle?
From the south end of the Lake in Füssen, it is only around 4km to Neuschwanstein Castle
How Many Towns Are On Lake Foggensee?
There are several towns around Lake Forggensee but only three of the towns actually have lakeside vantage – Füssen, Schwangau and the twin towns of Osterreinen and Rieden am Forggensee.
What Attractions Are Near Lake Forggensee?
The most famous attractions near Lake Forggensee are the Castles of Neuschwanstein and Hohenschwangau although there is much more to see and do in the area. Along with several other castles within close proximity including Füssen Castle and the Hopfen Am See castle ruins, there are magnificent hiking trails, ski resorts, cycleways and oh so much more.