Second-Hand shopping has become increasingly popular in Munich and there are now many more funky vintage stores beyond just the likes of Oxfam.
Despite the markets not being quite as high profile or famous as comparable markets in say London or Paris, there are many high-quality thrift shops, markets, resales stores and boutiques offering practical and collectable items.
This Absolute Munich guide to thrift and vintage shopping in the city will definitely help you out if you're looking for:
A fun party outfit for Fasching, Oktoberfest (or any party really)
Living here (temporarily or permanently) and you prefer to buy furniture that's not of the standard Ikea style.
More sustainable shopping options that adapt to more of a "green living lifestyle"
Ways to save money shopping in Munich
Here we have chosen our favourite second-hand outlets in Munich and we hope you enjoy our selection!
Please feel free to use the comments section below this blog post, and perhaps let us know what your favourite Second Hand Munich stores and outlets are, we'd love to hear from you.
Viel Spaß (have fun) in the treasure hunting!
"The Everything" Thrift Store : Halle 2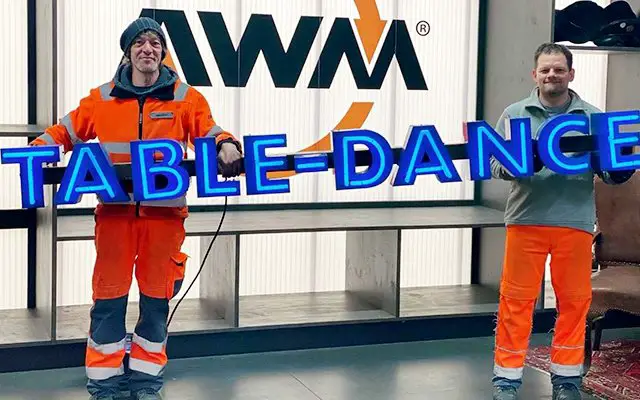 In cooperation with the Abfallwirtschaftsbetrieb (AWM : Munich Waste Management), Halle 2 collects and repairs goods from recycling centres across the city and from donations.
Its mission is to narrow the gap in waste disposal and promote sustainability in communities and businesses. According to the AWM, they have successfully reused and repaired over 1,000 tonnes of "unwanted waste" each year! That's a real achievement!
In addition, they also provide guides and workshops to teach people how to repair, so a "circular economy" can be reached.
In terms of the hall, it is a treasure hunt playground! We love visiting here because the staffs are absolutely friendly and cheeky.
In this 800m2 warehouse, you can discover precious vintage items as well as general household goods. Furniture, homeware, sports equipment, vinyl, guitar…it has almost everything, except clothing. Often, it is like walking to a museum where you'll find odd and exquisite pieces.
We have literally seen a rowing boat, a vintage bike, and a beautiful lacquered sewing machine decorated with hand painting. These are just some fun pieces that you wished you had a big enough Wohnnung (Apartment) to store.
On a more practical level, here, you can find many affordable items. We have found wooden dining chairs (10€), a bedside table with metallic engraving (15€), and a pull-up bar (5€). I did wish, however, that I had bought the wooden Schlitten (sledge), especially when it snowed for 3 weeks after!
Insider story: apparently, in the past, people from Eastern Europe used to come here every Saturday morning with a truck, ready to pick up goodies back home. It is now a smaller hall, but nevertheless, you can still find many good deals.
Tips:
Every Saturday at 11 am, you can test your poker face at the auction!
There's a huge Italian Supermarket just a block away. You'll find authentic deli goods, including cheeses, ham, olive oil and obviously, pasta! You know is the real deal when you hear most customers speaking in Italian.
Peter-Anders-strasse 15, 81245 Munich Pasing
Tues – Fri, 10:00 – 18:00 | Sat, 09:00 – 14:00
Second Hand Specialty : Diakonia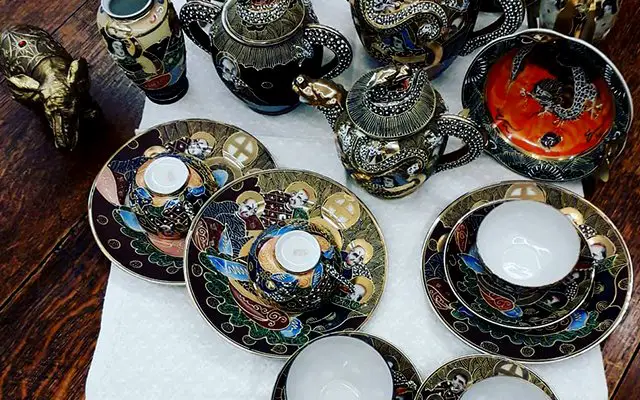 diakonia, suggested by its name, is a non-profit organization. It promotes vocational training and offers employment opportunities for people with impairments or who are in difficult life circumstances.
Began only in 1996, there are now over 10 branches spread out in Munich and Ebersberg. Most stores have their own speciality, eg. kids' clothes, antiques, street/sportswear, and even fancy attire (Garderobe). See here for the details of each store.
For the biggest outlet, you can head to the 2-story high Kaufhaus diakonia.
It offers mostly homeware, but also clothes, toys, and electrical goods. The ground floor has 2 large kitchenware sections, where you can find anything from kiddies plastic cups, fancy wine/champagne glasses, cutlery, and pretty table cloth.
Towards the back of the store, there is a small kids' section with toys, books and board games. Before heading upstairs, you can send your bored partner for coffee and homemade cakes during your scavenger hunt.
On the top level, you'll find various types of furniture: from kitchen tables, cabinets to baby prams. Not always exciting, but often, practical pieces. There is also a book and an electrical section even with CD players (Yes, it is still common here in Germany). Personally, I find they have the most versatile and largest kitchenware collection here.
Like Halle 2, some items are now also available on ebay.
Kaufhaus diakonia,
Dachauer Straße 192, 80992 Munich
Mon – Fri: 10:00 -19:00 | Sat : 09:00 – 15:00
World of Vintage Fashion: Picknweight
Time for some fun! Like walking into the Camden market in London, there are numerous vintage pieces to choose from. Just to name a few, there are 20's beaded dresses, 60's hippy hotpants, 80's bomber jackets, leather handbags, and fancy jewellery pieces. Sometimes you'll also find the traditional lederhosen and Dirndl here.
So just grab a shopping basket and go crazy! All items are marked in different colours sorted by price. Basically, they weigh your items at the end, and you pay by kilo. (Hence the name!)
Being a very successful model, they have shops also in Berlin and London.
Overall, a great place to find something unique and practical, as well as for those random party occasions.
Picknweight München Altstadt
Tal 15, 80331 München
Picknweight München Schwabing Schellingstrasse 24 80799 München
Mon – Fri, 12:00 – 18:00 |
Sat, 12:00 – 19:00 
The Lux Second-hand Fashion Boutiques
If you are looking for something more opulent and high-end, head towards Maximilanstrasse. In the little alley Wurzestrasse behind the luxury houses like Bvlgari and Saint Laurent, there are two boutiques next to each other that specialized in luxury second hands. The clothes are in extremely good condition with various fashion labels ranging from Chanel, Gucci, Jil Sander to Chloe. Of course without saying, there is also a large collection of shoes, handbags and accessories.
The shop owners are very friendly and helpful without a snobby attitude. So you can take your time and choose your special outfit.
Exclusive First Class Second Hand
Second and First
Wurzestrass 10, 11, 80539 München
Mon – Fri, 10:00 – 18:00 | Sat, 10:30 – 17:00
Fun Night out : at the Midnight Bazar, Nachflohmarkt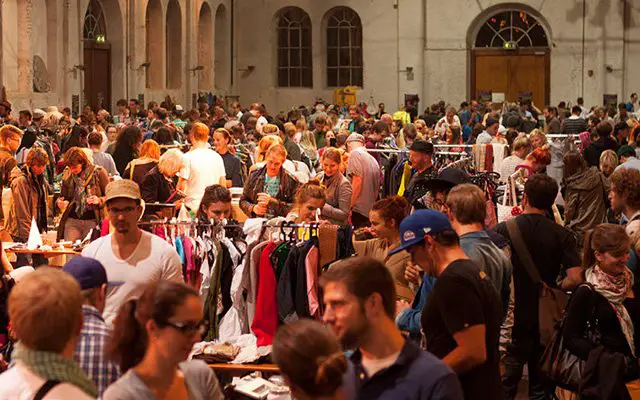 Not sure what to do on a Saturday night? Why not hang out with friends at this biggest indoor flea market in Bavaria!
Costing only 4€ entrance fee, you can grab a good grub from a food truck and listen to live music in an old warehouse built in the mid-1910s.
With a hippy & up-beat atmosphere here, you'll find mostly young crowds selling old records, clothing, handbags and even vintage telephones. So it is absolutely fun to walk around and discover the odds and sods.
What is also rather entertaining is having a hackle with the owners. As most items are not price tagged, you'll have to ask for them. The owners however usually reply by asking you what you are willing to pay for.
I'm really bad with price negotiation, but the owners are usually in a good mood that you can have a cheeky barter and at the same, you can practice your German numbers!
Tip: If you see something you like, don't hesitate! I still regret to this day, when I was not fast enough to make a deal. Instead, I jealously watched another girl walking out wearing 'my' beautiful hand-made vintage wool coat!
For the Book lovers:
The Munich Readery
For book lovers, you should definitely visit The Munich Readery. This store is actually the biggest second-hand English book store you can find in Germany.
Run by book lovers themselves, John and Lisa made sure all the books are carefully categorized and have kept the books in immaculate conditions.
With their passion and over 40 years of book-selling experience, the Readery collection is diverse including children's books, novels and literature.
It is also an awesome activity to do visiting The Munich Readery on a rainy day. Here, you can order a hot drink and bury yourself in a different world. To find other book geeks in town, you can join their monthly writing workshop, book club and other featured events.
Sustainable Munich: It is important to support local businesses and we would like to pass on this message from The Munich Readery:
If you buy English language books,
we'd be grateful if you'd buy them from us.
When you do so, you support a local, family-run business.
Remember, online vendors can't host
author readings, kids' storytimes, or writing workshops!
A Paradise for Music Lovers: M2
Despite the blue tacky-looking shop front, you'll be surprised that it is actually a music haven! The owners of this second-hand music shop were one of the first record dealers in Munich during the '80s and they carry their passion up till this day.
In this 200 square meter shop, you'll find vinyl records and DVDs in every genre: rock, reggae, electro, punk, and so on. And don't worry, you find music from all over the world too, from the US, UK and other parts of the world.
But why not give the german bands a try, such as Die Fantastischen Vier (The Fantastic Four) or Wir sind Helden.
The Vintage specialty : Sams & Son
Recently moved in and need a special piece at home? Then you should definitely visit this beautiful vintage store.
Although the store is now renowned for its vintage suitcases, it was for Pierre, the owner, a lucky strike encounter.
In the beginning, he only used the unwanted suitcases to carry his Art deco tableware from England to Germany. To his surprise, the restored suitcases became a big seller.
These days, he still keeps a large collection dating from the 1850s and from brands like Hermes and Louis Vuitton. But of course, there are other exquisite and fun items that can be found here: old industrial lamps, Japanese kimonos, world globes and other quirky items!
It is always to joy to visit this store, especially when you are greeted by the stylish Pierre.
Where to Find Second Hand Munich Shops
Excited to go on a shopping hunt yet? We like to mention also, the Auer Dult is also a great festival where you can find plenty of vintage goods. We have covered this in our Munich festival post.
On a sustainable note, to encourage sustainable shopping and eating, watch out for our up-coming posts.