Munich Airport (Franz Josef Strauss International Airport), is the second busiest airport in Germany and a major hub for both domestic and international flights in the country.
It serves the City of Munich and the surrounding regions of Southern Bavaria and into the Tirrol in Northern Austria.
In this article, we will explore the history, key features, and transportation options available at Munich Airport, as well as provide tips for travelers and discuss future developments.
We might be biased but this is one of our very favorite airports on the planet – with a beer garden smack in the middle it just has to be, doesn't it?
Well, you can decide for yourself and hopefully, this concise Munich Airport Guide will feature the information you're after. Flughafen München – here we come!

A Brief History of Munich Airport
Munich Airport, officially known as Franz Josef Strauss International Airport, commenced operations in 1992 as a replacement for the overburdened Munich-Riem Airport which was located in the east of the city.
The new airport was named in honor of Franz Josef Strauss who was a distinguished Bavarian politician and former Minister-President of Bavaria.
Constructed with state-of-the-art facilities and modernity in mind, Munich Airport was designed to accommodate the growing number of travelers to Bavaria. 
Since its opening, the airport has experienced rapid growth & expansion, becoming a major hub for both domestic and international flights.
As well as the two main terminals, Munich Airport boasts an impressive satellite terminal that opened in 2016, further increasing its passenger capacity. 
With ongoing modernization and improvements, the airport has consistently ranked highly among the world's best airports for its excellent services, shopping facilities, and overall passenger experience.
By 2019, Munich Airport had handled over 48 million passengers, making it the eighth busiest airport in Europe. 
Today, it serves as a vital gateway to Germany and the surrounding region, connecting passengers to numerous destinations worldwide and driving economic growth for the City of Munich and Bavaria as a whole.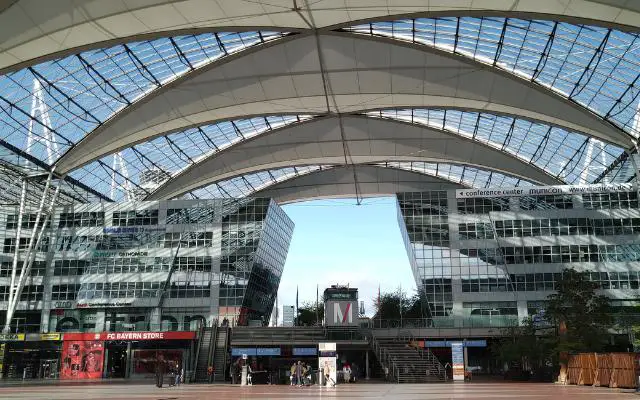 The Key Features Of Munich Airport
Terminals
Munich Airport has two passenger terminals plus a smaller satellite terminal extension that was added to the second terminal in 2016 as we detailed above.
Terminal 1 and Terminal 2 are connected by the Munich Airport Center (MAC) which is a central plaza that is surrounded by various shops and services. Very important to note that this is where the beer garden is located.
Terminal 1 is home to many airlines, including low-cost carriers and Terminal 2 primarily serves Lufthansa and its Star Alliance partners.
Airlines and Destinations
Over 100 airlines operate at Munich Airport, serving more than 250 destinations worldwide. 
The airport is a significant hub for Lufthansa, which offers numerous international connections, including direct flights to North America, Asia, and the Middle East.
Shopping and Dining
There are loads of options when it comes to shopping at Munich Airport where you'll find an extensive array of shops and all manner of dining options to suit all tastes and budgets.
Both terminals feature a wide selection of shops, from high-end designer boutiques to duty-free stores. 
There are also numerous restaurants, cafes, and bars to choose from, offering everything from traditional Bavarian Cuisine to international fast-food chains.
You certainly won't go hungry or thirsty at Munich Airport and whilst prices are inflated on normal prices as is the norm at every airport, they don't seem too high in comparison to other international hubs like this.
Airport Services and Amenities
Travelers at Munich Airport can enjoy a range of services and amenities, including free Wi-Fi, banking facilities, and currency exchange services. 
Additionally, the airport features a variety of lounges, a medical center, and even a visitor park, which provides an opportunity to watch planes take off and land.
The Visitors Park is actually called the Visitors Park – a fairly uninspiring name, but the plane views you get from here can be breathtaking especially if you're a plane lover.
Transportation Options at Munich Airport
Getting Around Munich and specifically to and from the airport is a very easy process with loads of travel options.
S-Bahn Trains
The S-Bahn train system offers a quick and convenient way to reach Munich city center from the airport.

The S1 and S8 lines connect the airport with central Munich, with a journey time of approximately 40 minutes.
Getting Around Munich couldn't be easier and taking the train is really the simplest way to get into, and out of the city, as the train terminal is right under the airport itself. 
Don't forget to validate your ticket! Check out all the relevant transport routes on our Maps of Munich page.
Buses
Several bus lines operate between Munich Airport and the city, as well as other surrounding destinations. 
The Lufthansa Airport Bus provides a non-stop service to Munich's central train station, while other regional buses connect the airport with nearby cities and towns.
Car Rental
Numerous car rental companies have offices and service desks at Munich Airport, including major international brands like Hertz, Avis, and Sixt. 
Unlike other airports, there are even cheaper car hire companies in the airport here at Munich so you don't have to catch some sort of shuttle bus or courtesy minivan to get to your car.
Travelers can book a rental car in advance or upon arrival, and the airport provides easy access to major highways, making it simple to explore the region by car.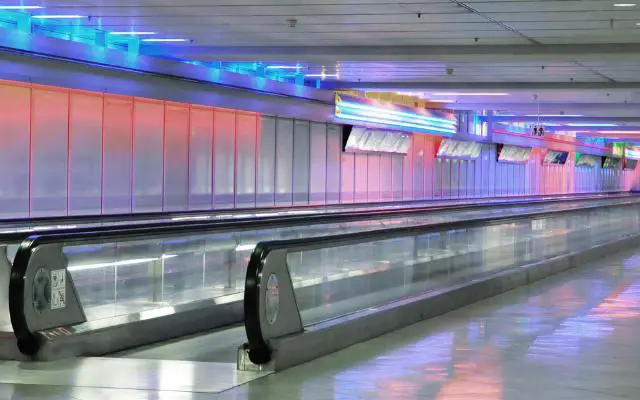 Taxis and Rideshares
Taxis and rideshare services like Uber are available at Munich Airport, offering a comfortable and convenient transportation option. 
Taxi ranks can be found outside both terminals, and rideshare pickup areas are clearly marked. We've caught many an UBER from Munich Airport and it's always been an easy hassle-free operation.
Tips for Traveling Through Munich Airport
Arrive Early: Munich Airport is large and can be busy, so it's a good idea to arrive at least 2 hours before a domestic flight and 3 hours before an international flight. Sounds like the same advice you get anywhere but with Munich, it really does pay to be early as there are loads to see and do at the airport itself.
Use the Airport's Free Wi-Fi: Stay connected and save on data costs by taking advantage of Munich Airport's complimentary Wi-Fi service.
Check the Airport's Website for Updates: Stay informed about potential delays or cancellations by checking the Munich Airport website before your trip.
Take Advantage of the Visitor Park: If you have time to spare, consider visiting the adjacent park for some plane-spotting and entertainment.
Cultural Experiences: Often in the MUC section between the terminals, you'll find displays, art installations, surfing waves, and all manner of other art and interactive displays. And trees, there are trees here!
Airport Facts and Figures
Airport Code
Munich Airport is designated by the International Air Transport Association (IATA) with the airport code MUC. The International Civil Aviation Organization (ICAO) assigns the code EDDM.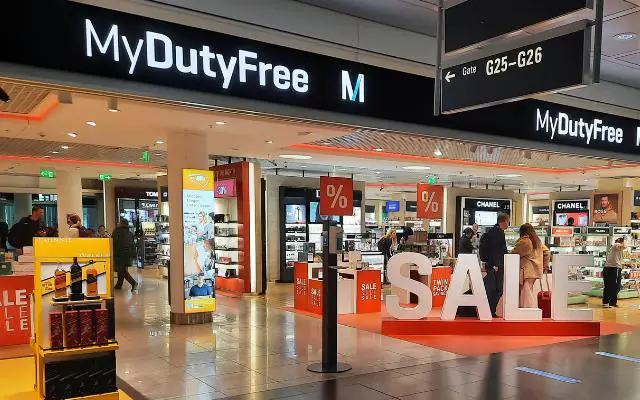 Arrivals and Departures
Munich Airport handles a high volume of flights daily. On average, the airport manages approximately 1,200 aircraft movements per day, including both arrivals and departures. 
To keep track of your flight's status, you can visit the Munich Airport website or use a flight tracking app.
Immigration Wait Times
Immigration wait times at Munich Airport can vary depending on the time of day, the number of arriving flights, and the staffing levels at the immigration checkpoints. 
Generally, the wait times are shorter for European Union (EU) and European Economic Area (EEA) citizens, as they have access to dedicated passport control lanes. 
Non-EU/EEA passengers may experience longer wait times, especially during peak hours. 
To minimize your wait time, ensure you have all the required documentation readily available, including your passport and any necessary visas.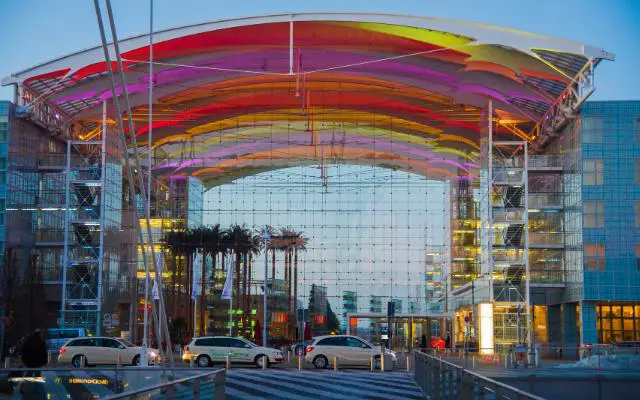 Future Developments at Munich Airport
Munich Airport is constantly evolving to meet the growing demands of its passengers. 
Planned developments include the construction of a third runway and the expansion of Terminal 1 to increase capacity.
Additionally, the airport is focused on sustainability, with initiatives such as the use of electric vehicles and the implementation of energy-efficient technologies.
Munich Airport | München Flughafen | Our Final Thoughts
We hope this guide helped guys, we love Munich Airport and have spent so much time there it almost feels like a sort of a holiday home for us.
With so much to do there in terms of things to see, retail therapy, and food and drink, it's almost impossible to get bored at Munich Airport.
Look, we understand that an airport is an airport, and most of us don't actually want to be there except to depart or arrive, but if you do get stuck at any airport, then Munich Airport is a winner.
We hope you were able to get something out of this guide and that your journey through München Flughafen will be easier grasped with this knowledge.
Cheers and thanks for reading!
 How Far Is Munich Airport From The City Center?
Munich Airport is located approximately 29 kilometers (18 miles) northeast of the city center!
 What Is The Best Way To Travel Between Munich Airport And The City Center?
The S-Bahn train system is a quick and convenient way to reach the city center from the airport, with a journey time of around 40 minutes. Alternatively, taxis, rideshares, and buses are also available.
Are There Any Hotels Near Munich Airport?
Yes, there are several hotels near the airport, including on-site options such as the Hilton Munich Airport and the Novotel München Airport.
Can I Store My Luggage At Munich Airport?
Yes, Munich Airport offers luggage storage facilities in both Terminal 1 and Terminal 2.
Is Munich Airport Open 24 Hours?
Yes, Munich Airport is open 24 hours a day, though some shops and services may have limited operating hours.