Obatzda is a yummy mix of cheese, butter, and spices. It's creamy and has a unique Bavarian flavor.
We're complete cheese fiends here at Absolute Munich, so discovering Obatzda was what could be considered a momentous occasion in our lives. 
This rich and tangy Bavarian specialty has quite an interesting backstory and has become one of our all-time favorite appetizers. But What Is Obatzda and what are its origins?
So, if you're a fellow Cheese-lover, get ready, and let's dive into the decadent world of Obatzda and find out all about it.
What Exactly is Obatzda?
For the uninitiated, Obatzda is a cheese spread made from soft cheeses like Camembert or Brie, blended together with butter, onions, paprika, caraway seeds, and other seasonings until smooth and creamy. It has a uniquely complex yet appetizing flavor.  
Obatzda is traditionally served as an appetizer or snack, pairing wonderfully with pretzels, bread, or crackers. It shares some similarities with other pungent soft cheeses, but Obatzda is distinct in its rich creaminess and bold spicing.
Whether enjoyed as part of a German beer garden spread or a cheese platter at home, Obatzda always brings joy. We highly recommend trying this Bavarian treat if you love rich, savory cheese flavors!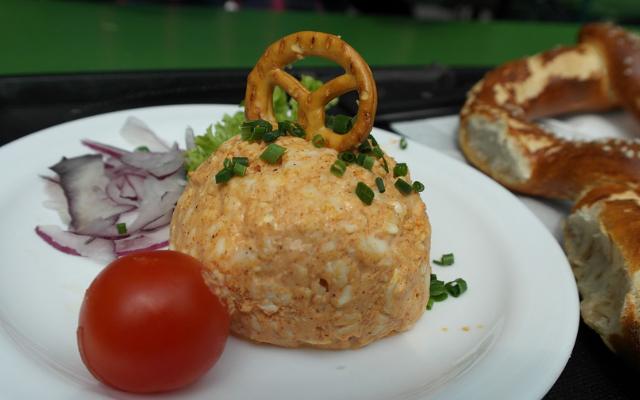 The History of Obatzda
No, it's not a Bavarian Delicacy that's been handed down through generations for centuries, but Obatzda has been around since the 1920s and originated right in the heart of Bavaria.
It was the brilliant idea of one innovative woman, Katharina Eisenreich, who worked at the Weihenstephaner Brewery's pub.
Katharina wanted to revolutionize Bavarian cuisine and invented Obatzda by mixing soft cheeses and spices and it quickly became the signature dish of the Freising Bräustüberl Weihenstephan.
Over the years, Obatzda grew from a brewery pub specialty into a staple at beer gardens across Germany. We first discovered it on our very first trip to Munich and fell in love with its creamy goodness instantly. 
Here's a brief look at the delicious history of this cheese spread including the all-important date where we ourselves were introduced to this awesome and delicious Bavarian Cheese Delicacy.
| | |
| --- | --- |
| 1920s | Obatzda was created by Katharina Eisenreich at the Weihenstephaner Brewery Bräustüberl Restaurant |
| 1952 | An Obatzda recipe was first published in a Bavarian cookbook  |
| 1960s | Obatzda has become a popular menu item at German beer gardens across the state |
| 1994 | Obatzda was discovered by Absolute Munich on a trip to Andechs Monastery and spreads the news to the world |
This humble cheese spread has certainly come a long way from its pub origins!
The Unique Aspects of Obatzda
Obatzda has an irresistibly rich, tangy flavor? But what gives it this perk for the tastebuds?
Because the spread is made with a combo of soft cheeses like Camembert or Brie, mixed together with butter, onions, and spices like paprika and cumin. This creates a smooth, spreadable texture with a perfect balance of creamy and tangy notes.
We love how Obatzda allows the flavor of the aged cheeses to really shine. You get that distinctive ripe cheese funk balanced by the richer, smoother butter and spices. It's a brilliant blend of textures and flavors.
Additionally, Obatzda represents a fun, approachable way to get a taste of authentic Bavarian culture.
The pairing of Obatzda and beer just feels like a good time with friends and I'm sure many of our Absolute Munich blog readers agree.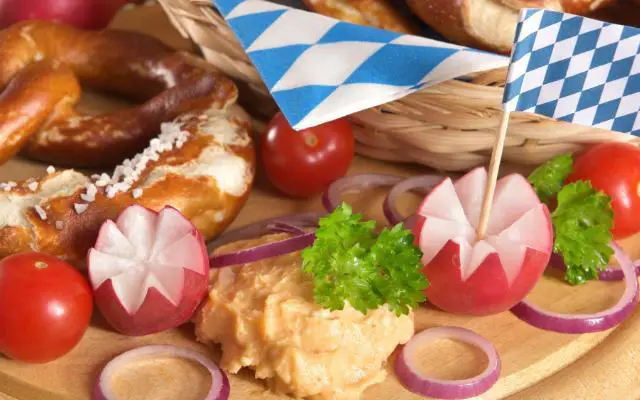 Basic Obatzda Recipe | How to Recreate the Magic at Home
Want to get your fix of creamy, dreamy Obatzda at home? We've perfected a simple recipe that will transport your tastebuds straight to Bavaria:
Ingredients:
250g butter
300g soft cheese (Camembert or Brie)
1 tsp paprika
1/2 tsp cumin
1 onion, finely chopped
Salt and pepper to taste
Steps:
Mash the butter and cheese together until smooth and well-combined.
Stir in the paprika, cumin, onion, salt, and pepper.
Chill the Obatzda in the fridge for 1 hour before serving.
We like to whip up a big batch of Obatzda and keep it on hand for impromptu cheese cravings. A dollop of Obatzda transforms any charcuterie platter for lunch or a pre-dinner nibble at 5pm! (Fivies we call them)
Pairing Suggestions for Maximum Indulgence
For the ultimate Obatzda experience, we have some decadent pairing suggestions:
Pretzels or Crusty Breads
Obatzda is the ideal dip for soft Bavarian pretzels, rye bread, or sourdough. The combo of creamy cheese spread and something crunchy is perfection.
Charcuterie Board
Heaps of Obatzda makes a fabulous addition to any meat and cheese board. It adds a unique Bavarian twist.
Beer
Is it even real Obatzda without a cold German beer? We think not! The boldness of the cheese pairs brilliantly with lagers.
Radishes
For a refreshing contrast, serve Obatzda with sliced radishes or cucumber. The crunchy veggie scoops up the spread flawlessly. With pairings like these, every day can feel like Oktoberfest! We hope our Obatzda devotion has inspired you to try this Bavarian treat. Let us know if you come up with any tasty variations.
Tantalizing Texture and Tempting Garnishes
Obatzda's luscious texture is part of what makes it positively addictive. It can range from smooth to chunky depending on personal preference. We prefer it ultra-thick and creamy!
To take the texture to the next level, we highly recommend serving Obatzda with an assortment of breads and crackers. The contrast of crunchy and creamy is sublime.
For extra flavor and crunch, garnish your Obatzda with:
Finely chopped chives
Minced onion
Sliced radishes
These traditional Bavarian garnishes add a burst of color and freshness to balance the richness.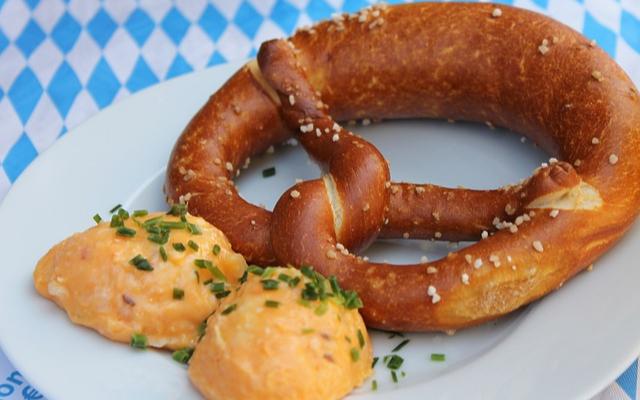 Absolute Munich's Tale of Obatzda Discovery
During our travels through Bavaria, we'll never forget discovering Obatzda for the first time.
We first laid eyes on it at a charming countryside beer garden connected to a brewery on a sunny afternoon in September 1994. We actually didn't know what it was but ordered it anyway along with two giant pretzels as our starter before we were to dig into our Schweinshaxe.
As soon as we dug our pretzels through that first smooth, creamy bite we were lost to its flavor! The tangy cheese mixed with the saltiness of the soft pretzel was absolute perfection and we soaked up every last bit of Obatzda savoring every flavorful mouthful.
I think that at that moment we felt connected to the generations of Bavarians who have enjoyed this specialty cheese over the half-century before.
To us, Obatzda epitomizes cheesy bliss – a culinary treasure we now try to enjoy as often as possible! Including sometimes at home from the recipe above.
We love how brilliantly Obatzda showcases the flavor of aged cheeses and sets the tone for Bavarian Cuisine wherever we go in the state. 
What Is Obatzda? | Our Final Thoughts
That irresistible creaminess with a slight funky kick is simply divine. Moderation, people! This stuff is highly addictive.
Obatzda holds a special place in our hearts (and stomachs) with its rich blend of flavors representing everything we love about cheese – indulgent creaminess, tanginess, and addictive texture.
We hope this cheese-centric ode makes you feel equally passionate about seeking out new creamy, dreamy Bavarian treats yourself. Obatzda taught us to never restrict ourselves to basic cheese plates that's for sure and perhaps it'll do the same for you guys.
So push the boundaries of Bavarian Cuisine, get creative with cheese spreads, and find the Obatzda of your life! The cheesier things get, the happier you might find yourself.
Prost to more cheesy adventures! Thanks for reading.
Read more about Green Munich in this article HERE.