Documented in a Munich City Map dating from 1812, the famous Munich Augustiner Keller holds the mantle of Munich's oldest beer garden.
Based on the extensive record-keeping of the Augustiner Brewery, the beer keg cellar (Eiskeller) was dug here back in 1807 and more than 100 chestnut trees were planted in order to shade the underground beer "goldminie", and keep the revered amber liquid cool.
Find out all about the Munich Augustiner Keller right here, right now!
With some of the antique wooden tables themselves dating back to 1847, it's safe to say that Munich's oldest brewery biergarten, is a place you can literally feel the Augustiner history.
The Augustiner Keller is a wonderful place favoured by locals, and a place where you can savour the tastes of some amazing Bavarian Cuisine such as the famous Schweinshaxe, sip your freshly poured Augustiner Edelstoff (lager beer poured from a wooden barrel), and listen out for the bell!
And, when you hear that bell ring, you know a new beer keg has been tapped and it's time for another Mass Bier. Prost!
Augustiner Keller: Beer Garden
This historical Munich beer drinking destination, with its distinctly Bavarian aura, is both a satiating and entertaining place with something for everyone to enjoy.
The Augustiner Keller Beer Garden actually offers up seats for near to 5,000 people with a layout and design largely unchanged since 1896 including, like almost ALL beer gardens in Munich, a children's playground as standard.
Here in the beer garden you'll experience traditional costumes, traditional music and that famous Gemütlichkeit (feeling of warmth and cheer) and it's no wonder that this is one of the most popular meeting places for Munich residents.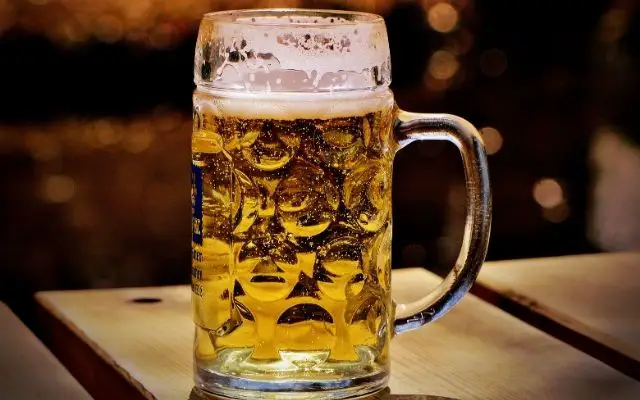 Here in the Augustiner Keller Beer Garden, there is a serviced area of over 100 tables where waiters or waitresses will take your orders and deliver your food directly to you. This area of the beer garden is called the Stammtische (regulars tables).
But atop of this, there is also a massive self-service area where in fact, you're welcome to bring your own snacks and picnics as long as you purchase your beer from the self-service area which is roughly in the centre of the massive beer garden.
During the summer months the beergarden at the Augustiner Keller is raucous and rowdy and without doubt, a very enjoyable place to spend a number of hours with friends or family.
Come winter, with the appearance of the Shepherds Wagons in the beer garden, you can imagine yourself as a humble shepherd relaxing with an Edelstoff after a hard day's work in your wagon, just like they would've done some 200 years ago right here!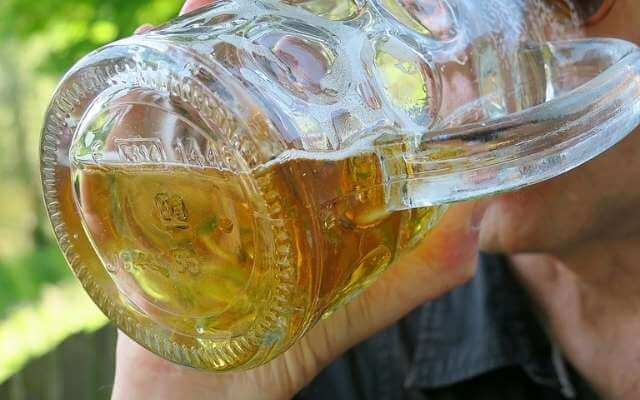 Augustiner Keller: The Festsaal
In essence, the Augustiner Keller is a beast, and with so many mouths to feed and water it's no wonder that as well as a massive beer garden there are substantial restaurant and catering options available in the interior of the main building.  
High-quality beer has been produced by the Augustiner Brewery for over 670 years and when you combine this magic liquid with superior food – well you get a match made in heaven.
Inside the main building of the establishment, you'll find the huge Banqueting Hall (Festsaal) on the upper level
The Festsaal is one of the last and most decadently arranged banqueting halls in Munich and can accommodate up to 600 people for various types of festivities.
Despite the Augustiner Keller's huge banqueting hall space, one can still get that sense of the cosiness that seems to permeate from most German eateries, no matter their size.
Augustiner Keller: The Lagerkeller
If you can discover the entrance, the wonderfully atmospheric Lagerkeller (storage Cellar) some eight metres below ground, is well worth a visit. All earthy and low lit, this brick and wood cellar simply radiates ambience.
This is a wonderful space to enjoy high-quality, locally inspired cuisine that the Augustiner Keller has to offer and there are various different dining areas in the depths here with nooks and crannies aplenty.
And wow, what a setting to be sipping on an ice-cold Edelstoff, Wheat Beer or Dunkel!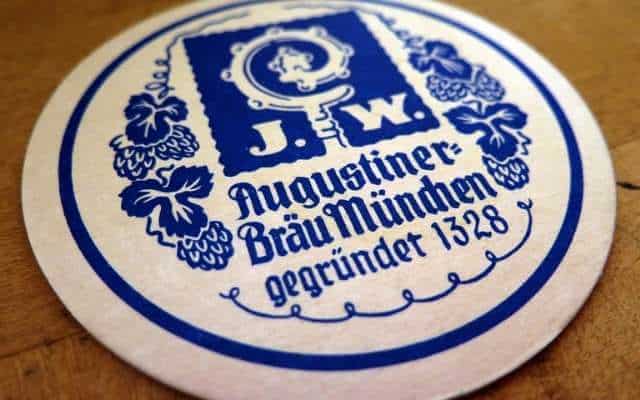 Augustiner Keller: Smaller Spaces
The Halle (hall)
This is part of the main Augustiner Keller building, and is the one location through which all rooms and spaces are accessed but it can also, in itself be utilised as an entertaining area.
The Jagdstube (Hunters Lodge) and the Wilderstube (Poachers Room)
These smaller areas can be combined or split into even smaller spaces for more intimate parties and functions and are located to the right side of the entrance hall.
The Bierstüberl (Beer Snug)
Across the Augustiner Halle from the Jagd and Wilderstube, is the Augustiner Keller's beer snug. The Bierstüberl is a favourite of regular guests due to its intimacy thanks to the fact that it is sort of 'cut-off' from the rest of the building. With its incredible wooden carved chandeliers and ancient oil paintings this area, whilst newly refurbished, really gives of an old-worldly vibe.
The Terrassen (Terraces)
These are the paved areas outside and directly adjoining the main Augustiner Keller building and are utilised all year round. Cool in summer and heated in winter they surround the building on a horseshoe styled formation.
The Eisstockhutten (Ice Stock Hut)
This is a relatively new addition to the Augustiner Keller and was constructed specifically to host winter events. The Ice Stock Hut comes complete with an ice rink outside on which to enjoy a traditional game of curling.
The SHepherd's Wagons
Decked out in different themes these portable shepherd's wagons are a popular addition to the Augustiner Beer Garden from mid-November and through the winter months.
Augustiner Keller: Location
Right in the city centre the Augustiner Keller is just a short walk from Munich's Central Train station – the Hauptbahnhof, and an even shorter walk from the nearby Hackerbrücke Train Station and Munich Zob (Central Bus Station).
Augustiner Keller: Beer Selection
There are very few places these days where you can enjoy beer straight from a wooden barrel. But this is something the Augustiner Keller prides itself on and something that wonderfully contributes to the overall Gemütlichkeit.
The beer is poured fresh from each wooden barrel by means of gravity alone and with no pressurised gas involved in the pouring process, a milder, smoother taste and flavour is achieved.
Being free of preservatives you can certainly expect to find a Head on A Beer served here at the Augustiner Keller, and that first cool sip of your freshly poured Edelstoff is something you won't soon forget.
Augustiner only brews beer under the strict Bavarian Purity Law of 1516, where only water, barley and hops are permitted in the brewing process and the end product simply speaks for itself.
Aside from their famous wooden barrel Edelstoff, the Augustiner Keller offers a range of different and seasonal beers including wheat beer, pilsner, dunkel, heller bock, maximator and Oktoberfest beer.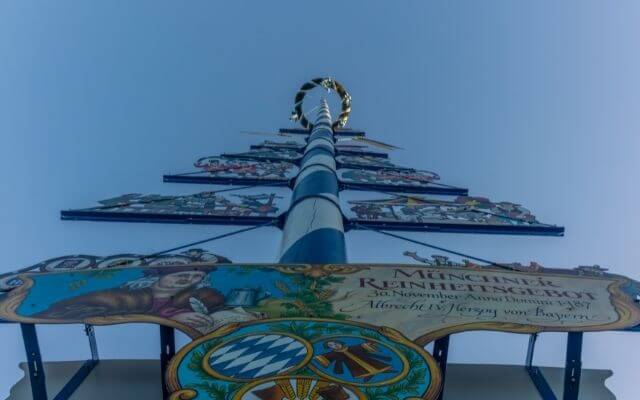 Augustiner Keller: Guides and Video
Keller Menu
With an ever-changing and seasonal menu the Bavarian Cuisine offered up here at the Augustiner Keller is always of the highest standards and quality. CLICK HERE for the latest service menu.
Keller Stories
With such tradition and such a long history, it's no wonder there are literally thousands of different stories, tales and even a measure of folk-lore that surround the Augustiner Keller. Read MORE HERE
Keller Brewery
Having been around in Munich since 1328 the Augustiner Brewery is no longer located on these premises but is just a short walk away. Still privately owned you can track its heritage on THIS PAGE
Augustiner at the Oktoberfest
The Augustiner Beer Hall (Augustiner Festhalle) at Munich's Oktoberfest is also the only brewing establishment to serve their beer from wooden barrels at this massive Munich event. The capacity of these traditional barrels are 200 litres and they are known as "hirsche".
The Augustiner is not only the oldest beer producer and brewery at Oktoberfest but they also lay claim to having their own butcher as well as having the oldest band leader at the Oktoberfest.
With a capacity of more than 6,000 inside and 2,500 outside you'll find this family-friendly tent has an amazing, yet traditional atmosphere, and is favoured by the locals of München.
Augustiner Keller: Is this one of your favourite places in Munich?
We might be biased here at Absolute Munich but we do love a bit of tradition and the Augustiner Keller has heritage in abundance.
There are other beer gardens in Munich that we love equally (and goodness knows there are plenty of them) but the Augustiner Bier Garten was one of the first we visited so it has a soft spot in our hearts.
We'd love to hear from you guys though and hear of what your favourite beer gardens are in Munich so drop us a comment or send us a message.
Prost everyone, we hope you enjoyed the read and our take on the Augustiner Keller.
Stay Safe, Stay Healthy and Stay Happy!