Welcome to the ultimate guide to Kloster Andechs, a historic and picturesque monastery located just outside of Munich, Germany.
This gem of Bavaria offers visitors not only a fascinating look at the life of monks and stunning architecture but also an opportunity to taste some of the finest traditional beer and enjoy the delicious local cuisine.
We've been out here dozens of times and love it here at Andechs, so we're placed to review the place including its beer, food, church, and much more!
In this ULTIMATE Guide to Kloster Andechs, we'll explore everything there is to see, do, and taste at the monastery as we leave no stone unturned.
So let's crack on, shall we?
Kloster Andechs: History and Significance
The Kloster here at Andechs was founded in 1455 by Blessed Rupert Mayer, a Bavarian Jesuit who was later beatified by Pope John Paul II.

Throughout its history, the monastery has had a significant impact on the local community, providing spiritual guidance, education, and even healthcare.
10th century: The site of Kloster Andechs was originally a castle owned by the Counts of Dießen-Andechs.
12th century: Count Rasso returned from the Holy Land with sacred relics. Miraculous healings began to take place at the castle, initiating its status as a pilgrimage site, known as the "Miracle of Andechs."
14th century: Monks started brewing beer at the site, marking the beginnings of the Andechser Doppelbock Dunkel tradition.
1455: The Benedictine monastery, Kloster Andechs, was officially established.
1803: The monastery was secularized during the Napoleonic era. It was used for various purposes, including as a school and a farm.
1850: The monastery was reestablished and the brewing tradition resumed.
20th-21st century: Kloster Andechs continues as a popular pilgrimage site and brewery, known for its spiritual, historical, and gastronomic significance.
Today, Kloster Andechs is a thriving community of monks who still follow the Rule of St. Benedict, living a life of prayer, work, and hospitality while preserving their traditional heritage.
Kloster Andechs Beer and Brewery
When visiting Kloster Andechs, there's one thing you just can't miss: the beer! And seriously, we've had a lot of it and we can certainly vouch for its awesome taste and superior quality,
The monastery has been brewing beer since 1455, using traditional Bavarian brewing techniques passed down through generations.
In our experience, the beer at Kloster Andechs is nothing short of exceptional, with a range of styles that cater to every palate.
Some of the beers you can find here include:
| | | |
| --- | --- | --- |
| Beer | Type | Alcohol % |
| Andechser Vollbier Hell | Lager | 4.8% |
| Andechser Weissbier Hell | Wheat Beer | 5.5% |
| Andechser Doppelbock Dunkel | Dark Doppelbock | 7.1% |
| Andechser Export Dunkel | Dark Lager | 5.7% |
| Andechser Spezial Hell | Premium Lager | 5.9% |
Tasting Traditional Bavarian Beer at Kloster Andechs
No trip to Kloster Andechs would be complete without sampling the monastery's famous beer.

We highly recommend visiting the beer garden and tasting room, where you can sample several different brews while enjoying the picturesque surroundings.
The (usually) friendly staff might even be inclined to provide recommendations and help you pair your beer with the delicious local cuisine on offer should you ask.

In our experience, there's nothing quite like a cold beer and a warm pretzel after a day of exploring or after a long cycle from Munich to Andechs!
It's no wonder that beer is considered the "liquid gold" of the monastery and you need to do yourself a favor and try it out!
Dining at Kloster Andechs in the Bräustüberl
When hunger strikes, fear not! Kloster Andechs offers a variety of dining options, from traditional Bavarian eateries to cozy cafes. Be sure to indulge in some local specialties, such as:
Weisswurst (white sausage)
Leberkäse (a type of meatloaf)
Freshly baked pretzel
Potato Salad (Kartoffelsalat)
Cold Cuts like sliced meats with dips and cheeses
Pork Roast, Pork Belly, Pork Knuckle (Schweinshaxe)
Desserts like doughnuts, puddings and strudels
There is no doubt that the Schweinshaxe is the star of the show here in terms of culinary offerings and they are absolutely HUGE and can easy serve two people if not more when adding salad and bread to the mix.
Where do they find these giant pigs to make these from is something we've always wondered.
Beer Garden: There is a large beer terrace right out front of the building as well as a side terrace that has great views and also check out the ost terrace (East Terrace) which is tucked away through an arched door off the main terrace for the best dining views in the house.
Inside: There are heaps of tables in both the main building and inside the terrace building where you also find all the desserts and the cafe for coffee/tea/hot chocolate.
What Does Kloster Mean
The word "Kloster" is German and translates to "monastery" in English.
It refers to a complex of buildings where monks or nuns live a communal life under religious vows.
In the case of Kloster Andechs, it is a Benedictine monastery, which means it follows the Rule of Saint Benedict which as we noted above guides the monks' daily lives.
Tips for Visiting Kloster Andechs
We recommend setting aside at least a few hours to explore the monastery, brewery, and surrounding areas, ensuring you can take in all this beautiful place has to offer.
When planning your visit, it's important to keep in mind the following information:
| | | |
| --- | --- | --- |
| Opening Hours | Entrance Fee | Guided Tours Fee |
| 9:00 AM – 8:00 PM daily | Free | Small fee per person |
| Parking | Church Services | Bathrooms |
| There is plenty of parking at the bottom of the hill (just a short walk up) and this is also where the local bus stops. | It is a working Monastery so the church does hold services as you can imagine. Check this page for upcoming service times. | There are bathrooms both inside the main building and downstairs in the smaller terrace building as well as in the carpark. |
Guided tours are available for an additional fee, and we highly recommend taking advantage of this opportunity to learn more about the fascinating history of Kloster Andechs.
However, from time to time the tours don't actually operate as the administrators design alternate tours that take in different parts of the massive complex, but you'll rarely get caught out.
The monastery is open year-round, but be sure to check the website for any special events or closures that may affect your visit.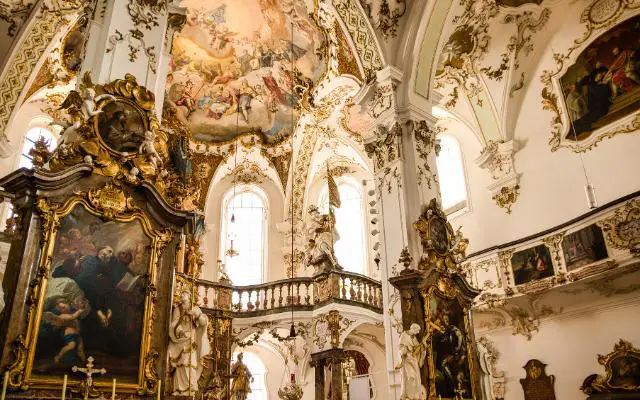 Exploring the Monastery and Church
The art and architecture at Kloster Andechs are truly remarkable, with stunning frescoes, intricate carvings, and soaring domed ceilings.

Don't forget to visit the pilgrimage site, where a relic of the Holy Cross is said to have been housed since the 10th century.
For photographers, there are numerous spots around the monastery that provide stunning panoramic views of the Bavarian countryside – perfect for capturing those unforgettable memories!
We recommend taking the time to explore the following areas:
The Church
The church at Kloster Andechs is a breathtaking example of Baroque architecture, with stunning frescoes, intricate carvings, and soaring domed ceilings.

The inside is an amazing showcase of altars, sculptures, detailed woodwork and color.

The ceiling of Kloster Andechs is adorned with a fresco that embodies the reward for those seeking to live by the four cardinal virtues of justice, prudence, fortitude, and temperance, along with the three theological virtues of faith, hope, and charity.

This remarkable artwork created by master painter and stucco plasterer, Johann Baptist Zimmermann, brings to life the image of Christ, resurrected from the dead, bestowing salvation upon those who profess His name.

The fresco supposedly captures the core essence of these virtues and serves as a compelling symbol of spiritual journey and enlightenment.

It's easy to see why the church is such an important pilgrimage site for Catholics around the world.
The Relic Collection
The Relics are supposedly articles or revered remnants of saints' bodies or related objects.

Early veneration occurred around martyrs' graves, and churches were built over them or received transferred remains.

These relics were believed to possess healing and protective properties, leading to the accumulation of large collections by sovereigns, bishops, and abbots.

The Andechs collection, dating back to the 10th century, includes relics associated with Christ, precious textiles, and items related to saints.

The "three Sacred Hosts" are central to the collection. Two of the sacred artifacts here at Andechs are thought to have been created during the reign of Pope Gregory the Great in the 6th century. One showcases a cross, steeped in a hue of blood, while the other features a phalanx.

The third relic, which displays the blood-imbued monogram of Jesus, is believed to be from the era of Pope Leo IX in the 11th century

Over time, the collection changed, and some relics are found outside the Pilgrimage Church.

Today, the relics are housed in the "Holy Chapel" and presented to small groups during church tours and you can only see the entire remaining collection on a tour.
The Brewery
The brewery at Kloster Andechs is a must-visit for beer enthusiasts, with a range of styles that cater to every palate.

Beer has been closely associated with the Benedictine Monastery on the Holy Mountain for over 560 years. After all, when the Benedictine Monks were asked to fast, the fast only applied to food, beer was more than acceptable to consume in the fasting period.

Duke Albrecht III, in the deed of foundation from 1458, granted the monastery the right to draw beer and retain the alcoholic beverage tax.

Brewing and selling beer became the monastery's leading enterprise, generating significant proceeds. Historical records indicate that the production and sale of beer in Andechs were undisputed rights that were never questioned.

The brewery played a crucial role in serving pilgrims who visited Andechs, the oldest pilgrimage site in Bavaria.

You can take a guided tour of the brewery to learn more about the brewing process, or simply enjoy a cold beer in the beer garden.
The Monastery
The monastery itself is a beautiful example of Bavarian architecture, with stunning courtyards and gardens that provide a tranquil setting for quiet reflection and contemplation.

Make no mistake – this is a working monastery however and there are over 200 employees plus a complement of monks.

The complex operates a brewery, shop, church, farm, and distillery and has apparently been generating income since 1850 as it no longer receives any Bavarian church tax funds.

This is a busy place 7 days a week.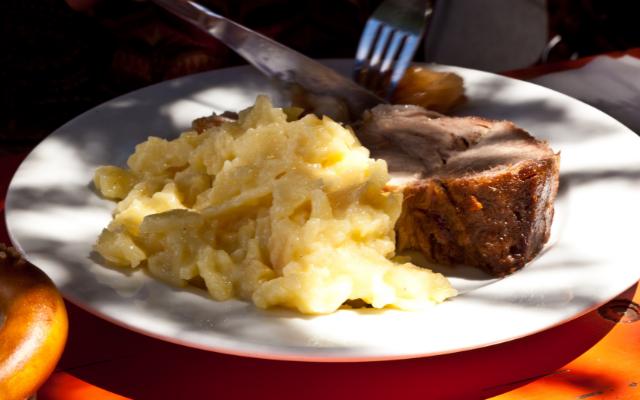 Uncovering the Spiritual Heritage of Kloster Andechs
Beyond its beauty and delicious beer, Kloster Andechs also offers visitors the opportunity to connect with the spiritual heritage of the monastery.
Whether through quiet reflection in the church, attending a service, or engaging with the monastic community, there are numerous ways to uncover the deeper meaning and purpose of this serene and beautiful place.
Some suggested activities include:
Participating in daily prayers and liturgy with the monks
Spending time in quiet reflection in the monastery gardens
Attending a retreat or workshop, often hosted by the monastery
Kloster Andechs: Events and Festivals
Throughout the year, Kloster Andechs hosts various cultural events and live performances, such as concerts and art exhibitions.
Some annual events include:
Kloster Andechs Beer Festival
Andechs Organ Summer Concerts
Advent Concerts
These events are a great way to immerse yourself in local Bavarian culture and experience the monastery in a unique and engaging way.
Hiking to Kloster Andechs
For those looking to explore the beautiful Bavarian countryside, there are several scenic hiking trails that lead to Kloster Andechs.

A lot of people actually catch the train out here to nearby Herrsching and walk from there through the forests and countryside to earn their drinks as this takes about an hour!
Some popular trails include:
Herrsching to Andechs Trail
Andechs to Pähler Schlucht Trail
Around the Ammersee Lake Loop
We've found that hiking to the monastery is an excellent way to work up an appetite for that well-deserved beer and pretzel!
Day Trip from Munich to Kloster Andechs
Located just 35km southwest of Munich, Kloster Andechs is an easy day trip for those staying in the city.
We have an extensive page on Getting From Munich to Amdechs that you should check as it covers all options, but basically, the easiest public transportation route is as follows:
S-Bahn train to Herrsching
Bus #951 to Kloster Andechs
| | | |
| --- | --- | --- |
| Transport | Duration | Cost |
| S-Bahn train | 50 min | Around €7 |
| Bus #951 | 15 min | Around €3 |
Personally, we love riding our bicycles out here, it takes a couple of hours but is a great ride.
Hidden Gems around Kloster Andechs in Bavaria
While you're in the area, why not combine your visit to Kloster Andechs with a trip to other nearby attractions, such as Ammersee Lake or the charming town of Andechs itself?
For those who love exploring off the beaten path, there are plenty of hidden gems around Kloster Andechs waiting to be discovered. From charming local villages to beautiful natural landscapes, you're sure to find something that captures your imagination.
Some of our favorite hidden gems include:
The Andechs Heiliger Hill (or Holy hill) – A secluded spot behind the church at the top of the hill with stunning views of the Alps and the Ammersee lake
The "Starnberger See" – A nearby lake that offers a variety of water sports and recreational activities
The town of Dießen am Ammersee – A picturesque town known for its art and pottery scene
Kloster Andechs | Klosterbrauereien
As we've indicated before in other article and also previously in this article – we've been here dozens of times.
No matter how many times we visit we feel the Bavaria Gemütlichkeit in spades out here – it's a wonderful place for both adults and kids to enjoy.
Kloster Andechs is more than just a beautiful monastery – it's a place where history, culture, and spirituality come together in perfect harmony.
With stunning architecture, delicious traditional beer, and a wealth of experiences to be had, this hidden gem is a must-visit destination for anyone traveling to Munich or the Bavarian region.
So what are you waiting for? Start planning your trip to Kloster Andechs today, and discover the beauty and tranquility that await within its walls.
Prost and thanks for reading!
Can I visit the brewery at Kloster Andechs?
Yes, the brewery is open to visitors. You can take a guided tour to learn more about the brewing process or simply enjoy a cold beer in the beer garden.
Where is Kloster Andechs located?
Kloster Andechs is located 35km southwest of Munich, Germany, in the picturesque Bavarian countryside.
How do I get to Kloster Andechs from Munich?
You can take the S-Bahn train from Munich to Herrsching, followed by the Bus #951 to Kloster Andechs. The train ride takes about 50 minutes, and the bus ride takes around 15 minutes.
What are the opening hours of Kloster Andechs?
Kloster Andechs is open from 9:00 AM to 8:00 PM daily.
 Is there an entrance fee to visit Kloster Andechs?
 There is no entrance fee to visit the monastery, but there is a small fee for guided tours.
Can I hike to Kloster Andechs from nearby trails?
Yes, there are several scenic hiking trails that lead to Kloster Andechs, such as the Herrsching to Andechs Trail and the Andechs to Pähler Schlucht Trail.
Do you love Kloster Hiunting as we do here at Absolute Munich? If so read this article Ettal Abbey Monastery