One of our core goals here at Absolute Munich is to promote a Green Munich, through sustainable living initiatives.
Munich is a wonderful city for relaxed lifestyle living, and we, along with the city administrators, are committed to creating an even greener city through sustained and responsible urban design and education.
One of our past blog entries has already highlighted secondhand shopping here in Munich and we provided our readers with plenty of tips on where to shop for practical furniture, vintage clothing and other renewable collectables.
In this post, however, we want to expand the topic further and introduce sustainable food shopping in Munich to you.
As eating is something we cannot avoid, the question we are tackling here is What can we do as individuals to achieve "Green Eating" in Munich?
One way to do this is by purchasing from organic producers. Luckily for us, in many supermarkets, we can easily find many various bio/organic and fair trade products. 
Statistics show us in 2019, 38.04% of the German population buy 10-50% of organic food. This ranks the highest when comparing people who either only buy or completely do not buy organic food.
From our own experiences (and probably for most others), although we know buying organic is a better choice, but mainly due to higher price, it is not so always easy to consistently to do this.
For this reason, we'd like to share some of our tips on where you can buy plastic-free products and take part in Food Rescues here in Munich.
If buying organic is already a part of your shopping habit, then rest assured the planet is already thanking you, but here's to hoping you might go a step further in helping realise a totally Green Munich through other green living initiatives.
We hope you enjoy the read!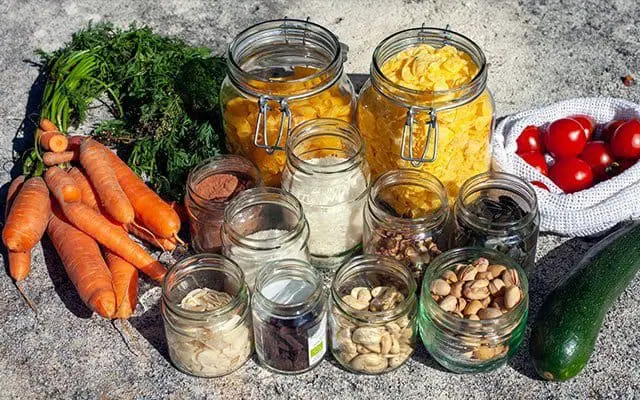 We've all seen photos of the ocean filled with plastic and unfortunately, we've all experienced finding bits and pieces of plastic when we go to the beach.
When we shop, we often think, because there's a pretty good recycling system in Germany, it's not so bad to buy plastic packaged products.
However, this is not the case. In reality, we are simply consuming more plastics than what is been recycled.
Energy and resources used in recycling also do not offset the production of plastic.
To solve this problem, the ultimate solution is to stop or at least reduce the use of plastic.
On a regular basis, we can avoid buying pre-packed veggies and fruits and we can easily bring our own reusable bag.
To go a step further, we can buy from shops without packaging at all.
The following shops are places that we've found that are easily accessible in the city, with a good of choice of products and at different price points.
We hope you can embrace the "green eating" movement in our wonderfully Green Munich!
Schellingstrasse 42, 80799 Munich
Mon – Fri | 9:30 – 19:00, Sat | 9:30 – 18:00
Rosenheimer Strasse 85, 81677 Munich
Mon – Fri | 10:00 – 19:00, Sat | 10:00 – 18:00
With two locations easily accessed from the city centre, the minimalistic looking Ohne shop speaks for itself. 
Not only the meaning of Ohne means "without", but the simple Scandinavian interior of the shop also reflects their goal for Zero waste.
Offering fresh and dried food, body care and household cleaning products, the shop is designed with little fuss, but toke care that even their shelves and food dispensers are also plastic-free.
Food option wise, they sell pasta, grains, fruits and veggies from Etepete (a food rescue platform that we will elaborate on later in the post).
Often, you can also find a couple of items that are great as a gift or even a souvenir.
It is a great subtle way to signal to friends to start supporting ohne plastik Verpackung (plastic-free packaging).
Tip: Don't forget to grab a cuppa coffee and a slice of homemade cake when you're there!
Inspired by her Ur-Oma (great-grandma) Resi, who also ran a small shop without packaging back in the days in Allgäu, Chrissi decided to continue the legacy with her expertise as a nutritionist.
She wants to promote well eating not only from eating healthy, but also promoting sustainability from our eating habits.
Similar to Ohne, in this cosy store, a variety of fresh and dried food and household products are available from self-dispensers.
All their products are regionally sourced, an additional initiative to support local farms and to reduce carbon-print.
From the website, you can also find Reis' tasty recipes, which are nutritional and include vegetarian and vegan options.
Grünwalder Straße 244, 81545 Munich
Weds – Fri | 10:00 – 18:00 (Closed 13-15:00), Sat 10-15:00
When visiting the Mutter Natur Laden, it's like walking into a little village store Bavaria.
It's homey and the staff are extremely friendly.
You'll find the products are stored in little cute glasses and metal tins.
Like the other stores mentioned earlier, here, they also offer regional food and organic products with minimal or no packaging.
One great advantage about this store is that you can pre-order for pick up or delivery. According to where to live, they have a delivery schedule to make your weekly shopping more convenient.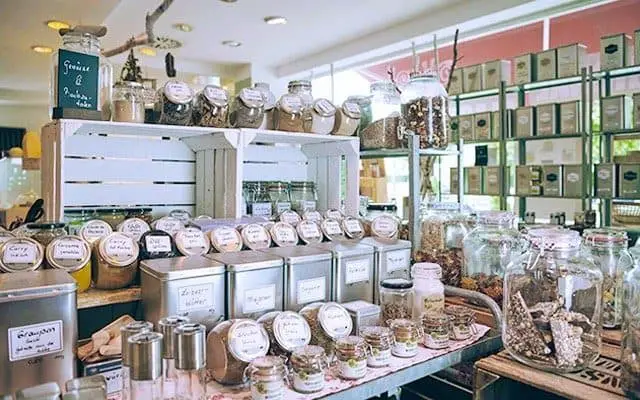 For us, it's always better to support small businesses.
However, if the stores mentioned earlier are too inconvenient for you, Basic-Bio is another good option with fair pricing.
With 11 branches in Munich, this will make your shopping way easier.
Basic Bio has a large range of produces. From fresh veggies and fruits, basic grains body and household cleaning products.
As this is actually a proper supermarket, they also offer international goods such as Asian ingredients and a large selection of alcohol and non-alcoholic drinks.
There, you can also find household cleaning products with dispensers.
Another practical service that Basic-Bio offers, is that you can also bring your own container for cheese, meat and sausages (very important in Bavaria to mention sausages as a different category from meat).
Tip: The fresh bakery offers "yesterday's bread" as Angebot (specials). Most of the time, you can get a very good-quality bio bread bag for less than half the original price. A great idea if you plan to make Knödel (bread dumpling) or Brotzuppe (bread soup)!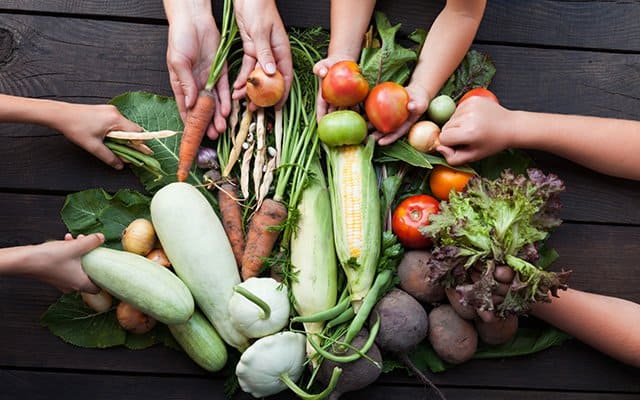 According to de.statista in 2020, on average, a person in Germany generate 55kg of food waste per year.
Fresh vegetables and fruits are top items, followed by bakery goods.
Most  household food wasted are due to over buying.
Another significant source of food waste is from supermarkets and restaurants.
Supermarkets follow strict food standards. Particularly with vegetable and fruits, they must be in consistent size and look. Stock level must be kept high, so it looks attractive to customers.
For restaurants, it is just simply too difficult to forecast the exact amount of food they need.
To address this problem, we have found amazing organizations that attack this issue.
As mentioned earlier, one of the biggest problems buying from shops or supermarkets is that food must always follow a rigid standard.
E.g. If a carrot is looking a bit weird, it is not long and lean, and if it is slightly not orange enough like in a catalogue, many do ended up going to the landfill.
This is where etepetete (fussy) steps in. They have teamed up with local farmers to rescue these not so perfect looking, but completely edible fruits and vegetables.
etepetete source not only from organic farms, but they also work with climatepartner in their packaging and delivery processes to achieve C02 Neutral.
How does it works?
Etepetete uses a yearly subscription method where customers can order the etepete box weekly/bi-weekly.
There are different options such as Fruit or Veggie only Box and Mixed Box. Recently, they have also rolled out dried-food boxes that include grains with basic veggies and the Rescued Snack Box.
This method is adopted so that they can control the supply quantity and not over-order like the regular supermarkets.
Remember, their goal is to rescue, not causing more wastage!
We know that since Corona, many online bio-boxes delivery services have become increasingly popular, and of course they have their advantages.
However, we think by far, etepetete is the most sustainable in terms of its concept and its delivery methods.
So feeling eating an ugly carrot? You can order it online here. 
Although fruits and veggies are the most common food waste, many pre-packed foods also go to waste every day. This is due to overproduction or simply, cancellation of orders.
Sirplus, solves this problem by directly sourcing these items from manufacturers and sell them online at a discounted rate.
Since 2017, they have rescued over 2,500 Tons of perfectly good food and they are ambitiously seeking to expand.
Despite their business is yet profitable, they are positive that they have set up a solid infrastructure that will enable the organisation to grow sustainably, and eventually, offsetting food waste.
In terms of the products, they offer a super-large range of products and many of them are bio! From chips & dips, coffee & teas, stable carbs like rice, pasta, drinks to superfoods. They also offer a large range of body care products.
One of the advantages of ordering from Sirplus is that there are two ways to order. You can purchase singular items or by monthly subscription.
Whichever way you order, you'll save money in your pocket. When you compare the original price from shops or supermarket, there's usually a discount across the products. When your order is over 39,90Euro, the shipment is free.
As for vegetarians and vegans, this is a bonus, as there are special veggie and vegan box subscription box.
Everything sounds great, right? There's one topic that I would like to cover.
You may ask in terms of sustainability, does it make sense to buy online and having goods sent outside from your region.
Well, Sirplus have considered this and concluded that the CO2 emission contributed from delivery is still less than the goods that will be transported to a wasteland.
Since all waste itself contributes to C02 emission and it has already consumed so much energy and resources in production and transportation, it is still better to consume it than put all of that to waste. And don't forget, most things you buy from supermarkets have travelled much further distances.
Another unique point about Sirplus is that they also run online and on-site tours and workshops about sustainability for companies and schools. This is a great way to motivate communities and the future generation to understand and be more involved in rescuing our planet!
To start food rescuing, go to the Sirplus website!  Happy ordering!
Our last Empfehlung (recommendation) for food rescue is a super simple, easy platform that allows you to order and pick up unsold food from various food outlets. 
With the simple Too good to go app, you find the closest bakeries, restaurants and supermarkets in your neighbourhood.
With the app, you can choose your Überraschungtute from a location near you. The price on average is around 3-5 Euro per portion and the amount is about 2-3 times cheaper than the regular price.
There is no subscription, so you can order whenever you want (given what is available on the day, of course) and pick it up at the dedicated time. You can cancel your order two hours before the pick-up.
The system in fact works super well because the pickup time is usually between 5-7pm, so for most of us, is a quick pick-and-go after work.
I've been using the app for about a year now and I would say 95% of my experience was positive. I've always received good-quality food with a generous amount.
Since my first trial, there are also many more new companies joining in. For example, Alnatura, Bio-Basic (both sell bioproducts), Dean & David, Bakery Konditorei Ziegler and Sofitel.
Amongst these are also many new local small cafes and bakeries. So it is always nice to find something new to try.
I have to admit though, in the beginning, there was a bit of trial and error involved.
There were a few disappointed pick-ups and I needed to manage the pick-up time a little. However, after a few trials, it was easy to find my regular picks.
In my area, there are actually 4 bakeries that I regularly order from. I do rotational rounds so that I don't get bored with the same food.
So download the app now and see what's around you. From my experience, the staff were always friendly and the quality of food has always been above my expectation.
Green Munich Retailer Locations
More GREEN MUNICH Living suggestions
We understand that the topic of Sustainability, Green initiatives and socially aware eating and living, can be less exciting than talking about the amazing festivals, events and travel destinations that Munich and Bavaria offers.
But it is oh so important to our planet, and we do hope our post has motivated you in some way to take further actions towards helping create a totally Green Munich. 
The time for "baby steps" towards responsible and ethical consumerism is passed, we need to now "rush" towards sustainability in all walks of life. 
Please believe us when we say, Every Action Counts.
Please let us know your experience and we are always happy to hear more tips & suggestions. 
For now, we're off to check out what yummy food we can order!