It was back at the 2006 World Cup, that we first journeyed to the architectural wonder that is the Allianz Arena Munich to support the Socceroos in the World Cup. 

The awesomeness of this futuristic stadium left us stunned back then and now, over 16 years later, the arena still awes football fans as the dazzling home of Munich's most Famous Football Team; FC Bayern Munich.
Join us as we present this complete Allianz Arena guide and uncover its luminous façade to top match day tips and everything in between. 
So why not read on and plan your own football dream trip to the Allianz Arena in Munich today?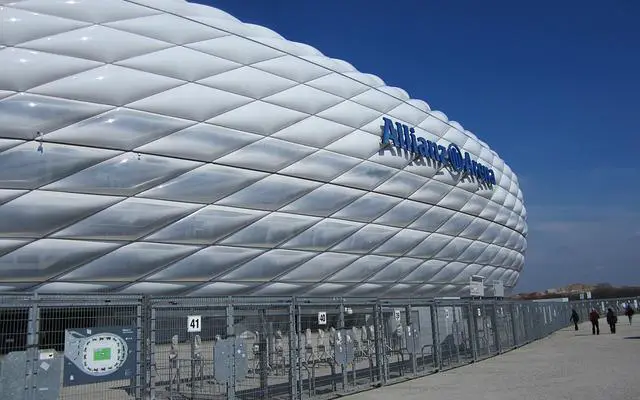 History and Construction Of The Stadium
Designed by a renowned Swiss architectural team from Herzog & de Meuron, the stadium has become a German landmark since its completion in 2005.
World-renowned architects Jaques Herzog and Pierre de Meuron certainly had a specific vision, and when you visit the stadium and take a guided tour you will surely see what they must've envisioned.
Construction began in October 2002, and it took approximately three years for the state-of-the-art facility to be completed.
The stadium was designed with a specific focus on football, making it a perfect home for both Bayern Munich as well as a pitch to accommodate international matches.
Throughout the construction process, a team of over 700 builders worked diligently, often in two daily shifts starting at 6:30 am until around midnight, and the stadium was officially completed and inaugurated in 2005.
The hard work and dedication of these individuals ensured that the stadium was ready in time for the charismatic showcase events of the 2006 FIFA World Cup which was played in Germany.
With its groundbreaking design and state-of-the-art facilities, it's no wonder this is considered one of the premier football stadiums worldwide.
Renowned for its distinctive exterior, which features an extraordinary façade made up of 2,874 cushion-like panels that can be illuminated in various colors, the arena's place in football history is a proud one.
Its innovative design elements not only contribute to the arena's unique appearance but also helps to enhance the overall atmosphere for spectators.
 Müncheners and Bavarians alike see it as a German symbol of the sport's power to unite people from diverse backgrounds. 
Design Features | Facts and Figures
This stunning stadium, opened in May 2005, is often recognized for its exceptional exterior comprising inflated ETFE plastic panels, making it the first stadium globally to boast a full color-changing exterior.
Located in Munich's Schwabing-Freimann borough, the Allianz Arena is the second-largest arena in Germany, surpassed only by Westfalenstadion in Dortmund.
When it comes to color, the Allianz Arena sets a benchmark with its ability to change the exterior's colors depending on the football club playing. For instance, red for Bayern Munich or blue during TSV 1860 Munich matches, thus creating a vibrant and dynamic facade.
This unique luminous aspect is achieved through the ETFE plastic panels, which allow light to permeate the cushions3.
The design team certainly made sure that the arena is not only functional but is also a luminous focal point on the Munich cityscape skyline.
Here are some important statistics and links about Allianz Arena:
| Capacity | Seating | Construction | Architects | Cost |
| --- | --- | --- | --- | --- |
| 75,024 | 57,343 (Expandable to 67,812) | 2002-2005 | Herzog & de Meuron | €280,000,000 |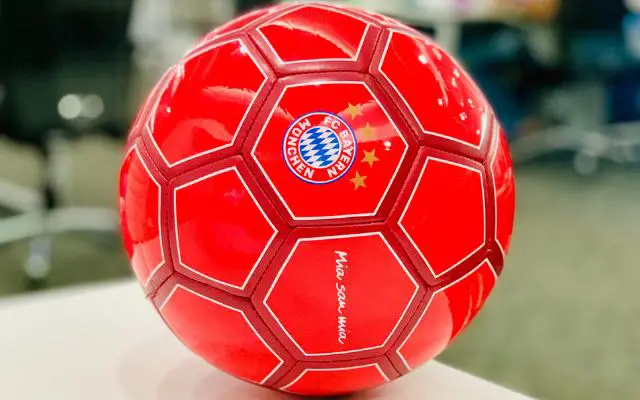 Bayern Munich & the Bundesliga
As football fans, we always look forward to visiting the Allianz Arena, home of FC Bayern Munich since 2005.
It's no secret that the atmosphere during home games here is electrifying, and we couldn't imagine a better place to show support for Munich's biggest football clubs. 
With a capacity of 75,024 (which includes 17,794 standing places), if you do come along to any of the Bundesliga home games played here, you'll get to witness remarkable fixtures alongside thousands of other devoted supporters, creating an experience you'll never forget.
Whenever Bayern announces a new match the city can't help but feel the anticipation build as supporters eagerly await the walk through the doors and into the 
And on match days, the spectacular light show that illuminates the stadium's exterior before kick-off never fails to amaze us.
If you're a fan like us, we strongly encourage you to come and experience a match at the Allianz Arena. The energy, excitement, and camaraderie shared among fans during home games simply cannot be replicated anywhere else. Just remember to grab your FC Bayern tickets well in advance to ensure your spot among the passionate crowd rooting for our team.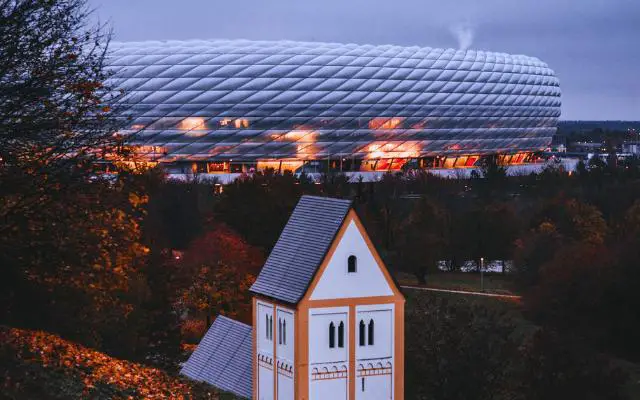 Famous Matches & Events At The Allianz Arena Munich
We've had the pleasure of witnessing some truly remarkable matches and events here and with a seating capacity of 70,000 for international matches and 75,000 for domestic games, it's no surprise that this fantastic venue has hosted some of the world's most prestigious football events.
One of the most memorable games at the Allianz Arena was the UEFA Champions League Final in 2012, featuring home team Bayern Munich against Chelsea FC.
It was a tightly contested match, which eventually ended in a dramatic penalty shootout, with Chelsea coming out on top as the winners.
In addition to hosting numerous German Bundesliga games, the arena has also been a fixture for international competitions, such as the Euro 2020 tournament.
Although postponed due to the COVID-19 pandemic, the rescheduled event saw some intense battles between European football powerhouses at this iconic stadium.
Looking ahead, we're thrilled that the Allianz Arena will take center stage again during Euro 2024, serving as one of the host venues and showcasing the best of European football talent.
There have been numerous friendly matches between national teams as part of their preparations for major tournaments like the FIFA World Cup here and these matches offer fans a chance to see their favorite players up close and in action while enjoying the incredible atmosphere that the arena is known for.
Overall, the city is clearly incredibly proud of the famous matches and events that have taken place at the Allianz Arena, and certainly, we look forward to many more in the years to come!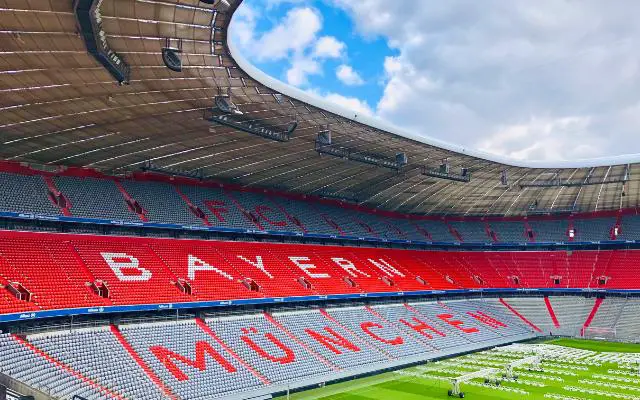 Experiences | The Bayern Museum and Allianz Arena Tour
The stadium offers an unforgettable football experience for die-hard football fans, combining state-of-the-art facilities with world-class entertainment.
To get a real feel for this iconic stadium, we recommend taking the Allianz Arena Tour. This guided stadium tour offers a behind-the-scenes look at the venue, taking visitors through its various areas, including the VIP section, players' dressing rooms, and even the pitch itself.
The tour is available on both matchdays and non-matchdays, making it a must-see experience for any football fan visiting Munich.
Another highlight of the Allianz Arena is the FC Bayern Erlebniswelt, Germany's largest club museum. Here, you can immerse yourself in the history of FC Bayern Munich, discovering the club's many achievements and iconic moments throughout its existence.
Inside the stadium, you'll find a variety of food and drink options, including bars and restaurants offering both traditional Bavarian Cuisine and international dishes.
The atmosphere is lively and friendly, making it easy to mingle with fellow supporters and enjoy the matchday experience.
Furthermore, outside the Allianz Arena, you can find many bars and restaurants where fans can gather before and after the match.
From traditional beer gardens to cosy pubs and fine dining establishments, there's something for everyone to enjoy in the surrounding area.
Munich's Allianz Arena | Bayern's Home
As we step into the magnificent Allianz Arena, it's important to remember that this architectural marvel is not only home to the world-renowned FC Bayern Munich but has also played host to fellow Munich club, TSV 1860 München. Although TSV 1860 has now moved to a different location, their time at the iconic stadium adds to its rich history.
During the initial years of the arena, it was a shared home for both FC Bayern Munich and 1860 Munich. The Allianz Arena, with its impressive 75,000 seating capacity for domestic matches, provided a grand stage for these clubs to showcase their talents.
Before FC Bayern Munich became the exclusive tenant, the stadium would adapt to each club's identity through innovative lighting technology. When FC Bayern Munich played, the stadium would illuminate in red, while TSV 1860 matches saw the Allianz Arena bathing in blue lights.
With 1860 Munich moving to the Grünwalder Stadion, FC Bayern Munich now occupies the Allianz Arena as its primary home. The state-of-the-art facilities elevate their already stellar reputation in the footballing world, and it's no surprise that the stadium has witnessed many unforgettable moments and triumphs.
Visiting the Allianz Arena, we can't help but appreciate the importance of this venue for the Munich-based clubs, and the enduring role it plays in the growth and success of these football giants. Whether you're cheering on FC Bayern Munich or remembering the TSV 1860 glory days, the Allianz Arena remains a testament to their contributions in shaping the football landscape within Munich and beyond.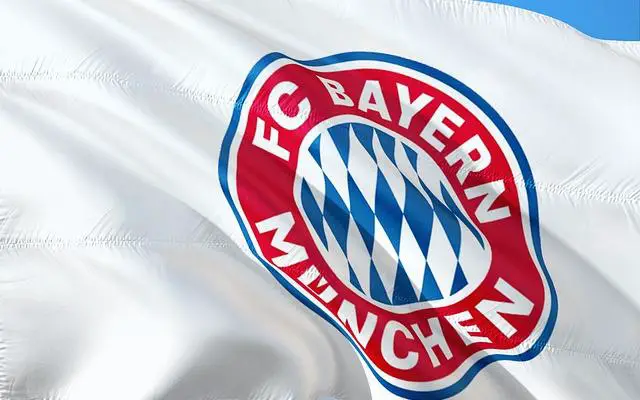 The NFL International Series at the Stadium
But it's not just about football at the Allianz Arena as the stadium also welcomes other sports to the stadium. Ironically more codes of Football but there you go.
For instance, the National Football League (NFL) will be playing a regular season game in 2023, showcasing America's most popular sport right here in Munich.
There are plans to continue with NFL here until at least 2025 as the Americans try to muscle in on the European sports market.
Future Plans | Euro 2024 and Beyond
As we look ahead at the Allianz Arena in Munich, there are some pretty exciting developments on the horizon. One of the key projects coming up is the expansion of the stadium's capacity. According to Coliseum, the seating area of the Allianz Arena will be converted to standing areas, allowing even more fans to cheer on their favourite teams.
The year 2025 is going to be quite important for Allianz Arena's tenants, including the Bundesliga giants, FC Bayern Munich.
The club's plans for growth will go hand in hand with the enhancements being made to the arena, ensuring a world-class experience for both the players and the fans.
Allianz is set to be the venue for the opening game of the 2024 European Championship, which will kick off on 14 June 2024 and this prestigious event is just one example of the many thrilling attractions planned in the upcoming years.
Interesting Facts About The Allianz Arena
Its exterior is made up of 2,874 ETFE plastic panels, which create a magnificent view at night as they can be illuminated in various colors. This unique feature has become an iconic part of the Munich skyline.
The stadium has a seating capacity of 70,000 but can accommodate up to 75,000 spectators for domestic events. The adjustable capacity ensures a comfortable and enjoyable experience for football fans in any match.
The Allianz Arena's impressive construction took less than three years to complete and replaced the Olympiastadion, which was initially built for the 1972 Summer Olympics, as football's home in Munich. 
Since its grand opening in 2005, the Arena has become the crown jewel of Munich's sports venues.
Underneath is actually Europe's biggest underground car park with spaces for nearly 9000 vehicles.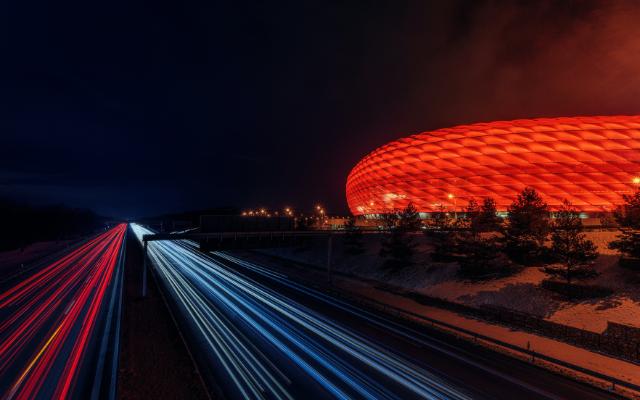 Getting To And From Allianz Arena
We know that getting to and from the Allianz Arena in Munich is an essential part of your visit. With various transportation options available, it's easy to travel to this iconic football stadium. Getting Around Munich is easy!
Firstly, the underground is a convenient and affordable choice. Just take the U6 line from the Munich city center towards Garching-Hochbrück and exit at Fröttmaning station. The journey takes roughly 30 minutes, and it's just a short walk to the stadium from there.
Another option is taking a taxi if you prefer a more direct route. A taxi ride from Allianz to Munich city center typically takes around 15 minutes and costs between €25 to €40 depending on traffic and surcharges.
For those who prefer driving, there's easy motorway access and plenty of parking spaces are available on-site, but we highly recommend booking your parking spot in advance, as spaces may fill up quickly on match days.
As you plan your visit to this unforgettable venue, remember that early arrival is encouraged, especially on busy game days. 
Absolute Munich's Thoughts on Allianz Stadium
Our favorite part of visiting the Allianz Arena is having the chance to explore the Bayern Erlebniswelt, the official club museum that outlines the history of Bayern Munich.
The museum immerses the visitor in the rich history of FC Bayern München and takes them on a journey through Germany's largest club museum.
From incredible memorabilia to interactive exhibits, we always leave feeling connected to the stadium, the team and the City of Munich itself on a deeper level.
Honestly, this is a must-visit destination for any sports lover but particularly for any football lover and if you have the chance to see a match here, then you simply must do so.
We hope you enjoyed our take on the wonderful Allianz Arena in Munich and we appreciate you taking the time to read this article.
Cheers and safe travels everyone.
Frequently Asked Questions
What is the capacity of Allianz Arena?
The Allianz Arena has a seating capacity of approximately 75,000 spectators. It is an impressive and modern stadium that hosts various events, including football matches of FC Bayern Munich and other sports events.
How can I buy Bayern Munich tickets?
To purchase tickets for Bayern Munich matches, you can visit the FC Bayern Munich ticket website. Here, you will find information on ticket availability, prices, and the process of booking your tickets. Make sure to provide the required information such as your contact details, preferred ticket category, and payment method.
What is offered in an Allianz Arena tour?
An Allianz Arena tour offers visitors an exciting experience to explore the stadium, including areas like the dugout, changing rooms, stands, and press room. During the tour, you will get a glimpse of the history and fascinating facts of the Allianz Arena. For more details on the tours, you can visit the Allianz Arena official website.
How do I get to Allianz Arena from Munich city centre?
To reach the Allianz Arena from Munich city centre, you have various transport options available. One of the most convenient ways is by taking the U-Bahn U6 line towards Garching-Forschungszentrum and alighting at Fröttmaning station. From there, it's just a short walk to the stadium.
Is Allianz Arena the largest stadium in Munich?
Yes, Allianz Arena is the largest stadium in Munich. With a capacity of around 75,000 spectators, it is an impressive venue that hosts not only football matches but also concerts and other large-scale events.
What kind of turf is used at Allianz Arena?
At the Allianz Arena, a hybrid turf system is utilised, which combines natural grass with artificial fibres. This type of turf provides a high-quality playing surface, ensuring optimum conditions for the players and a great visual experience for the spectators.
Footnotes