Nestled in the heart of Bavaria, just a stone's throw away from Munich, lies the charming city of Freising.

This picturesque destination is rich in history and culture, making it the perfect place to embark on a Bavarian journey of discovery.
In our experience, Freising is often overlooked by tourists, but we've visited here a few times and we love it and have found that it's always an incredibly rewarding place to explore.

So, without further ado, let's jump in and discover all there is to know about Freising right here together.
Freising Attractions
Freising is a treasure trove of attractions that will delight history buffs, culture vultures, and foodies alike.

We've handpicked some of the top things to do and see in the city to help you make the most of your visit.
Freising Cathedral (Freisinger Dom)
The stunning Freising Cathedral is an absolute must-see.

With its baroque architecture and richly decorated interior, this cathedral was once the residence of the powerful Prince-Bishops of Freising and holds generations of history within its walls.

We recommend taking a guided tour to truly appreciate the intricacies of this beautiful building.
Historical Landmarks in Freising Off the Beaten Path
Freising is home to a number of lesser-known historical sites that are well worth exploring.

Some hidden gems include:
Luitpold Bridge: This bridge spans across the Isar River and provides a breathtaking view of the city and is an iconic landmark.
Named after Prince Luitpold of Bavaria, the bridge serves as a vital link connecting different parts of the city.
Its architectural beauty and strategic location make it a popular spot for locals and visitors alike, especially avid Instagrammers and TikTokkers.
From the bridge, one can enjoy panoramic views of the river, surrounding landscapes, and the charming cityscape of Freising.
Whether strolling along its walkway or simply pausing to take in the scenic vistas, the Luitpold Bridge offers a delightful experience for those exploring this enchanting city.
Weihenstephan Brewery: This brewery dates back to the 11th century and is the oldest continuously operating brewery in the world.
This is one of the oldest breweries in the world, with a history dating back over a thousand years.
Renowned for its exceptional Bavarian beers, Weihenstephan combines tradition and craftsmanship to produce a range of exquisite brews enjoyed by beer enthusiasts globally.
We'll soon be writing a complete article on the brewery much like we have in regard to the Erdinger Brewery in nearby Erdinger.
These attractions offer unique glimpses into the rich history of the city.
Family-Friendly Activities in Freising
Freising has plenty to offer families with children, too. Some popular family-friendly attractions are:

Weihenstephan Gardens: These gardens are a beautiful and peaceful oasis in the heart of the city, featuring a variety of rare and exotic plants and a lovely beer garden.
Freisinger Brotzeitmuseum: This museum explores the history and culture of bread in Bavaria, with hands-on exhibits and activities for kids.

These locations provide ample opportunities for fun and learning.
Outdoor Activities Near Freising for Nature Lovers
Nature enthusiasts won't be disappointed by the abundance of outdoor activities in and around Freising.

Some of our favorites include:
Isarauen Nature Reserve: This nature reserve features a variety of walking and cycling trails and is home to many different species of birds and wildlife.
Hohenkammer Castle Park: This 17th-century castle features stunning gardens and a labyrinth that is sure to delight visitors of all ages.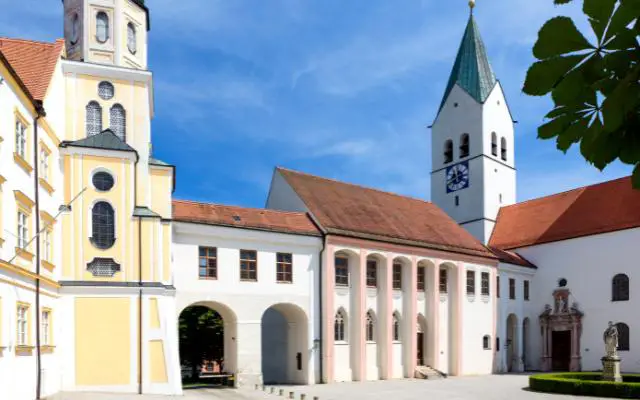 Exploring the Beer Gardens in Freising
No trip to Bavaria would be complete without a visit to a traditional beer garden, and Freising is no exception.

Our personal favorite is the Weihenstephan Brewery's beer garden, which not only offers a great selection of beers but also boasts stunning views over the city.
Freising Breweries
Freising's brewing history is almost as old as the city itself, making it a true paradise for beer aficionados.

Some popular breweries to visit are:
Weihenstephan Brewery: This brewery dates back to the 11th century and is the oldest continuously operating brewery in the world.
Hofbrauhaus Freising: This brewery produces a variety of delicious beers and offers tours and tastings to visitors.
Be sure to take a guided tour and sample some of their finest brews.
Freising Tourism
If it's your first time visiting Freising, rest assured that the city is incredibly welcoming to tourists.

The locals are friendly and eager to share their love for their hometown with visitors and Freising offers a range of accommodation options to suit every budget and taste.

To help you make the most of your stay, here are some important tips and information on some of the local Hotels and Accommodation centers that we're familiar with.
Freising Hotels and Accommodation
High-End & Mid-Range Accommodation in Freising
Some of the best hotels in the city (or very close to Freising) include:
● Munich Airport Marriott Hotel Luxury
● Hotel Bayerischer Hof Mid-range
● ACHAT Hotel Schiller Freising Budget-friendly

Affordable Accommodation in Freising
For those traveling on a budget, there are affordable options such as:
● Gasthof Lerner
Experience the perfect blend of convenience and comfort at the family-run Gasthof Lerner. Located in southwest Freising, our hotel boasts excellent connections to central Munich. Situated near the Technische Universität's Weihenstephan campus and the renowned Weihenstephan State Brewery, our functional yet cozy accommodations provide a welcoming retreat. Just 2 km from the railway station, our location ensures easy access for your travels.
● Hotel Am Klostergarten
Discover the tranquil Hotel am Klostergarten, a family-run retreat in Freising-Neustift. Only 12 km from Munich Airport, enjoy the inviting breakfast room with a sunlit conservatory, and modern rooms featuring complimentary internet access.

As with any popular tourist destination, we recommend booking your accommodation well in advance to secure the best possible deal.
Freising Restaurants and Cuisine
The culinary scene in Freising is both diverse and delicious and believe us, we've tried out a lot of eateries in Freising. From traditional Bavarian fare to international delights, there's something to satisfy every palate.

In our experience, some of the best places to sample traditional Bavarian Cuisine include:
● Gasthof Huber Bavarian
● Braustuberl Weihenstephan Bavarian
Walking Tours in Freising
One of our favorite ways to explore Freising is on foot. A variety of guided and self-guided walking tours are available, which allow you to soak in the city's rich history and beautiful architecture at your own pace.

The Freising Tourism Office is a great resource for information on walking tour options.

We're also fans of the Visit Sights Website so do check that out for your own personalised walking tour of Freising.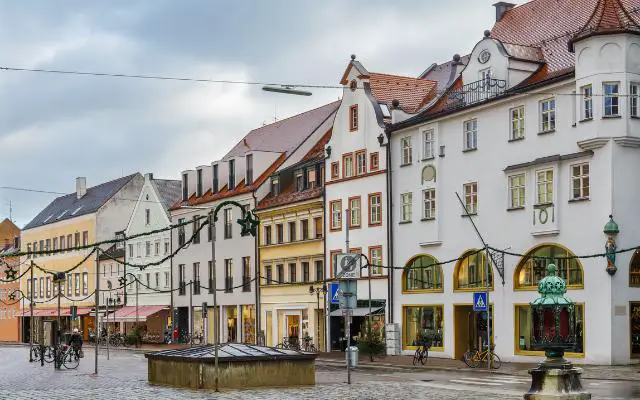 Freising History and Culture
Freising in Bavaria holds a captivating 1,300-year history with art, architecture, and religious heritage at the heart of it's culture.

As an ancient Bavarian town, Freising witnessed empires, trade, and intellectual pursuits.

Its significance lies in religion and culture, featuring the venerable Freising Cathedral from the 8th century which has hosted countless ceremonies and coronations.

Freising is also a renowned center of learning, home to the esteemed University of Freising since the 18th century. The University nurtures intellect and attracts scholars worldwide.

Charming streets and museums showcase Freising's history, inviting visitors to a bygone era.

Local traditions, festivals, and warm hospitality add to the city's charm. Explore Freising's captivating journey through time, entwined with art, architecture, and spirituality.

The city has played a significant role in shaping the region's art, architecture, and religious history, and this rich heritage can be seen at every turn.
Local Festivals and Events in Freising
Freising is home to a vibrant calendar of local events and festivals, ranging from traditional Bavarian celebrations to contemporary cultural happenings.

Some popular events in the city include:
Freisinger Volksfest
Freising Volksfest is a lively and vibrant festival held in Freising, Bavaria.
It is a celebration of Bavarian culture, featuring traditional music, delicious food, exciting rides, and a joyful atmosphere (Gemütlichkeit).
The festival brings together locals and visitors alike to enjoy a memorable experience filled with fun and entertainment.
Don't know what a Volksfest is? No worries just read this article entitled What Is A Volksfest and all will be revealed.
Freisinger Christkindlmarkt
Typically held during the Advent season, leading up to Christmas the Freisinger Christkindlmarkt is a charming Christmas market held in Freising old town. Enjoy festive delights and an enchanting holiday atmosphere.
Freisinger Musikfest
The Uferlos Festival is now a beloved annual event in Freising where visitors are invited to immerse themselves in a dynamic celebration of arts and culture.
Set against the picturesque backdrop of Luitpoldanlage, the festival offers a diverse array of musical performances, captivating art displays, and a tantalizing selection of food and beverages.
Founded in 2009 by a collective of local musicians and artists, Uferlos Festival aimed to create a welcoming space where people could gather and indulge in the vibrant arts scene of Freising.
Throughout the years, the festival has flourished into a cherished highlight of the city, attracting a growing number of attendees.
Be sure to check the local event calendar and plan your visit accordingly to experience some of the city's most beloved festivities.
Freising Transportation
We all know Getting Around Munich is easy but getting to and around Freising is also a breeze thanks to the city's well-connected public transportation system.

The city is easily accessible from Munich via train or car, making it an ideal day-trip destination.

While in Freising, the local bus network is a convenient way to explore the city and its many attractions but in all honesty, you can walk to almost everything that is of interest to any tourist.
Freising Day Trips from Munich
If you're based in Munich and looking for a unique day trip destination then Freising might just be the perfect choice.

The city is just a 30-minute train ride from Munich's central station, making it incredibly easy and convenient to visit for a day of exploration.
Freising Weather Forecast
Freising enjoys a typical Bavarian climate, with pleasant warmish summers and cold, snowy winters.

When planning your visit, be sure to keep an eye on the weather forecast and pack accordingly.

And remember, as they say in Bavaria, "There's no such thing as bad weather, only bad clothing!"
Freising Bavaria: What Does Absolute Munich Think?
We hope you've enjoyed our comprehensive guide to Freising and are now eager to embark on a historical and cultural Bavarian journey of discovery.

We love Freising and have visited many times so can certainly attest to how interesting the city is. Their festivals are sensational and offer all the culture with virtually none of the tourists.

So, why not consider visiting Freising, and if you do, bring your sense of adventure, and get ready to explore the many delights that this awesome place has to offer!

Cheers and thanks for reading everyone!
How far is Freising from Munich?
Freising is located approximately 37 kilometers (23 miles) from Munich, making it an ideal day trip destination. It's just a 30-minute train ride from Munich's central station.
What is the best way to get to Freising from Munich?
The most convenient way to get to Freising from Munich is by train. Trains run regularly between Munich's central station and Freising, with a travel time of around 30 minutes.
What is the best time to visit Freising?
Freising can be visited year-round, but the most pleasant weather is typically experienced between May and September. If you're interested in attending local festivals, be sure to check the local event calendar before planning your trip.
Are there any guided tours available in Freising?
Yes, there are guided tours available in Freising, including walking tours of the city's historical sites and brewery tours. The Freising Tourism Office can provide information on available tours and help you make bookings.
Where should I stay in Freising?
Freising offers a range of accommodation options to suit every budget and preference, from luxury hotels like the Munich Airport Marriott Hotel to budget-friendly options like Gasthof Lerner. We recommend booking your accommodation in advance to secure the best deal.
What are some must-see attractions in Freising?
Some must-see attractions in Freising include the Freising Cathedral, the Weihenstephan Brewery, and the Weihenstephan Gardens. Additionally, Freising is home to a number of lesser-known historical sites and family-friendly activities that are worth exploring.
Are there any traditional Bavarian restaurants in Freising?
Yes, there are several traditional Bavarian restaurants in Freising, such as Gasthof Huber and Braustuberl Weihenstephan, where you can sample the authentic local cuisine.
Is Freising suitable for families with children?
Freising has plenty of family-friendly attractions, such as the Weihenstephan Gardens and Freisinger Brotzeitmuseum. The city is a wonderful destination for families looking to explore Bavarian history and culture together.