When pondering the question of What is Munich Famous For, there are numerous reasons that immediately spring to mind, the world-famous Oktoberfest being at the very top of that list.
However, whilst the well-known Munich Beer Festival rightly tops the list, there are many other reasons for Munich being famous and for attracting so much international interest and tourism each year.
There are plenty of things to see and do in Munich, among them enjoying the cities traditional food and art markets, the historical and modern mix of architecture, the selection of its museums and galleries, and the cities wide array of green spaces. 
Munich is the very definition of festivity, and its overall culture reflects this, resulting in a city with a vibrant, fun and welcoming feel.
So whether you're visiting Munich for business or for pleasure, the following list of the top eight things that make Munich Famous should certainly help to ensure you're stay in this uniquely awesome city is an enjoyable one.
This list of the top 8 reasons as to why Munich is so well known compiled by the Absolute Munich team is in no particular order and we sincerely hope you enjoy the post. 
Feel free to drop a comment below if you know of anything you believe makes Munich Famous that we've not included here, we'd love to hear from you.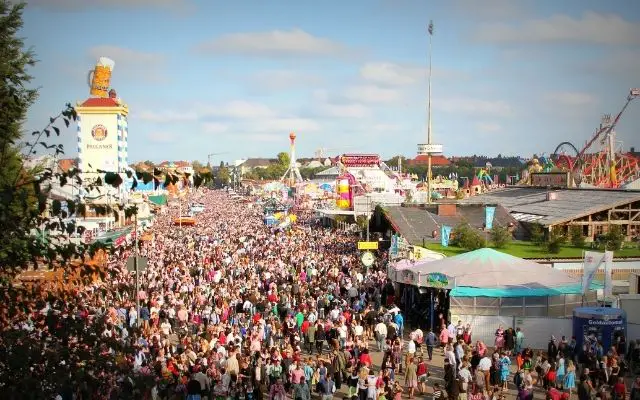 The famous Munich Oktoberfest was born of a wedding celebration between Crown Prince Ludwig of Bavaria to Princess Therese von Sachsen-Hildburghausen in October of 1810. 
The wedding and its subsequent five-day celebration, was such a hit with the locals that the following year the wedded couple decided to hold an anniversary event. Then the year after that and the year after that. You get the picture! 
As a result this awesome festival is now one of the most famous and one of the largest of its kind in the world, annually attracting 6 million plus visitors.
Many people mistakenly believe that the Oktoberfest is just "all about beer" but nothing could be further from the truth. Half of the 100 acre site is taken up with sideshow attractions, food vendors, rides and much more! There are street performances, art installations, a museum, schnapps and wine tents and even a Police Station and Post office!
More than 7 million measures of beer (1 litre glasses called Mass) are drunk during the 15 day event all supplied by Munich's big six brewers. Half a million chickens are roasted and 125,000 sausages consumed among many other types of Bavarian specialty foods.
If you are visiting Munich in late September or Early October the Oktoberfest is a "must-do".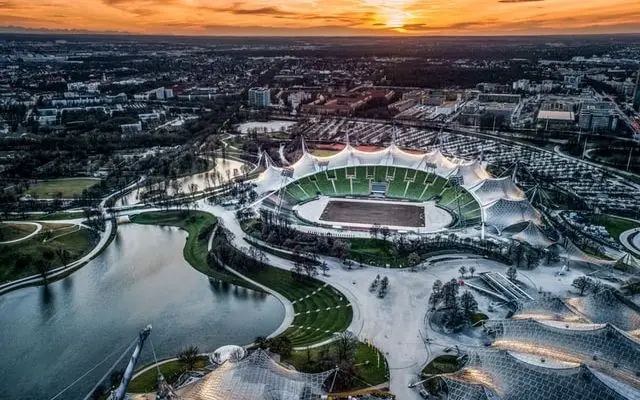 There were a number of things that made the 1972 Munich Olympics so well remembered worldwide especially within the baby boomer generation.
Firstly the Olympic Stadium itself was a modern architectural feat ahead of its time, and today, is still regarded by many pundits as the best Olympic Complex of all time (thus far!). The entire site was built on reclaimed ground from an old airfield upon which was piled the rubble of Munich's destruction after extensive bombing raids in World War ll. The tensile roofing structures used to house many of the complexes sporting arenas to this day still has an "otherworldly" feel to them.
Secondly Olympian Mark Spitz from the USA famously won 7 Gold Medals in the pool with 7 World Records. Many believed that was a record that could never possible be equalled yet alone surpassed. But then they never reckoned on one Michael Phelps, who also won 7 golds with 7 world records at the 2008 Olympics (and also an eighth Gold but not in World Record Time). 
Thirdly the US Basketball Team was defeated by the team from the Soviet Union in what is still noted as the most controversial game in international basketball history. Farcically the last three seconds of the match were replayed three times with the Soviets claiming a 51-50 victory. The US team refused their Silver Medals and to this day they sit in a vault in the International Olympic Committees host city of Lausanne in Switzerland.
Fourthly, and most infamously, the 1972 Munich Olympics was, in reality, the beginning of Modern Terrorism showcased, thanks to the advancement in media technology, on the world stage. The Palestinian backed Black September Organisation (BSO), took hostages from the Israeli athletes compound, resulting in the deaths of 11 athletes and coaches and also one German Police officer.
Perhaps rather than What is Munich Famous For, this last point is a case of What Is Munich Infamous For?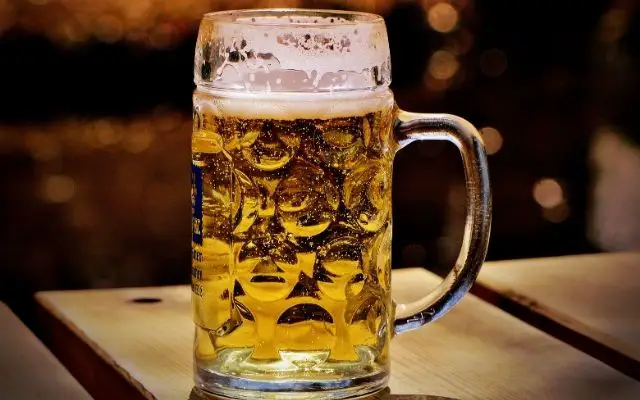 Oktoberfest aside, Munich and the surrounding area of Bavaria, has been well known and documented as being the "home of brewing", long before the cities famous beer festivities began back in 1810.
In fact Munich and the Munich area itself has a brewing tradition going back over a millennia with the first breweries all being operated by monks, particularly of the Augustinian and Benedictine orders. The monks first recorded brewery was actually noted as being in a place called (at the time) Fohring, just near what is now known as Munich, in 800AD and was the inspiration for the entire brewing industry.
Today more than half of all Germanys breweries are located in Bavaria (more than 600) and has one of the highest density of breweries on the planet. 
The famous Munich Purity Law of 1487 that was developed in reference to all beer brewed in Munich, later became Bavarian law as it developed into the Reinheitsgebot (German Purity Law) by decree of the Duchy of Bavaria. This German Purity Law governing beer production was eventually adopted by all the combined states of Germany, and in 1906, became a brewing law for the entire country.
The "Big Six" Munich breweries are Augustiner, Hacker-Pschorr, Hofbrau, Lowenbrau, Paulaner and Sapten and these are the most famous breweries in Munich and the only breweries permitted to brew their special Marzen style of lager beer for the Oktoberfest.
To be perfectly frank, if you can't find a beer you like in Munich, well you're just not trying! Prost! (Cheers)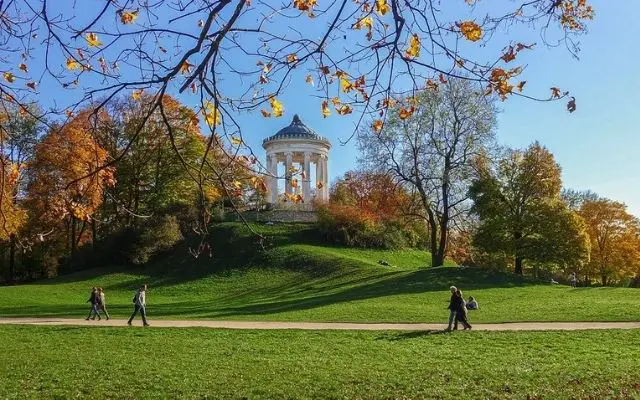 Developed over the course of two centuries into one of the largest city parks in the world, the English Gardens surpasses in size both Central Park in New York City and also Hyde Park in London.
Stretching from the fringe of Munich's city centre to the cities north-east city limits this massive green space is enjoyed by millions of locals and tourists every year and is always a must on any tourists Munich "to-do" list.
The Chinese Tower in the centre of the English Gardens is surrounded by a massive 7000 seat beer garden and is a focal point for many visiting this magnificent park. The wooden tower usually hosts a band in the warmer months and the music can be heard wafting through the air along with the aromas of freshly prepared German delicacies from the beer garden restaurant.
The Munich English Gardens has over 75kms of paths and walkways suitable for rambling, jogging, riding and horse riding. Along with the 100+ bridges, playgrounds, four different beer gardens and its varied wildlife including over 60 bird species alone, one would find it very difficult to get bored in Munich's fabulous English Gardens.
Amazingly, you can even find a place to surf here! So much to do, so little time.
BMW Headquarters | BMW Welt | BMW Museum
Car lovers will immediately be able to state the answer to the question of What is Munich Famous For, and that answer will unequivocally be BMW!
Munich is at the center of Europe's technical, manufacturing and financial industries with giant global companies such as Siemens, Allianz and Munich Reinsurance being based here. 
But no company has quite the profile of BMW, the car manufacturing giant that was born here back in 1916. At its origins BMW was an aircraft engine manufacturer, but it's now famously recognisable worldwide, as being a front runner in the production of quality motor vehicles.
BMW stands for Bayerische Motoren Werke or, in English, Bavarian Motor Works and their best-selling BMW 3 Series range of vehicles can now be found in almost every country on the planet.
Revhead car enthusiasts and aviation historians alike flock to the BMW Welt and BMW Museum each year and the complex is one of the most visited places in Munich. The amazing open free-flowing and modern style of architecture of this mini-city welcomes and draws in tourists by the bucket load, and you can take our word for it, it's not just for motor enthusiasts either.
The BMW Museum is definitely a place full of stories, a place full of history and an attraction that perfectly showcases the wide appeal of the BMW brand and of Munich. A must see if visiting the city.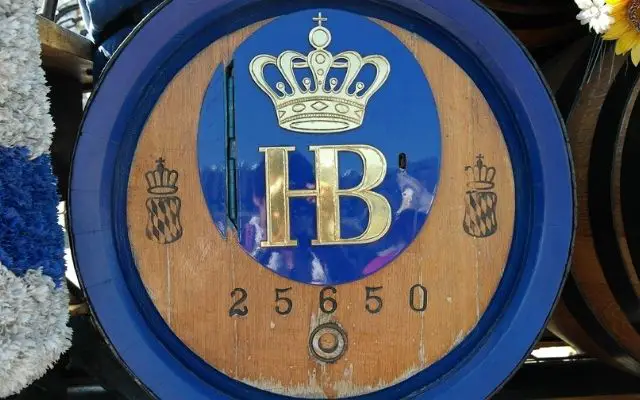 The Hofrbrauhaus is so famous as a Beer Hall that it's been replicated no less than 24 times around the globe. There are namesake Hofbrauhaus Beer Halls in places as far flung as Dubai, Philadelphia, Seoul and Kemerovo (that's in the middle of Russia by the way – we had to look it up ourselves!).
The Hofbrau beer brand is definitely synonomous with Munich and with Bavaria, but has a global appeal thanks to its centuries long brewing traditions. Founded in 1589 the beer produced by Hofbrau has been associated with such high quality that it has even been known to stop an invasion of the city.
The Munich tourist almost always takes in a visit to the Hofbrauhaus to experience huge beers served in steins (Mass), some traditional music from the in-house Oompah band and perhaps some local culinary delights such as Pork Knuckle (Schweinshaxe).
The Hofbrauhaus is a tourist trap, no doubt about it, and you won't likely meet that many locals here. However, strangely enough, this doesn't detract from the appeal of the place. With its fantastic frescos and traditional interior, it's definitely a highly sought after Instagrammable venue in Munich.
With famous names such as Mozart, Einstein, Lenin and Hitler having been patrons of the establishment in the past, you can literally 'feel' the history here.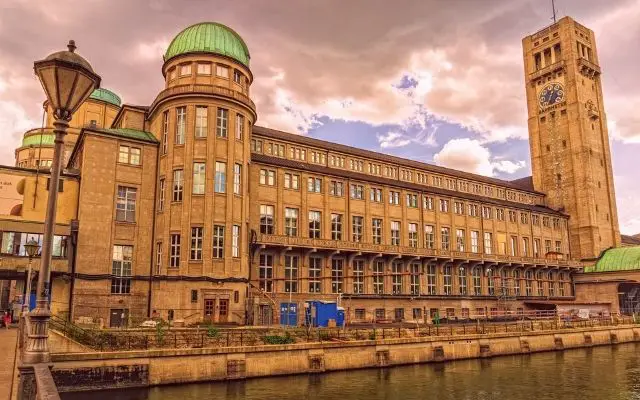 With over 80 different museums in Munich, there is a multitude of different topics and interests to learn more about and be discovered.
One of the worlds oldest Science and Technology facilities, the Deutsches Museum, situated on the banks of the River Isar, is at the centre of that journey of discovery and is a wondrous place for the hungry mind. 
With over 66,000 square meters of space to showcase German and International science and technological exploits, the Deutsches Museum is the largest museum of Science and Technology in the world. This is an institution that not only collects historically significant objects, but actively has many departments conducting their own ongoing research across many different fields.
Almost every scientist in the world will be familiar with the Deutsches Museum and certainly anyone with even a slight technological interest will want to visit this vast, entertaining and interactive museum should they find themselves in Munich.
The population of Munich is around 1.5 million people and that's almost the exact amount of people that find themselves visiting the Deutsches Museum each year which is an amazing number.
In the German language the museum is actually called the Deutsches Museum von Meisterwerken der Naturwissenschaft und Technik. 
The venue is so well known that even some of the most famous musicians of all time have requested to perform within its vast surrounds. Names such as  Jimi Hendrix, The Who and Elton John have all had gigs at the Deutches Museum.
This is indeed, a museum of the people, and if you ever visit Munich you'd be remiss if you left this off your touristic itinerary.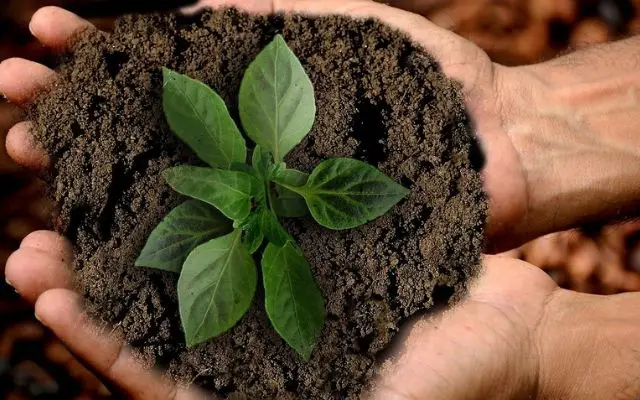 Since the 1972 Olympic Games when Munich chose the concept of a "Green Olympics" sustainability has been at the forefront of the Munich Councils ethos for the city.
Fast-forward to 2019 when there was a new dimension to the world-wide publics discourse on climate change. Suddenly many more socially and environmentally responsible causes gained massive momentum around the globe.
But Munich has been at the forefront of such movements for much, much longer.
Munich is not only green in a very real sense, by having loads of actual green space, but also in the sustainable sense such as its renewable energy initiatives, recycling programs, pedestrian-friendly shopping areas, cycle ways and more!
The city has invested over €9 billion Euros into clean energy projects alone and has a very ambitious target of utilising 100% clean energy by 2025.
The impressive ecological and sustainable balance the city has achieved thus far should be commended and its contribution to tackling the systemic global crises we face should be admired. 
Walking around Munich you can easily get a sense of just how clean this city is, not only by its obvious lack of rubbish but by taking a deep breath.
Our blog post on Getting Around Munich highlights some of the Green-based travel options in the city that might interest you!
What is Munich Famous For? Plenty More!
Munich is famous for a number of other things of course, such as its famous Football team FC Bayern Munich, it's history and involvement in the Nazism movement in the 1930's and its strong economy and low unemployment rate to name a few.  However, the items on this compiled list of the top 8 things are we believe best answer the question of What is Munich Famous For.
Whilst you might not make it to all of these places/events the team here at Absolute Munich is hopeful that this short guide will certainly help you with planning your Munich stay. 
Some of the items on this list have been written about in greater depth on the Absolute Munich website BLOG and these have been referenced and linked to where possible. Please feel free to check them out on one of the links below.
We'd love to hear from you in the comments below with any other suggestions you might have that we could add to our What is Munich Famous For list, so please, feel free to leave us a note.
Take care and thanks for reading!