Unlike many European cities, Munich did not, until recently, have a popular or burgeoning coffee or cafe culture. 
Unlike the typical German bakery, where it's like a weekly ritual to queue up for fresh Semmel (bread roll) on Sunday mornings, for most Germans, and particularly for Bavarians, Cafes have never been viewed as being overly essential. 
Luckily for us, the passing of time has produced a new cafe revolution, and Munich is now spoiled with choices for both a quick takeaway coffee (mit nehmen) or perhaps a longer "stay-in" cafe experience.
Here, we outline some of our favourite cafes that offer amazing coffee and are socially responsible and environmentally conscious.
We'd love to hear from you with your opinions on our Munich Cafe selections and perhaps even some insight into your favourite Munich cafes as well.
Sustainable Munich: Don't be shy when it comes to asking your local barista to fill up your reusable coffee cup. Let us all take part in keeping our wonderful city at the forefront of urban sustainability.
Your Cosy Corner Cafe :
Kaffeerösterei Viktualienmarkt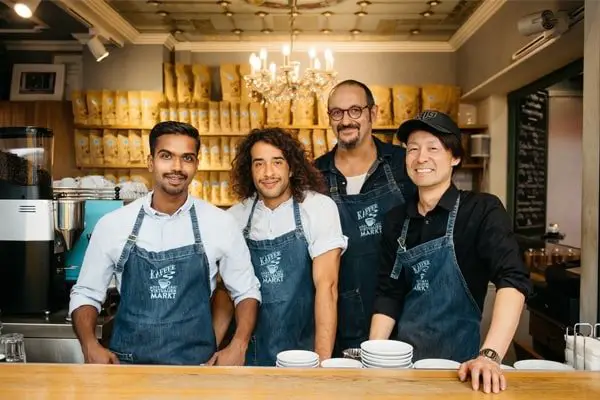 Whether you are living here, or just visiting Munich, there's a high chance that you will end up in the tourist/shopping area of Marienplatz. 
Whilst delighting in the traditional gourmets that abound in the Viktualienmarket at the southeast of Marienplatz, you'll find a Cosy Corner Café just waiting to be discovered.
Kaffee Rosterei at the east end of the market is a down-to-earth cafe with a small space dedicated to cosy, comfortable seating and a standing area.
Because they roast the coffee beans in a traditional drum, the aroma lingers wonderfully in the surrounding air. Just follow your nose and you'll find the corner!
When you spot a tent with chandeliers and a few people waiting at the entrance, you've hit the right place.
But don't worry, the queue eases very quickly! It's a sign for awesome Coffee, right? After all, Germans are not typically willing to wait!
Sustainable Munich: Another awesome fact about this Café is that they support small farms and use Organic milk. So not only do your cappuccinos taste great, but they wake you up with green power!
Photo credit : Kaffeerösterei Viktualienmarkt
The Kitsch Café hangout Bar: Patolli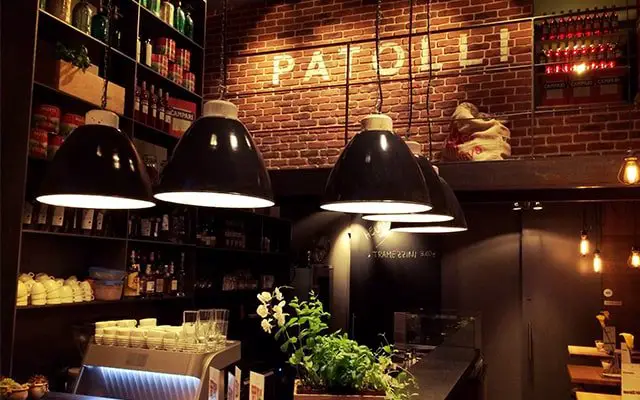 Patolli, located near Sendlinger Tor, is a cool little cafe disguised as a bar, or is it the other way around?
Unlike its classic architectural exterior, the inside of Patolli transcends into a raw, industrial-like warehouse.
High black metal lamps feature and the vintage incandescent lights dimly lit over the bar, juxtapose the warm red exposed bricks.
The friendly staff, accompanied by the whooshing sound of milk frothing and the rattling of spoons against coffee cups, certainly brings an energetic mood to the place.
What we love the most about this cafe is it's changing dynamic. During the day, you can hit Patolli for a quick pick-me-up Espresso to be enjoyed either at the bar (and many regulars do just that), or you can enjoy your cappuccinos, lattes or Americanos on the comfortable booth seat.
On warmer days many patrons choose to actually sit outside where your eyes will certainly wander as you enjoy a bit of people watching.
As the sun goes down and the nearby shops close for Feierabend (End of the working day), the cafe becomes a perfect spot for a Happy Hour as it totally transforms into a funky bar.
Patolli serves various types of cocktails that are often unique variants with specialised traits, ingredients and features. At the time of writing, "Spooky Gimlet" & "Cherry Cherry Lady" were their promo cocktails.  
If you're still not convinced, you should at least trust the review from SZ (Süddeutsche Zeitung) who quoted "If Sex and the City was set in Munich, this would be one of their favourite hangouts".
(Although we're not sure if this is still valid since Samantha is out of the picture!)
Certainly for us though, this cool cafe/bar is a great option for a fun day (or night) out.
Sustainable Munich: Patolli uses Erste Tegernseer Kaffeerösterei which is located in the south of Munich. So you're supporting local businesses with every cuppa.
Homey Gourmet Café Bistro:
Tante Emma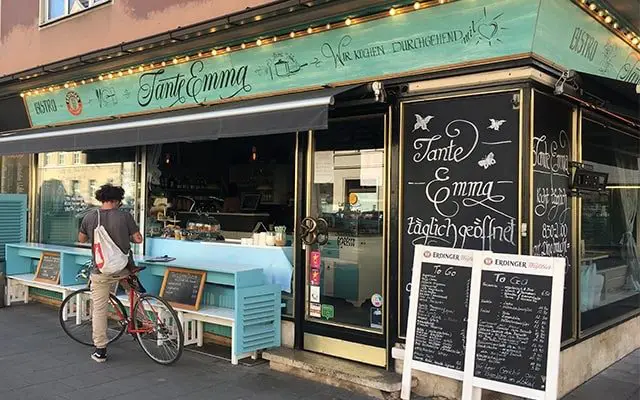 If you are craving something warm and homey, then this colourful cafe bistro is for you, and as the name suggests, it's like visiting your favourite cool Aunt.
This particular Aunt has a home with bohemian décor, cooks with no fuss and offers real comfort food in generous portions.
Each night, she even handwrites the current specials for you to choose from, including plenty of vegetarian options!
In this cafe, you can usually find a quiet spot by the large windows, a good place to snuggle up with a coffee. Or, to catch a glimpse of the actions from the busy kitchen, perhaps grab a seat in front of the bar.
If you are not hungry when you first enter Tante Emma, the aroma from the kitchen will definitely entice! So it is just like being at your aunt's!
Our favourite spot, however, is along the benches in front of the Cafe. No matter which time of the year, you'll find people outside, either enjoying the cool summer breeze with a glass of Wien Schorle (wine with sparkling water) or, in winter, a heartwarming Glühwein (mulled wine). 
Destouchestraße 63, 80796 Munich
Mon – Sunday, 8:30 – 22:00 (Kitchen close at 22: 00)
Vintage Cafe House :
Kaffe Espresso Kolonial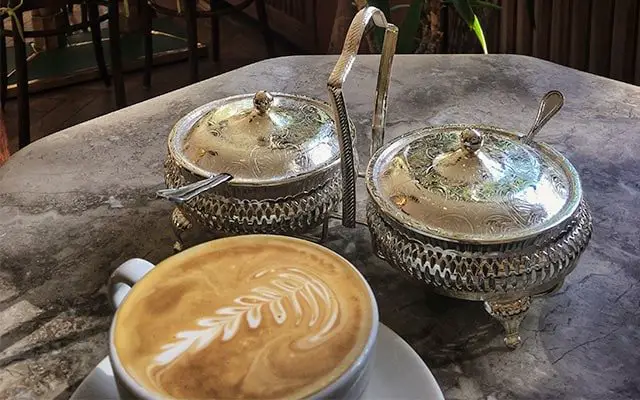 To revisit a time of history past, you should definitely visit Cafe Kolonial.
The cafe is housed in a restored property built in 1904, and has kept its flair of the period with influences from the Orient.
Inside you'll find eclectic collections of traditional brewing equipment, Moroccan decorations, vintage suitcases as well as original oil paintings and advertising posters from 1890-1970. Whilst the equipment and decorations are permanent, artworks are changed frequently like in an exhibition.
So you are probably wondering now if the coffee and food menu is good as the décor. Well, ja natürlich!
Besides the wide varieties of coffee blends available (beans ranging from Italy to South America), you should also try the exotic Oriental menu. The Turkish Coffee or Greek Mokka are particular standouts.
For non-coffee drinkers, teas and hot chocolate are just as exciting. Torroncino (Nougat) hot chocolate is just one example! And of course, pastries and homemade cakes are available with other light meals with vegetarian options, such as couscous and sandwiches.
If your taste buds are calling for more coffee explorations, you can check out their available coffee courses from their very own Coffee Apotheke (Chemist).
Donnersberstraße 39, 80634 Munich
Mon – Fri, 7:00 – 19:00, Sat, 09:00 – 18:00
Best Flat White in Town :
Man Vs Machine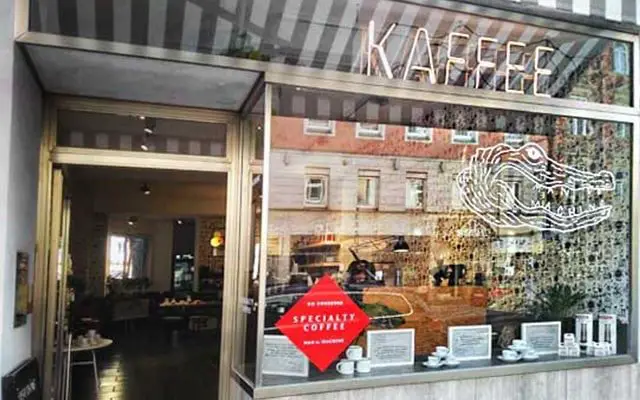 Yep, their logo is a hand-sketched crocodile, but don't be fooled by their quirkiness.
In fact, Man vs Machine are nothing but serious when it comes to coffee. They insist on remaining a 100% independent outlet and strictly make use of only Arabica Beans, over the Robusta variety. Whilst Arabica contains less caffeine, it has a smoother texture with a fuller depth of flavour. The cafe is also fully committed to socially responsible sourcing, working towards a higher margin for coffee farmers everywhere!
Inside both cafes, you'll also be impressed not only by the funky wallpaper but also by their versatile coffee preparations. Besides using the espresso machine, aeropress, siphon, and filter coffee are also available.
As a coffee snob growing up in Australia, I have to say, by far, their Flat Whites are just the best in Munich!
Food-wise, although they don't have a huge variety, the talked-about controversial Franzbrötchen is definitely worth a try. This is a traditional pastry specialised in northern Germany and made with cinnamon and sugar. MvM's Franzbrötchen version is baked with marzipan as an extra ingredient. Absolute Munichs verdict, being the total non-marzipan fans we are, was positive to say the least. We were definitely surprised by how tasty it is with the pastry being so light with only a hint of marzipan to give it a subtle fragrance. 
For those who are not so stubborn with their coffee, but just want to have a nice place to hang out, the two locations offer comfy seatings with a touch of a Scandinavian hipster vibe. They are both in a lively neighbourhood where it's nice to take a stroll and check out other independent boutiques nearby.
Schellingstraße 18, 80799 München
Mon – Fri, 8:00 – 18:00, Sat, 10:00 – 18:00
Müllerstraße 23, 80469 München
Mon – Fri, 8:00 – 18:00, Sat, 09:00 – 18:00 Sun, 9:00 – 18:00
Munich Cafes: A final word
Thanks for checking out our post on Munich Cafes.
If you find yourself in Munich and perhaps need a little help ordering your coffee in German, then perhaps our article on Bavarian Phrases might be of help!
If discovering other types of Bavarian Drinks is on your agenda then our blog post on Bavarian Drinks might also be something you might want to check out.
Again we hope you enjoyed the Absolute Munich take on Munich Cafes and please, if you feel inclined to do so, feel free to  leave a comment below and tell us if you have a favourite place for coffee and socialising in Munich, we'd love to hear from you.