There's an outdoor restaurant, bar and street food venue in Munich that is both iconic and unique to the city, and it's the totally awesome Alte Utting. 
In summer, Munich is pretty much about enjoying the outdoors. Besides taking a dip in the Isar and drinking a Maß in a Biergarten, hanging out in an outdoor restaurant is just another thing locals savour.
Standing peculiarly (or should I say mounted) on an abandoned railway bridge in Sendling, and only a few minutes walk from the unmistakable Bahnwärter Thiel, a dance/party hub recreated from old containers and transportations, lies a retired old steamboat from Lake Ammersee. 
The MS Utting, built in 1950, has over 65 years of history. It has brought locals and travellers across the lake and left bethought memories.
For this reason, to avoid the retired boat from becoming worthless metal scrapes, it has been brought back to life as part of the Alte Utting. 
Now, this is a centrepiece of the area and acts not only as a restaurant but it also harbours a bar, a hip food market and a performance space for regular live music and shows.
If you like Ganz Woanders, Bahnwärtel Thiel or Gans am Wasser, they share a similar ambient. Like the other projects by the Hahn brothers, there are often live music and cultural programmes for adults and kids.
THE NEW MS UTTING – FOOD STALLS, LIVE PERFORMANCES & OUTDOOR BAR
The new-found home of the MS Utting took over one year of planning, relocating and renovating. A section of the Autobahn was even blocked to transfer the boat to its current location. 
Sounds dramatic? Well, after your trip to the Alte Utting, you'll see why this was a mega project. 
The revamp involved not only retaining sections of the interior of the boat and turning it into a restaurant/mini-concert area but also creating an outdoor area around the boat with an outdoor sitting space surrounded by colourful murals.
You can snake through and around the boat to discover various food trucks like in a cool neighbourhood in London or Christiania in Copenhagen.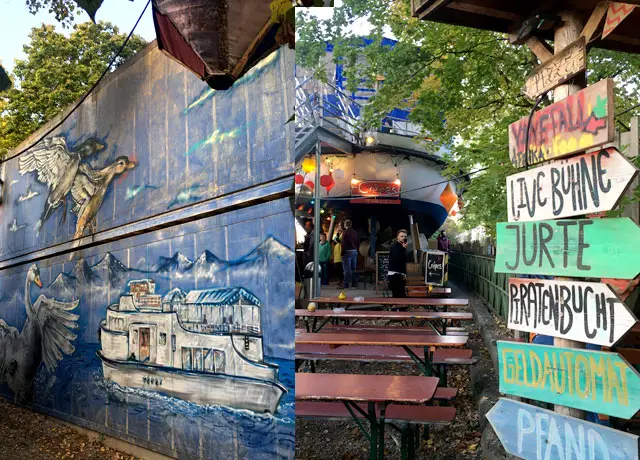 Food at Alte Utting: Bavarian Breakfast & International Food Trucks
If you have visitors in town and want to show them the Bavarian experience, breakfast on board at the Alte Utting is perfect.
For typical Bavarian Cuisine, there is a Weißwurst-Frühstuck (white sausage breakfast) with Brezel served on deck on weekends and public holidays.
For more chilled settings, food trucks are scattered around the boat with outdoor seating.
At the main entrance with the front view of the boat, you'll be lured to the smell of pizza baking crust and melted cheese. That's Da Vito!
Towards the lower section, you'll be stopped by colourful pots and aromas of African curries. There are meat, vegetarian and vegan options. Mango curry with couscous is our favourite.
If you feel peckish, an authentic French crepe at the stern of the boat will hit the spot. There are sweet, savoury and even spicy jalapeños options!  The classic crepe with Nutella is always a winner!
FYI:  not all the food trucks have the same running hours, so make sure you check online for the individual opening hours.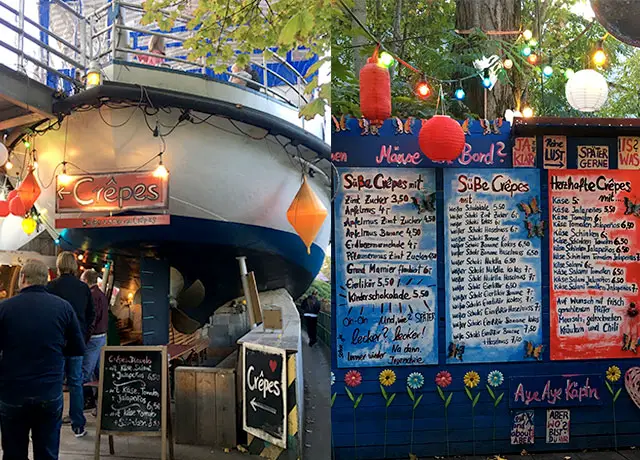 Enjoy Drinks at Alte Utting
The main bar is in the centre of the boat. This automatically makes it very praktisch (practical)! It's Selbstbedienung (self-serviced), so no waiters are bringing or collecting your drinks. Instead, you will order and collect your drink at the bar.
A Pfand (deposit) would be paid and will be returned when you drop off your bottle/cup. This system is very common in Bavaria.
The bar itself is no frills with all the essentials. Besides beers and wines, it also offers spirits and shots.
Unfortunately, beers are not from the tap, but at least they are Augustiners. Helles, white beer, pils, Radler (beer with lemonade) and non-alcoholic beers are available. 
Affordable Prices at Alte Utting
Prices for both food and drinks are gunstig (good valued) crossing different price ranges.
From a classic strawberry marmalade crepe at 4€, curries at 10€ and a fancy truffle tortelloni at 14€. Beers are around 4€ and a glass of bio wine starts at 6,50€.
All coffee and teas are bio and are around 4€.
Our Verdict for Alte Utting
The Alte Utting is simply a great outdoor venue with a chilled vibe. It's a place where you can be part of a piece of Bavarian history and enjoy an alternative, fun mood, which is a contrast to the classic Bavarian neighbourhood.
We love going to Alte Utting also because is a place that can basically please everyone. It's a wonderful Treffpunkt (meeting place) for a group of friends to enjoy a gig, family with kids or a date where you snuggle into a little corner to enjoy a cosy moment. 
One thing is for sure, that you don't need to argue with friends over what to eat and for each visit, there's also always something new to try.
In conclusion, it's a thumbs-up!
What we really look forward to is actually the Sternenflotte taking place in late Nov-Dec. The boat is transformed into a Weihnachtsmarkt (Christmas market) twinkled with fairy lights, warm fireplaces, craft stalls, special cultural programs and of course, Glühwein (mulled wine) is served! 
Is only autumn now, but we are already dreaming about this.
So where Is The Alte Utting exactly?
Lagerhausstraße 15, 81371
(a 10min walk from U-Bahn Implerstraße)
Reservation details
You can reserve a space on the boat if you are over 8 people here | reservierung@alte-utting.de
Renting the Alte Utting
If you love your visit to the Alte Utting, you can actually rent the boat.
How exciting would it be to host a dressed-up on this boat, where guests can feel like they are back in time!
event@alte-utting.de
Looking for more foodie inspirations? Check out some of our other posts on our blog.