About 40 kms north-west of Munich lies the sleepy Bavarian town of Aichach.

Just on the outskirts of Aichach to the southeast, you'll find Schloss Blumenthal on the banks of the (very short) Ecknach River.
This exquisite Schloss, also known as Blumenthal Castle, has a rich history that as we discovered, dates back several centuries. 
Normally we wouldn't write articles like this, as this is sort of a hotel review really. 
Schloss Blumenthal now operates as a hotel and convention center after all, but we've stayed here previously and honestly, you could come here just to visit the place and with its gorgeous beer garden, everyone is welcome! 
That's how we found it after all!
Anyway, let's take a look at the place in its entirety based on our time there and educate ourselves in regard to its history, uses, and owners, and explore some of the things that make this place so well known in the area.
The History of Schloss Blumenthal
Whilst there have been dwellings of one form or another here on the site of where the current castle stands from as far back as the mid-1200s, the foundations of Schloss Blumenthal as we see it today were laid down in the 16th century. 
The magnificent Renaissance-style castle, originally constructed between 1568 and 1622, boasts a unique four-wing design surrounded by a moat. 
Throughout the building's history, notable additions have enhanced its grandeur. In 1582, the castle welcomed its very own brewery, while the Georgi Tower was erected in 1608, adding a captivating element near the castle. 
By 1650, two impressive towers graced the castle, with the east tower serving as a prison. Commander Johann Franz Ernst Freiherr von Weichs oversaw the expansion and baroque transformation of the castle church between 1719 and 1721. 
The meticulous renovations included the addition of exquisite angelic bandelwerkstuck and ceiling frescoes by the renowned painter Melchior Steidl. Concurrently, the administrator's house, brewery, and inn underwent significant reconstruction. 

Around 1750, the Fischerhäusl was constructed south of the east tower, serving as a smithy, while the Jägerhaus was built on the opposite side of the tower.
In the early 18th century, it was half demolished and completely renovated by Franz Anton Mayr von Mayernhofen however after World War II, Schloss Blumenthal was used as a military hospital and later taken over by the U.S. Army. 
It then served as a refugee camp and an old people's home until it was finally bought by the present owners in 1982.
Who Owns Schloss Blumenthal | 5 Key Points of Reference
The castle is currently used as a hotel, conference center and an events destination that provides companies, organizations, and individuals with space to hold meetings, seminars, workshops, and other events.
Community Ownership: In 2006, Schloss Blumenthal was taken over by eight families, who aimed to establish an ecological and communal residential and living project. Almost a sort of a commune but in a very well put together destination positive ecologically sound compound.
Community-Managed Restaurant: Starting from 2007, the restaurant at Schloss Blumenthal has been managed by the community.
Transformation into an Art and Cultural Space: In 2010, the old brewery building underwent a conversion, transforming it into a "free space for art and culture."
Expansion with a Biological Timber-Frame House: The castle ensemble was expanded in 2011 to include a biological timber-frame house, which now features 10 apartments.
Renovation and Conversion into a Hotel: Following the conversion of the farm building into an office and workshop space in 2012, the residents initiated the renovation and conversion of the castle into a hotel, which was completed in 2014. The 40 something rooms in the hotel were individually designed by the residents.
Events Center: The castle's staterooms are available for social events such as weddings, birthdays, and anniversaries.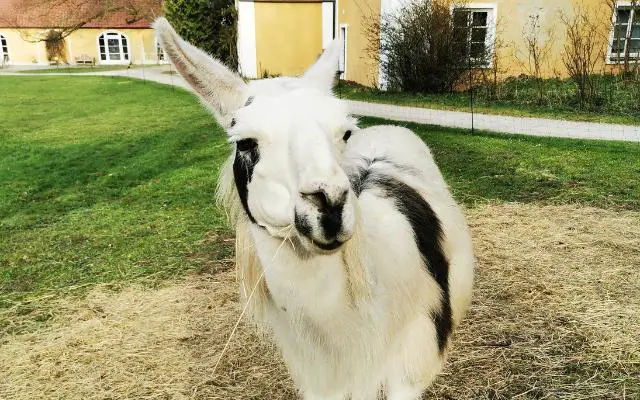 Castle Blumenthal | Cultural Exposure
The Schloss Blumenthal Castle Complex comprises four wings with various courtyards and gardens around them. The main wing houses most of the castle's administrative offices while the left wing contains magnificent state rooms and private quarters.
Adorned in some parts with magnificent frescoes on the walls and ceilings (especially the chapel), these frescoes date back to between 1726 and 1727. 
The Schloss Blumenthal Castle Complex comprises four wings with various courtyards and gardens around them. The main wing houses most of the castle's administrative offices while the left wing contains magnificent state rooms and private quarters.
Schloss Blumenthal has made significant contributions to literature throughout history as well. Renowned writers such as Ludwig Steub have found their way here. The castle has been immortalized in books by Ludwig Thoma and Gustav von Meyernhofen.
The current community owners have truly masterminded the evolution of this place from feudal manor to a wonderful hub for art, craft, music and nature to all combine.
What to do in Aichach
Aichach, the quaint market town next to Schloss Blumenthal, is rich with a plethora of historical monuments such as St. Michaels Church, the historic Old Town Hall, and various museums. 
On a day trip here – if you like culture and heritage – you won't get bored.
Where is Aichach and Schloss Blumenthal
Schloss Blumenthal is nestled on top of a hill overlooking the town of Aichach in Bavaria, Germany. It's located about 20 km north of the Oldest City in Bavaria, Augsburg and about 45 kms to the north-east of Munich.
How to get to Schloss Blumenthal from Munich
By Train: Munich's main railway station (Hauptbahnhof) offers connections to Aichach every hour. From there take Bus no. 222 which stops right outside the gates of Schloss Blumenthal.
By Car: Drive out of Munich on the Number 8 Motorway and take the turnoff at Junction 74b (Dasing) then head north on route 300 and follow signs.
Events and Things to do at Schloss Blumenthal
Schloss Blumenthal has come a long way since its days as a military hospital and a refugee camp and today, it's a popular destination for tourists seeking an authentic Bavarian experience and a glimpse into the region's history.
Schloss Blumenthal offers its visitors plenty of things to do and plenty of land and surrounding gardens to explore. 
Beer Garden and Restaurant: What first drew us there was the wonderful beer garden with chestnut trees covering most of the seating. There is locally made beer (made on site), and organic food options with heaps of ingredients sourced from their own gardens. 
There may even be a Llama or two about – no joke!
Christmas Market: The festive season begins with the annual festive markets held in December where visitors can enjoy mulled wine, hot chestnuts and other festive delicacies while strolling around this beautiful setting. 
Festivals: Aside from hosting private events, Schloss Blumenthal also organizes various festivals and events throughout the year. One such event is the Elf Festival, which takes place every summer. 
Yes, that's right, an ELF FESTIVAL!
Visitors can expect an array of activities including live music, artisanal markets, food stalls serving traditional Bavarian Cuisine dishes, and much more. 
In May each year, Schloss Blumenthal also hosts its own music festival, featuring an array of classical, contemporary, jazz, and world music performances. 
The concerts are held in various locations within the castle complex and are known to draw crowds from across Germany.
These festivals attract locals and tourists alike and are a highlight of the Aichach summer calendar.
The castle's grounds and gardens also provide ample space for visitors to take leisurely strolls or sit back and relax with a picnic or book in hand. In the summer months, outdoor cinema screenings are also sometimes held.
Our Final Thoughts on Schloss Blumenthal
This article really only stemmed from what was for us a two-hour visit on a long cycle ride but the place resonated with us so hope you guys enjoyed finding out more about it. And look, honestly, this is not on a "must-see" list by any means.
But the place does have a fascinating history that deserves exploration for any nature enthusiast especially as it offers up so much in terms of "green sustainable travel" whilst at the same time offering inspiration and insight into Bavaria's enchanting past. 
Its castle complex offers much more than just impressive interiors, architectural details, secular art, and literature but the opportunity to discover history that has stood for centuries on end.
So next time you want to take a break from city life in Munich, head on down to Aichach for a long overdue dose of history, culture, nature, and enjoyment.
Prost and thanks for reading!
Can I visit Schloss Blumenthal without staying overnight?
Absolutely! Schloss Blumenthal welcomes visitors who wish to explore the grounds, enjoy a meal at the restaurant, and experience the art and cultural spaces, even if they are not staying overnight.
Is Schloss Blumenthal accessible for individuals with mobility limitations?
Schloss Blumenthal strives to provide accessibility to all visitors. While certain areas may have limitations due to the historical nature of the castle, efforts have been made to ensure a comfortable and inclusive experience for everyone. Please contact them in advance to discuss specific accessibility needs.
Can I dine at Schloss Blumenthal?
Absolutely! The community manages the restaurant at Schloss Blumenthal, offering a delightful culinary experience with a focus on local and seasonal ingredients.
Can I book accommodations at Schloss Blumenthal?
Yes, Schloss Blumenthal offers accommodations in the form of uniquely designed rooms. Experience a stay immersed in the community's artistic spirit by booking a room at this captivating castle.