Are you searching for a fun-loving adventure filled with food, drink, music, and culture? Your journey ends at a Bavarian Volksfest. This is the ultimate German festival, a place where joy and community come together.
But this guide is not just any guide.

It's a treasure trove of experiences, collected from our countless visits to Volksfests all over Bavaria. We've seen it all, tasted it all, and now we're sharing it all with you.
We'll take you through the heart of the festival, from its fascinating beginnings to its thrilling attractions. You'll discover the true spirit of Bavarian fun.
And let's not forget about the food – the mouthwatering delights that await you are a story in themselves.
So, are you ready? Strap in and prepare for a journey into the heart of this unforgettable Volksfestcelebration. It's more than a festival, it's an experience. And we can't wait to share it with you.
Celebrating Bavarian Fun with Carnival Rides and Beer
A Volksfestm in our opinion, is a spectacular German celebration, a melting pot of community spirit and diverse cultural tapestry.
It's a rendezvous for friends and family, a chance to savor traditional and delicious Bavarian Cuisine not to mention plenty of beer (or wine) to boot. All while basking in the glow of vibrant entertainment.

Imagine a carnival, alive with exuberance and excitement – that's a Volksfest in essence.

From heart-pounding rides to foot-tapping live music, these events are a whirlwind of non-stop fun and fascination.

But what's in the name "Volksfest" and what does it actually mean? Well, let's unravel the mystery!
What Does The Word Volksfest Mean?
The word "Volksfest" translates to "people's festival" in German, and it couldn't be more fitting.

It's a celebration that brings folks together, fostering a sense of unity and shared enjoyment. These festivals typically take place in late summer or early autumn, with many extending their festivities over several days.

So, mark your calendars and get ready to experience the magic of a Volksfest!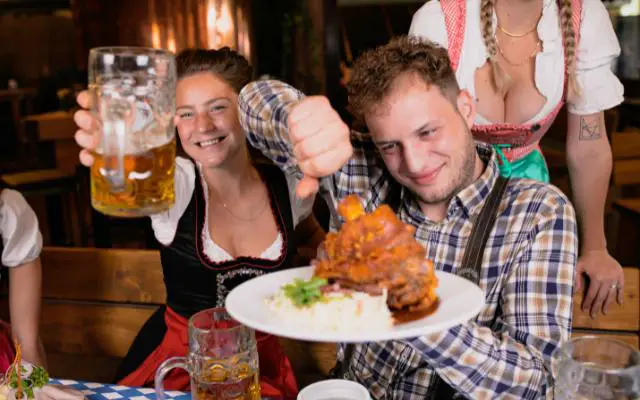 What To Expect At A Volksfest: A Kaleidoscope of Experiences
Stepping into a Volksfest, prepare to be swept away by a range of awesome experiences. Here's a sneak peek of the adventure that lies ahead:
Culinary Wonders: Get ready for a gastronomic journey like no other! Volksfests are famed for their eclectic mix of food and drink stalls.

From succulent Bratwursts to Fish Grilled on a Stick to roasted meats like Schweinshaxe to delightful sweets and even schnapps, there's something to tickle every palate.

And whatever you do, don't miss the sugar-coated nuts, a sweet treat that's hard to resist. So hard that we've gotten into the habit of buying a packet of these treats every day at every people's carnival we go to.
Vibrant Beer Tents: Lift your stein in one of the bustling beer tents. These grand pavilions, often backed by famous breweries or wine brands, buzz with infectious energy.

Here, you can sample top-notch beverages like Lowenbrau, all while soaking up the Bavarian culture and making merry with new companions.
Entertaining Sideshow Attractions: Step into a world of fun with games of chance, enchanting mirror mazes, and amusing fun houses. Let your senses run wild and unleash your playful side as you delve into the fascinating sideshow attractions of Volksfest.
Adrenaline-Pumping Rides: Hold on tight for a rush of excitement on roller coasters and other thrilling rides. Whether you're a thrill-seeker or looking for family-friendly fun, a Volksfest boasts a wide array of attractions to keep everyone entertained.
Harmonious, Singalong & Fun Loving Tunes: The air at Volksfests is alive with music, with bands and live performances around every corner.

Lose yourself in the rich melodies of traditional Bavarian music, adding to the festival's jubilant atmosphere. Let the lively tunes guide your dance steps and sweep you off your feet.
Bavarian Dress Code: When attending a Volksfest, remember to wear your best Dirndl or Lederhosen.

These traditional outfits not only enhance the festive mood but also allow you to fully embrace the Bavarian tradition. Wearing these iconic garments, you'll feel an even deeper connection to the festival's roots and the camaraderie around you.
Craft Stalls: Don't forget to explore the craft stalls, where local artisans showcase their skills.

From handmade trinkets to traditional Bavarian crafts, you'll find unique souvenirs to remember your Volksfest experience.
Incredible Fireworks: As the day turns into night, prepare for a dazzling display of fireworks.

The sky lights up in a spectacle that perfectly caps off a day of fun, laughter, and shared experiences.
From our countless visits to Volksfests across Bavaria, we've gathered these insights to help you make the most of your visit.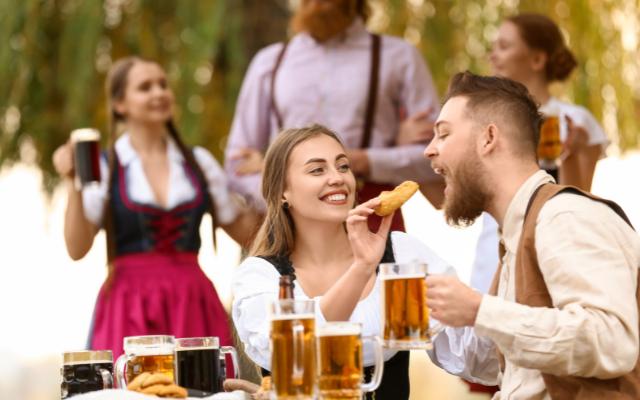 Embracing Tradition at Volksfests in Germany?
The Munich Oktoberfest: The Grandest Volksfest of Them All
The Munich Oktoberfest holds the crown as the largest and most famous Volksfest in Germany. Since its inception in 1810, this iconic festival has become a must-visit for anyone traveling to Bavaria.

Spanning over 16 days (unless extended by public holidays) the Oktoberfest attracts several million visitors each year, creating an unparalleled celebration of Bavarian culture.

From thrilling carnival rides to bustling beer tents, traditional Bavarian clothing, and mouthwatering food, the festival grounds, sprawling over more than 100 acres, offer an unforgettable experience for everyone.
Stuttgart's Cannstatter Volksfest: A Festive Highlight
The Cannstatter Volksfest, held in Stuttgart, proudly holds the title of the second-largest Volksfest in Germany.

Drawing approximately four million visitors annually, it stands as a vibrant highlight on the festival calendar. Running alongside the Oktoberfest from late September to early October, this event promises an incredible atmosphere, lively entertainment, and an opportunity to revel in Bavarian traditions.

Smaller-Scale Volksfests: Charm in Every Corner
For those seeking a more intimate and family-friendly Volksfest experience, fear not! Germany is dotted with smaller-scale festivals that offer a similar atmosphere and entertainment, albeit on a smaller scale. These charming gatherings capture the essence of Volksfest culture and provide a cozy setting for a delightful day out with loved ones.

Volksfests in Munich: Beyond Oktoberfest
While the Munich Oktoberfest reigns supreme, there are other exciting Volksfests worth exploring in the city. The Munich Spring Festival, known as the Frühlingsfest, takes place each year in April and offers its own unique blend of Bavarian merriment.

Another great Volksfest can be found in visiting the Freisinger Volksfest, held in the town of Freising just north of Munich Airport, which welcomes visitors with open arms.

With festivities returning to the Luitpoldanlage from September 1st to 10th for the 91st-anniversary carnival in 2023, it promises an unforgettable celebration.
Thrills and Tastes: Indulging in Volksfest Experiences
What Can I Do At a Volksfest?
Thrilling Carnival Rides: The Heartbeat of Volksfests
When it comes to Volksfest highlights, the carnival rides steal the show. From exhilarating roller coasters to enchanting Ferris wheels, these thrilling attractions cater to all ages.

Whether you're a daredevil seeking an adrenaline rush or a young adventurer looking for kid-friendly rides, Volksfests offer a diverse range of amusement options.

Some rides are so famous that they even travel to other renowned European carnivals like the Munich Olympia Looping ride showcased at London's Winter Wonderland.
Traditional Bavarian Cuisine: A Feast for the Senses
No Volksfest experience is complete without savoring the delectable delights of traditional Bavarian cuisine.

From mouthwatering sausages to freshly baked pretzels, the food options will leave you spoilt for choice. One must-try dish is the Schweinshaxe, a succulent roasted pork knuckle with a crispy exterior and tender meat inside.

Accompanied by sauerkraut and potatoes, this culinary masterpiece pairs perfectly with a refreshing cold beer, allowing you to indulge in the authentic flavors of Bavaria.
Beer and Wine Tents: Raising a Toast to Bavarian Hospitality
The beer tents at Volksfests are not just places to quench your thirst but vibrant hubs of revelry and camaraderie.

These impressive structures can accommodate thousands of festival-goers, offering an energetic atmosphere and non-stop entertainment.

Each tent boasts its unique characteristics, from the traditional Bavarian decor to the specific brews they serve. The air is filled with the aroma of pretzels, sausages, and other hearty German fare, adding to the authentic experience.

Live bands play traditional folk tunes, polkas, and popular hits, encouraging spontaneous dancing and singing among the attendees.

The servers, clad in traditional lederhosen and dirndls, navigate the bustling crowd with impressive skill, delivering steins of frothy beer and plates of food to the long communal tables. The laughter and cheer echo throughout the tent, creating a sense of unity and shared joy.

The beer tents at Volksfests are not just about the beer; they are about the celebration of culture, tradition, and community. They are a testament to the German spirit of Gemütlichkeit – a unique concept of warmth, friendliness, and good cheer.
Our Love for Volksfests: A Heartfelt Recommendation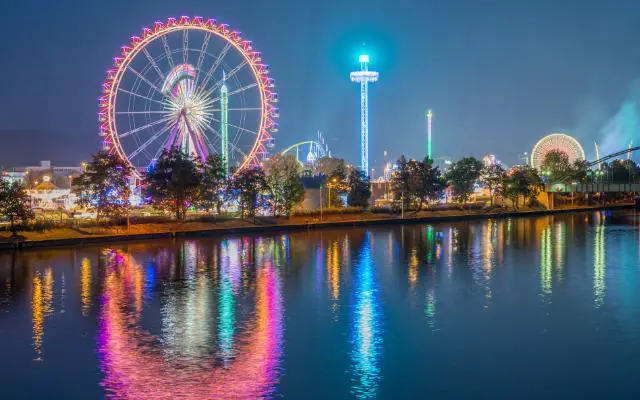 In conclusion, we can't help but express our deep admiration for Volksfests. In fact, we absolutely love them! We believe that these festivals truly embody the essence of celebration and provide an unforgettable experience for all ages.

If you're planning to attend the Munich Oktoberfest or any other Volksfest in Germany and wish to travel with a reputable operator with innumerable experience then look no further than PP Travel. With their expertise and experience in organizing Oktoberfest trips since 1991, PP offers hotel packages and table reservations to ensure a seamless and unforgettable experience.

So why not pack your bags, don your lederhosen or dirndl, and get ready for a remarkable Bavarian adventure whether it's the grandeur of the Munich Oktoberfest or the charm of smaller-scale festivals, these celebrations will captivate your senses and leave you with cherished memories.

So here's cheers to an experience you'll never forget! Thanks for reading guys. PROST!