Attention beer enthusiasts!
We invite you to Join us on a pilgrimage to Erdinger Brewery in Germany — the home of ERDINGER Weissbräu and the world's largest producer of wheat beer.
Discover the captivating story behind this legendary brewery and indulge in the finest wheat beer on the planet.
Whilst in Erding, we'll uncover the meticulous brewing process that yields the exquisite flavors of ERDINGER's renowned wheat beer and we'll venture into Erding's revered brewery, where history and innovation intertwine seamlessly.
Prepare yourself for an unforgettable odyssey, celebrating ERDINGER Weissbräu—a journey that enchants, educates, and leaves you yearning for more.
Well, at least it did for us so hopefully, as a beer lover, you'll experience the same feeling.
Prost! Let's go!
A Brief History of ERDINGER Weissbräu Brewery
Established in 1886 by Johann Kienle, this renowned brewery has steadfastly upheld the traditional art of wheat beer brewing while adhering to the Bavarian Purity Law of 1516.
This law, which mandates the use of only water, hops, barley, and yeast in beer production, ensures a pure and authentic brewing process.
During our visit, we discovered that one of the standout features of ERDINGER is their use of pristine spring water from their own wells.
This commitment to using the finest ingredients and upholding rigorous quality standards is what sets them apart as creators of some of the world's finest wheat beers.
The history of wheat beer in Bavaria dates back to the 16th century when only top-fermented beer was available.
Wheat beers were brewed with a special yeast that floated on top of the wort in fermenting vessels, acting as a natural preservative to allow the brews to mature for extended periods.
Despite their global success, ERDINGER remains deeply rooted in tradition, employing time-honored brewing techniques that have stood the test of time.
Witnessing the entire brewing process firsthand, it became evident that their dedication to quality and adherence to tradition are the cornerstones of their success.
It's no wonder they have become the largest producer of wheat beer globally, crafting over five million hectoliters of Weissbier each year.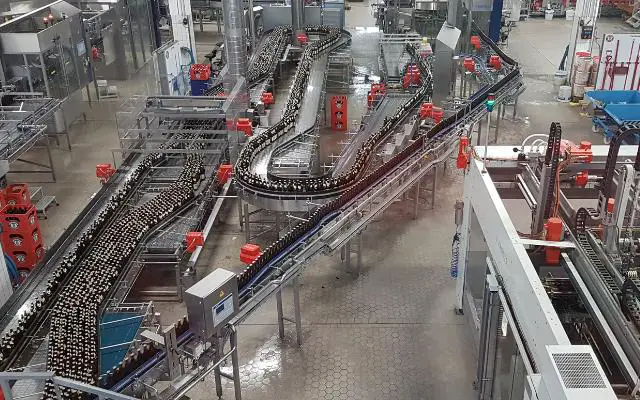 The ERDINGER Brewery Tour Experience
During what is around a three-hour experience that immerses visitors in the captivating world of brewing you'll be amazed as you embark on a journey through the entire brewing process, from start to finish, guided by knowledgeable experts who bring the magic of beer brewing to life.
As you step into the production facilities, where the air buzzes with excitement, you'll witness the master brewers in action.
You'll discover the secrets of brewing and bottling as you observe the intricate steps involved in bringing ERDINGER's renowned beers to the shelves.
Learn about the art of natural carbonation, where the beer undergoes a second fermentation in the bottle, creating those delightful bubbles that tickle your senses.
As you explore the museum area, let the displays take you on a fascinating journey, revealing the intricate process of beer-making from the malting of barley grains to the creation of the final masterpiece.
You'll gain a deep appreciation for the craftsmanship and attention to detail that has remained unchanged for centuries.
The best part might be at the end – presuming you actually love drinking beer also – as you experience the tasting room where you'll prepare your taste buds for a treat as you indulge in a tasting platter of ERDINGER's finest wheat beers.
Savor the velvety smoothness, the refreshing crispness, and the unmistakable flavors that set them apart. It's like a symphony for your taste buds, an orgasmic experience that lingers long after the last sip.
Visiting ERDINGER is not just a brewery tour; it's seriously like a captivating journey through time and you'll literally feel the connection to a rich brewing heritage as you witness traditions passed down through generations.
Get ready to be enchanted by a brewing process that has stood the test of time and gone relatively unchanged for centuries, ensuring that each sip of ERDINGER beer you have delivers an unrivalled experience.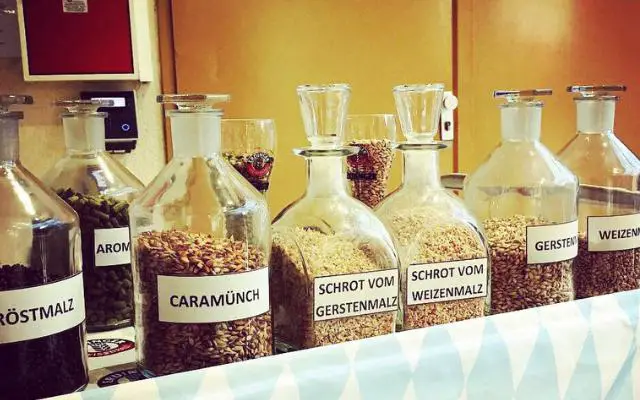 ERDINGER Beer Varieties
ERDINGER produces several different varieties of wheat beer, each with its unique flavor and style.
The most popular wheat beer is the classic ERDINGER Weissbier, with its creamy head, banana flavor, and champagne-like sparkle.
ERDINGER Dunkel is a dark wheat beer made using darker malts, giving it a rich and full-bodied taste with hints of yeast, bread, and bananas.
ERDINGER Alkoholfrei is a non-alcoholic option that offers the same great taste of traditional wheat beer without the alcohol.
The brewery also brews seasonal beers such as ERDINGER Schneeweisse – made with dark malts and is available in winter.
Another seasonal favorite is ERDINGER Oktoberfest – served during the Oktoberfest month, it has a darker malt flavor and is an easy-to-drink beer.
Interesting Facts About ERDINGER Weissbräu Brewery
ERDINGER has many interesting facts that make it one of the most efficient and admirable breweries in the world. For instance, did you know that a bottle of ERDINGER contains 500 billion yeast cells per bottle? This microbe-laden drink makes it the most yeast-laden beer in the world.
ERDINGER Weissbier, with its creamy head, banana flavor, and champagne-like sparkle, is the world's bestselling wheat beer, and the brewery has over 500 years of brewing history! The brewery is also the largest wheat beer brewery globally, producing over five million hectoliters of Weissbier every year.
The brewery has two beer gardens with extensive beer gardens that visitors should visit. One of the gardens has a capacity of 600 people, which is the perfect spot for family outings, corporate events, and social gatherings.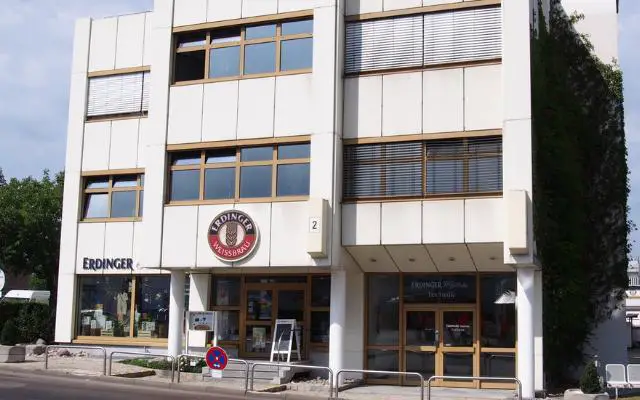 Visiting the ERDINGER Weissbräu Brewery
Getting to the Erdinger Brewery on Public Transport from Munich
Take the train from Munich to Erding station, which is conveniently connected to various train lines.
S-Bahn: The S2 line is the popular choice for traveling to Erding from central Munich by train.
Regional Trains: Regional trains also provide connections to Erding. Depending on your departure location, different regional train lines may be available. It's recommended to check the train schedules and routes to determine the most suitable option for your trip.
Once you arrive at Erding station, you'll find the free shuttle buses waiting outside the station.
These shuttle buses operate at regular intervals, usually every half hour or so, and are dedicated to transporting visitors to the ERDINGER brewery. Simply hop on the shuttle bus and enjoy the short ride to your destination.
Remember to check the train schedules and plan your journey in advance as with the right train connections and the convenient shuttle service, reaching the ERDINGER brewery will be a smooth and enjoyable experience.
Getting to the Erdinger Brewery by Car from Munich
If you prefer to travel by car from Munich to the Erdinger Brewery, the journey is straightforward and can be completed in approximately 45 minutes, depending on traffic conditions. Here are the directions to guide you:
Start by heading east from Munich. You can take the A94 Autobahn, which is a major highway that connects Munich to Passau.
Continue on the A94 for approximately 30 kilometers until you reach the exit for Erding. This is junction 13 (the PastettenJunction)
Take the exit for Erding and follow the signs towards the city center.
Once you enter Erding, follow the local road signs guiding you to the Erdinger Brewery. The brewery is located at Lange Zeile 1, 85435 Erding.
As you approach the brewery, there will be designated parking areas available for visitors. Park your car and get ready to immerse yourself in the brewing excellence of Erdinger.
Traveling by car provides flexibility and convenience, allowing you to enjoy the picturesque Bavarian countryside along the way.
Just ensure to plan your route in advance, consider potential traffic conditions, and follow the road signs directing you towards Erding and the brewery.
Erdinger Ticketing Information & Prices
Booking in advance is essential and highly recommended, and admission costs just €18.86 for adults.
Reduced-price tickets are available for specific categories. The tour runs from Tuesday to Saturday, with multiple time slots available.
🍻 Experience the full range of ERDINGER wheat beers after the tour.
⏰ The whole tour lasts a maximum of three hours.
🌍 Tours are offered in German and English.
🚫 Not suitable for people with mobility problems or wheelchair users due to the number of steps.
📽️ If bottling is not in progress, a film describing the process will be shown.
🕒 Tour times: Tuesday – Friday: 10 am / 2 pm / 6 pm, Saturday: 10 am / 2 pm.
📞 Contact the Visitor Center for inquiries: Monday – Friday: 8 am to 11:30 am, Monday: 12:30 pm to 3 pm.
💰 Ticket prices: Adults – €18.86, Reduced price – €10 for specific groups, Free entry for children under 14 and certain members.
🌐 The Erdinger Brewery Website provides directions and a Google Maps route.
Visitors should expect to spend up to three hours on-site, and comfortable walking shoes are recommended.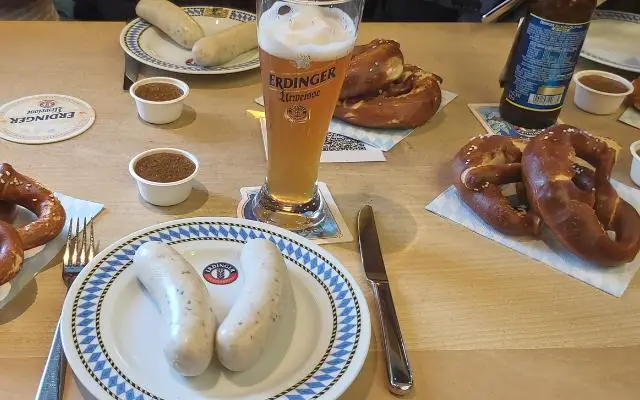 Making a Day of it in Erding
You may want to combine your visit to Erding by visiting some of the other points of interest the town has to offer.
Thermenwelt Erding and Galaxy Waterslide Park: Immerse yourself in one of Europe's premier recreational sites, offering a delightful blend of pools, sauna complexes, and exhilarating water slides. Experience ultimate relaxation and adrenaline-fueled fun in this captivating destination.
Museum Erding: Journey through the rich history of Erding at the Museum Erding, where you can delve into the city's heritage since its establishment in 1856. Explore fascinating exhibits that unveil the stories and evolution of Erding throughout the years.
Schöner Turm: Marvel at the architectural masterpiece known as Schöner Turm, the surviving Gothic section of the city wall. This remarkable structure provides a window into Erding's past, offering a glimpse of its historical significance and captivating charm. Like the name suggests "Der schöne Turm" is German for "The beautiful Tower".
Schloss Aufhausen: Uncover the splendor of Schloss Aufhausen, an exquisite noble palace that has grown and evolved over the centuries. Take a leisurely stroll through the grounds, soaking in the beauty and elegance of this grand estate. Keep an eye out for private events hosted within its opulent walls.
Whether you seek thrilling water activities, historical exploration, or a touch of regal splendor, Erding has something to captivate every visitor.
Absolute Munich's Thoughts on the Erdinger Brewery
If you are a fan of wheat beer or interested in learning more about Bavarian brewing history, the ERDINGER Weissbräu brewery tour is a must-visit.
The experience is most certainly informative, definitely fun, and offers plenty of delicious wheat beer to sample. The brewery offers the perfect blend of history and modern-day, making it a memorable experience.
Having visited the Erdinger Brewery a number of times we can vouch for the tour, which we believe is well worth the price.
So, if you're in the area, be sure to stop by for an educational beer experience that you'll never forget.
Cheers guys and thanks for reading!
Are children allowed on the brewery tour at Erdinger?
While the Erdinger Brewery tour is primarily designed for adults, children are welcome to join the tour if accompanied by adults. However, it's important to note that beer tastings are intended for guests of legal drinking age.
Can I buy Erdinger beer at the brewery?
Yes, you can purchase Erdinger beers at the brewery. They offer a selection of their renowned wheat beers, including various flavors and styles, allowing you to take home the delightful taste of Erdinger.
Are there any restaurants or dining options at the Erdinger Brewery?
Absolutely! The Erdinger Brewery features an onsite restaurant where you can enjoy delicious Bavarian cuisine paired with their exceptional wheat beers. It's the perfect opportunity to indulge in a memorable dining experience after your brewery tour.
Can I visit the Erdinger Brewery for a tour?
Yes, absolutely! The Erdinger Brewery offers guided tours where you can explore the brewing process, learn about the rich history of the brewery, and even enjoy tastings of their renowned wheat beers.
How long does the brewery tour at Erdinger last?
The brewery tour at Erdinger typically lasts around three hours. During this time, you will have the opportunity to witness the brewing process, visit the museum area, and indulge in a tasting of Erdinger's exceptional wheat beers.