Each year at Christmas Time, Munich raises the bar to charm city visitors with sumptuous food accompanied by diverse festive programs, various handicrafts & independent stalls.
This fully comprehensive Christmas Markets Munich guide will brighten your cold winter days as we share our favourites, the classics, offbeat and secret hidden gems. We'll show you their locations and cover all their individual highlights, so you won't miss out!
Mittens, beanie and warm jacket – ready!  Ho, ho, ho, let's get started!
Why Visit Munich For Christmas?
In our opinion, Munich is simply one of the best places in Europe to experience Christmas Joy so if you're thinking of a Christmas Market soirée this year, then simply, Munich MUST be on your list.
There really is something for everyone here where families, couples and individuals all rediscover their love for Christmas each year.
There are, of course, the must-go Munich Christmas Markets with classic, fairy-light-lit wooden huts and cosy winter stalls. But there is also the alternative, chic markets, which have become a new tradition to experience during this cheerful season.
When you smell cinnamon and roasted chestnuts waffling in the air, you know Christmas is near and the Christmas Markets in Munich are the best in Germany (our opinion of course).
It's time to hop around Munich and visit the fairy-tale like Weihnachtsmärkte (Christmas markets). This year, the starting dates for Munich Christmas markets begin on the 27th Nov and end on the 24th of December.
As per usual, they are located in the centre and mostly around Munich's inner city suburbs.
Being by far the biggest Christmas market in Munich, the Christkindlmarkt in Marienplatz is popular with tourists and locals. Dating back to the 14th century, this was where the Munich Christmas Markets began.
The Main Munich Christmas Markets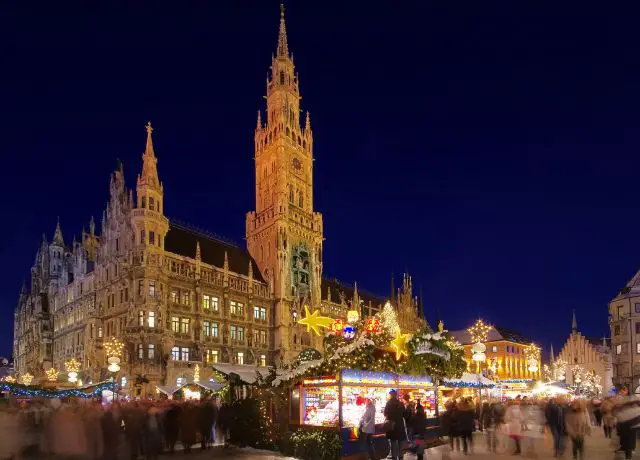 Munich Christkindlmarkt In Marienplatz
Being by far the biggest Christmas market in Munich, the Christkindlmarkt in Marienplatz is popular with tourists and locals. Dating back to the 14th century, this was where the Munich Christmas market began.
Located in the centre of the Alte Stadt (old town), the market is surrounded by historical buildings and the famous Glockenspiel. Amongst the little wooden huts glistening with shiny handcrafted Christmas decorations, the fragrance of heiße Maroni (hot chestnuts) and nutmeg from Glühwein (mulled wine), the Christmas spirit doesn't get better than that.
The gigantic ornated Christmas tree is one of the best attractions along with the beautiful peaceful Nativity scene just a few steps away at St. Peters Church. In 2022, the Christmas Tree was 23m and decorated with over 3000 LED candles.
WHAT TO DO: Krampuslauf: If you can brave out the beast-like-looking demons (Krampus) spooking you out, join the Krampus Run. Is a tradition dating back from the 15th century, where "Klabaufs" chased naughty kids, whilst St. Nicholas rewarded the well-behaved with sweets.
WHAT TO BUY: Classic Christmas ornaments and Nativity scene figures
WHAT TO EAT: Bavarian classics: mulled wine, chestnuts, German Pizza (Flammkuchen), Gingerbread (Lebkuchen), sausages
WHEN: 27th Nov – 24th Dec
LOCATION: Marienplatz  | Arrive by S-Bahn or U-Bahn U3/6 to Marienplatz
The Christmas Village At The Residenz Palace
If you prefer a smaller and cosier atmosphere, the Christmas Village (Kaiserhof der Residenz) at the Residence is a wonderful Christmas Market to visit. After all, it's set at the impressive Royal Palace (The Munich Residenz) and the wooden Nativity scene tower with a rotating propeller is just majestic. Where else can you see this?
WHAT TO DO: This is the most family and kids-friendly Christmas Market in the city centre. The Märchenwald (Fairy tale forest) will greet you with a giant moose followed by various animated puppets from different classic fairy tales. There are also a few Santa sculptures scattered around the square where you can take picture-perfect photos!
WHAT TO BUY: Traditional handicrafts
WHAT TO EAT: Bavarian classics
WHEN: 13th Nov – 22nd Dec
LOCATION: Odeonsplatz, Residenzstraße 1, Kaiserhof der Residenz | Arrive by U-Bahn U3, 4, 5, 6 at Odeonsplatz + 1 min walk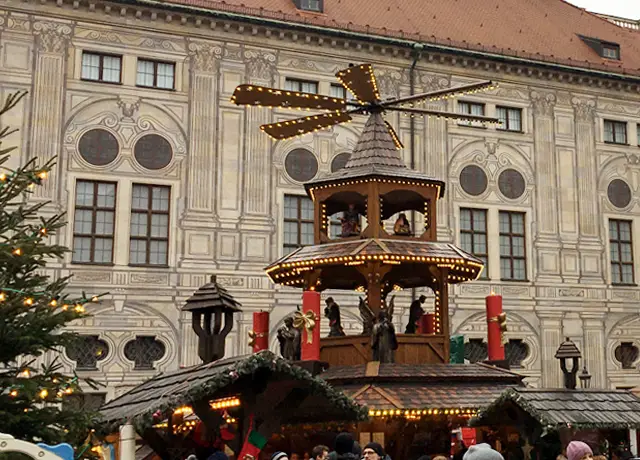 Munich's Medieval Christmas Market
Around the corner from Odeonplatz, you wouldn't want to miss out on this Medieval Christmas market (Mittelaltermarkt), especially if you are a fan of dragons, magic, knights and costumes!
Continuing the tradition of "St. Nicholas Fair" since the 1410s, this Christmas market is a true depiction of how a village would look like in the Middle Ages.
Replica of frescos, city guard sculptures and old embosses of the original Munich city seal on wine cups are a few historical features that show the dedication of this market. Many vendors in the wooden huts are also dressed in historical costumes and serving traditional culinary delights. 
Odeonsplatz is one Munich destination (along with Marienplatz) that is recommended to be visited if you have just One Day In Munich and when the Christmas Season is in full swing this reasoning for visiting here is doubly so!
TIP: WHAT TO DO: On weekends, there are bewitching circus performance shows with jugglers and minstrels singing ancient rhymes and dancing.
WHAT TO EAT: Try the open beechwood grilled sausages and the traditional Met (honey wine) and Drachenglut (dragon's embers) served in a chalice. Make sure you bring enough cash for your drinking Pfand. It can cost over 10 euros.
WHEN: 27th Nov – 23rd Dec
LOCATION: Wittelsbacher Platz, Briennerstrasse 6-10 | Arrive by U-Bahn U3, 4, 5, 6 to Odeonplatz + few minutes walk on foot
Sendlinger Tor
Under the remaining medieval city gates in Munich, you'll find the cosy and charming Christmas market at Sendlinger Tor.
Like in the old times, acting as a gateway for travellers, besides traditional food and craft stalls, you'll find an array of vendors with various products from around the world.
What a great spot for an after-work meet-up followed by dinner or drinks in the nearby restaurants and bars!
WHAT TO EAT: This is one of the best spots to savour the Feuerzangenbowle. This "fire-tongs punch" served with flaming rum-soaked sugar will certainly warm you up!
WHEN: 27th Nov – 22nd Dec
LOCATION: Sendlinger Tor | Arrive by U-Bahn U1,2,3,6,7 to Sendlinger Tor
Chinese Tower, English Garden
Tucked in the Englischer Garten, one of the world's largest public parks is the Chinesischer Turm (Chinese Tower). 
This charming Christmas market is a family-friendly market that includes horse-drawn carriage rides, a wooden carousel, a Bavarian curling rink, and storytelling events for children in a "story barn." 
Enjoy this peaceful Christmas market with the whole family.
WHAT TO DO: Catch bands playing on the tower whilst kids can ride on the traditional wooden merry-go-round.
WHAT TO BUY: Hand-made jewellery, Handicrafts
WHEN: 24th Nov – 23rd  Dec
LOCATION: Englischer Garten 3 | Arrive by Bus 54,69 0r 154. U-Bahn U3,6 to Universität or Giselastraße + 15mins walk
The Pink Christmas Market
Okay, not everyone is into the traditional fairy lights and wooden huts; and more so, perhaps after a few Christmas market visits, you may want a change of scene. Ever dreamed of having a Pink Christmas? 
Well, in the Glockenbachviertel quarter, you find the ultimate Pink Christmas Market on Stephansplatz.
Organized by the LGBTIQ+ community, the Pink Christmas Market welcomes everyone to join the party! Besides finding shiny party poms and streamers, you'll also find quirky gift ideas (who doesn't want a merman hanging on a Christmas tree?). 
Needless to say, what is a Pink Christmas market without dancing? Feel the groove every day after 6 p.m. with various DJs throughout the night and travesty shows on Sundays.
Who else is in the mood to loop their favourite Christmas dance track?
WHAT TO EAT: Why not swap out a Gluhwein for a Sparkling? A Prosecco bar is on standby all night so you can dance till you drop!
WHAT TO BUY: Quirky and surprise Christmas ornaments
WHEN: 27th Nov – 23rd Dec
LOCATION: Stephansplatz, Glockenbachviertel | Arrive by U-Bahn U1,2,3,6,7 to Sendlinger Tor + few minutes walk on foot
Tollwood Winter Festival
Tollwood festivals host the most contemporary markets in Munich and are all about music, live performances, celebrating diversity and sustainability. It hosts the biggest annual events in Munich, including the Summer Festival at Olympia Park. During Christmas, the Tollwood Winter Festival puts out exciting programmes to sweep the cold away.
Taking place at the famous Oktober Fest venue, Theresienwiese, there are countless things to see and do. Known for the "bazaar" tents, they're great to huddle up on cold winter nights and be delighted by handcraft stalls, sumptuous international food, music and live shows.
Check out Tollwood's extensive Music, workshops and live performances programme. Most of them are free and are perfect for kids.
WHAT TO DO: This year, curling is back and Limbo Unhinged is exclusively featured with a dinner menu. Why not strip away the cold with a bit of burlesque and sexiness?
WHAT TO BUY: Fair-trade arts and crafts from all over the world
WHAT TO EAT: Organic modern international cuisines
WHEN: 23rd Nov – 31st Dec (Closed on 26th Nov)
LOCATION: Theresienwiese | Arrive by U-Bahn U4,5 to Theresienwiese
Märchenbazar At The Olympia Park
For only a week, the Märchenbazar (Fairytale Bazar) will take place at Olympic Park. Surrounded by colourful and nostalgic circus tents and performers dressed in elaborate costumes, you'll be transported to a world of excitement, wonder and fascination.
Unlike the classic Christmas markets, there's a mix of bohemian and whimsical vibe. Taking part in their vast free programmes catered for both adults and children will fill you with joy and amusement.
WHAT TO DO: Here are some of Märchenbazar actions last year. We hope to see them again: the Magic Tattoo studio van, Vintage second-hand clothes by Reused, the exotic Alis Teebar and the kid's candle-making tent.
WHEN: 23rd – 29th Dec
LOCATION: Olympia Park South (Spiridon-Louis-Ring 100) | Arrive by Tram 12,20,21 or Bus 144 (no direct U-Bahn to location)
Neighbourhood Christmas Markets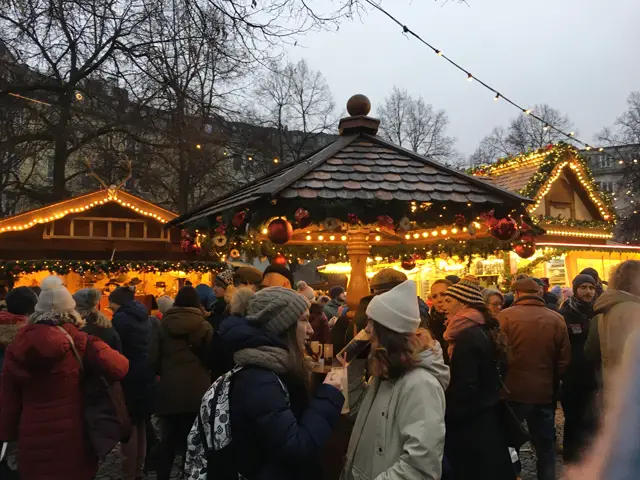 Haidhausen Christmas Market
This is a hidden gem that is on top of our "secret list". Only a few blocks from Ostbahnhof or Gasteig at Rosenheimerplatz, this market is cosy and intimate. Or maybe, we just love the little Santa that rides the roof of a hut to another.
In this local-based Christmas market, set on cobblestones, there are predominantly food and Glühwein huts. There is a beer stand if you're feeling thirsty. A side strip is transformed into a small kids' lane dazzled with a merry-go-round and rides
WHAT TO EAT: We do love the Grill Ecke!  You can warm up by the fire and see the action of real wood fire grill fish. Steckerlfisch here we come!
WHEN: To be announced
LOCATION: Weißenburger Platz | Arrived by S-Bahn Rosenheimerplatz S1,2,4,4,6,7,8 + few minutes walk
Neuhausen Christmas Market
This is another great little neighbourhood Christmas market if you prefer the local scene.
Although small in size, you'll find the typical Bavarian Christmas food delights and speciality stalls in wooden huts. The vintage wooden merry-go-round lifts the joyful Christmas spirit!
WHAT TO DO: This is an ideal stop after your visit to the famous Nymphenburg Palace. Is only 15 minutes walking distance away from the market. An exploration walk at Nymphenburg Palace will illuminate your Christmas vibe.
WHEN: To be announced
LOCATION: Rotkreuzplatz | Arrive by U-Bahn U1,7 to Rotkreuzplatz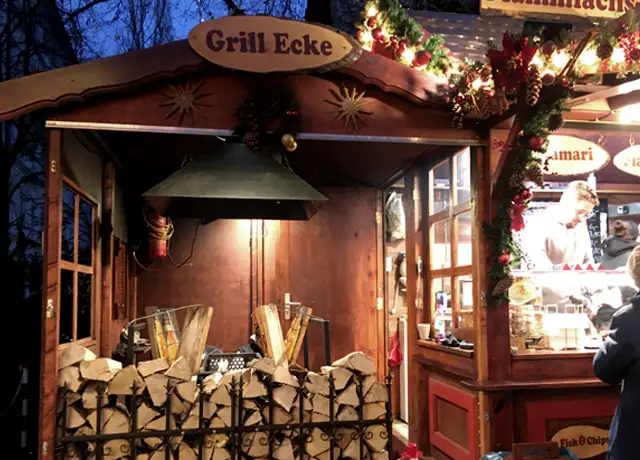 Gluhwine Festival, Bogenhausen
A local magic forest-themed Christmas market (Weihnachtszauberwald) that is proud of its large mulled wine offerings with over 35 varieties!
Not as specular as the old town markets, but it does have a large area for kids with colourful rides.
WHAT TO DO: Stay out of the cold and lounge inside cosy tents with comfy sofas and casual seating.
WHEN: To be announced
LOCATION: Cosimabad (Cosimastraße/Ecke Englschalkingerstraße) | Arrive by U-Bahn U-4, Arabellapark +10 minutes walk
Schwabing Christmas Market
This is one of the bigger neighbour Christmas markets you'll find in Munich specialised in arts and culture. Besides the live music programme, there are art and sculpture tents. This year, there are an additional 12 artists taking part.
WHEN: 1st – 24th Dec
LOCATION: Münchner Freiheit | Arrive by U-Bahn U3,6 to Münchner Freiheit
Alternative Christmas Markets
Alte Utting Starfleet Christmas Market
How does celebrating Christmas in Munich city on a boat sound?
On the Alte Utting Sternenflotte (Starfleet), this "rescued" boat from Ammersee, you'll find an urban and boho vibe with upbeat DJ music accompanied by an outdoor fire pit, a yurt and independent art and craft stalls.
Want to know more about this boat on a bridge? We've got you covered! Check out our review on Alte Utting.
WHAT TO EAT: Food stalls with continental flair offer also vegan and vegetarian options. Sample memorable dishes like Thai steamed buns, French crepes, or West African vegetable curry just to name a few. Relax under the stars or in the boat's engine room, now a quirky lounge.
WHEN: To be announced
LOCATION: Lagerhausstrasse 15, Munich | Arrive by U-Bahn, U3/U6 Poccistrasse / Implerstrasse + 15mins walk
Magic Christmas Market, Werksviertel
Located at Knödelplatz, the centre of Wertsviertel, this is the perfect corner where you can feast on contemporary street graffiti art and meet friends in a lax Christmas atmosphere! At the Zauberhafter Weihnachtsmarkt (Magic Christmas market), besides food and craft stalls, live music is the added bonus.
WHAT TO DO: Till early Jan, you can even book a game of Eisstockschießen (German ice curling) or ice skating in the same complex! Otherwise, there's also the revolving almost 80m high Ferris wheel showcasing the wonderful view of Munich. Um…a great idea for a romantic date night!
WHEN: To be announced
LOCATION: Knödelplatz, Wertsviertel | Arrive by S-Bahn 2,3,6,7,8 to Ostbahnhof + 5 mins walk
The Moon Express, Bahnwärter Thiel
Located in the heart of the Schlachthofviertel (Slaughterhouse Quarter), you can expect a hip, dynamic, upbeat ambience echo at the Moon Express (Monscheinexpress), Bahnwärter Thiel.
Bedazzled by the iconic graffiti art containers, grab a bit from a food truck, and tune in to poetry and jam sessions. Of course, join the live concerts and club events till early mornings
WHEN: 23rd Nov – 23rd Dec
LOCATION: Tumblingerstraße 45 | Arrive by U-Bahn U3,6 to Poccistraße or  Implerstraße + walk 10mins
Winter Rush in the Witch's House, Giesing
Never a dull moment at the wooden witch house at Kolumbusplatz. At this community-based café, there's always laughter: people relaxing on the outdoor tree house terrace or singing and dancing along with the performers on the small outdoor stage.
This friendly atmosphere at Gans Woanders (word play on "Ganz" Woanders, meaning "Complete Somewhere else") continues during the holiday season. Inclusive to their Culture program with workshops, music and live performances, there's also a handicraft market. Expect independent crafts with a homely touch with love.
Check our review here to get a better sense of this amazing café.
WHAT TO EAT: Their fresh potato fries are our favourite and their mouth-watering cakes.
WHEN: 23rd Nov – 31st Dec (Handcraft market : 23rd Nov – 23rd Dec)
LOCATION: Pilgersheimerstraße 13 | Arrive by U-Bahn U-1,2,7,8 to Kolumbusplatz and walk 5 mins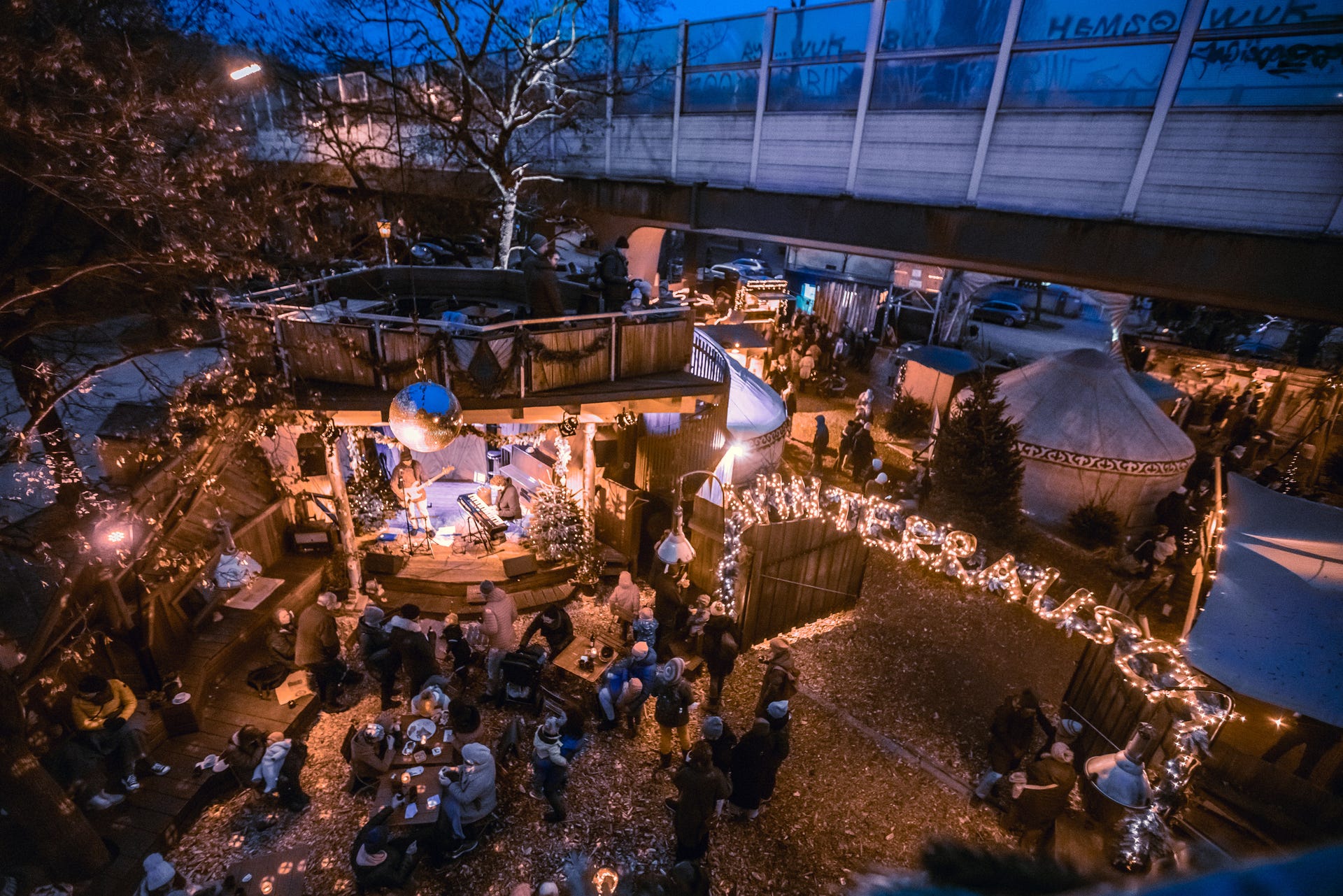 Winter Magic, Westpark
Sharing the same project founder, Gans am Wasser, it has a similar community touch as Gans Woanders. Here, at the Mollsee, is usually flooded with people on a sunny day sitting by the lake. Under Bohemian French-styled umbrellas, sipping cocktails and tapping their feet along free-flowing live music.
During the Christmas season, it's not so different (except for the cold, of course). The cosy yurt and open fire are set to ensure everyone, including children and families can enjoy their wonderful program.
WHEN: To be announced
LOCATION: Westpark am Mollsee | Arrive by U-Bahn U-5  to Heimeranplatz + 15 mins walk
Munich Airport Christmas Market
Whether you're going for an in or outbound flight, you can get a taste of the German Christmas market. You'll find classic Bavarian culinary delights and stalls which could be handy for last-minute souvenir shopping.
WHAT TO DO: Hopefully, it won't happen, but if your flight is delayed, you can at least go for a round on the ice-rank or have a game of ice curling!
WHEN: 18th – 31st Dec
LOCATION: Munich Airport | Arrive by S-1,8 to München Flughafen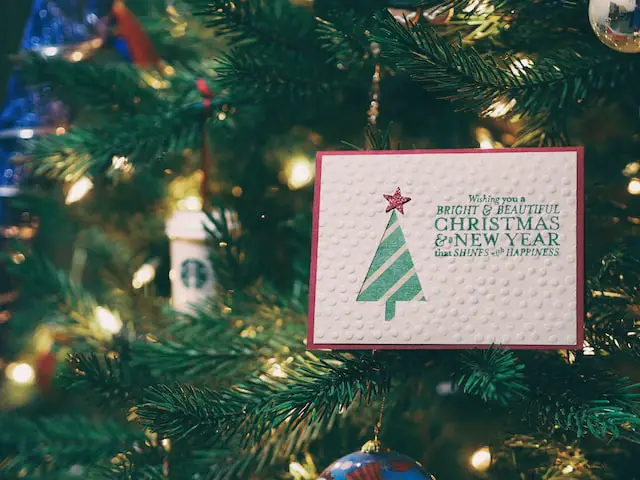 Christmas markets Munich: Our Wrap Up
So, here's our wrap on the German Christmas Markets in Munich. Which Christmas Market is on your to-go top list?
Check out our Facebook and Instagram for more tips and updates!
Frohe Weihnachten!!!
German Christmas markets FAQ
What Are The Dates For Christmas Markets In Munich?
Weihnachtsmarkt usually begins on the Friday before the first Advent (1st December) and ends on the 23rd December. This does however differ depending on the market itself. We recommend you check the official websites for their latest information.
Where are Munich Weihnachtsmarkt Located?
Christmas markets are spread out in the city centre and around. A map here shows the Munich locations.
Is it called Weihnachtsmarkt or Chriskindlmarkt?
Germans use both Weihnachtsmarkt and Christkindlmarkt when referring to the Christmas market.
Weihnachtsmarkt : translates literally as Christmas market.
Christkindlmarkt : Christkindl means "Christ child". It was originally intended to represent the reincarnation of Jesus Christ. This child is the secret figure that brings gifts to children during Christmas, like Santa Claus.
FYI. In Germany, Saint Nikolaus is compared to Santa Claus who is known in other parts of the world. He however gives presents on the 6th December.
How Does the German Pfand System Work at Christmas Markets?
One of our favourite things we love about the Christmas markets in Bavaria is that one-time plastic cups are rare. Instead, the Pfand (deposit) system is used.
When purchasing hot beverages, such as Glühwein and Kinderpunsch (mulled wine, non-alcoholic mulled wine), you need to pay a Pfand deposit (usually 2-5Euro). When you bring back the mug/glass with the given chip, your deposit will be returned.
What a wonderful idea to reduce plastic waste! Plus your beverage and hands will be kept warmer!