Having spent many hours ourselves in the wonderful Ostpark Munich we feel uniquely qualified to author this complete guide to this fabulous Munich greenspace.
We've jogged, cycled and walked probably every path and trail known to man (and dog) throughout the Ostpark so we hope you enjoy our guidance on the topic.
Alright without further ado let's jump in, shall we?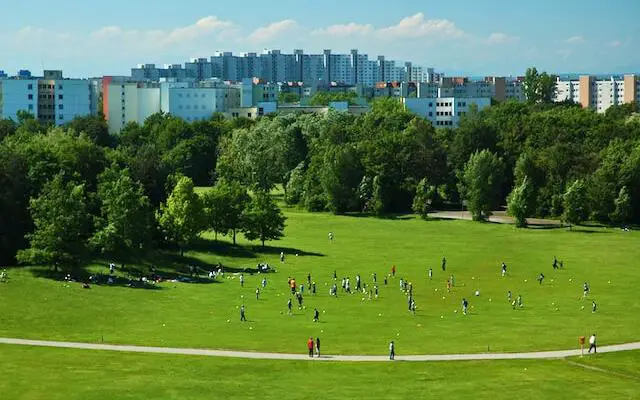 The History & Evolution of Ostpark
Nestled in the hip Munich borough of Haidhausen, Ostpark has a rich history dating back over a hundred years. 
Originally constructed in 1905, the park was envisioned as a green getaway for the working-class residents of Au and Haidhausen. 
Back then, it spanned just 7 hectares and provided locals a peaceful natural refuge amid the bustling city. 
Over the decades, Ostpark Munichcontinued to grow and develop into the beloved attraction it is today. In 1972, Munich hosted the Summer Olympics and Ostpark underwent expansions to accommodate new sporting facilities like the ice rink and indoor swimming pool. 
Further enhancements came in 2006 when the main beer garden was renovated and redesigned. 
Now spanning 47 hectares, the lush landscapes and winding trails of Ostpark have made it one of Munich's most popular inner-city parks. 
Both locals and tourists are drawn to its idyllic greenery, refreshing lakes, cultural events and, of course, the famous biergarten. 
More than a century since its creation, Ostpark remains a cherished oasis for recreation, entertainment and appreciating nature at its finest.
It's incredible how a small community park established over a hundred years ago evolved into a premier Munich attraction enjoyed by thousands every year. 
But throughout its growth, Ostpark still retains the serene, neighborhood charm that makes it so special.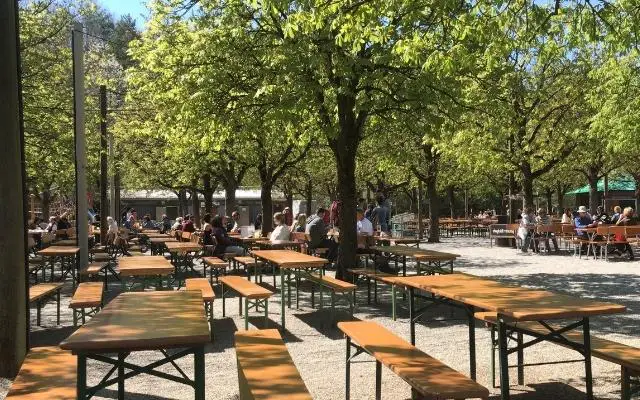 Ostpark's Main Attractions 
Ostpark captivates visitors with its diverse range of attractions and activities for all seasons.
The Michaelibad
At the main public accessible entrance of the park is the Michaelibad, an impressive swimming and wellness complex encompassing indoor and outdoor pools. 
The outdoor area features lanes for lap swimming along with diving boards, water slides, bubble beds and other water fun for kids. 
The indoor pool area provides year-round swimming and sauna relaxation. Michaelibad attracts swimmers and sunbathers throughout the summer months.
The Michaeligarten 
Of course it goes without saying that no trip to a Munich park would be complete without experiencing a traditional beergarten. 
Well, Ostpark's beer garden is one of the city's finest, shaded by chestnut trees and full of convivial, communal tables. 
Patrons here can soak up the atmosphere while sipping a liter of locally brewed beer paired with hearty Bavarian snacks like pretzels, sausage, Schweinshaxe or roast chicken.
The biergarten often hosts live brass band entertainment, adding to the festive ambiance.
The Ostparksee
At the heart of Ostpark Munich sprawls a serene lake, The Ostparksee. Engulfed by weeping willows and crossed by a quaint footbridge. 
Whilst not really one of the most loved lakes in Munich, no doubt because swimming here is not possible, it is nonetheless a centrepiece to the Ostpark and in the warmer months you'll find people lying on the grass all about the water.
When winter arrives, the lake transforms into a bustling ice skating rink. Skaters swoop and swirl atop the frozen waters against a scenic snow-dusted backdrop. 
At nights, the ice rink lights up, creating a magical glow. An on-site skate rental shop provides skates for gliding across the ice.
Aussichtsplattform
The highest part of the park with views clear to the Zugspitze when the weather is good, the Aussichtsplattform is a great vantage point from which to observe the city.
Whilst a bit overgrown the last time we visited, we think it only added to the ambience and serenity at the apex of this small city hill. 
The park also harbors an indoor ice hockey and figure skating rink within the Ostparkhalle arena.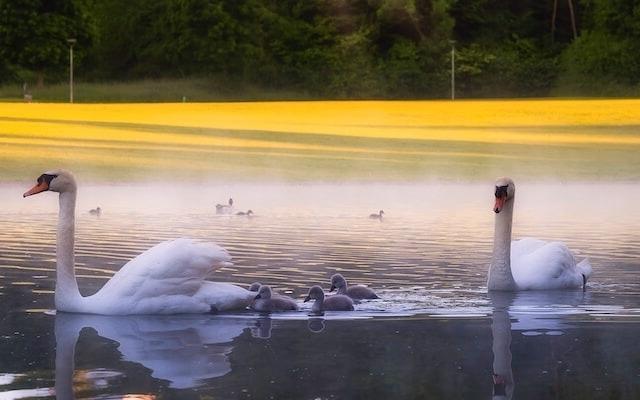 Natural Beauty & Flora
Beyond its attractions, Ostpark owes much of its allure to the abundance of nature spread throughout its grounds. 
Leafy deciduous trees like oak, chestnut, and maple dot the landscape, providing cooling shade on hot summer days. 
Flowering bulbs add bursts of color in spring while herbaceous plants like hosta and fern thrive in the park's humid microclimate.
Woven between the lawns and greenery are sculptural works of art, like imposing stone monoliths engraved with poems and whimsical bronze statues of animals. 
These installations blend harmoniously with the natural environment, transforming Ostpark into an outdoor art museum perfect for a leisurely stroll.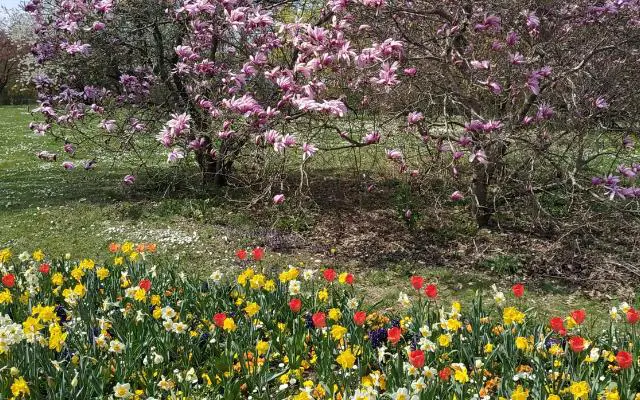 Wildlife at Ostpark | Birds, Fish & More!
Although nestled in the heart of the city, Ostpark provides a thriving habitat for diverse wildlife and creatures. 
We've met a few ornithologist here so we know first hand that bird watchers flock to the park to spot songbirds like finches, tits, woodpeckers and Eurasian jays flitting through the tree canopy. No our words, theirs!
By the lakeside, visitors may spot coots, geese, swans, and other waterfowl splashing in the shallows. 
For avid birdwatchers, the south region of Ostpark near Johann-Claudius-Straße offers prime bird spotting locales. 
Here you'll find wetlands, reed beds, and conservation areas that attract rare birds migrating through Munich. With over 50 species of birds recorded, Ostpark is a haven for ornithologists and nature lovers alike.
Aside from the wonderful birdlife here in Ostpark, we know that the lake also harbors fish like carp, tench, and eels, sometimes even visibale beneath the reasonably clear waters. 
Squirrels and rabbits can be spotted scampering through the bushes and meadows within the park also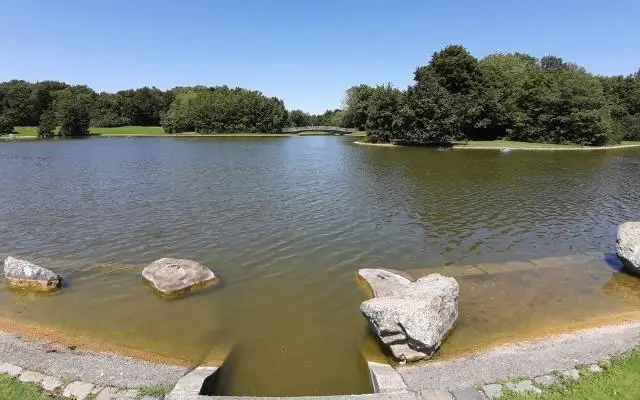 Things to Do At Ostpark Munich
Ostpark provides endless activities for visitors of all ages and interests. There is so much to enjoy about this park and so much to do here that you can easy spend hours here in a discovery of all that 
Cyclists and joggers take advantage of over 6 kilometers of winding trails that loop through the grounds. 
Walkers, picnickers, and families spread out across sprawling lawns and meadows surrounding the lake. Two well-equipped playgrounds give kids plenty of space for running, climbing, and sliding.
Seasonal festivals, concerts, and events fill the park's calendar and summer brings craft beer and folk music festivals to the biergarten while wintertime sees activities as diverse as ice sculpting workshops, ice skating and we've even spotted some seasonal Christmas market stalls here 
When the cherry blossoms burst into bloom in spring, locals gather for sipping prosecco under the pink canopies. No matter the season, there's always an exciting event on the Ostpark horizon.
Food & Drink In Ostpark
No Munich park experience compares to savoring Bavarian cuisine and brews alfresco at Ostpark's biergarten, The Michaeligarten.
This beloved local institution serves up hearty traditional fare under the sprawling chestnut trees. Crispy pork knuckles, Bavarian sausages, spit-roasted chicken, and of course, giant pretzels are classics to try.
To wash it all down, beer reigns supreme here. The biergarten offers an array of local brews like Hofbräu, Paulaner, and Spaten, always poured fresh from the tap into one-liter glass steins.
On weekends, oompah brass bands perform traditional Bavarian music, adding to the festive, beer-fueled atmosphere.
Beyond the standard pub grub, the biergarten also dishes up creative twists on German fare. How about beer-battered schnitzel served with mustard remoulade? Or hearty pork goulash cooked with dark beer? 
Even dessert gets a delicious makeover with choices like Schwarzwälder kirschtorte (Black Forest cake) drizzled with cherry lambic beer reduction.
Of course, non-alcoholic drinks are also available for kids, designated drivers, and non-drinkers. Refreshing choices include apfelschorle (apple juice spritzer), various fizzy lemonades, and the classic German spezi – a mixture of orange soda and cola. But for a true Ostpark experience, sipping a freshly tapped German beer takes the cake!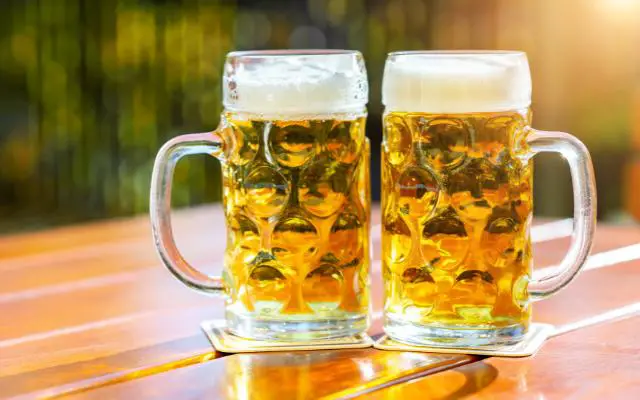 Tips for Visitors
As one of Munich's most popular attractions, Ostpark welcomes thousands of visitors daily. 
Beat the crowds by arriving early on weekend mornings when locals are still snoozing and  take advantage by exploring the serene trails before the midday rush. 
Late afternoons are also less crowded on weekdays once schools and offices empty out.
Getting To Ostpark Munich
Public transit provides the easiest way to reach Ostpark. Hop aboard tram 19 from the city center and disembark at Michaelibad/Ostpark station. 
The entire journey takes around 15 minutes. Driving and parking is also an option – Ostpark has approximately 200 free parking spaces available within the grounds. Cyclists can cruise along painted bike lanes leading directly into the park.
Consider packing a picnic blanket, folding chairs, sunscreen and swimming gear if planning to laze around the lake or explore Michaelibad. 
Don't forget your camera – Ostpark offers postcard-worthy vistas galore. Leashed dogs are permitted throughout most areas of the park – Fido will enjoy the natural romping grounds too!
Ostpark and Absolute Munich's Experiences
After learning about everything Ostpark has to offer, one thing is clear to us, and should be to you by now – this is a must-visit green gem in the heart of Munich, especially if you're a nature lover! 
As both long-time residents and frequent visitors to Ostpark, we're continually charmed by the sheer beauty and tranquility of this urban oasis. 
Whether you want to sunbathe by the lake, stroll through flower-filled meadows, sip a crisp beer in the Biergarten, or watch swans drift across the water, Ostpark has you covered. 
It's the perfect spot to revel in nature without leaving the convenience of the city. Trust me, with so many landscapes to explore and activities to enjoy in all seasons, you'll never get bored at Ostpark Munich.
Why not see it for yourself and you'll soon be as enamored with this wonderful park as I am! Just don't forget your camera – with so much beauty, you'll want to capture every moment.
Cheers, thanks for reading, and safe travels everyone.
Frequently Asked Questions About Ostpark munich
Is Ostpark free to visit or are there entrance fees?
Yes, Ostpark is completely free and open to the public at all times. There are no entrance fees.
Are food and drinks allowed in Ostpark?
Yes, visiting Ostpark for a picnic is very popular. You can bring your own food and non-alcoholic drinks. Maybe a couple of beers wouldn't hurt!
Are dogs allowed at Ostpark and are there any restrictions?
Dogs are allowed if kept on a leash. Owners must clean up after their dogs and prevent disturbing other visitors.
Does Ostpark have bathroom facilities and parking?
There are a few public restrooms in Ostpark. Limited free parking is available inside the park grounds.
Is Ostpark suitable for children and families?
Yes, Ostpark is very family-friendly. It has several playgrounds and open spaces suitable for games and sports.
When is Ostpark open during the year? Does it close in winter?
Ostpark is open 24/7 year-round and does not close in winter. Some facilities may have limited winter hours so do check before you go.