Augsburg is the oldest city in the state of Bavaria and is Germany's third-largest city.

Founded by the Romans in 15 BC Augsburg has a long, rich, and turbulent history. The city's age and historical significance, as well as the fact that it is now a protected UNESCO World Heritage site, ensures the city is a very popular destination for tourists traveling through Bavaria.
With its fabulous old town of charming streets and hidden squares, Augsburg is a vibrant and lively city steeped in history, and in our opinion, is a must-see destination for anyone visiting Bavaria.
We love Augsburg and we hope that this guide we've put together will help you to discover everything that this beautiful and historic city has to offer from stunning architecture to a vibrant arts scene and its delicious regional cuisine.
Trust us when we say Augsburg has something for everyone, is one of the Best Cities to Visit in Bavaria, and we're confident that you'll fall in love with this amazing city, just as we have!
Augsburg History | A Brief Overview
Whilst there have been indications of a Bronze Age settlement here on the location where Augsburg now stands it was, as we previously mentioned, officially founded as a settlement by the Romans in 15BC.
Nero Claudius Drusus was the first Roman military leader to launch a campaign across the Rhine in an effort to conquer the tribes of Germania, and it was here that he maintained a "base of operations" in the area. 
Interesting to note is that the town played a significant role in the defense of the region against invading forces over the years also, such as the Hungarians, who were decisively defeated by King Otto I in 955. 
Augsburg's status as an imperial free city, granted in 1276, likely contributed to its growth and prosperity, as did its membership in the Swabian League in 1331.
Below are all the most significant dates in the history of the City of Augsburg.
15 BC: Augsburg was founded by the Romans.
5th century: Augsburg becomes part of the Holy Roman Empire.
11th century: Augsburg becomes an important center of trade and commerce.
13th century: Augsburg becomes a free imperial city.
16th century: Augsburg is home to a number of important cultural and intellectual figures, including the theologian and monk St. Ulrich and the Renaissance artist Albrecht Dürer.
19th century: Augsburg became an important center of the textile industry in Germany.
1945: Augsburg is heavily bombed during World War II and is subsequently rebuilt.
2011: The historic center of Augsburg is added to the UNESCO World Heritage List.
For a full and more complete History of Augsburg check out the city's entry on the Britannica Website.
Where is Augsburg Located in Bavaria
Augsburg is located just 60 kilometers to the North West of Munich in southern Bavaria. To the north, some 150 kilometers away, is Nuremberg and to the west, you'll find Stuttgart 165 km distant.
The city's location at the confluence of the Lech River and Wertach River has been a historically significant trade route crossroads for centuries.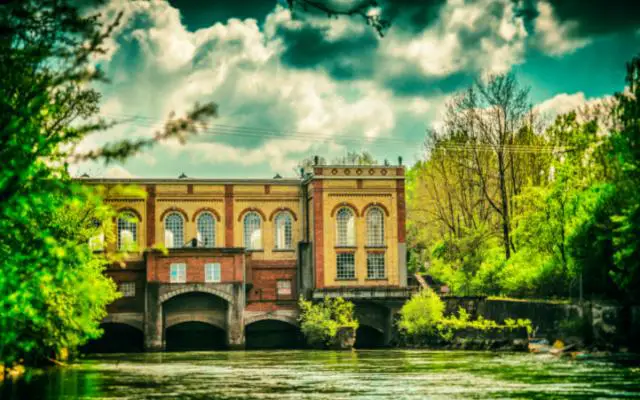 Things to Do in Augsburg | Our Top 13 Recommendations
As you can imagine with such a vast history, this is a city plentiful with things to do. Following is our recommended list of the Best Things to Do in Augsburg based on our own experiences in the city.
1. Augsburg Town Hall
This spectacular Renaissance-style building located in the Augsburger Old Town was completed in 1620 and is at the heart of the city. The Golden Hallway within is a magnificent example of Baroque art is a highlight. The ceiling paintings and gold artistry are truly fabulous, and it is definitely worth seeing in person. We highly recommend visiting during the Christmas season, when the Christmas angels appear in the windows of the main Town Hall, overlooking the Christkindl Christmas market below in the Rathausplatz town square. It's a truly wonderful and memorable experience and one that is well worth visiting.
Location: Rathausplatz 2, 86150 Augsburg, Germany
Website: augsburg.de
2. The Fuggerei
Jakob Fugger, who is believed to have been one of the wealthiest people in the world 500 years ago, and the Fugger Family, founded The Fuggere in 1516. This is a fascinating example of a public housing project believed to be the first of its type in the world. The institution that is the Fuggerei here in Augsburg still exists today, and visitors can go inside some of the houses to learn more about its history. The Fuggerei is an impressive and interesting place, particularly for history buffs – don't miss the old air raid shelter on the property that is worth visiting. Displays are available in both English and German and some of the videos also have English subtitles, making it a fascinating and informative place to visit. This is the oldest social housing complex in the world but people still live here, however, so do be respectful when walking about.
Location: Fuggerei 56, 86152 Augsburg, Germany
Website: fugger.de
3. Mazda Car Museum
What? Did we really say Mazda? In one of the most famous car manufacturing regions on the planet that sports the likes of BMW, Audi and Mercedes-Benz we're talking about Mazda? Correct! Don't worry, if you're not a car enthusiast, you'll still enjoy the cute cars from the 60s and racing machines that are on display at the Mazda Museum here in Augsburg. The museum provides a good overview of the history of these cars and also introduces visitors to the evolution of rotary engines. The presentation of the cars is top class and the museum provides information in both German and English for each car on display. This is the only Mazda Museum outside of Japan, making it a unique and interesting place to visit. For car lovers, this is a must.
Location: Wertachstraße 29b, 86153 Augsburg, Germany
Website: mazda-classic-frey.de
4. Augsburg Botanical Gardens
The Augsburg Botanical Garden (Botanischer Garten Augsburg) is a peaceful and serene place to spend a few hours. It's especially nice to visit the Japanese garden section, and it's a great spot for taking pictures. While it may not be worth driving for hours to see, it's a great place to go if you're in the area and looking for a place to meditate, have a picnic, or just enjoy nature. The garden is located off the beaten path and is free from motorised vehicles, making it a peaceful and relaxing place to walk or bike. There's also a beer garden on site, where you can grab a bite to eat and listen to local artists. Overall, it's a beautiful nature area in the city that provides a calm and peaceful escape from the hustle and bustle.
Location: Dr.-Ziegenspeck-Weg 10, 86161 Augsburg, Germany
Website: augsburg.de/freizeit/ausflugsziele/botanischer-garten
5. Augsburg Brewery (Brauhaus Riegele)
For beer and food lovers the Brauhaus Riegele, the oldest brewery in Augsburg founded in 1386, should be a must-see on any visit to the city. Unbelievably still owned by the same family for 28 generations, the brewery has won numerous accolades in international competitions such as the European Beer Star and the World Beer Cup. If you enjoy beers that are full of flavor, aroma, and scent, and are unlike any others you've tried elsewhere, then the Brauhaus Riegele is a brewery you should definitely check out.
Location: Frölichstraße 26, 86150 Augsburg, Germany
Website: riegele.de
6. Augsburg Waterworks Museum
How interesting can water be I hear you ask? Well you'll find it here at the Augsburg Waterworks Museum and if you're at all interested in technology, you'll certainly get your money's worth at this historical tourist site. On show are wonderfully preserved technical equipment from 1879, some that still have some functional parts. You'll be amazed at just how much of the original equipment is still in place here at the Waterworks – an absolute testament to the quality of the engineering work of yesteryear. Who would've thought a museum on a water management system could be so interesting?
Location: Am Eiskanal 49, 86161 Augsburg, Germany
Website: wassersystem-augsburg.de
7. Augsburg Cathedral
Even if religion is not one of your interests, this Augsburg Cathedral (Augsburger Dom) is a special place to visit. This Romanesque-style cathedral was built in the 11th century and is home to a number of important artworks and historical artifacts. The architecture is stunning and is not immediately apparent from the outside which only adds to the ambience of the building. The crypts are also interesting, and it seems like every century and era has left its mark on the building. Don't miss the 11th-12th Century stained glass windows. There are 5 and each one depicts a prophet.
Location: Frauentorstraße 1, 86152 Augsburg, Germany
Website: bistum-augsburg.de
8. Augsburg Zoo
While it may not be as well-known as the zoos in Munich and Nuremberg, this zoo in southern Germany is definitely on par with the best in the region. The highlight has to be the wonderful Bird House, but there are plenty of other excellent exhibits as well, such as the mixed enclosure for Hamadryas Baboons and the Forest Buffalo enclosure. There is a new Elephant house and the compact size of the ZOO means you don't have to spend all day here. Excellently laid out kids love visiting the Augsburg Zoo. For parents don't forget to stop and enjoy a free sample of your choice of wine mid-way through the zoo visit!
Location: Brehmpl. 1, 86161 Augsburg, Germany
Website: zoo-augsburg.de
9. The Lech Canals Walk
The Lech Canals that run through the city are a fascinating and wonderfully Instagrammable part of the city that not enough visitors to Augsburg take advantage of. There are actually 29 channels of the Lech river that flow through the city of Augsburg, covering a total distance of almost 77 kilometers. Not quite Venice, Amsterdam or Birmingham, but the Augsburg Canals are fascinating nonetheless and the lech canal water frontages are lined with houses, watermills, shops and cafes.
Location: Throughout the city
Website: wassersystem-augsburg.de/en/objects/lech-canals
10. Augsburg Art Museum
There are a few different art museums in Augsburg, all worth a visit but our favourite is the Maximilian Museum which is home to a number of important artworks from the Middle Ages to the present day. The is a must-see destination for art lovers visiting Augsburg as not only does it house an impressive collection of decorative arts, including paintings, sculptures, crafts, and historical artifacts, but the museum building itself is both an architectural and historical landmark. Visitors are sure to be captivated by the museum's glass-ceiling courtyard and beautiful architecture. Overall, the Maximilian Museum is an unforgettable experience that combines art, history, and beauty.
Location: Fuggerpl. 1, 86150 Augsburg, Germany
Website: augsburg.de/kultur/museen-galerien/maximilianmuseum
11. Augsburg Puppet Theater
The Augsburg Puppet Theater (Augsburger Puppentheatermuseum) is home to a number of displays and puppet shows and performances for both children and adults. The theater itself is a magical place to visit, whether you're a kid or an adult. It's a cultural icon of the city and surprises audiences with new puppet programs each season throughout the year. The art of puppetry has largely disappeared in modern Europe, making this theater a unique preserve of centuries-old fairy tale traditions. If you're in Augsburg, this is a must-see destination that will bring joy to you and your kids and leave you with a wealth of emotions. Go on, support this special Augsburg theater and experience the magic for yourself.
Location: Spitalgasse 15, 86150 Augsburg, Germany
Website: augsburger-puppenkiste.de
12. Perlach Tower 
The Perlach Tower (Perlachturm) is a historic bell tower building in front of the church of St. Peter am Perlach right on the main town square and is definitely worth a visit. The climb up the circular staircase to the top presents a short revitalising workout, but the views of the city from the bell tower at the top are excellent. You will need to pay the "ticket taker" at the top who charges a small fee, but it's worth it for the experience. We highly recommend checking out the Perlach Tower for its unique history and stunning views as the best place to get a true orientation of the city. NOTE: This attraction was closed for renovation the last time we visited Augsburg
Location: Rathausplatz, 86159 Augsburg, Germany
Website: augsburg-tourismus.de/de/sehenswuerdigkeiten/augsburg-innenstadt
13. Rathausplatz
The Rathausplatz, or City Hall Square, is a picturesque and grandiose plaza in the center of Augsburg and generally the starting point of any visitor to the city. The square is surrounded by majestic, ornate buildings with baroque and renaissance influences, featuring some classical facades of gilded marble and grand columns. The square is home to a number of fountains, gardens, and walkways, making it a popular destination for promenades and relaxation. The square is also home to a number of statues, sculptures, and other decorative elements, adding to its aesthetic appeal.
Location: Rathausplatz, 86159 Augsburg, Germany
Website: augsburg-tourismus.de/en/welcome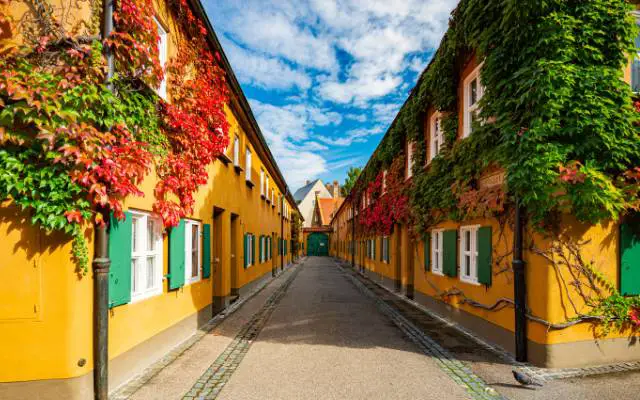 Where to Stay in Augsburg
Like all cities, there is PLENTY of accommodation options to choose from and Augsburg is no different with a plethora of hotels to suit all budgets as well as hostels, pensions, air bnb's, and more.
Below are three hotel options in Augsburg covering all pricing options that are recommended.
Budget: IBIS Budget Augsburg City. This is a budget-friendly "sustainable" hotel located about 800 meters to the west of Augsburg Old Town but is well within walking distance of the city's main attractions. Cheap and cheerful.
Mid-range: ANA Living Augsburg City Center by Arthotel ANA is a mid-range hotel located in the heart of the old town and offers comfortable accommodations and a central location. We love that the Arthotel Ana Living offers free bikes on which to cruise about the city.
Exclusive: The Hilton Augsburg is a luxurious hotel located in the heart of the city, offering upscale accommodations, a spa and wellness center, and a variety of dining options.
Please note that these are just a few examples and there may be other hotels in Augsburg that fit these categories. It's always a good idea to do your own research and compare prices and amenities to find the best option for your needs and budget.
Where to Eat in Augsburg
There are many superb places to eat in Augsburg with a wide variety of cuisines and dining experiences on offer. Dining is obviously such a personal experience that we find it always difficult to make recommendations that suit everyone.
Nevertheless here are a few suggestions that we've personally tried ourselves:
Gaststätte Bayerischer Löwe: This traditional Bavarian restaurant serves hearty German dishes, including roast pork, sausages, and dumplings. A true gem of a spot and with mature chestnut trees providing shade, the Biergarten had a cozy and intimate atmosphere. Delicious cold beers, plentiful tasty food, and excellent service. It's a hidden little oasis that's not to be missed.
Trattoria Pizzeria Crudo: This Italian restaurant serves classic dishes, such as pasta, pizza, and grilled meats, and also has a great little beer garden. Large portions and great service is what you'll find here as well as Paulaner beer on tap.
Shushu Falafel: This vegetarian and vegan-based restaurant serves plant-based middle eastern dishes and is highly regarded. Fresh and fabulous you are well advised to make a reservation here as this is a very small eatery.
Nikos Tavernaki: We love greek almost as much as Bavarian Cuisine and at Nikos place, we're never disappointed. It's like going back in time here as there is no real menu, no card payments, and no obvious ordering system. But you'll always get a great meal, guaranteed .. Meze starter seems to be the only choice but the following are some real traditional Greek meals. Greek drinks too and overall, very reasonable pricing here at Nikos Tavernaki.
Ratskeller Augsburg: As it's a little more touristy here you might expect a lesser service or perhaps a quality deficiency from time to time. But that's never been our experience here, having visited a few times. The Bavarian food and drink is of high quality and is reasonably priced and the ambiance of the underground cellar with its vaulted ceilings definitely makes for a fun dining experience. We advise you to make a dining reservation here as this is a popular place.
These are just a few examples, and there are many other great restaurants in Augsburg to choose from and these are our own experiences. You can form your own opinions of course and read reviews and ask locals for recommendations to find the best places to eat here in Augsburg.
How to Get to Augsburg
There are several ways to travel from Munich to Augsburg but here are the main options from Munich:

By train: There are frequent train services between Augsburg and Munich, with the journey taking around 45 minutes. Trains depart from Munich Central Station (Munich Hauptbahnhof) and arrive at Augsburg Central Station (Augsburg Hauptbahnhof).
By bus: There are regular bus services between Munich and Augsburg, with the journey taking around 1 hour. 
By car: Augsburg and Munich are connected by the A8 motorway, which takes around 45 minutes to drive.
By bike: Augsburg and Munich are connected by a bike path called the "Radlpassage Augsburg-München", which follows the route of the A8 motorway and takes around 3 hours to bike.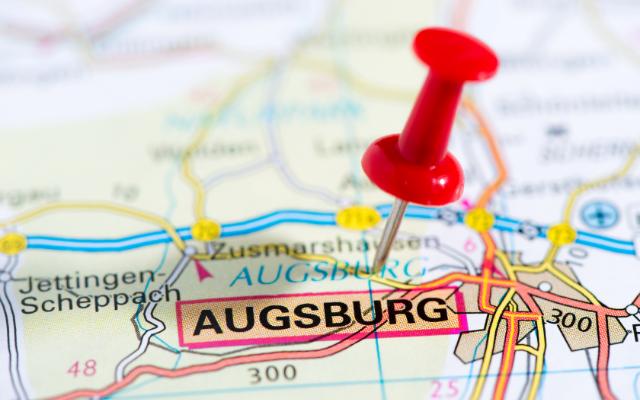 Augsburg: The Oldest City in Bavaria
Overall Augsburg offers a wide range of attractions and activities for visitors to enjoy making it a fabulous city to visit.
From exploring the rich history and cultural heritage of the city at landmarks like the Augsburg Cathedral and the Fuggerei to indulging in the local cuisine and shopping at the weekly farmers market, there is something for everyone in this charming Bavarian city.
Additionally, Augsburg is home to a number of excellent outdoor recreational opportunities such as hiking and biking available in the nearby "peak district" of Augsburg.
So with so much to see and do, Augsburg is a must-visit destination for anyone traveling through southern Germany.
We love Augsburg and we're sure that after visiting, you'll love it here too!
Thanks for reading and happy travels.
Related Posts:
The 5 Best Cities To Visit In Bavaria (Near Munich) And Why!

Is Augsburg Worth Visiting?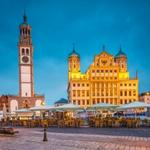 Yes, Augsburg is well worth visiting especially if you are interested in history. This quintessentially German scenic city is a must-see Renaissance city that is part of the Romantic Road in Germany and is a very popular tourist destination.
What Is The Augsburg Population?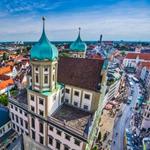 The last Bavarian population census records Augsburg as having a population of just under 300,000 inhabitants.
What Is The Closest Airport To Augsburg?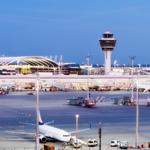 The closest international airport to Augsburg is Munich Airport which is around 85 km away to the east of Augsburg.
What Is Augsburg Known For?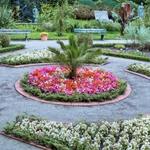 Augsburg is most notably known for its amazing architecture and stunning scenery as well as for being the home of the Fugger Family, one of the richest in the world throughout the late middle ages.
Is Augsburg In Bavaria?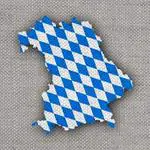 Yes. Augsburg is in southern Bavaria and is the state's third largest city behind Munich and Nuremberg.