If you love all-day breakfast and still having Fernweh (the feeling of missing travel), the Australia-inspired Poppi Farmer cafe is the perfect bunch place that will make you feel as if you are down under.
This modern cosy café captures many facets of the modern Aussie way of life. 
It's the type of cafe you'd expect to find in a trendy street in Melbourne or in one of the beachside suburbs of Sydney.
The rural earth-toned walls against large straw lamps set the perfect background for your simple, healthy scrumptious meal.
Poppi Farmer Cafe München
Australian modern cuisine x eco-friendly menu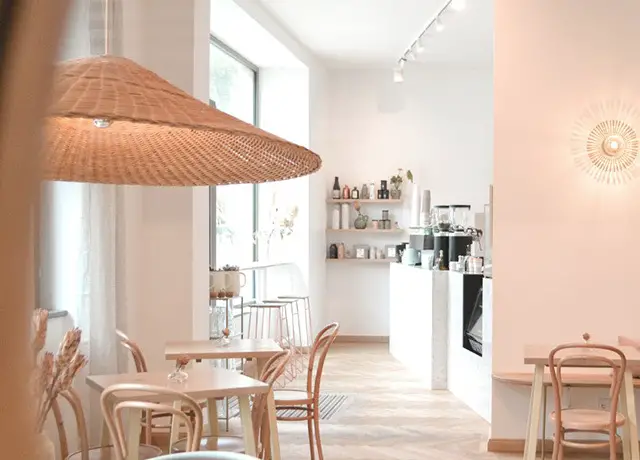 Unlike the typical breakfast you usually find in a Munich café, Poppi Farmer brings you more than scrambled eggs and Brezel with butter!
The owners of Poppi Farmer, Jonas and Lisa have promised a healthy brekkie that is not only delicious but also to be environmentally friendly. 
All the ingredients are organic, and are sourced locally in the region, except for a few exceptions like chocolate. This perfectly explains their seasonal menu.
Going through the menu, there's the Aussie classic Avo Toast and brekky croissant, but what caught my eyes was the grilled cheese toastie spiced up with Kimchi on the side. 
Their happy tummy bowl served with buckwheat, miso roasted veggies, and hummus also sounds simply irresistible.
To add to their enticing menu, their cheeky drinks list extends not only to coffee (although a flat white is not questionable) but also to the special tonics and Kombucha! How does a holy reishi tonic with medicinal mushroom sound? Are you adventurous enough?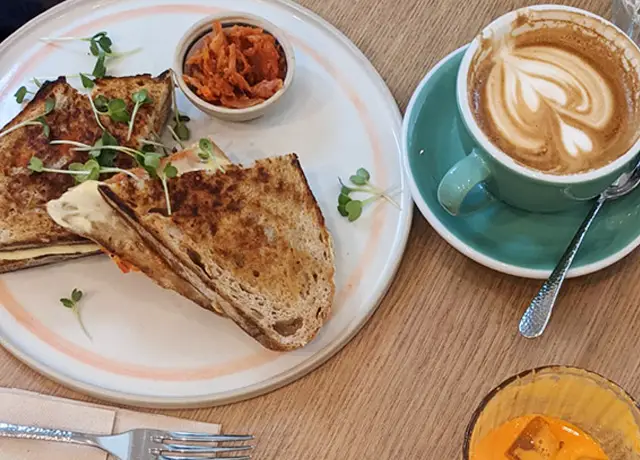 Our Verdict on Poppi Farmer Food?
It was simply delicious!
For a veggie/vegan menu, you do not feel like you are missing out on meat.
The food was light, but tummy-filling. I would've loved the portion of Kimchi to be doubled though, only because it was so tasty.
In saying that, if you are looking for a hang-over greasy brunch, this is probably not the best choice.
The price is what you would expect in most cafes in Munich.
Drinks-wise, they cost more than an average café, with an average of around 4Euros.
Considering the café uses organic ingredients, it's not overpriced. Plus, since they are committed to carbon neutral and running a circular economy. This explains the slightly higher cost.
Every cent is worth the spending!
Fun fact about Poppi Farmer Cafe
Aussies often call their grandpa Poppi. 
The siblings who started the business named the cafe Poppi Farmer to pay homage to their grandpa, who used to be a farmer at Lake Starnberg.
 He has evidently played a high influence on the appreciation for good food and sustainability.
where is Poppi Farmer Cafe and When Is It open
Adress: St.-Bonifatius-Straße 1, 81541 München
Opening hours : Tuesday – Friday: 9AM till 5PM | Saturday – Sunday: 10AM till 5PM

NOTE: Only Walk-ins are available unless large group
Tip: If you like a Spaziergang (stroll), there's a tranquil and beautiful Friedhof (graveyard) in St. Martin Straße just a few minutes away.
Exit at the east gate, there's the Cumpanum bio-bakery nearby. Their bread is just amazing!
Location Map of Poppi Farmer Cafe
Want to know more about our alternate cafe selections in Munich then just click through to our article on the Best Cafes in Munich. 
And, if you're spending any time in the area on a weekend, you may want to take a walk to the MVG Museum which is just a kilometer away from Poppi Farmer to the south.
Thanks for reading our review of the Poppi Farmer Cafe München, and we hope to see you there sometime soon.