Unquestionably, the Munich Viktualienmarkt is one of the top destinations to visit in Munich.
As one of the best places in the city to get that initial grasp of Bavarian Culture, and to taste its wonderfully plentiful culinary delights, it's no wonder that it lists so prominently in many essen und trinken (eating and drinking) guides on Munich.
The market offers a diverse range of top quality products and is popular not only for tourists but also for many regular locals. Weekly grocery shopping is done here at the Viktualienmarkt, and the food available is often enjoyed by the nearby office workers, who regularly come for a quick bite during their Pause (break).
In this article, we examine the famous Munich Viktualienmarkt in-depth, and as Munich locals ourselves, offer all the inside information you'll need to experience Munich's Best Culinary Market just in the way a local would!
We hope you enjoy the read!
What Is The Munich Viktualienmarkt
The Munich Viktualienmarkt, with the name derived from the word "victual", meaning "food" in Latin, has a history of over 200 years and it's the oldest farmer's market in Munich.
Located in the heart of the city in Munich's Altstadt, the market started life as a simple conglomerate of local farmers peddling their produce at Schrannenplatz (today's Marienplatz).
Originally offering food staples such as vegetables, meats and herbs the Viktualienmarkt eventually outgrew its original location and relocated to where it is now based just a few hundred meters to the south of Marienplatz.
With the growth in popularity of the market over the years, there are now over 100 vendors offering not only fresh, seasonal vegetables and fruits, but also regional produce and delicacies, such as cheese, meats (of course, sausages are amongst them), seafood, and even plants and flowers.
What Can I Buy At The Viktualienmarkt
The market offers typical Bavarian foods such as Leberkässemmel (meatloaf in a bread roll), and Wurstbrot (sausage in a bread roll, like a hot dog), along with the cities largest collection of flower sellers.
There are plenty of other freshly prepared foods available here also, as well as a wide selection of flower sellers and culinary-related artisan producers.
Another Bavarian food favourite to try is the giant Brezn (Pretzel), served with Obaza (a cheese spread traditionally made with leftover cheese).
So much of the food here is available as take-away (mitnehmen), and you can enjoy that food with your Maß Bier right here in the Viktualienmarkt Biergarten.
When planning a visit to Viktualienmarkt, we suggest combining it with the Alt Stadt walking tour. You can use our guide to explore the beautiful old town with a stop at the market.
For tourists, it's a great opportunity to get their very first taste of Bavarian Gastronomy.
Viktualienmarkt: Maypole, Sculptures, & Fountains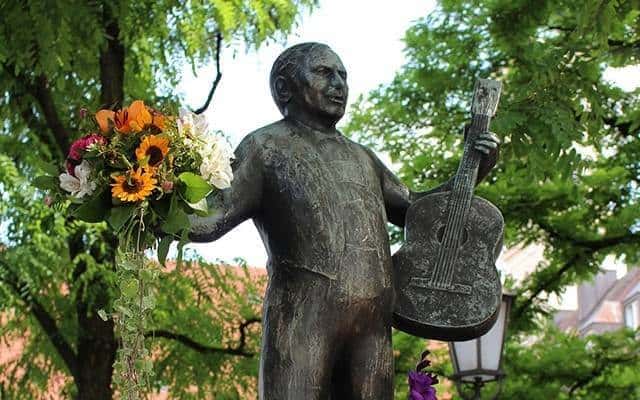 Before hitting the food stalls, as a newcomer to this central Munich Market, it's quite a nice idea to go for a quick stroll around the square and explore a little.
One thing you'll notice very quickly are the Brunnen (water fountains) scattered in the market.
Featuring some of Munich's most beloved folksingers and comedians, you'll see Karl Valentin, Weiss Ferdl, Liesl Karlstadt, Ida Schumacher, Elisa Aulinger and Roider Jackl all immortalised in sculpture.
Standing tall in the middle of the market is the famous Viktualienmarkt Maypole.
Decorated with traditional Bavarian blue & white and adorned with a wreath, it's covered in ornate figurines that portray the traditional daily lives of the Munich people: people leisurely quatchen (chatting) in the Biergarten, children playing in a carnival and traders selling veggies and fruits. Of course, it also features the breweries of Munich.
Unfortunately, due to the Covid pandemic, the Maypole celebration was cancelled this year. We hope to see it again soon!
Viktualienmarkt Beer Garden
Who would miss a Maß when visiting Munich? And what better place to enjoy your beer than the Biergarten am Viktualienmarkt München
Under the Kastanienbaum (chestnut tree), you can enjoy a pint or two, just as the locals did a hundred years ago.
Appreciating a bier here is a down to the earth experience, reminiscent of the monks of the past, sitting on simple benches, enjoying a humble meal and washing it down with a local beer.
These days, however, we get to taste the different beers offered by the largest Munich breweries. Dependent on certain periods, one of these: Augustiner, Hacker-Pschorr, Hofbräu, Löwenbräu, Paulaner or Spaten, is served.
A little known fact is that underneath the entire market are the cool cellars housing Munich's Finest Beers with tanks and hundreds of meters of piping for the liquid gold that flows from below. 
München Viktualienmarkt Biergarten Hours
The Biergarten is usually open from 9am – 10pm, depending on the weather.
If you're lucky, and often in the warmer months, the Viktualienmarkt Biergarten may even open on a Sunday.
The Best Market Food Stalls
Keep your eyes peeled for these wonderful food vendors and their delicious selections of our favourite food and drink (Essen und Getränke) available here in the Munich Viktualienmarkt. 
Already featured in one of our posts, Best Cafes in Munich, this cosy Café is definitely a must Pause-stop for a caffeine refill, especially if you are craving for a Flat White.
Using beans from small farmers, their coffee is the best when coupled with their speciality, the Chocolate Florentines.
There are seatings at the back, so you can chill out on the wooden box-bench or by the tall tables.
After your cuppa, if you liked it, why not buy their beans to take home or as a souvenir.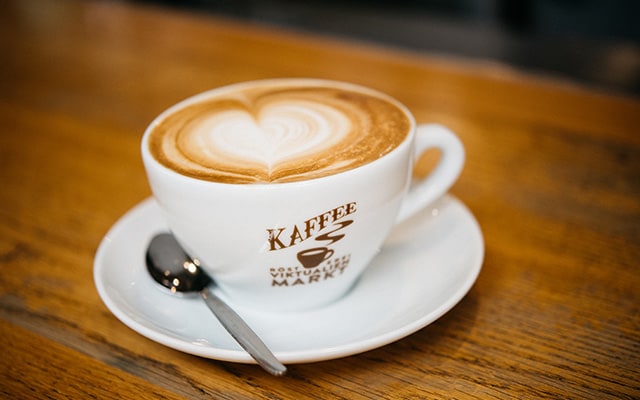 On a cold day, nothing beats having a bowl of warm, nourishing soup.
And the soup here at the Münchner Suppenküche is a fantastic alternative should you desire a lighter and healthier Bavarian Cuisine food choice.
The Soup Kitchen, with 39 years of history, offers a surprisingly large menu despite its small size.
Their most popular soups include: Gulaschsuppe Wiener Art (Viennese Goulash Soup), Hühnerbrühe mit Leberknödel oder Pfannkuchen (Chicken Broth with Liver Dumpling or Bavarian Pancake).
For vegetarians, the Altbayerische Kartoffelsuppe (Old Bavatian Potatoe Soup) or the classic Gemüseeintopf Viktualienmakt (Vikualienmakt's Vegetable Pot) are also wunderbar (wonderful) choice.
If soup is not enough to fill your belly, you can always try their curry or Chilli Con Carne.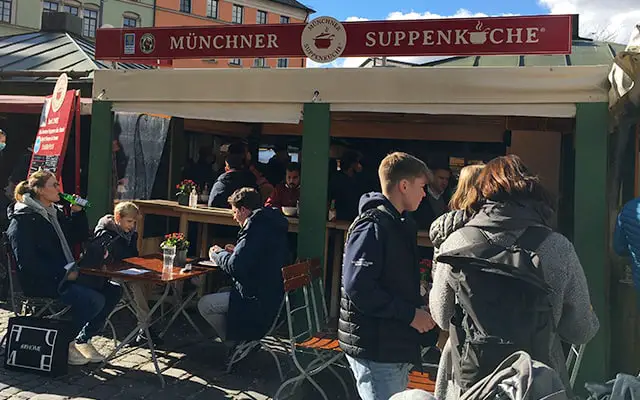 This little coffee stand, although it may look somewhat dull, offer up a magnificent Brezn (Pretzel) that is super famous in the area!
Known Munich wide for their fair prices, it's no wonder that since 1974, they've gained many customers, most of whom will come regularly to enjoy their coffee with a Brezn.
Crunchy on the outside with salty bits, and fluffy on the inside, just as a perfect Pretzel should be.
Festivals in and around the Viktualienmarkt
Besides the Maibaum Festival (Maypole Celebrations) mentioned earlier, as you would've guessed, there are numerous events held here.
Early in the year, the Auftakt (kicked off) of Fasching (Carnival) takes place here with live staged music and dancing performances.
The highlight is marked by the Marktfrauen (ladies from the market), performing on the stage in their colourful and vibrant costumes.
Later in spring, there are smaller events such as the Spargelanstich, where the asparagus queen inaugurates the asparagus season. Followed by Das Fest der Blasmusik und Tracht (Festival of Brass Music and Traditional Costume) in June/July, you can join the Schuhplattler (shoe-slapping) traditional dance.
In August, the Bunnen Fest (Fountain Festival) welcomes summer with plenty of live music to honour the popular folk singers and folk actors featured in the market.
To end the year, this is the perfect place to experience the Weihnachtsmarkt Viktualienmarkt (Christmas market). Under fairy lights around Marienplatz and in the market, you can enjoy Glüwein (mulled wine) while adoring all the handcrafts in the stalls.
A great place to get a souvenir and decorations for your home!
Other Important Market Info
Here we have all the practical information about the Viktualienmarkt that you'll need down below, for the rest, we let you discover the delights of Munich's Best Food Market yourself!
Viktualienmarkt Munich Opening Hours
Unfortunately, the market is like all stores in Munich and is closed on a Sunday.
In general, though, the Viktualienmarkt Hours for most of the stores are from 8am – 8pm, Monday to Saturday. However, this can vary from store to store.
How To Get To The Munich Viktualienmarkt
The easiest way is by public transport. You can take S-Bahn lines 1-8, U3 or U6, Bus 52 to Marienplatz from where it is just a five-minute stroll.
The market is so central to the Munich Old Town which is why it is included in so many guide books and in so many of the cities walking tour itineraries.
Practical Victualienmarkt Info
Not all stores accept cards, so it is always a good idea to have Bargeld (cash) handy.
Due to COVID mandate, masks are to be worn indoors and is encouraged for people to keep a 1.5m Abstand (distance)
To be environmentally friendly, we encourage you to bring your own reusable shopping bag and takeaway cup
A Video walk Through the Viktualienmarkt
Munich Viktualienmarkt Wrap-Up
Here ends our Comprehensive Guide of Munich Viktualienmarkt, one of our very favourite spots in Munich.
Arranged over some 22,000 square metres, and spanning hundreds of years of traditions, this is such a brilliant Munich Destination to visit.
Badly damaged during the Second World War, the city administrators and investors, brought the Viktualienmarkt back to life and Munich residents and tourists alike are thankful.
So whether you're flower folk, a food fancier, or just out for a "pause", relaxing here in Munich's Victuals Market is a great way to avoid the hustle and bustle of inner-city Munich.
See you at Viktualienmarkt!