There are so many different and exciting Festivals in Munich.
From Beer Festivals, Street Festivals and Art Festivals to Christmas Festivals, Music Festivals and Tradition based Festivals, Munich certainly has its fair share of festivals and carnivals each year, that's for certain.
Understandably, almost everyone raves about Oktoberfest in the first instance, when thinking about Munich Festivals. The annual Munich Beer Festival is, after all, the MOST famous festival in Munich (and quite probably in the world).
And please don't get us wrong, Oktoberfest is definitely loads of fun, and is absolutely an event to experience.
However, to get a taste of real Bavarian culture, there are many other lesser-known carnivals and festivals in the Bavarian Capital, that are simply not to be missed.
From overcoming cold winters to the full indulgence of summer evenings, these festivals will lift your spirits.
Needless to say, these fests always bring gute Laune (good mood) with sumptuous food, drinks and they definitely provide a lively atmosphere.
Fasching : Munich's "Dress up and Party" Festival
Kicking off, at the near end of winter in January, is the festival of Fasching (also known locally as Karneval).
Traditionally this festival was religion-based and was the indulgent period of eating, drinking and partying, prior to the commencement of Lent each year.
The term Fasching, adopted in 13th Century Bavaria, literally means "pouring of the fast drink".
So, needless to say, during Fasching Carnival week, there's plenty of drinking involved!
Although this festival is not as grand as its counterparts in other German regions such as Franconia or Cologne, there is definitely enough going on in Munich during Fasching, to keep you in the party mode.
As Festivals in Munich go, Fasching week is one of the most social of festivals.
You'll see young and old alike getting involved, and everybody is adorned in fun, weird and wonderful costumes.
There are random gatherings about the city with people congregating in groups on different street corners, in subways and throughout the many public spaces available in Munich.
Fasching is pretty much like an American style Halloween, but without the blood and gore aspect.
During this Carnival Week in Munich, the schools get to hold their own Mini-Fasching. So kids are lucky in that they get to experience this favourite of Festivals in Munich both at school with their friends and with their families and friends on the streets of the Bavarian capital.
Many costumes created for Fasching are intricate and well-thought-out self-made originals. Many are purely ridiculous and funny whilst others are specifically satirically many with political overtones.
For some, this is THE major event of the year in Munich, where they pre-plan months ahead in order to make their one and only costume!
This is a time to be noticed!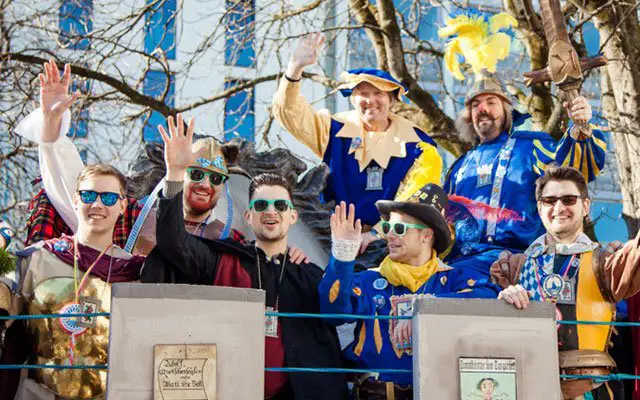 To really experience the true atmosphere of Fasching, head to town on Shrove Tuesday. This is the day before Ash Wednesday and marks the end of Fasching, and it's the main celebration day of the festival in Munich.
There's a huge gathering that starts in the morning at Viktualienmarkt (Marienplatz) that highlights some fantastic live street performances. The main highlight is the Tanz der Marktfrauen – the Dancing Ladies from the market.
As the day goes on, you can party all along from Viktualienmarkt to Stachus in your selected crazy costume.
There are plenty of tents around for food & drinks and stages with live music, DJ's and other performances such as dance and magic.
As this is not a public holiday in Munich, some just have to wait for the evening to come around. This is when the Fasching Ball is held. This is just a fancy name for the party, it's not an actual traditional ball that you might have imagined!
The most well-known one takes place in Ratskeller, but there are plenty around in other bars and clubs.
If you were already street-partying earlier, you can now definitely remember a few tunes and lyrics to sing along with the locals!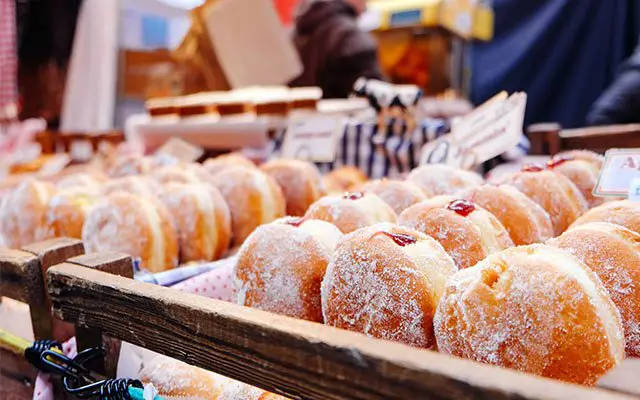 The must eat food during Fasching is the Krapfen.
These delicious fluffy doughnuts with different fillings are sold throughout the duration of the carnival week, and can be discovered in almost any bakery about the city!
The classic is with Hagebutten (rosehip jam), but there are now plenty of modern versions like black forest, tiramisu and orange cheesecake!
Nomnomnom!
Starkbierfest : Munich's "Strong Beer" Festival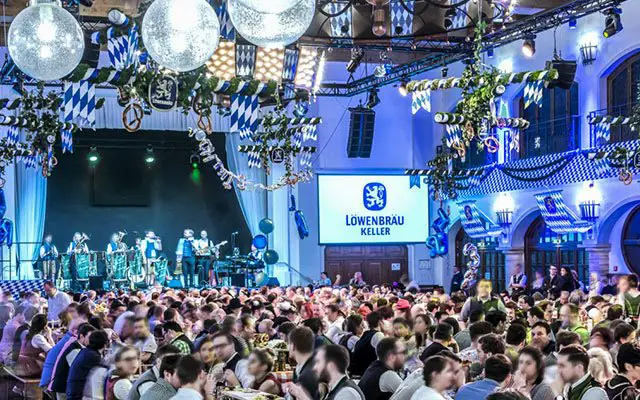 This festival is often described as the mini version of Oktoberfest.
Although far smaller in crowd size and despite being way "lesser-known", it wouldn't be fair to sell the attributes of Munichs Starkbierfest short.
Between Ash Wednesday and leading into Easter, you can enjoy this traditional Munich experience, where wearing the Bavarian Lederhosen and Dirndl is commonplace. Singing Trinklieder (drinking songs) is also encouraged throughout the Starkbier Festivals many venues! 
During this time, you'll find breweries and bars all over town serving Starkbier (strong beer).
The most popular of these venues being at Paulaner's Festsaal (Festival Hall) at Nockherberg, as well as at the Augustinerkeller and the Löwenbräukeller.
Many mistake the Starkbier Festival as being a beer festival that showcases drinks with a much stronger alcohol level but this is not completely true.
In fact, although many of the beers brewed for the fetival contain an average of 7.5% alcohol (which is around 2-4% higher than a standard Helles or German lager), the term Starkbier describes more the full-bodied flavour and the high malt content of the brews available.
In the 17th century, the Paulaner Monks figured out a cheeky solution to outlast fasting during Lent. As liquid was not prohibited, the monks brewed this high-calorie 'liquid bread' to provide better nourishment.
Drinking one Mass (standard German 1 Litre Pint) was like eating 4 or 5 slices of solid bread.
No wonder the monks were belly-satisfied!
To get a taste of Starkbier, we recommend: Paulaner Salvator, Augustiner Maximator, Hacker-Pschorr Animator, Löwenbräu Triumphator, Hofbräu Maibock, and Augustiner Heller Bock
Tollwood: Munich's "Long Summer Nights" Festival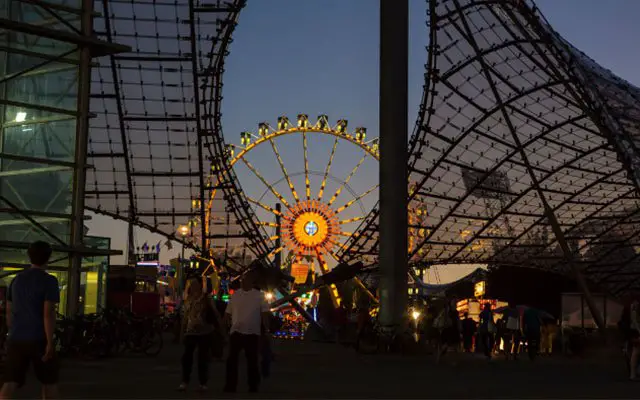 Munich comes alive during Summer, especially during the Tollwood Summer Festival.
Taking place at Olympia Park, this 25-day festival in July/ August celebrates "Markets of Ideas" and has a very cosmopolitan vibe.
There are rides and game booths perfect for a family day out, and also concerts, circus and comedy acts for everyone to enjoy.
Since 80% of the events are free, there's really no reason to skip this!
In between shows, there are also many handicraft stores to discover and organic foods from all over the world to entice your taste buds.
Another thumbs up for Tollwood is for their environmental and social commitment. The festival uses Green Power from M-Ökostrom aktiv and all food from the festival is certified as 100% organic by the EU organic council.
All the market stores and stalls are Fair Trade as well.
Thus, attending Tollwood, the most socially responsible of all the Festivals in Munich, means you can have an awesome time as well as be part of something bigger than ourselves as individuals.
Go Tollwood, Go Green!
Auer Dult: Munich's "Market Time" Festival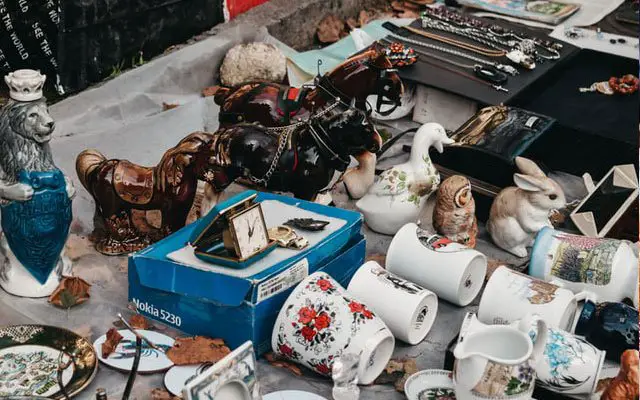 If you're the type who loves to rummage for hidden treasures and search for random objects such as old posters, vintage jewellery, aged textiles and domestic homewares, then you'll definitely want to check out Auer Dult.
This staunch Munich Festivity actually takes place three times a year in Maidult (April/May), Jakobidult (July/August) and Kirchweidult (October).
Located in Mariahilplatz, many small wooden huts are erected with vendors selling a mix of modern, traditional and vintage goods.
With some luck, you might even find your first Lederhosen or Dirndl here.
Besides shopping, there are also loads of fun activities for kids. For those that have lived in modern cities most of their lives, the traditional wooden horse carousels and traditional kids rides can be very cool to witness and to experience.
For the "cool" kids, there are also game booths and arcade styled rides like bumper cars.
You're never too old for this, right?
And yes, don't forget to try the Bavarian Dult classics here: grilled fish, Fischsemmln (Pickled Herring in a bun) and of course, Bratwürsten (sausages).
Oktoberfest : Munich's Famous "Beer" Festival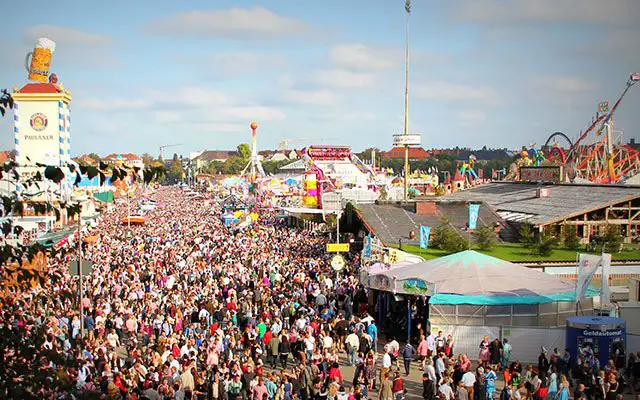 If you don't know already, this is the most celebrated and most well-known of all the Festivals in Munich.
It takes place in an area just outside the old town (Altstadt), known as the Theresienwiese.
Here, the huge grounds are set up with large beer tents (and we mean enormous), food huts and lots of fun rides and side-show attractions.
The festival always begins on the Saturday of the second to last week of SEPTEMBER, and lasts for 16ish days, depending on which day the German Unification lands on.
So if Unification day lies on a Monday, then it becomes longer versus if it is on a Saturday.
So yes, you might think to yourself now, "I thought Germans were very exact, precise and pünktlich (punctual), so why on earth do they name this Oktoberfest? Das ist Wahnsinn! (That is insane!)
Well, in a historical context, the naming of this festivity is correct.
The first Oktoberfest was actually the wedding festival of Prince Ludwig and Princess Therese von Sachsen-Hildburghausen and it was held on the 12th October 1810 and it ran for a week.
Everyone had so much fun that it became an annual affair!
But, due to weather reasons and the unification date, it slowly moved up earlier in the year in the hope of attracting more tourists with some warmer weather.
Enough rambling, I'm sure you want to know the insider's tips:
Beer Tents: There are around 14 main beer tents, the biggest can host up to 10,000 people at a time. If you have a big group, you should reserve a table at least 6-12 months before. Augustiner, Löwenbrau and Paulana are the three biggest breweries in Munich, so they are of course the most popular. However, there are many other tents with different themes and drinks to choose from.
Rides: Nothing like games and beer, right? Watch out for the Feldl's Teufelsrad (Devil's wheel)! An innocent but ridiculously hilarious game. Basically, a wheel spins while a flying ball randomly attacks the players.  The last standing/sitting person wins!
Another favourite is the Toboggan! It is essentially a 3-storey high human conveyor belt ascending to a spiral slide. The trick is not to fall! It's not as easy as it sounds, especially after a few beers! Trust us, this is awesome fun!!!
For more information: Oktoberfest
Christmas Weihnachten: Munich's "Christmas" Festival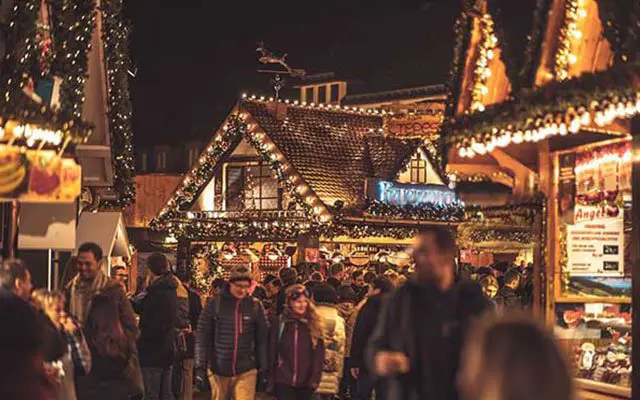 We can taste it already: the smell of cinnamon, nutmeg and chestnuts roasting (Maronen) is in the air!
From late November till Christmas, there are numerous Weihnacten Markt (Christmas Markets) that pop up within the city.
Within these little wooden huts, all adorned with twinkling fairy lights, you'll find traditional crafts, Christmas ornaments, food and of course Glühwein (mulled wine).
Traditional Munchen Gluhwine is served in a mug or glass and never in a one-time disposable plastic vessel! Much better for our environment.
How it works is that you'll pay a Pfand (deposit), when you buy the drink. When you are finished, simply return the cup to the same vendor with your token and receive a refund.
What a great idea to keep your hands warm whilst being environmental friendly!
The biggest Weihnacten Markt is at Marienplatz, but it is definitely worth visiting others in your neighbourhood.
One of our all-time favourites is the Feuerzangenbowle at Isartor. Huddle cosily around the giant burning bowl at the city gate built in the 1200s,  you'll be warmed up with the flaming Feuerzangenbowle (Glühwein with a punch of rum lit with sugar).
For non-alcoholic drinkers, there's always the Kinderpunch (Children's Cocktail).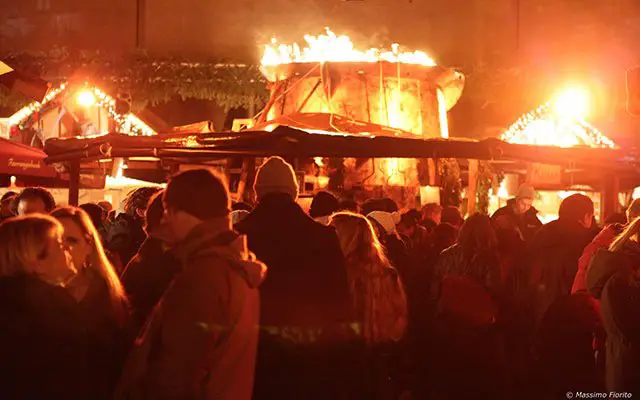 As you can likely tell, Munich is truly a vibrant city and there's something happening every season, if not every month or every week!
To experience the "Real Munich", we have another post about Munich events to be enjoyed "Like a Local", so why not check that out if you have time
In the meantime, we'd love to hear about your experiences with Festivals in Munich so why not let us know what your favourite event, festival or carnival in Munich is! 
We'd love to hear from you!