The leafy suburb of Thalkirchen, situated just a couple of kilometres south-west of central Munich, is one of the most sought after neighbourhoods to live in the city.
Thalkirchen is an extremely popular Munich locality for families, as it has many playgrounds, parks and green spaces as well as good schools and plenty of options for dining and recreational activities.
The magnificent Isar River flows directly through Thalkirchen and offers up plenty for the urban explorer including some of the most enjoyable cycling and hiking pathways available to residents of Munich.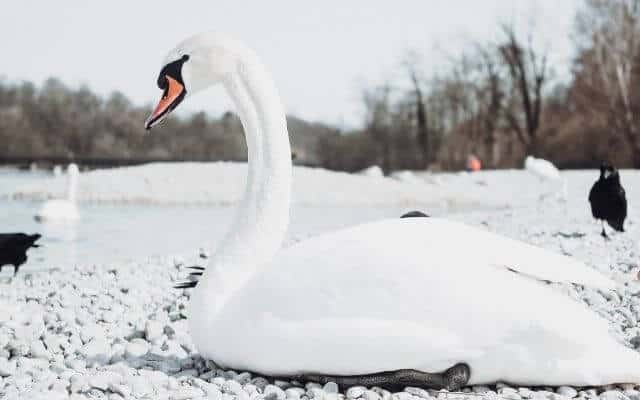 Thalkirchen: Top 5 Places to Visit
The Isar River
This most popular and famous part of Munich's Isar River is known as "The Flaucher" and it runs right through Thalkirchen. Here you'll find meandering river channels, gravel beaches and even some small islands. In the warmer months many people bathe and picnic/bbq in this area. One of the river channels, during the high water level months, even has a permanent surfing wave (Surfwelle Floßlände) so it's not unusual to see people carrying surfboards in the area.
Hellabrunn Munich Zoo (Der Münchner Tierpark)
Spanning over 40 hectares, Munich Zoo prides itself on being a leading centre of education for all things related to the natural world such as conservation, biodiversity, the environment and more. This is a geo-zoo concept meaning you'll find less typical smaller zoo-like enclosures and more natural landscapes built using ditches and mounds. The Munich Tierpark operates an endangered species breeding program which often results in animals being reintroduced into the wild and is instrumental in supporting wildlife rangers around the globe.
St Maria Catholic Church
This Catholic place of worship dates back to the 13th century and was originally gothic, but now sports a more Baroque style of exterior architecture. There are some major medieval artworks housed within the church's magnificently gothic interior which is resplendent in its gaudiness. For the theological inclined, the high altar, sculptures and decorative Rocco are not to be missed.
Munich Golf Course (Münchener Golfplatz)
On the western banks of the Isar right by the Munich Zoo is situated this beautiful but challenging 9-hole golf course. The fairways are extremely narrow here so anything but precise play might result in you taking an unintentional swim in the Isar. Apparently, the food here is an amazing, well-kept local secret!
Gasthof Hinterbrühl
One of the best in the area and our personal favourite, this sprawling beer garden and restaurant is in a wonderfully quiet location and serves some of the best food in the city. There is a 1000 seat beer garden here with two playgrounds and serviced and self-serviced areas. The interior is all wooden and hunting lodge-like, and is extremely cosy in the cooler months. Overlooking a small lake (Hinterbrühler See) and enjoying a leisurely afternoon in the beer garden you feel you are no longer in Munich but at a Bavarian Country Inn.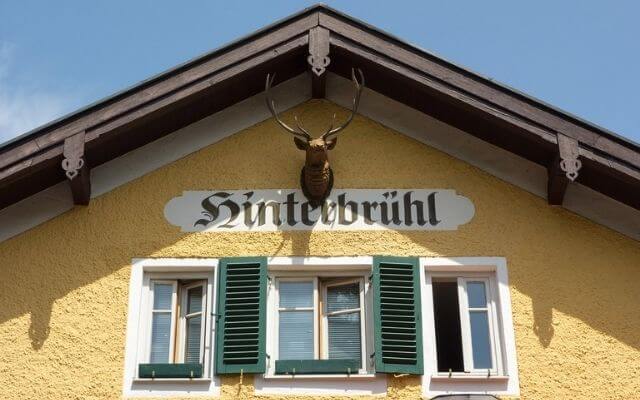 Eating in Thalkirchen
There are restaurants in the neighbourhood offering up cuisines from Bavarian, Indian, Asian Fusion, Greek, Italian, Turkish, Mexican, and more, all of which combine to create an "international" atmosphere to the suburb.
With the eclectic mix of eateries and the varied demographics of the Thalkirchen residents, there is certainly a very interesting cultural element to this wonderfully vibrant neighbourhood.
There are take-away venues offering pizzas, pasta and sushi as well as a couple of bakeries (Bäckerei-Konditorei) where you can also get a coffee.
If a nice Gasthof's (German Pub) is more to your liking, well Thalkirchen has a number of these, and there is even a very good gelato place right near the U-Bahn.
There is even the famous Kiosk 1917 right on Zentralländstraße by the Isar which locals swear by for their regular beer and currywurst fix.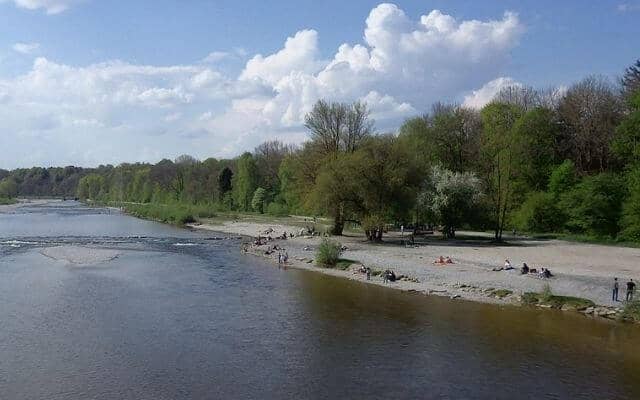 Shopping in Thalkirchen
Whilst there isn't a huge range of shops in Thalkirchen there are a couple of small supermarkets (Edeka and Netto), as well as a bank, pharmacy (Apotheke) and a few other specialist service outlets such as hairdressers.
There is a small farmers market on Thursday's (outside the Edeka Supermarket) between 1pm and 6pm. Vendors here offer a variety of produce and Bavarian culinary favourites such as fresh and cured meats, fish, cheeses, vinegars and oils.
Don't miss the super delicious roast chicken stand to grab a hendl (grilled chicken), a Haxn (grilled Pork Knuckle), or some mouth-watering spare ribs.
But, don't worry, as with the city centre of Munich being so accessible to Thalkirchen, there is more than enough in the way of retail outlets here, and you certainly wouldn't come here to shop.
Thalkirchen By Public Transport
For those who work in central Munich, Thalkirchen is located close to the heart of the city and is just a short drive or just a quick 15-minute train ride on the Munich U-Bahn.
There are local neighbourhood bus services (135 and 136) as well as a bus (that) runs from Sendlinger Tor in the city, through to the Munich Zoo (Tierpark).
For a more detailed write up on Getting Around Munich please check out our blog post on the topic.
Thalkirchen – Munich's Leafy Heart
There are many ideal locations along the riverbanks that are perfect for relaxing, barbecuing and even surfing if you can believe that!
And with so many riverside beer gardens to enjoy a beer or wine whilst experiencing the relaxing flow of this majestic Isar, you'd be hard-pressed to find a more laid back suburb in Munich.
With so much going for the suburb, there is surely something for everyone in Thalkirchen.