Bindaas Munich: Fun, Vibrant & Cheeky Indian Street Style Cuisine
REVIEW: A Munich Indian Restaurant with a modern interpretation of the streets in India. 
In Munich, there are numerous classic Indian restaurants that feature nicely pressed white tablecloths, sparkling polished glassware and perfectly folded red napkins.
These types of Indian Eateries are often ideal for satisfying your subcontinent food cravings for a good curry, like a Butter Chicken or a Tikka Masala.
But, to seek out a more adventurous style of Indian dining, why not treat yourself to the Bindaas culinary street food experience?
Located in the buzzing Gärtnerplatzviertel, just to the south of the Munich Viktualienmarkt, our first experience of this cheeky street food restaurant was with a group of friends.
Delighted, we visited Bindaas again and managed to chat with one of the owners, Sinkus.
Now, we know when we see something cool in India, we can be like the locals and say "Bindaas"!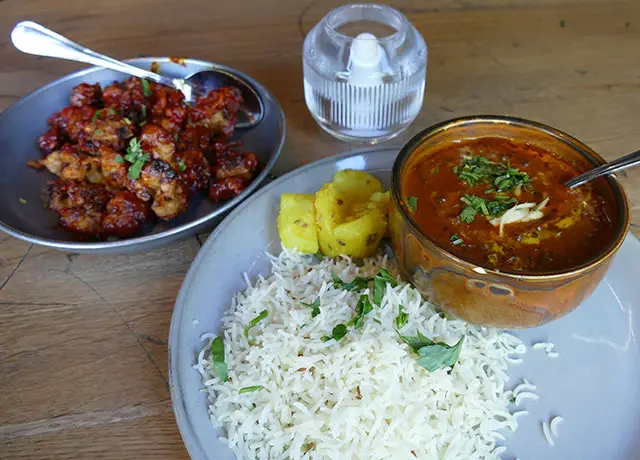 What's Great about Bindaas in Munich
At Bindaas you can start the night off with a cocktail whilst munching on delightful Indian snacks, then follow up with a gastronomical trip to the culinary world of spices that are scrumptious, rich & flavourful.
This particular Munich Indian Restaurant offers a good selection of cocktails and freshly squeezed juices, so this is definitely a plus for the establishment, as this service in other Indian eateries throughout the city is certainly not the standard.
The Vibrant, Fun Atmosphere at BINDAAS
When viewed from the street Bindaas looks like just another classic Munich Indian restaurant. 
A pale stonewall exterior with a cliché white sign featuring the restaurant's name scribed in red greets the first-time customer. There are few tables outside and initial thoughts are, well, not exactly exciting.
However, as soon as you arrive at the entrance, the vibrant interior and cheerful Bollywood music draws you in and you cannot resist poking your head inside further to check out the exciting promise of what might be hiding within.
Welcomed by the cheeky neon "Namaste" sign shining at the bar and the bling-bling Tuk-Tuk that is custom made from India, who's ready for finger-licking fried goodies and cocktails.
BINDAAS Food & Drink | Reviewed
Bindaas Starters and Drinks
As promised, the menu starts off with a selection of popular street food appetizers like Samosas, Pakora and grilled Tandoori platters, all freshly prepared.
Refreshing Aperitifs like Lillet Berry or freshly made Lemonades are a perfect accompaniment to the wonderful flavours that the starters provide. As previously mentioned cocktails and fresh juices are plentifully available, as are a range of soft drinks and other Bavarian Drinks as you would expect.
Something fun to taste is the Gobi Manchuria. It's an Indo-Chinese dish that is very popular in every Indian household. This crunchy cauliflower chilli bomb reminds us of the Korean popcorn chicken. It's however more on the spicy side. Marvellously tangy and hot.
TIP: Don't waste time talking when this dish hits the table as you simply must eat it when it's hot!
Bindaas Main Dishes
For mains, the selection of Bindaas curries and grills are the highlights.
As expected, Butter Chicken, Veg & Chicken Korma and Tikkas are on the menu. There are vegetarian dishes like Bhartha made from mashed eggplant and Palak Panner for spinach and cheese lovers. Biryanis and a variety of fluffy Naan bread are also no exceptions.
On this occasion, we tried the House Black Daal. Apparently, this is a national dish that every household in India cooks. And boy – it certainly didn't disappoint!
Not being overly familiar with daal when the dish arrived at the table the first thing we noted was that the colour wasn't anywhere near as black as we were expecting. For some reason, we thought the dish might actually be midnight black in colour. Nevertheless, the Daal absolutely exceeded our taste expectations. The flavour was wonderfully rich and the sauce was creamy, thick and immensely satisfying.
Since we were in a group, we also tasted a range of other delicious dishes with one dish, in particular, being a stand-out – the Veg Biryani!
The presentation was awesome and our eyes were simply fixated from the time it arrived – it was hard to look elsewhere to be honest. Served in a clay pot and topped with a charcoaled Naan, the dish looked (and smelled) very promising indeed!
TIP: Crack open the charred Naan bread to reveal the aromatic hidden gastronomical gem within. As soon as you break the bread, aromatic spices waft through the surrounding air.
Whilst it was still hot, we sampled some spoonfuls of the restaurant's standard fluffy rice. The taste was as expected, nice without being outstanding. Admittedly though, after a few spoonfuls, the magic wore off a little, as the rice then began to taste a little dry and flavourless.
Being curious about the other dishes, we also sampled the most popular dish in the restaurant, the Butter Chicken.
We dived right into it and were very satisfied with both the taste and texture. The mouth fill was thick and creamy and you could actually taste the different spices. 
Sinkus told us later on that honey is used instead of sugar in their Butter Chicken, and that this provides a basis for a more rounded and aromatic flavour, we think he's absolutely spot on!
Bindaas Desserts
Whilst at the end of the meal overall, we were delighted, sadly we were absolutely too full to be able to enjoy dessert.
Admittedly, the Mango pudding and Kulfi (ice cream dusted with almonds and cardamom) sounded pretty tempting. Oh well, a mental note for the next time!
There were other desserts that also looked interesting so we'll be sure to try them out at future visits also – as yes, we'll be back.
Instead, we decided to try out the Badami Chai Tea which is a mini sort of cappuccino-like tea, spiced with almonds and cardamom and then sprinkled with pistachio. This is a beverage that locals would drink sometimes three times a day.
For us, it was a perfect after-dinner drink.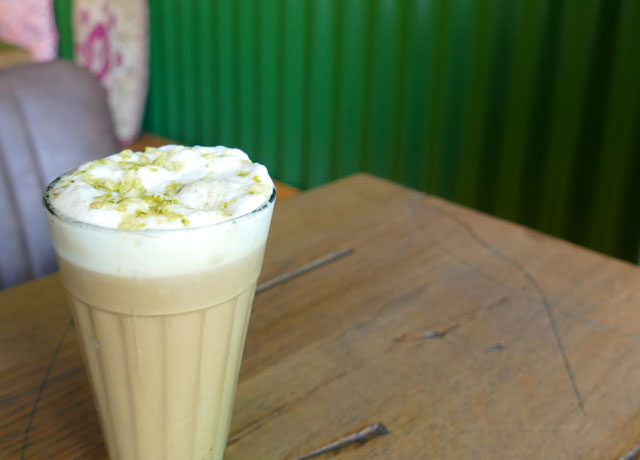 Absolute Munich's BINDAAS Verdict
Overall, Bindaas is a great restaurant if you like a livelier atmosphere than a standard Munich Indian Restaurant.
The contemporary interior with touches of street scenes from India is just enough to give a vibrant vibe without being tacky. Whether you want a casual meet-up with friends or having an intimate date, it would cater for both.
Bindaas Eatery Prices: The average price of starters is 6€ and mains are at 15€. Alcoholic drinks are around 7€. These prices are absolutely fair for the quality of what we received.
Portions are generous, so you will be bellyful, happy and content.
The only small quibble for us about Bindaas is perhaps due to our acquired palate that's built from living in Asia over a long period. We've a high tolerance for spice and intense flavours and it's obvious that the dishes here at Bindaas are created to cater to the European palate and are definitely on the milder side.
However, when we brought this observation to the attention of our host Sinkus, he happily recommended that for customers with a greater appetite for spice, dishes could be modified on request! 
Therefore at Bindaas, everyone is happy!
Where is Bindaas in Munich?
Rumfordstraße 5, 80469 München
How to Get to Bindaas
Walking: It's very easy to get to Bindaas from the Munich Old Town & Marienplatz as it's just a few hundred metres to the south walking via the Viktualienmarkt and down
U-Bahn: The closest underground rail station is to be found at Fraunhoferstraße which is serviced by the U1, U2 and U7 lines.
Tram: The closest underground tram stop is almost on the doorstep of Bindaas at Reichenbachplatz
Maps of Munich – including all transport link maps that can be downloaded in PDF format.
Bindass Munich Opening Hours?
Mon to Fri : 11:30- 14:30 Uhr , 17:30 – 23:00
Sat: 12:00 – 23:00 | Sun : 17:30 – 23:00
Bindaas Munich Booking Details & Contacts
Telephone: +49 (0) 89 82 03 00 32
Email : info@bindaas.de
Bindaas Munich Restaurant Map
Bindaas Munich: Final Thoughts
We found Bindaas to have a most enjoyable vibe, inspiring colourful decor, great food and an atmosphere to match. This is one Munich Indian Restaurant that's well worth a visit in our opinion.
So, with its prominent city center location, why not do yourself a flavour (sorry) and experience all that Bindaas has to offer for yourself. 
After your visit, as like always, we'd love to hear your opinion and feedback of your experience at this awesome Munich Indian Restaurant.
BINDAAS! 
We've many more reviews to come, but in the meantime, why not checkout our thoughts and reviews on these other Munich eateries – Gans Woanders & Poppi Farmer
We hope you enjoyed this Tasteful read and review of Bindaas! NAMASTE!