Between busy roads and a noisy bridge in Untergiesing, you'll discover the wonderful Gans Woanders Cafe, and the topic of todays Absolute Munich Cafe Review.
Seemingly somewhat out of place, here stands an unusal wooden house that could've easily been straight from the fairytale Hansel and Gretel.
When walking by on the weekends or on a warm evening, a faint hint of kids' laughter and music can be heard. Just like in the story, one would be alluded to entering this quirky, unexpected city building.
At the front entrance, the sweet treasure of delicious cakes awaits, as the pizza oven is sizzling with the scent of charred wood.
In this cafe, you're not here only for a awesome weekend brunch or a coffee with friends to mingle, but a welcoming community space where culture and people meet. Being in this cafe, you will re-discover the inner child in you!
Like reading a book for fairy tales, the cafe takes you on different adventures. 
The Hexelhouse (Witch's house), unlike the name, is not frightening at all. Furnished with upcycled furniture with a whimsical touch, this is a cosy place to have a hot frothy cappuccino and let your soul revisit your sweet innocent childhood memories.
On a sunny day, you would not want to miss out on chilling out in the treehouse that you've always wanted as a child! Constructed with wooden slats, the terrasse (terrace) is great for having a beer or two while nibbling on freshly in-house-made fries!  Extra mayo or ketchup is unquestionable! On busy days, a small hut is opened on the side, where you can conveniently order drinks without going down the stairs!
Entertainment at Gans Woanders
Besides the playful design of the cafe, the other highlight of Gans Woanders is its regular entertainment program. 
Each week, you can find a diverse selection of activities happening at the Cafe Bühne (stage). From music gigs, and theatre acts to health/DIY/craft workshops. 
What's especially nice for families are the children's programs. Parents can get a rare chance to relax here at Gans Woanders perhaps with a drink whislt chatting with friends, all while the kids are entertained by the sing-a-long or play-along performances.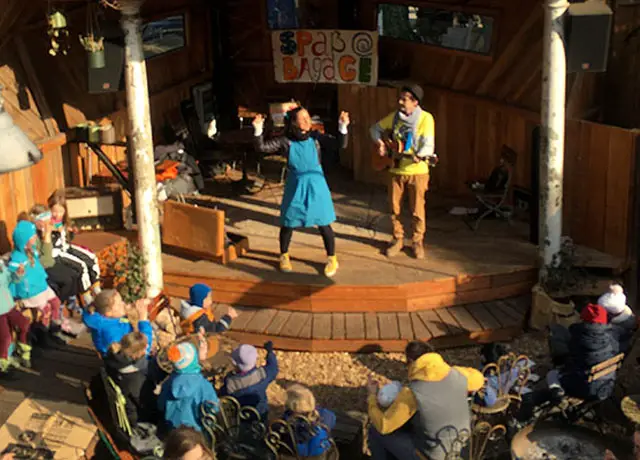 Gans Woander Food & Drink Review
Since this cafe is more about gathering than gastronomy, the simple menu offered here at Gans Woanders does its job nicely. 
The pizza menu does offer a variety of choices for both meat lovers and vegetarians. Although is not something to die for, it's tasty and satisfying for both children and adults.
On the other hand, we give the rosemary potato fries an ultimate thumbs up! They're freshly made, so they are fluffy on the inside and crunchy on the outside! In the front kitchen, you can even see the works. An actual hand-press potato chips cutter is used and then it goes immediately to the frier. So none of these nonsenses of frozen chips from plastic packets!
An extra star rating is given as they are generous with the sauce without extra charge! 
Even if you don't have a sweet tooth, cakes from here are a must-try. A wide assortment of homemade cakes are offered and are rotated around. So each time you visit, there's always a surprise!
The drink menu is nothing extraordinary but matches well with pizza and chips. Bottled beers, house wine, and simple cocktails are available. The classic Aperol Spritz loved by the locals is of course on offer.
A regular coffee menu is available with extra choices like Chai Latte and Dirty Chai. 
Prices at Gans Woanders
Prices are fair and suitable for a family day-out without costing an arm and a leg. Pizza options start at 7.40€, coffees cost around 4€ and alcoholic drinks are between 4-6€.
Overall Review of Gans Woanders Cafe
It's really not easy to find a child-friendly cafe in Munich. But with this cafe you get the best of both worlds and it is a fun and enjoyable destingation for both kids and adults alike.
The easy access, affordable prices, and community nature of the cafe are great for regular or occasional visits. The large outdoor area is fantastic on sunny days and during the gluhwein season.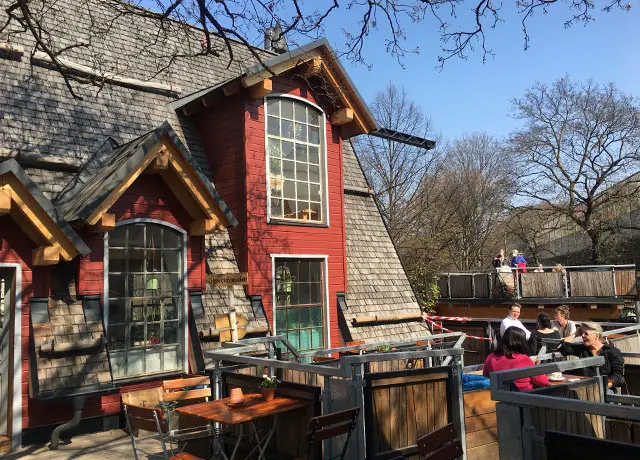 Fun fact about Gans Woanders
If the name Gans Woanders rings a bell, that is because this was the new project after Gans am Wasser in Westpark. 
Transformed from what was once a shabby kiosk/flower shop, it's now a colourful cultural x meetup place in the neighbourhood. 
If you like the community vibe in Gans Woanders, check out the other projects incepted by the same owners, including the Alte Utting and Bahnwärter Thiel.
Where is Gans Woanders and When is it Open
ADDRESS: Pilgersheimer Strasse 13 | 81539 Munich
OPENNING TIEMS: Mon – Weds | 10:00 – 23:00, Thurs – Sat | 10:00 – 24:00, Sunday | 10:00 – 21:00
WEBSITE: ganswoanders.de
We hope you are intrigued to visit this amazing fun cafe and that you enjoyed our review of Gans Woanders Cafe here in the middle of Munich.
If you're searching for another relaxing and child friendly place to meet up with friends, the Biergarten at the Chinese Tower is a great choice where it's always pleasant to go before or after a nice stroll in the Englisch Garden.