Okies, we all know beer is a big deal in Germany, and particularly in Bavaria, but let's not be too cliche!  After all, there are so many more Bavarian Drinks and tasty German liquors available to any thirsty connoisseur.
Whilst it's true that, on average, a German drinks about 104 litres of beer annually, the increased popularity of classy bars and the emergence of artisanal and craft distilleries, has seen the emergence and rise of a Bavarian cocktail culture.
In this investigative piece on Bavarian Drinks, we'll introduce you to all the "good-old" local classics, as well as to the popular, new & trendy. But if you want to know our personal "secret-pick", you'll have to read till the end.
So let's get into it, expand our drink palette, and experience another part of Bavarian culture together.
Bist du bereit (Are You Ready)?
Jägermeister : The all-time beloved party shot!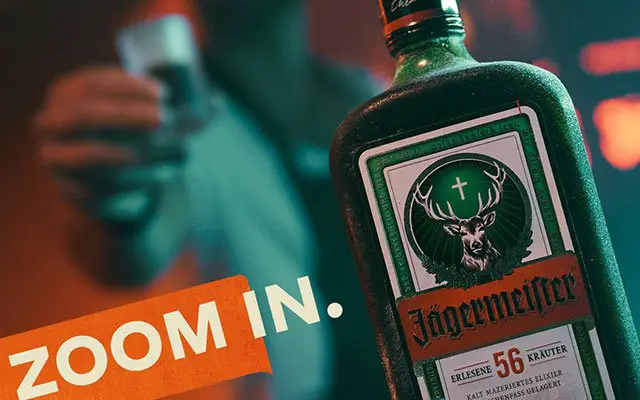 When it comes to this distinguished, rectangular, green bottled, black herbal elixir, there are likely mixed feelings crawling around your head.
Some of us try to forget those Bavarina Drinks nights that we (possibly) had too many Jägerbombs, and we shiver with memories of the sharp sensation in the throat (and perhaps later in our heads). Whilst others are likely reminiscing about the lingering taste and warm feeling in their tummies on a cold winter's night!
Whichever way, this 56 herbal liqueur (kräuterlikör) is definitely one of the most popular shots not only in Munich but also throughout Germany.
This classic actually started out as a digestive and was originated in a vinegar factory near Berlin, Wolfenbüttel in 1878. In honouring the legend of the wild huntsman, Saint Hubertus, the name Jägermeister (Hunting Master) was adopted with the now famous logo of a stag with a glowing cross between the antlers. This was apparently a vision of Hubertus when he was hunting, bringing him to the appreciation of nature.
We've yet to experience a nirvana moment from over-imbibing this auspicious liquid, but like a common house object, the beloved Jagermeister liqueur can be found in almost every German household, ready for any Bavarian Drinks inspired occasion.
If you haven't already noticed, you can even find mini versions of this most famous of German and Bavarian drinks in supermarkets next to the cashier. It is just as common as chewing gum!
Photo credit : Jaegermeister
Underberg : A Bitter Under Brown Wrapper
Yes, this is another herbal digestive, and it's on the list purely because of our fascination with its packaging. This classic herbal liqueur created in 1846, in Reinberg (North of Germany), has a taste comparable to Venezuela's Angostura bitters.
Traditionally, it's drunk after a meal in a special long glass. However, these days, it's also often used in mixed drinks and as a bitter in various cocktails. For convenience, you can also find Underberg in mini 20ml bottles with a twisted brown wrapper around them, like a candy wrapper!
This packaging was developed after WWII to resolve the lack of resources at the time. It is claimed that the packaging protects the taste, otherwise affected by light.
See, it is super Geil (slang for cool)!
The Duke : New Gin from Munich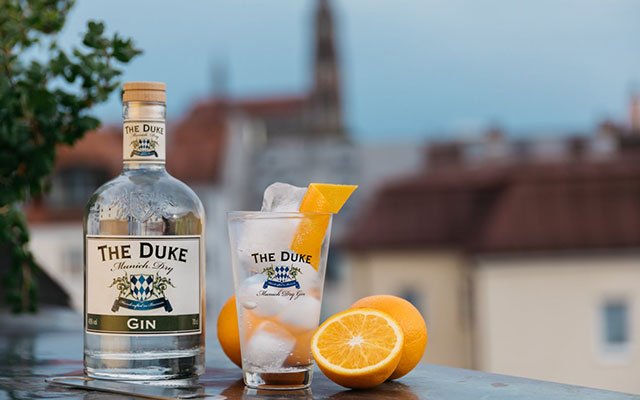 Now, something actually from Bavaria.
The story of The Duke is pretty simple. On an ordinary night, two blokes (Max and Daniel) having had their ordinary drinks, decided to start their own gin business.
One thing led to another and before they knew it, they had a little factory in Maxvorstadt (in the city centre) featuring a custom made copper still named "Carl".
It was later that year that officially The Duke was born.
Naturally, it goes without saying, that it was not a simple road in the evolution of this delightful Bavarian drink, and the creators put a lot of effort into refining the distilling and production process.
Only organically certified ingredients are used in The Duke, and risk was certainly taken by utilising hops and malt (an unusual choice for gin) in the refinement process.
Together, along with 13 other herbs and spices, such as juniper berries, citrus, ginger and coriander, The Duke captures a soft aroma with the added complexity of its complementary spices.
The Duke is a wonderful drink on its own, and most certainly, as an ingredient in many locally invented cocktails.
Today, although The Duke is no longer produced inside of Munich, "Carl" is still in use in its new home and permanent distilling location in Aschheim. In this converted potato distillery, not only The Duke gin is made, but their new line, Lion Vodka!
Looks like The Duke will stand strong as the new modern face in the alcohol world of Bavaria.
We're definitely ready for a cocktail now and you can check out The Dukes cocktail page right here.
Photo credit: The Duke Munich Dry Gin
SLYRS – Setting the New Wave in the Whiskey World
Bavaria is not exactly well known for its sophisticated fancy food and drinks, but this relatively new Whisky distillery, SLYRS is stirring a wave to make a point!
Inspired by a trip to Scotland, the founders of SLYRS have made a close comparison between heritage and nature, coupled with their Bavarian homeland.
Reckoned with a bet, and utilising their already abundant distilling skills, SLYRS began to create something special, something that would win future international medals as a superior malt whisky.
Taking advantage of the best resources around them, the Bavarian barley malt and spring water from the Schliersee Alps, the whiskey is aged in specially selected casks to deliver a unique flavour.
Pushing the boundaries in searching for a new taste, a daring project was triggered in 2014. The Mountain Edition was created where 50 barrels of whisky were stored for five years up in the 1,501 meters high summit of Stumpfling. A taste of this single malt brings you the intense flavour as if you are a mountaineer conquering the harsh Bavarian Alps.
It's claimed, that the cruel temperamental conditions in the Alps alter the fermentation process, hence creating a uniquely Bavarian taste!
Well, there's only one way to find out!
Of course, if you prefer a more classic variant with a proven reputation, try the international winning SLYRS Single Malt Aged 12 Years 43% vol. With a hint of sweetness, this could be your choice and perhaps become one of your favoured Bavarian drinks.
Still not convinced about Bavarian whiskey? You can visit the distillery and have a tasting coupled with a fancy lunch.
Indulge in SLYRS open door cafe overlooking the mountains, or perhaps treat a visit as a stopover, during a Bavarian Ausflug (day trips)?
Schliersee and the nearby Tegernsee is an amazing area for outdoor sports such as skiing, hiking and biking just to name a few.
For a romantic weekend get-a-way, there are also sauna and wellness centres around for pure relaxation.
Illusionist – The magic Gin
It's hard to introduce this gin without giving too much away.
Illusionist is a premium gin from Munich and it's undeniably unique. You'd definitely want to reserve this beauty for special occasions, especially if you want to impress.
This mysterious handcrafted gin is carefully prepared from organic, exotic botanical fruits and liquorice root extracts. The Illusionist's surprise is when you add gin to it (hint, hint!). No spoilers from us here, you just gotta discover this yourself.
One more thing to note, you should only check the cocktail page if you are prepared for the secret revelation.
Photo credit: Illusionist Gin
Borgmann 1772 – The secret gem!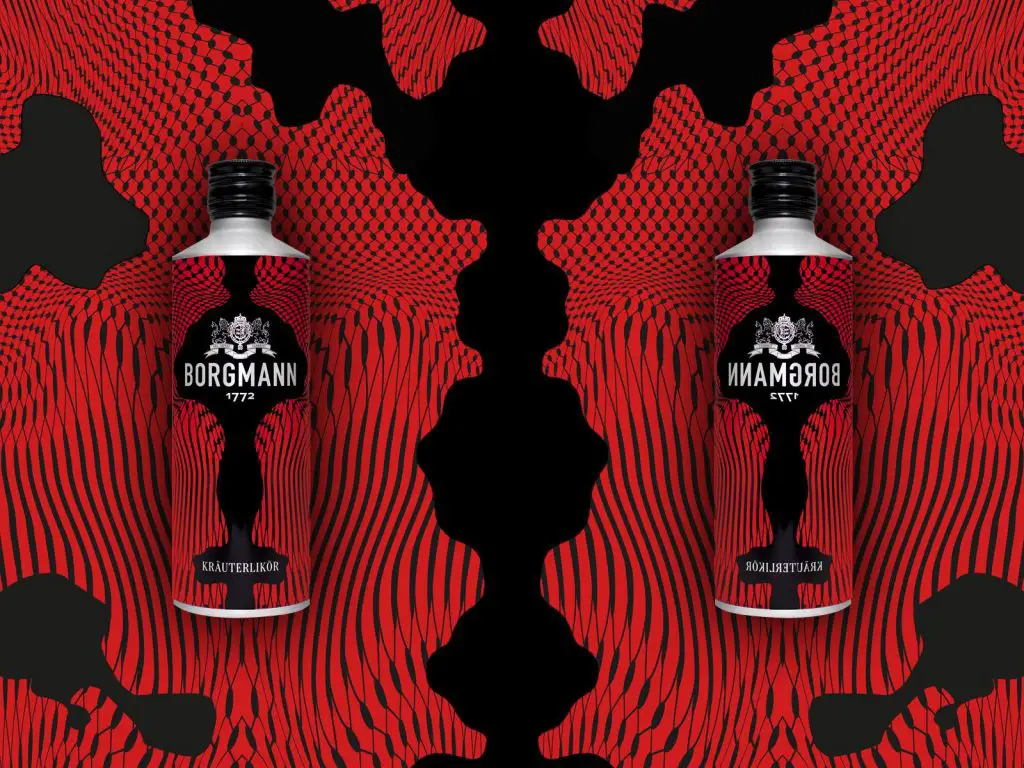 Super stoked to share this secret find! This liquid marvel was accidentally discovered (by myself – Fred) in a little Italian bar in Hong Kong, and before I left the special administrated region (to be absolutely politically correct), I convinced the bar owner to sell me a bottle and took it with me when I moved to Beijing.
I hoarded it lovingly, and only offered it to my most favoured inner circle of friends!
This herbal Schnapp, described by yours truly, as "Christmas in a Bottle", is too good to give away to just anyone!
Eventually, all of my friends came to love the Borgmann as much as I did. Every time my German partner went home for a trip, that's the bottle, along with the Duke, that were the absolute must-have gifts to bring back to China.
Surprisingly, when I moved to Munich, all of my partner's friends had never heard of it! So, here, I tap myself on the back, that as a foreigner, I introduced something awesome back to the locals!
So why is this awesome? Unlike many schnapps I've tasted, this has a real depth of flavour that's not overly sweet, and has a sharp cinnamon taste to it, hence, "Christmas in a Bottle".
Perhaps the sexy aluminium bottle also caught my attention. The mysterious touch reflects the once-upon-a-time secret recipe, only reserved for the Dukes of Braunschweig-Wolfenbuettel.
The young generation of the Borgmann Apotheke (Pharmaceutical) family eventually revived this botanical craft and introduced it to the young, upcoming and hip clubs.
If you like collecting unique bottles (like me), you can also get their limited editions with designs created by various artists. When you check these out online, you should definitely look at their recipe pages. The recipes include cocktails from various bars from Berlin to Spain.
As a start, try 1772 SMASH, from the Schumann's in Munich. So now, you won't have to wait till Christmas to try this delight!
Photo credit : Borgmann 1722
So we come to the end of our favourite German & Bavarian liquors list! We hope you've changed your mind about the drinking culture in Germany.
Of course, it is still awesome to have a beer in a beer garden, especially in Munich, but perhaps the next time you visit a bar or when hosting your own house party, give some of these Bavarian drinks and German options a go!
Prost!