Tucked away in the heart of Munich lies a hidden realm for beer lovers — the Munich Beer and Oktoberfest Museum. Though small in size, this little museum packs a powerful punch especially if you're a beer lover like we are!
Step through its doors and embark on an immersive journey into the fascinating world of Bavarian beer and the iconic Oktoberfest festival. 
In this yeasty Guide to the Beer and Oktoberfest Museum, we'll outline all there is to see and do within and even provide you with a few tops that others may not know about, so make sure to read all the way through the article.
Without further ado, let's go inside and take a journey through the Beer and Oktoberfest Museum together!
the Beer and Oktoberfest Museum History
The Beer and Oktoberfest Museum first opened its doors in 2007, though the idea for the museum was conceived much earlier with the concept developed in the 1980s.
The idea was envisioned for a museum that could share the passion of beer culture and Oktoberfest heritage with visitors in an engaging way and stepping inside, visitors quickly realize this is no ordinary museum.
Artifacts, documents, photos, and recreated scenes bring the history of beer and Oktoberfest to life. The space is carefully designed to be inviting and interactive. Explanatory texts, captions, and graphics supplement the displays.
Since opening, the Beer and Oktoberfest Museum has become one of Munich's top attractions for beer aficionados, and visitors definitely emerge with a deeper appreciation for Bavaria's enduring brewing traditions and pride in one of the world's most famous festivals.
What You'll See And Learn At the Beer and Oktoberfest Museum
The Beer and Oktoberfest Museum has curated a somewhat eclectic and unique collection of exhibits that tell the story of beer throughout history and of its integration into the world's most famous Volksfest – the Oktoberfest!
The Evolution of Beer and Brewing in Bavaria
As you explore the museum, you'll uncover how beer brewing developed from its early stages in Bavarian monasteries to the booming industry it is today.
Get up close to historical brewing equipment and artifacts that show how technology transformed production over the centuries. Marvel at the amazing recreation of an old tavern that truly transports you back in time, with authentic decor, furniture, and props that provide an intimate glimpse into how past brewmasters plied their trade.
There is even a mock brewhouse where you can see firsthand how brewmasters crafted their magical elixirs using traditional techniques passed down through generations. 
For any beer connoisseur, the most intriguing exhibit has to be the one dedicated to the famous Bavarian Purity Law or Reinheitsgebot.
Enacted all the way back in 1516, this beer regulation permitted only water, barley, and hops as ingredients. Yeast hadn't even been discovered yet!
This law was one of the world's first food safety and quality standards, showing just how much thought and care went into brewing Bavaria's favorite beverage.
As you soak in all this brewing history, you'll gain deep insight into how beer became an integral part of Bavarian culture and identity over centuries, evolving from small monastery brews into a thriving industry with regulations and traditions.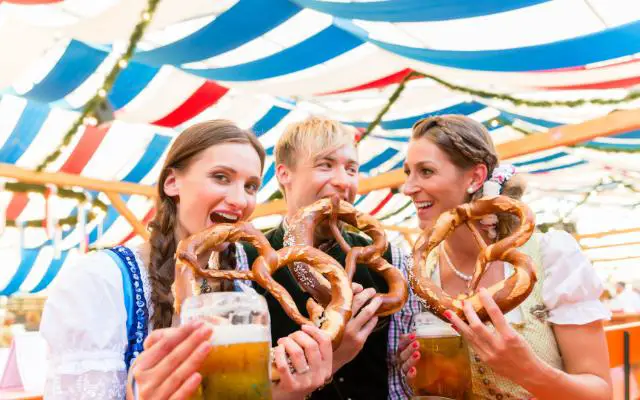 Celebrating the Excitement & Grandeur of Oktoberfest
Of course, no beer museum in Munich would be complete without celebrating Oktoberfest!
Each year, over six million people flock to the Theresienwiese grounds to take part in this beloved festival. At the Beer and Oktoberfest Museum, an attempt is made to recreate the exhilarating atmosphere with exhibits on the origins of the festival, its traditions, and our favorite part—the iconic beer tents.
Get the inside scoop on the first-ever Oktoberfest back in 1810, when the festivities were held in honor of the marriage between Crown Prince Ludwig and Princess Therese.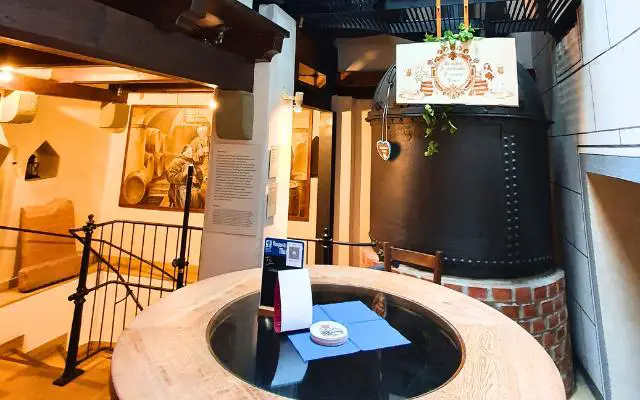 Learn about the special Oktoberfest beers crafted just for the occasion, which have higher alcohol content. View stunning photos that capture the festival throughout the decades as it grew to become a global phenomenon.
You'll even get a peek into what goes on inside the legendary beer tents through an intricate diorama model!
With hundreds of benches and thousands of revelers raising steins together in celebration, it's quite a sight. Find out all about the cherished traditions, from the O'zapft is! the keg-tapping ceremony, chugging contests to revelling alongside visitors from all over the world.
By the end of your visit, you'll have a deep appreciation for this one-of-a-kind Bavarian tradition and an urge to join in the revelry yourself!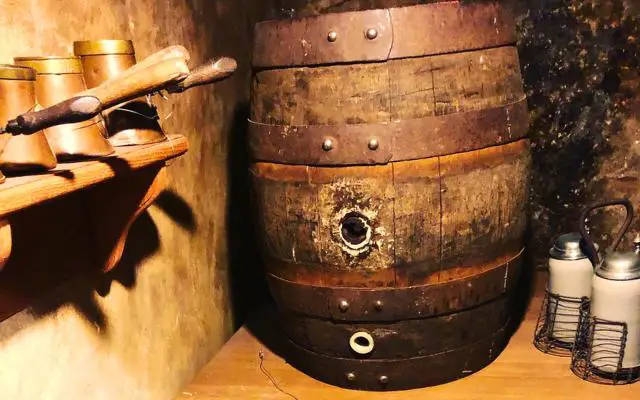 Key Details For Visiting The Beer and Oktoberfest Museum
If you're a beer and brewing enthusiast then we recommend setting aside an hour to explore the museum. After that hour you could certainly taste some beer at their onsite Bräustüberl (even though it's not a real Bräustüberl).
When planning your visit, it's important to keep in mind the following information:
Location: Sterneckerstraße 2, 80331 München, Germany
Hours: Daily 10am – 6pm (but please ALWAYS check)
Admission: €5 for adults, discounted rates for students and children
Guided tours available in English and German
Easy to reach by public transport – just 5 minutes from Isartor S-Bahn station 
Where Is The Beer and Oktoberfest Museum Located
Guided Tours of the Museum (plus BEER tasting)
For a more immersive dive into the museum and into the heart of Oktoberfest history, don't miss out on a curated tour of the Oktoberfest Museum.
Led by local Munich aficionados, these tours are like a storytelling journey through the annals of beer culture, the evolution of Oktoberfest, and the unique treasures that adorn the museum.
Trust us when we say it's worth it. So grab at least eight of your friends or family to unlock this experience, which is available not only in English and German but can also be customized to other languages if you ask ahead.
As for the cost, it's €5 a head for the tour, but if you're looking to elevate your museum adventure, I'd highly recommend the €9.50 option, which pairs the tour with a delightful beer-tasting.

It's a sensory treat that brings the story full circle.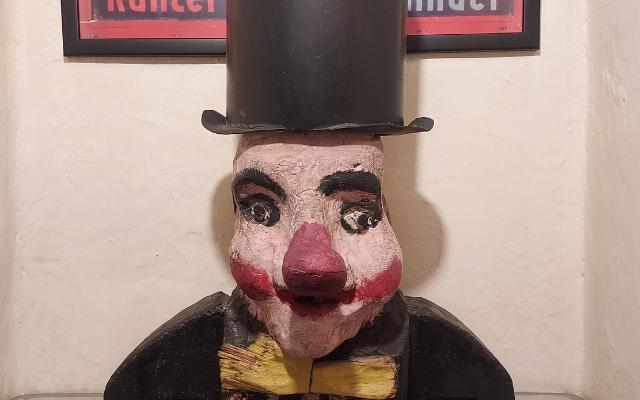 Museum Restaurant | Museumsstüberl
We've been here a few times and we're always surprised by the 1-star reviews that appear on Google as we've never had a bad experience with food or service here.
We consider the prices here at the Museumsstüberl to be more than fair and although there is always a limited menu, we've always found the quality to be above average.
Whilst this is far from a fine dining establishment you'll have to look hard to find a better little Stuben restaurant in Munich.
The lovely old building has bags of charm and an ambiance to match. But don't take our word for it but instead, check out all the Google Reviews Here!
Beer and Oktoberfest Museum | Our Verdict
This is a great little place to visit and we love it here. Note though that this is an objective opinion from people who are beer lovers so we appreciate that this might not be for everyone.
The museum is interesting enough and the surrounding area has loads more to see and do such as the Isartor and the Viktualienmarkt.
So whether you're visiting for a short history lesson on Beer Brewing and the Oktoberfest, or dropping by for a meal, you'll get your money's worth here in our opinion.
Prost and thanks for reading!
Where Can I Get Beer and Oktoberfest Museum Tickets?
Just buy the tickets when you arrive as there doesn't seem to be any option for pre-purchasing the admission tickets online.
How Much Is The Beer and Oktoberfest Entry?
Kloster Andechs is located 35km southwest of Munich, Germany, in the picturesque Bavarian countryside.
Does The Beer and Oktoberfest Have Displays In English?
Yes. The museum does indeed have many of the exhibits now displayed in English as well as German.