Who doesn't know the tragic love story of Romeo and Juliet by Shakespeare? 
This cautionary tale of young love has resonated through the centuries and the character of Juliet Capulet, the beautiful young heroine, represents passionate and eternal love.
Well, Munich has its very own Juliet Capulet Statue (or maybe 2) and in this very brief article, we tell you all about her (them).
Here we go!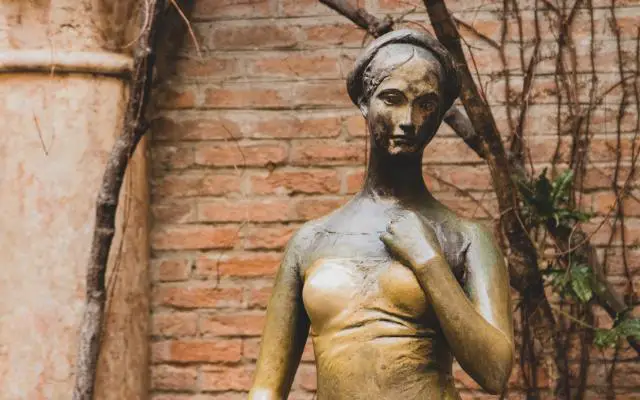 History of the Juliet Capulet Statue
This statue is actually a replica of an original in Verona, the actual setting of Shakespeare's Romeo and Juliet. 
It was gifted to Munich in 1974 by the city of Verona as a symbol of friendship between the two cities. 
What you see is a bronze figure of Juliet standing gracefully in a gown, her left arm bent across her chest in a pose of melancholy longing. Her right arm drapes at her side and her hair is held up off her neck.
Looks like a scarf but is probably supposed to be some sort of decorative hair tie in reality.
This replica evokes the tragic romance of the young lovers made so famous by Shakespeare centuries ago.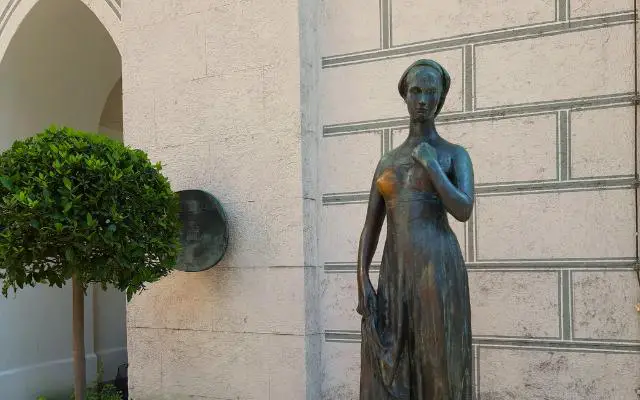 The Juliet Statue's Popularity to Müncheners
Over the years, the statue has become a major tourist attraction in Munich and one of the most well known Munich Landmarks.
An endearing tradition, or perhaps legend, who knows really, is that it is said women seeking love should present flowers to Juliet, while men should touch her breast. 
All the hopeful touches have led to a noticeable sheen on the Juliet statue's right breast. This public statue groping has definitely worn down the bronze finish over the decades leaving her right breast clear and shiny! 
Juliet's bronze likeness is almost always adorned with floral tributes given by romantic visitors. 
Did You Know there are actually TWO Juliet Statues in Munich
Yes, it's true! In fact, two statues were gifted to the city and the second statue stands totally solitary across the other side of the
Isar River
in Bogenhausen's aptly named Shakespeareplatz.
Both statues are simply named Julia which is the German version of her name.
These rituals reflect the universal longing for love and the belief that this icon of Shakespeare's tragedy can somehow grant blessings. 
The steady stream of flowers and touches certainly shows Juliet remains an avatar of romance generations after her literary debut.
Aside from the flowers and touching, some people also like leaving notes here, and you'll also sometimes spot them tucked away under her arm with flowers. 
Perhaps the notes are also in the hope of being granted a bit of luck in love!
Location Of The Statue
The Juliet Capulet Statue is situated in the heart of Munich's Marienplatz, just steps away from the historic Munich Old Town Hall (The Altes Rathaus).
This is one of the busiest parts of the city for shoppers and footfall so it's no wonder this particular statue gets so much attention. 
The actual address of the Juliet Statue on Google Maps is Marienplatz 15, 80331 München, Germany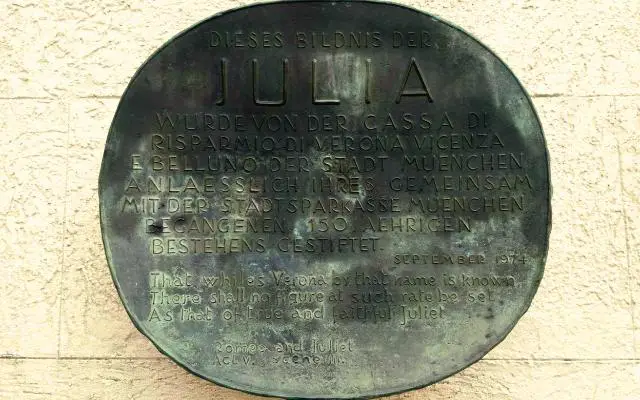 The Juliet Statues Impact on Munich
Juliet's presence here in Marienplatz might not actually draw tourists (and lovers) to the Bavarian Capital, but she is certainly popular and is featured on countless postcards, travel blogs, and guides about the city. 
Nevertheless, the statue remains a beloved city monument representing love, hope, and Shakespeare in the heart of Munich.
Juliet! Wherefore Art Thou!
Well there you have it – that was the Juliet Capulet Statue, brief and concise as promised!
For some, seeing Juliet's mournful gaze here can stir wistful emotion, for others she barely gets a glimpse, but rest assured that her enduring legacy will continue.
No-one is going to come into the city just to see Juliet themselves (are they)! But in this area, there is heaps to do and you might take in the Frauenkirche, the Viktualienmarkt or maybe the Beer and Oktoberfest Museum.
Perhaps you're just here for the shopping. And nothing more!
Whatever the reason you find yourself here in Marienplatz, why not keep a look out for Juliet, as this graceful statue is certainly iconic, and might even evoke dreams of romance and longing in yourself.
Cheers, safe travels, and thanks for reading! 
FAQs About The Juliet Capulet Statue