We first spotted Haag Castle (alternate Schloß Haag, Burg Haag or Hague Castle) from the road on a visit to a friend who lived nearby in the village of Kirchdorf. The castle tower immediately intrigued us as it looked exactly as we'd imagined the tower of the imprisoned fairy tale Rapunzel might look.
Details on the place were hard to come by at the time, but we've since unraveled some of the secretive history of Schloss Haag that we'd like to share in this, shall we say very concise article.
All the info we have gathered here is from reading and translating the boards about the Castle Tower and from the short conversations with locals in the town but it should suffice.
Despite centuries of change there still retains an air of mystery about the castle – which is really just a tower these days – but anyway, Haag Castle – here we come!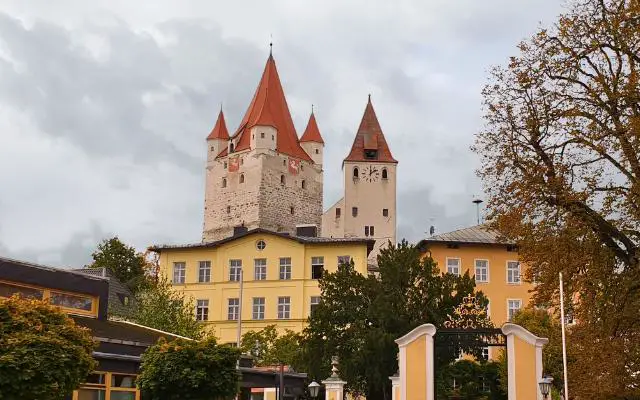 The History of Haag Castle
During the Hungarian invasions around 936, a stronghold was first constructed here for the Lords of Haag.
The origins of Haag Castle as a full construction itself trace back to the 12th century, believed to be the handiwork of the noble "de Haga" or "von Hage" clan. This was a Medieval Castle much like Grünwald Castle in Munich.
As time flowed, it changed hands, with the Gurren of Haag and the noble Fraunberg Gurren of Kirchdorf playing their part.
By 1509, the Dukes of Bavaria took the reins, steering its destiny until 1566. This era saw the castle transform, even playing a pivotal role during the Reformation spearheaded by Maximilian II.
During the Baroque era, records indicate that the moat surrounding Haag Castle was transformed into an exotic zoo, flaunting princely power. Rare animals like monkeys, lions, and polar bears were imported at great expense, amazing and intimidating noble visitors. The moat-turned-zoo was the talk of Bavarian nobility, though it could not survive shifting fortunes.
Alas, the Napoleonic era wasn't kind, leading to the castle's gradual decline, and today only the main tower and smaller (clock) tower of the entire castle construction remains.
Haag Castle, Burg Haag or Hague Castle? Which Is It?
Note that this entire article is based on Haag Castle in the town of Markt Haag in Upper Bavaria otherwise known as Haag in Oberbayern.
The council of the town themselves seem to like spelling the place in different forms – for what reason we cannot say. But for sure on Google Maps the castle is noted as either
Haag Castle
or
Schloß Haag
.
The entry for this castle on
Wikipedia
is entitled
Burg Haag
or
Hague Castle
when translated.
It should not be confused with another
Schloss Haag
which is in the north of Germany right by the Dutch border. Information on that castle is
here
.
What To Do At Haag Castle
It seems that at present, the Castle Haag is open every day but If you do manage to get there on a Saturday, then guided tours are possible but only in German we're told.
If you do make it on a Saturday, then you'll be able to roam the castle tower premises, marvel at the circular wall, and be awed by the towering 42-meter-high castle tower, showcasing its 15th-century architectural prowess.
Up the tower you are rewarded with some spectacular views and some ancient warfare machinery including an almighty large cannon.
We were here last on a Friday and there was a farmers market and whilst at the time of our visit this was happening every Friday, please don't take our word for it.
Weddings can be booked here and were told it's quite popular for private parties also and you can walk about the exterior and about the quaint little town at any time of course.
There is a museum here run by locals, or at least a Museum Authority, so view their website for all the info and contact them before you visit to check on opening hours etc. https://www.museum-haag.de/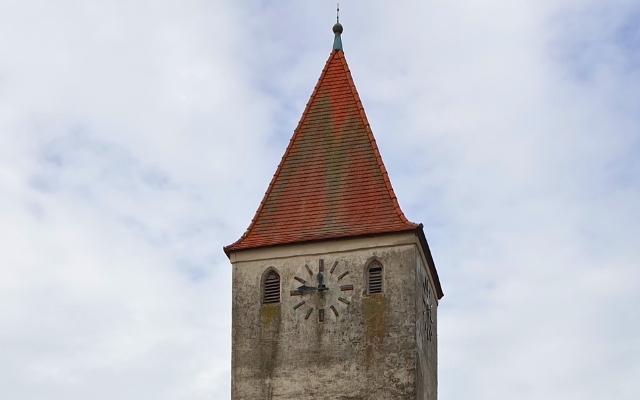 Best Time to Visit Haag Castle
While Haag Castle is always ready to greet visitors, summer is particularly special with cultural festivities in its courtyard.
Music recitals, plays and markets are standard here throughout the year. And if you're dreaming of a fairytale wedding, the castle tower awaits you between May and October.
Haag Castle is more than just a historical monument; it's a time capsule that offers a glimpse into Bavaria's glorious past. 
Administrative Information
Again, before visiting make sure to check with the local authority on the castle and town – visit This Website for more.
Guided Tours:
Every Saturday these take place at 2:00 p.m., 3:30 p.m. and 5:00 p.m.

Entrance Fee and Tickets:
Adults €4.00
Children €2.00
Groups €40.00
School classes/children's groups €20.00.
Extra Castle Visiting Tips:
Intimate tour limited to 20 participants
Marvel at crumbling towers blanketed in vines
Climb winding staircase to panoramic views
Strenuous tower climb worth it for sweeping vistas
Sturdy shoes required for uneven steps
Children must be accompanied by adult
Dogs not permitted
Perfect for history and photography enthusiasts
Haag Castle Location
Nestled in the small town of Haag in Oberbayern, within the Mühldorf am Inn district of Upper Bavaria, Germany, Haag Castle Tower can be seen from quite a distance away in any direction.
Haag in Oberbayern is directly to the east of Munich about 50 kilometers from the city. The exact address of the castle is Maria-Ward-Straße 12, 83527 Haag in Oberbayern, Germany.
If you want a specific location then Latitude and Longitude coordinates for Haag are: 48.161854, 12.179467
What We Think Of Haag Castle
We told you this would be short.

Honestly, you're probably not going to drive out here to Haag in Oberbayern just to see the castle but if you're driving past, you might not be able to resist checking out Rapunzel's Tower. Well, that's what we first called it anyway.
It probably won't make or list of the Best Castles To See In Bavaria but if you're a history buff, a romantic soul, or a cultural enthusiast, Haag Castle promises a unique experience for you, if not a brief experience.
For other castles in Bavaria, why not check out our articles on Linderhof Castle and the Munich Residenz?
Cheers, safe travels, and thanks for reading.
FAQs About Haag Castle Near Munich