One step into Munich, Bavaria's capital, and you're transported into a world where history coalesces with modernity, architecture boasts its own tales and every cobblestone whispers stories from a bygone era.
And here at the Isartor Munich, just 150 meters or so to the east of the Munich Viktualienmarkt, there's no better place in the city to begin that journey.
This old city gate stands majestically as a testament to Munich's past, and having visited here many times ourselves, we feel supremely qualified to be able to write this comprehensive article on the Isartor, and surrounding areas.
What is this historical landmark? And what makes it so special? Well, let's embark on a fascinating tour of this old town gate, unearthing its rich history, significance, and more.
We hope you enjoy the read.
The Isartor: A Brief Overview
The Isartor is a gothic masterpiece that marks the eastern edge of medieval Munich.

It stands tall and proud with a central gate tower and two side towers that were built to form a barbican in order to strengthen its defence and the defences of the city as a whole.

And if we talk about its grandeur, oh boy, if you're someone who enjoys gothic architecture, it'll leave you in awe every single time you see it! The Isar Gate, for anyone with an interest in architecture, should be a must-visit when in Munich.
What Does Isartor Mean?
Are you anything like us and sometimes wonder what's in a name?Well, Isartor quite literally means 'Isar gate', paying homage to its proximity to the Isar River that flows through Munich.
In medieval times there's no doubt the Isar flowed much closer to the gate than it does now, especially during flood periods.
Delving into the History of Isartor
The Isartor was constructed during the medieval era as an integral part of Munich's fortifications, serving a dual purpose: as an entrance and as a defensive structure.

As the eastern city gate, it held strategic importance and was an undeniable mark of the city's strength. But the towers! Have you noticed them? Their stature, their presence – quite commanding, aren't they?
They aren't just aesthetically pleasing but also hint at the obvious architectural prowess of the medieval period.
Nestled within the mighty towers of the Isartor, you'll discover the Valentin-Karlstadt-Musäum and café, something we'll cover in deeper detail later in the article.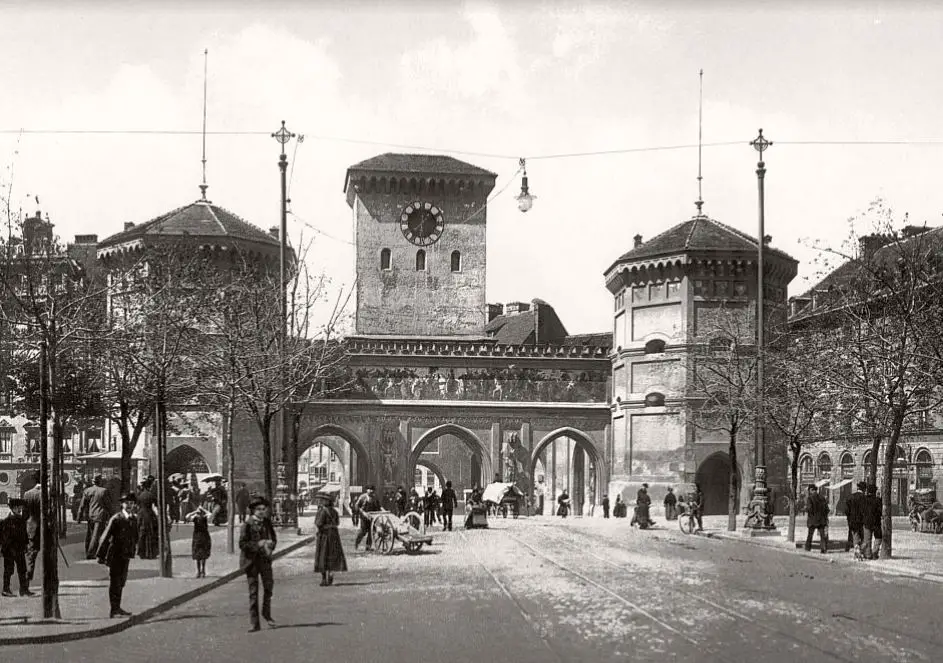 A Closer Look at Isartor's Medieval Construction
When the Isartor sprung to life in the early 1300s under Ludwig the Bavarian's reign (no not King Ludwig I or King Ludwig II), it was more than just bricks and mortar; it was a monument to Bavaria's resilience and determination.
This fortification was constructed as a testament to Munich's strength and defensive prowess, integrating seamlessly with the city's existing fortifications.
It's important to note that in the Medieval era, buildings and structures such as the Isartor were not typically attributed to a specific architect or builder as is the norm today.
The construction of such fortifications would have been a large-scale endeavour involving many individuals, likely overseen by the local ruler or governing body. In this case Ludwig the Bavarian (Louis the Bavarian).
Purpose as an Entrance and Defence Structure
Envisioned as a defensive fortress, the Isartor served dual roles as the eastern entrance to Munich and as a protective barrier.
During times of peace, it warmly welcomed travellers into the city.
However, in times of war, it transformed into a formidable defence structure, standing as an impregnable barrier protecting Munich's heart.
Architectural Features of the Isartor
The Isartor, standing tall at 40 metres, is a marvel of medieval architectural brilliance.
Its intricate designs and robust structure evoke a sense of awe and respect, inviting admiration from almost every onlooker.
List of Key Features
Central Tower: The central tower, or main tower, stands at a striking 40 metres at the time would've symbolically represented the city's might and power.
Side Towers: Flanking the main tower are two smaller side towers. Their round design provides a contrast to the central tower's square shape, enhancing the overall visual appeal of the Isartor.
Pediment: Above the gate's passage, a triangular pediment can be observed, a characteristic feature of the gothic architectural style.
Archways: The entrance and exit points of the gate feature archways, a practical design choice for fortifications to provide additional structural strength.
Fresco: The fresco, created by Wilhelm Zwerger in the late 15th century, adds a touch of artistic elegance to the structure.
Roof: The steep, pointed roof is another classic element of Gothic architecture and contributes to the gate's striking silhouette against the Munich skyline.
Gothic Design Elements of the Isartor
Its Gothic design elements are remarkably evident, presenting a picture-perfect example of this architectural style's dramatic and grand allure.
From the pointed arches to the ribbed vaults, every feature showcases the brilliance of Gothic architecture.
Main Tower and its Original Aesthetic
The crown jewel of Isartor is undeniably its main tower.
Originally designed as a tall, imposing structure, the main tower has maintained its aesthetic despite the passage of time.
It stands as an emblem of Munich's rich history and commitment to preserving its architectural heritage.
Walk around, look closer, and you'll find a mural depicting the triumphal procession of Duke Ludwig IV after his victory at the Battle of Ampfing. Imagine the tales it could tell if it could talk!
Restoration and Preservation Efforts of the Isartor Munich
Over the centuries, the Isartor has been the subject of various additions and renovations.
In the late 15th century, it was adorned with a fresco by the esteemed artist Wilhelm Zwerger, a vivid depiction of Ludwig the Bavarian's victory at the Battle of Ampfing.
Like many landmarks in the city, the Isartor bore the brunt of World War II.
But Munich didn't let its eastern gate remain a symbol of war-torn despair and extensive restoration projects were undertaken, breathing life back into this old city gate.  Today, it stands as a testament to Munich's indefatigable spirit.
This deeper dive into the Isartor's construction, purpose, and architectural elements, we hope, enhances your understanding of this awe-inspiring landmark.
It's not just a monument; it's a living, breathing story of Munich's historical journey, a story that continues to unfold with each passing day.
The Valentin Karlstadt Museum: A Trip Down Memory Lane
This museum, situated inside the Isartor towers, is devoted to Karl Valentin and Liesl Karlstadt, both renowned Bavarian comedians.
Their oeuvre is brilliantly showcased, taking you on a nostalgic journey through their comedic genius. It's hard to resist chuckling at the unique Clock of Valentin, a fascinating piece that clocks – yes, pun intended – time backwards!

You'll find this crazy mirrored clock on the western side of the tower.
This unique museum, which threw open its doors in 1959, ensures their legacies lives on within these historic walls, captivating visitors with their timeless wit and charm.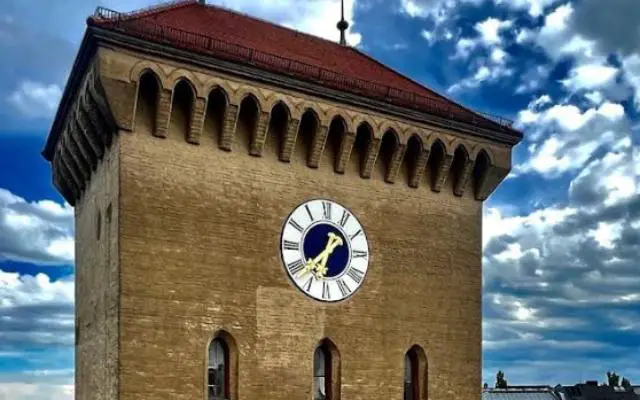 Beyond the Gates: The Vibrant Atmosphere of Munich's Old Town
Stepping through the Isartor gate, you're welcomed by Munich's vibrant old town.
This area is studded with landmarks that echo Bavarian traditions, historic sites that narrate tales from the past, and bustling shopping centres.
There is literally so much to see and do in this area you could spend days exploring within 500 meters of the Isartor Munich alone.
Some famous local sights to check out could include:
Isartorplatz: This bustling square, located directly in front of the Isartor, often plays host to local activities, markets, and events.
Spielzeugmuseum (Toy Museum): Housed in the tower of the Old Town Hall, this enchanting museum displays toys from different eras, appealing to both children and adults.
Alter Hof (Old Court): This was the first residence of the Wittelsbachs in Munich and now presents interesting exhibitions and offers unique shopping opportunities.
Marienplatz: A central square in the city, just a leisurely stroll away from Isartor, it's famed for its gorgeous architecture and the iconic Glockenspiel.
Neues Rathaus (New Town Hall): This masterpiece of neo-gothic architecture, located on Marienplatz, boasts a beautifully intricate facade.
Peterskirche (St. Peter's Church): Affectionately referred to as "Alter Peter" – Old Peter – this is Munich's oldest parish church and offers an astonishing panoramic view of the city from its tower.
Viktualienmarkt: This is a daily food market and a square in the heart of Munich, making it an absolute must-visit for all food lovers.
These locations provide a flavour of the rich cultural tapestry of Munich and are all within comfortable easy walking distance from the Isartor.
Where is the Isartor Munich
The Isartor is conveniently located in the heart of Munich, specifically at the Isartorplatz. It marks the eastern boundary of the historic city centre, also known as the Munich Altstadt.
How Do I Get to the Isartor? What is it's Location?
If you're travelling via Munich's efficient public transport network, reaching the Isartor is a breeze.
The nearest U-Bahn station is Isartor, which is served by the S-Bahn lines S1, S2, S3, S4, S6, S7, and S8. From this station, the Isartor is only a short stroll away.
If you prefer trams, you're also in luck. The nearest tram stop is also named Isartor and is served by lines 16 and 18.
For bus travellers, the closest bus stop is the Altstadtring stop, which is a few minutes' walk from the Isartor and is served by the bus lines 132 and 62.
With so many transport options at your disposal, getting to the Isartor and immersing yourself in its historical splendour is incredibly accessible and easy, no matter where in Munich you're starting from!
And obviously, if you're anywhere in the city centre you'll be able to walk here without issue. Trust us when we say that Getting Around Munich is a very easy thing to do.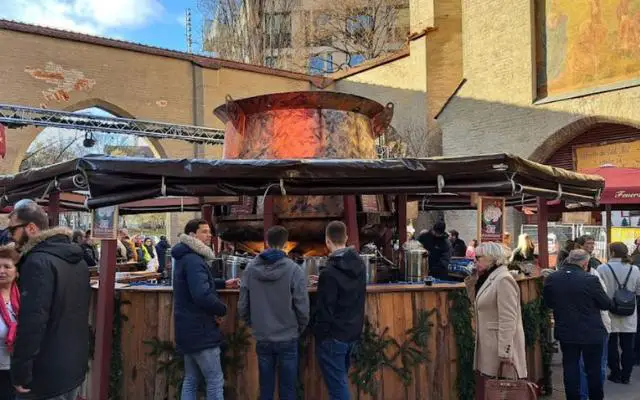 The Isartor: More than Just a City Gate
The Isartor Munich is not just a gate; it's a cultural hub that brings people together.
Winter in Munich sees the Isartor become a lively Christmas Market hub in the city.
Its highlight? Feuerzangenbowle, a traditional hot punch.
Imagine this: a rum-soaked sugarloaf set ablaze, caramelising into spiced wine. The result? A warm, soulful drink cutting through the winter chill.
For an authentic Munich Christmas, savouring Feuerzangenbowle at the Isartor Christmas Market is a must and is a unique experience, that trust us, is something you'll remember forever!
When to Visit the Isartor Munich: Insider Recommendations
If you're wondering about the best time to visit the Isartor, we've found that the late afternoon brings out a certain charm in this historical gate.
The setting sun paints the Isartor in hues of gold, making it an idyllic time for photographs or a leisurely walk.
For an immersive experience, consider opting for a guided tour that provides detailed insights into the history of the Isartor and the City of Munich.
Alternatively, you can also choose a self-guided exploration – don't forget to grab a cup of coffee from one of the nearby cafes!
For a seamless journey, make use of the local taxi services, bus routes, or tram stops near the Isartor. The tram experience, in particular, lends a more authentic Munich feel. After all, isn't getting there half the fun?
Our Final Musings: The Magic of The Isartor Munich
Honestly, if you have young kids, they'll probably only be interested in the Isartor for a few minutes. But if you like history and medieval architecture, then you'll likely spend an hour here especially if you decide to have a coffee and snack at the café.

And really, it's more than just an old city gate; it's a slice of history, a beacon of resilience, and a testament to the city's vibrant culture and rich heritage.
It offers you a unique blend of the past and the present, the old and the new, the historic and the modern – all wrapped in one grand edifice.
So, what's stopping you from experiencing this timeless symbol of Munich?
Come, walk with us through the eastern city gate, and let's explore the incredible world of Munich's old town together.
We promise it's a journey you won't soon forget.