When pushing the glass door on entering Boulangerie Dompierre, a sign in black and bold letters states: "Pardon Backmischung, du Musst leider draußen bleiben" (Pardon baking mix, unfortunately, you have to stay outside)!
This preludes the core philosophy of this highly regarded French Bakery in Munich.
Situated in and around Munich centre, including locations in Maxvorstadt, Glockenbachviertel and Schwabing, you'll find the perfect authentic French bread and pastries in any of the six branches.
Having been established for a number of years in Munich, the household name, Boulangerie Dompierre is now synonymous with the best baguettes and croissants in the city.
Not exactly Bavarian Cuisine, you'd have to admit, but here at Absolute Munich we've always aimed to bring you the BEST of Munich and Bavaria – and in our view, Boulangerie Dompierre is the best French Bakery in Munich, if not one of the best bakery businesses in the city overall, no doubt!
Boulangerie Dompierre | Why Is It The Best?
Their determination not to be compromised with quality and to provide a genuine french taste, the core ingredients used by Dompierre are flown from France and the production is taken very seriously. Despite of higher cost in production, each Baguette must have a 24 hours rise time before entering the hot oven. The long wait results in creating a crunchy crust with a springy crumb. And most important of all, you can really taste bread! You know you've tasted good bread when there's a lingering lasting aroma on your palate.
The classic baguette and croissant are obviously the most popular in the boulangerie, but there are many more must-try treats that are rare in Munich.
The question then comes down to, "which one to try"? After all, when one is standing in front of the glass pastry display, your eyes will not stop wandering across the assorted delicate pastries. You just want to try everything! Éclair, fruit tarts, macaroons and the little sweet Cannelés! What a "sweet" dilemma!
Thanks to Mr Thomas Härberle (founder and managing director of Boulangerie Dompierre) and his team, the must-try 101 was deciphered.
 Must-try Specialties From Boulangerie Dompierre
Needless to say, all baguettes are just too good to say no to. Dompierre's Le pain Dompierre with the twisted tips and the Classique is certainly popular. However, judging by the number of Grand Rustico sold when I was in the Schwabing Tengstraße branch, that's definitely one of the local's favourites.
During the busy morning wave, in between making fresh cappuccinos and taking phone orders, we were finally able to have a short moment with Rob. He knows Dompierre back to front! He delightedly recommended us the Fougasse: a flatbread that is similar to the Italian focaccia seasoned with olive oil and a variety of herbs. He whimsically said that he could eat it like a snack all day. And he was right! We did find ourselves pecking at it throughout the day, particularly the Fougasse Norx, which was generously scattered with walnuts!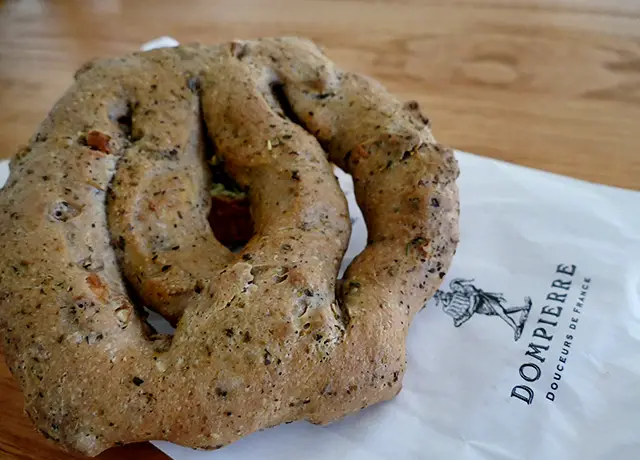 Die Mäuse aus Lauge is something fun to try, especially for kids. It's Dompierre's creation that was inspired by the Brezel from Stuttgart that Mr Härberle grew up with as a child. If you've lived in Germany long enough, you'll recognize the humour behind the name. It's typical for a small child to be called "a little mouse" or "süße Maus" (sweet mouse).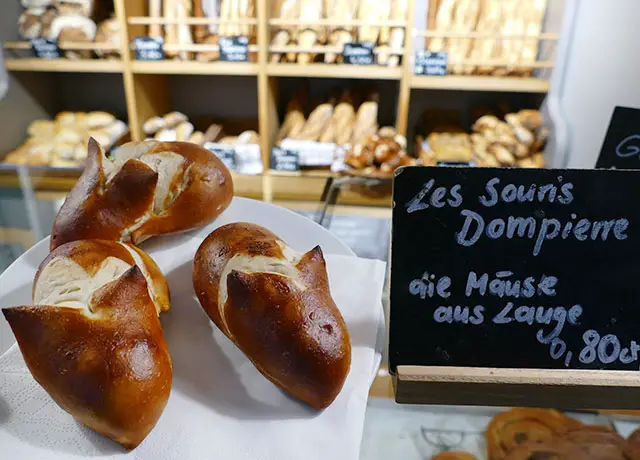 On the sweet side, besides the obvious choice of Pain au Chocolat, the fancy Crossiant aux amandes (almond croissant) could be your sweets cheat for the day. Topped with crunchy almond flakes with powdered sugar, it's also packed with rich creamy almond filling (Ppssp, FYI: a mini version is available if you're worried about overindulgence).
For an afternoon treat, there's of course the Éclairs. They are available throughout the year. Chocolate and vanilla are the most popular and are permanent in the store. If you're lucky though, you should try the pistachio version. You won't regret it!
What is so wonderful about Dompierre is that their pastries are changed according to seasons and festivals. Whilst in summer, there are more berries varieties; there are other surprises throughout the year.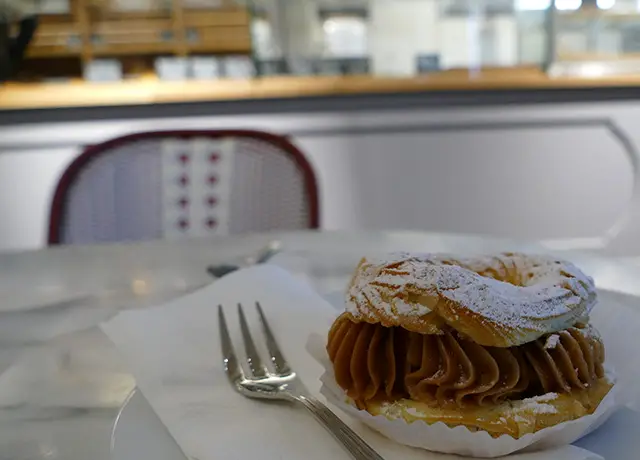 This time around, we were able to taste the Paris to Brest. It's a delicate wheel-shaped almond-flaked choux pastry completed with luxurious chestnut cream in between. Once you've tried it, you'll understand why it's the queen of French pastries!
If you're at the Dompierre around Christmas, the Buchette is to die for. This mini Yule Log cake is decadent with a modern spin. Rolled with rich creamy mousse and chocolate, the top is sprinkled with crushed pistachio and a mini macaroon.
Hey, is Christmas after all, you have the right to indulge a little!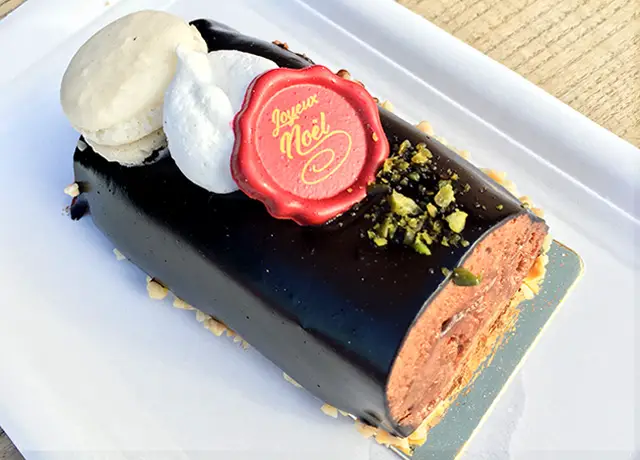 Atmosphere at the Boulangerie Dompierre
After us describing the sumptuous bread and pastries in Dompierre, you may have imagined it having a bit of the typical Parisian snobby undertone. If so, you are completely wrong.
Although the gold logo on the window does strike to be bougie, the bakery has a friendly, cosy atmosphere with a hint of French humour. We're sure this is the intention of Mr Häberle, who cleverly orchestrated this from his intuition from his prior background in film and cinema.
His thoughtful planned interior is a mix of industrial-look with soft artisan touches. The large black metal lamps and handwritten signs are nostalgia from an artisanal bakery. This is complemented by vintage red-white woven chairs and aged cinematic photographs. With the added cheerful "Bon Jour" greeted at the entrance, you're in a familiar street in France. Yes, you are ready to relax with a Café au Lait and a sweet Brioche.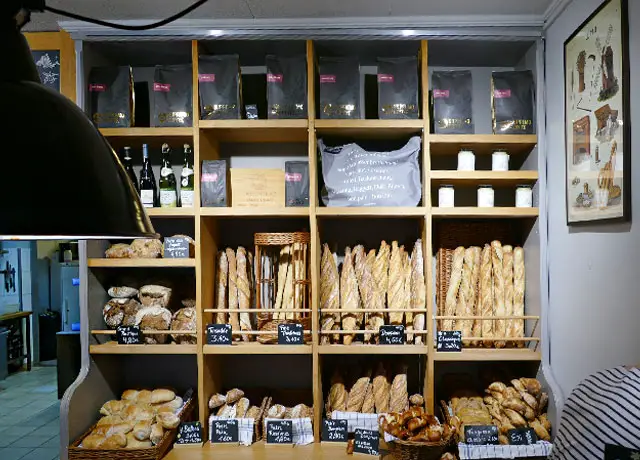 Pricing at Boulangerie Dompierre
With top-quality ingredients and artisan craftsmanship, you can expect the price to be higher than in an ordinary bakery, but not overpriced. Especially when you compare it to "better quality" bakeries in Munich, such as Rischart or Hofpfisterei. Their prices are compatible.
In Dompierre, the average price for a Baguette is 3-4Euro and breakfast pastries (eg. croissant, brioche) are around 2.50Euro.
Perhaps the more unique pastries (average between 4-5 euros) are not what you would pick up day-to-day, but their core line of baguettes and croissants has become the neighbourhood's daily bread.
Dompierre has a full regular, plus the french coffee menu. The price is set similarly to most Munich cafes and the French specialities are around the 4 Euro mark. As we are flat white snobs, we felt that although the coffees do accompany well with the baked goods, we would not go there just for the coffee (Check out our best coffee cafe in Munich post). Their pastries are definitely the highlight!
 review of Boulangerie Dompierre | The Best French Bakery in Munich
We are pretty sure, if we live close to the Dompierre, we would also become a regular for their fresh baguettes. For now, it would be our special treat at the weekends. After all, we are still reminiscing over the pistachio Éclair. It's just too good!
The changing and seasonal pastry menu also impressed us. On our second visit, the Galette des Rois was in the making! This is a very popular treat for children in January in France. Inside this sweet flaky pastry, a charm is hidden in the filing. Whoever gets this lucky piece, he/she will be "King for the day".
Before we end the review, as Absolute Munich encourages sustainability and social responsibility, we want to highlight Dompierre's contribution to these areas.
Talking to Mr Häberle, we can see Dompierre is not only involved in ensuring good quality in their product and production processes, but also openness to social engagements.
In their production, they use absolutely no chemical additives. This also mean, they can convert the leftover bread to crumbs. This is then added to the new dough, which actually creates a more intensive flavour and a longer shelf life.
Furthermore, Dompierre is also involved with several Food Rescue organisations, such as the Münchener Tafel and Too Good to Go (If you're interested in these topics, you can read our food and shopping sustainability posts).
Being very proud of his international team, Mr Häberle recognises the importance of diversity and supports missions for humanity. Dompierre is a direct partner of the Seawatch sea rescue organisation and also works closely with various refugee organisations. The Dompierre team is composed of staff from French-speaking countries, as well as Japan, Afghanistan, Ukraine and of course, Germany.
So during your visit to Dompierre, you can feel extra good, knowing you're also supporting a warm-hearted company.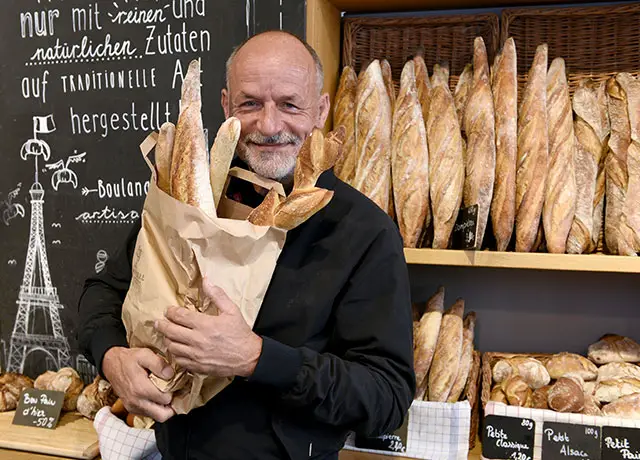 Boulangerie Dompierre locations In Munich
Boulangerie Dompierre Opening Times
DOMPIERRE MAXVORSTADT
Schellingstraße 10
80799 München
Mon–Fri 7.00–19.00 | Sat 8.00–19.00 | Sun & public holiday 9.00–18.00
DOMPIERRE MAXVORSTADT
Türkenstraße 21
80799 München
Mon–Fri 7.00–19.00 | Sat 8.00–19.00 | Sun & public holiday 9.00–19.00
DOMPIERRE GRÜNWALD
Marktplatz 11a
82031 München
Mon–Fri 7.00–18.00 | Sat 7.00–17.00 | Sun & public holiday 8.00–14.00
DOMPIERRE GLOCKENBACHVIERTEL
Hans-Sachs-Straße 1
80469 München
Mon–Fri 7.00–19.00 | Sat 8.00–19.00 | Sun & public holiday 8.00–14.00
DOMPIERRE SCHWABING
Tengstraße 31
80796 München
Mon–Fri 7.00–19.00 | Sat 8.00–19.00 | Sun & public holiday 8.00–14.00
DOMPIERRE WERKSVIERTEL
WERK3 Speicherstraße 7
81671 München
Mon–Fri 8.00–18.00 | Sat, Sun & public holiday 9.00–16.00
Here's To The Best French Bakery In Munich!
Un bon copain (good friend), after reading the post, we hope to see you in Boulangerie Dompierre and enjoy a slice of yumminess made from passion and heart.
But for now, a quote borrowed from Dompierre: "Bon pain – bon jour" (Good Bread – Good day)!
How Many Dompierre Boulangeries Are There In Munich?
There are now six (6) outlets of the wonderful Boulangerie Dompierre in Munich to choose from. Locations can be found in WERKSVIERTEL, GRÜNWALD, SCHWABING, MAXVORSTADT, GLOCKENBACHVIERTEL, MAXVORSTADT
What Is The Difference Between A Boulangerie And A Patosserie
Simple – A boulangerie is a French bakery where the bread is cooked on the premises whereas a patisserie is a pastry shop.
Is Boulangerie Dompierre Worth A Visit?
Well, food is very subjective to personal taste of course but don't take our word for it – check out this recent review you can find on Tripadvisor entitle THE BEST IN BAVARIA.
This bakery was awesome and worth a trip from the train station. Freshly made and full of flavor but minus sugar. They tasted sweet but not from overloading with sugar. Natural flavor With pleasant aroma. Thanks and we will definitely come back.