"German is Hard!" Yes, most of us would agree, especially if you come from a mono-language country.
It's often the observation that German words are too long, the grammar is too confusing, and even with the basic article, "the", there are many just too many versions!
However, as you dig deeper into the language, it's likely you'll appreciate the precision of the language and have a lot of fun with wordplay. With over 42 countries around the world speaking German (though with different accents), it is also more practical than you think.
So whether you're now preparing for a holiday in Germany and want to know a few practical phrases; or you're planning to study or work here, Absolute Munich has selected our favourite options to Learn German Online using both paid and free resources (most of them).
These resources are tried and tested and will surely help you learn and improve your knowledge of the German Language in the most flexible and positive way.
Top Apps for learning German Online
Most people will choose to use an app when starting to learn a language, as it is often free and no commitment is required. The disadvantage is, you have to discipline yourself and often you may not grasp the grammatical rule or the cultural understanding.
Nevertheless, it's a great way to begin but with so many choices out there, to make it easy for our readers, we've picked the most practical and useful options for you.
Duolingo : the On-the-go App
Duo-lingo is one of the most popular free apps for learning languages (of course, until you want an upgrade) and you'll probably recognize the green owl on many mobile screens already.
Most people choose to use this app because is easy and flexible. The game-like lessons are short and it doesn't require too much focus. It is a perfect tool when you are on the run, like when you are on the train to work, waiting for someone at a cafe or a few minutes before bed.
Lessons-wise, they are categorized into different levels and topics, so you can learn vocab, grammar and simple sentence constructions. The exercises are set up in a repetition format to train writing, reading, hearing and speaking skills.
For motivation, you can set your daily goal and compete against other participants. One feature we did found useful is the discussion group. From each question, besides only getting a right/wrong result, you can read also comments from others who probably have the same question as you. Sometimes, you do get more confused, but most of the time, they do offer good tips.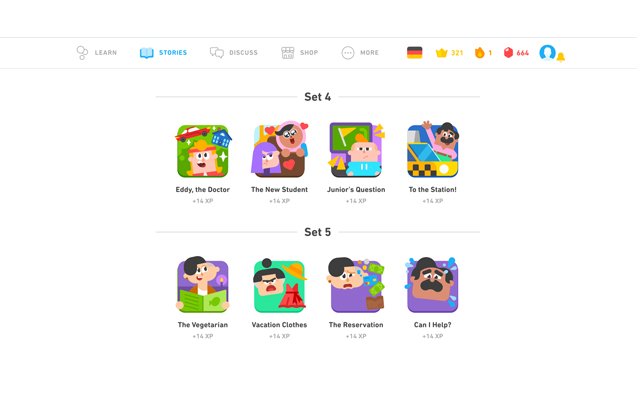 Babbel: Learn German Online (for the more serious)
In comparison to Duolingo, Babbel is a much more professional platform. Visual-wise, it is less "cartoon" and presents more realistic scenarios. The setup is also more directed as a lesson.
Before you start, there is a quick survey to customize your lessons. Eg. your current level, the purpose for taking the course (eg. travel, job, school), etc.
The lessons themselves are set in a very clear format with defined topics, explanations and often in dialogues. So it definitely covers speaking, hearing, writing and reading.
There is also a review section that summarizes the lesson's content, which we find extremely useful. (After all, it is not easy to remember everything from the lesson!)
We are also very impressed by the other features included in Babbel. Not only there is the goal-setting feature, but it also offers podcasts with transcripts and "Live Lessons". The topics are relevant and the tempo and accent of the speakers are very clear.
We would have to say, for the subscription price (choice of 3,6,9 months), it is very fair for the quality.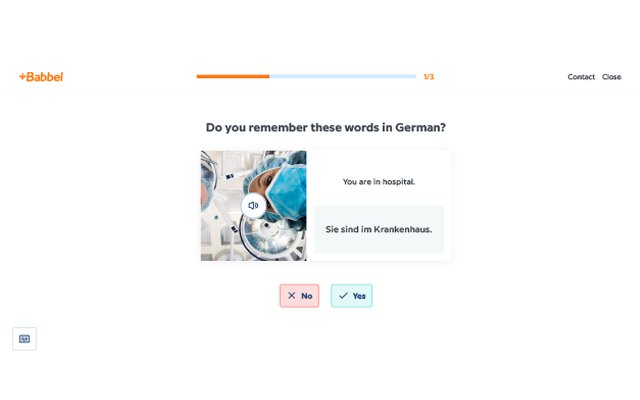 DW Learn German : most pro. and ideal for long term learning
This is an initiative set up by Deutsche Welle, a German international broadcaster that offers local and international news. For this reason, they provide the most comprehensive learning materials with relevant and up-to-date topics.
It is also nice to take a break from standard textbook materials and get insights on topics on current issues such as environment, politics, science, and the real German culture.
The DW Deutsch lernen portal has extensive learning programs that cater to A1 to C levels, including actual lessons and supplementary exercises in different mediums. Videos, articles, radio shows and podcasts are some examples.
Another great feature that DW offers is the daily Langam gesprochene Nachrichten (slow spoken news). As it comes with a transcript, it is an excellent way to train your listening skills and learn new vocab.
On their main page, you can first take a test to check your level, and then you can customize your course by level, skill and even by topic. The app and all the online materials are free.
So for us, this is definitely a 5-star rating for learning German and getting a wider perspective of the culture.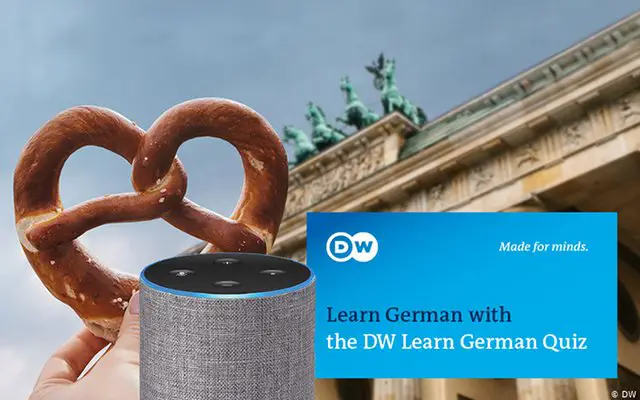 Of course these days, you can almost learn almost anything from YouTube, and learning German is no different. There are numerous channels where you can subscribe, the only problem is, there can be just too many to choose from.
So, we recommend using the following, as from our experiences, we find these channels most interesting, practical and reliable.
Started as a simple project from a school in Berlin, the network has now expanded into other cities with additional languages. Unlike most channels, Easy German's approach is "Learning German from the Street".
The lessons are often filmed live in German neighbourhoods with interviews with the locals. So it is much more realistic and engaging. Numerous content is also covered, from basic topics such as using public transportations to more everyday phrases Umgangsprache (eg. What Germans call their loved ones?).
Special topics such as Workplace conversations and job interview dialogues are also included. These videos are with Untertitel (subtitles) and are categorized for beginners, intermediate and advanced levels. As a registered member, you'll get the entire package of additional exercises, transcripts, vocab list, etc.
In the meantime, you can enjoy their video are free. New videos and podcasts are uploaded every week.
A relatively new channel, but we feel it is very useful for intermediate and advanced learners (B2 to C2 level).
The videos are in German, except when she makes direct comparisons for easier explanation. Probably due to her academic background in linguistics, her voice and explanations are very clear.
The topics are more specific and are often not found in generic textbooks. The examples used for explanations are very relevant and can be easily understood. She often teaches synonyms and alternative phrases to improve from A-B1s level.
As a bonus, there are additional exercises related to the videos offered for free on her website.
Blogs – for light reading & learning
This is a fun one to follow. Emanuel is just passionate about teaching German (you can really sense this in his post)! By subscribing, not only you'll receive his quirky, funny story of his life in English and German, it is also followed by a lesson.
The lessons themselves are written in English with topics that most foreign speakers will found themselves asking. Examples are given in both languages with clear explanations coupled with audio.
On the website itself, there are courses, an archive from his previous posts and even his version of the dictionary. Although you can only look up words from German to English and it is not extensive as a proper dictionary, the explanations are however easy to understand in everyday language, unlike the standard dictionary.
So if you enjoy learning German in a more regular, conversational and relaxed way, definitely check out his blog.
Get your daily dose from the news!
Deutsche Welle is off course an excellent source, but if you want to read/listen to what most locals read/listen to, we suggest the following:
Die Zeit is one of the most reputable and reliable news sources in Germany. Being a weekly newspaper, its strength lies in detailed reporting, particularly presenting multiple viewpoints. Often, one topic is covered by various journalists to portray different angles.
Since 1946, die Zeit has grown from a weekly newspaper to distributing multiple publications. Of course, you can now also access daily news online on their webpage or with an App.
For German learners, there are a few features that we like to recommend. The daily Nachrichten (news) Podcast is a very quick way to get the main headlines of the day. It is usually no longer than 10mins, so you can enjoy your morning coffee and be updated. Within the broadcast, there are often experts being interviewed. So it is more interesting to listen to and a great way to learn how to "question and answer".
The news itself is spoken at a normal pace (unlike the DW slow-spoken news), which is a good way to train your ears. Besides, you can always pause or rewind it. For important themes, there's usually a follow-up podcast in the evening.
Other than the Nachrichten Podcast, there are also other "headline" articles with audio. So you can follow it word by word if you need to. Like DW, this is a great source to build advanced vocab.
Within Die Zeit's numerous publications, you can also find Deutsch Perfekt. It is available in print form (magazine) or digital format. Each article is marked by its language level and highlighted with "feature vocab" along with a German explanation on the side. Each edition also comes with exercises. Look out for their Angebot (specials), as sometimes they offer huge discounts on half/annual subscriptions.
You can purchase it online or from most newspaper stands (a good idea if you want to get a test copy). You can also check out their website for a sample read. In general, the articles are more fun to read than the newspaper.
What better way to learn German than by watching TV? For most of us living here, since we are already paying the compulsory annual fee anyway, so why not take advantage of it?
Both of these networks, ARD & ZDF offer a large selection of series, documentaries and films with subtitles. So there is really something for everyone. The obvious advantage of learning from watching TV is that you'll hear real phrases and voices from real life. Also, you get to know what's trending locally.
One of the local's all-time favourite shows is ARD's Tatort. A criminal investigation series filmed all around Germany and Austria. It has been running every Sunday evening since the 1970s. The locals love the classic so much, they even rejected the opening intro to be revamped. So up until now, it remains exactly as it was 30 years ago! The main difficulty for us as learners watching this show is that sometimes, it is hard for us to understand the different accents.
However, it is good of course to be acquainted with other cultures from other states. For example, you'll hear the greeting Moin moin, instead of Grüß dich when watching a series from north Germany. Thank goodness these can be played online, so there are sub-titles and pausing/rewinding are also possible.
 Tip: If you are into historical drama, check out Babylon Berlin and Charite.
For current affairs and the news, there's the Tagesschau from ARD showing the daily news at 8 pm. If you watch it later, you can view it with subtitles.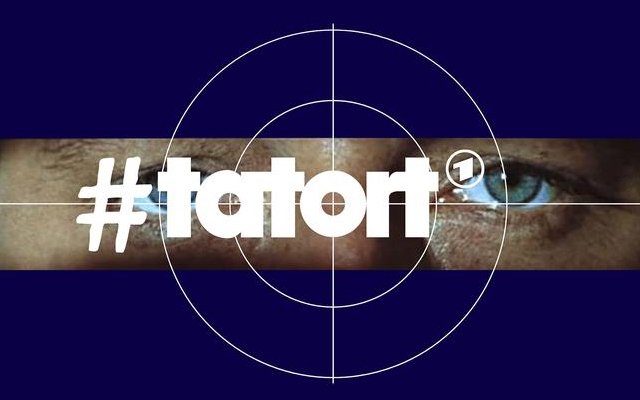 As you can see, there are so so many ways to learn German. Like all languages, it takes time and dedication. We hope by using some of these tools, it'll make your learning journey more fun and get a better grasp of the German culture! 
If you however feeling brave and want some fun speaking with the locals, you can learn some fun Bavarian phrases from our post.
Viel Erfolg (Good luck and wish you success)!