The city of Munich is one of the most popular and historically significant cities and travel destinations in Germany today and often the question is asked "Is Munich The Secret German Capital"
However, there is a lot more to this German city than just big beers and a famous festival.
Munich is located near the south-eastern edge of Bavaria and is quite close to the border with Austria. The city is known as the gateway to the Alps and is regularly mentioned as being a sort of "unofficial" capital of Germany.

Notably recognised as the capital of Bavaria, Munich has a rich and intriguing history that includes beautiful architecture, magnificent castles, revered historical sites and much more. 
But what truly sets Munich apart from other German cities is its rich and thriving economic history. 
Why Is Munich the Secret German Capital
Munich is where real German prosperity began, and it's a living, breathing example attesting to the power of industrialisation, commerce and of capitalism.
Whilst some may not see this as a good thing, there can be no denying that Munich is the one German city that provides a solid foundation for the current powerful and robust German economy. 
This makes Munich a real powerhouse of Europe – and the main reason why this city is often nicknamed the "Secret Capital".
Many Germans wish they could live in Munich, a city that certainly appears progressive and modern, especially in terms of fashion, housing, education but also in regards to science, sports and the arts.
Munich easily gives the impression that its a city just a little more "polished" than its German counterparts, and this results in a real feel of positivity and overall happiness within Munich city limits and surrounds.
Munich's history is rooted in economic history, and in the following sections, we will uncover just how this city developed to become the jewel of the German economy.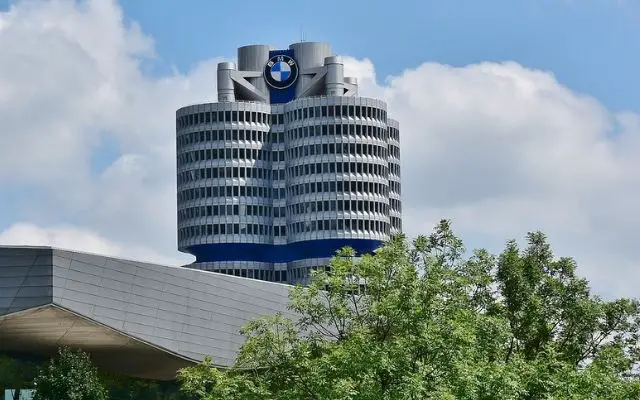 Despite its small size, Munich has been home to some major global brands and companies such as BMW, Allianz, Siemens and Audi (just North in Ingolstadt) to name a few.
Because of these influential companies that are, and have been based in and nearby Munich, the city has some of the highest employment rates in all of Germany. 
The city is heavily influential in German and European politics and business, and it's one of the most visited cities in Germany because of its economic prowess as well as its long and interesting history. 
Many huge trade shows are held in Munich each year and the city regularly hosts globally significant symposiums, conferences and international governmental meetings.
Boasting more millionaires per capita than any other city in Germany (with the exception being Hamburg), Munich is absolutely one of the top financial centers in Europe. 
Munich's highly progressive economic and political history is yet just another of the reasons the city is often referred to as the Secret Capital by many Germans.
Was Munich Ever the Capital of Germany?
No, Munich was never actually the capital of Germany.
It was, however, the capital of the Kingdom of Bavaria which was a separate sovereign nation to Prussia (Germany), a title it held throughout the Napoleonic Wars in the early 18th century and lasting until 1871. 
So Munich never held the title of the capital city of Germany, and despite its obvious national importance, it has never been considered for the title in the modern era.
When Did Bavaria Become Part of Germany?
Post 1871 The Kingdom of Bavaria became part of the German Confederation, and the city of Munich was relegated to regional capital city status as the capital of the state of Bavaria (Rather than the Kingdom of Bavaria).
Despite its somewhat demoted status as a city, Munich remained a political hotspot and drawcard for national power mongers and capitalists alike. 
In the 1920s, Munich, due to its geopolitical position, power, and influence in Europe, became home to many political factions, including the NSDAP (The Nazi Party). 
With the rise of Nazism in 1933, Munich was definitely the capital of the Socialist Movement in Germany but following the end of World War II, the city was once again stripped of its political power.
Although Munich's political fortunes dived, its economic fortunes progressed from strength to strength and post World War II saw Munich emerge again as an economic German power city.
Although eventually, Berlin would become the Capital City of Germany, Munich still held influence. Influence that is apparent within modern Germany today.
Is Munich a Capital City?
Yes. As the seat of government for the German state of Bavaria, Munich is noted as officially being the capital city of the State of Bavaria.
Although not Germany's capital, it's still whispered in the halls of German power, that Munich is the "Secret Capital" of Germany.  
What Makes Munich Special?
Its wonderful, varied historical significance coupled with its economic fortunes and political clout, certainly defines its importance as a metropolitan powerhouse in Germany and many would argue that Munich is absolutely the economic center of Germany.
As the central birthplace of the German Federation in 1848, as the home of the NSDAP party in the early 19th century, and as the birthplace of countless business and political movements over time, Munich has undeniably had a major influence on the development of Germany.
It's for these many reasons why Munich is seen as one of Germany's MAJOR capital cities.
Is Munich Germany's Unofficial Capital?
Despite past historical events, and notwithstanding its current political significance, Munich is a city where business and culture clearly go hand in hand.
In reality, the city is already the capital of Germany's powerful economy, it's rich in political and cultural importance, and it's home to an array of important events that take place throughout the year.
Munich certainly has an influence in German affairs that far exceeds its geographic size so it can absolutely be argued that it really is the Secret Capital of Germany.
But its certainly not up to us, the Absolute Munich team, to decide one way or another.
We'd love to hear your thoughts on the subject and welcome any comments to this blog below.
Cheers and Thanks for reading!