Cattle and livestock markets are undeniably a staple when it comes to old-world living and the old way of life, and the Munich Rindermarkt personifies exactly that, albeit in memory rather than in physical form.
Admittedly, there's something quite charming about imagining farmers and family members from long-since lost generations, walking their cattle to market along old dusty dirt roads.
Such markets, however, have fallen out of use these days with most modern livestock markets instead located within more rural communities where perhaps there are specialist meat processing plants nearby.
Regardless, this doesn't necessarily detract from the historical value of these stunning inner-city locations – and in Munich's case, the old Rindermarkt Cattle Market Square, has now been transformed into a vibrant location for shopping, and is a great base for visiting the Munich Old Town (Altstadt) tourist sights.
What is The Rindermarkt?
Both Rindermarkt Cattle Market Square and Rindermarkt (the small street) itself were the medieval locations for the former Munich cattle and livestock markets. 
Once this would've been Munich's major shopping thoroughfare, fully supporting the local economies of not just the city of Munich, but for the outlying regions as well. 
In the present day, the livestock market has, as previously mentioned, become redundant; however, the Rindermarkt area remains active as a destination for tourism and retail shopping and is a popular meeting place for enjoying a lunchtime sandwich or afternoon drink.
During the winter and festive months. Munich's Christmas Markets spill from Marienplatz down into Rindermarkt and this particular part is often highly praised for its incredibly popular and bustling street stalls and friendly winter vibe. 
The Rindermarkt is a genuinely popular destination for many people visiting Munich during the winter months. But trust us when we say, this is a place that can be enjoyed all year round.
Where is the Rindermarkt and How Do I get There?
Running off the south side of Marienplatz the Rindermarkt used to connect the center of Munich with the Sendlinger Tor Gate some 500 meters to the south-west. This used to be the route taken by stock driving farmers from the south of the city, all travelling by wagon into Medieval Munich to sell their animals at the market.
Being so close to the middle of Munich, getting to Rindermarkt Cattle Market Square is easy and there are various ways that you can arrive in the area.
CAR: Thanks to the underground car park operated by CONTIPARK, which is located right on the Rindermarkt Cattle Square itself, this is actually one place in the old town that is quite easy to arrive by car, and more importantly, is easy to park.
TAXI: Munich Taxis can drop you just about anywhere along Rindermarkt.
BUS: The number 52 and 62 buses have the closest stops to Rindermarkt.
TRAM: The closest tram stop is about 150 meters away and is serviced by Tram Numbers 16 and 19 at Reichenbachplatz
TRAIN: The lines S1 and S8 both stop at Marienplatz, just a 2 minute stroll away past some of Munich's other famous Old Town landmarks.
UNDERGROUND: The U-Bahn lines U3 and U6 make a stop at Marienplatz. 
WALKING: Rindermarkt Square is just a two minute walk from Marienplatz.
What to See In and Around the Rindermarkt
Within very close proximity of the Rindermarkt area, there are numerous amazing sightseeing opportunities and historical sights, so make sure to leave time to visit as many as you can. Start at Marienplatz – as most tourists do – then expand your horizons to encompass the surrounding area.
Rindermarktbrunnen
The modern, yet stunningly striking Cattle Fountain (Rindermarktbrunnen), is undoubtedly the centerpiece of the market area itself and is well worth a look and a photo. You'll see plenty of people doing just this as they enjoy the calming sound of bubbling water by which to eat, drink and socialise.
The fountain clearly celebrates the heritage of Rindermarkt Square and depicts a trio of cattle as well as their overseer, the shepherd.
Lion's Tower (Löwenturm Rindermarkt) 
Directly opposite the Rindermarktbrunnen, and surrounded by the medium-rise glass facades of the adjacent buildings, the brick Medieval Lions Tower sticks out like a sore thumb.
This 23-meter tall tower formed part of the city fortifications from the 12th-century and is worth a quick inspection. Notice that there are no doors and no staircases visible either externally or internally, thus the structure cannot be seen from the inside, nor can it be climbed.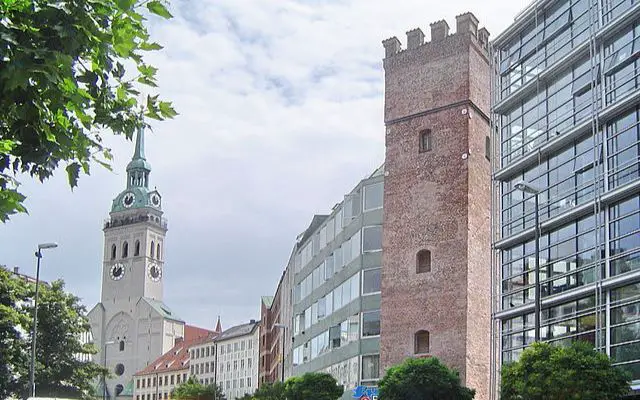 Peterskirche – St Peter's Church
Just 40 meters north you can find St. Peter's Church which affords some of the best views of Old Town Munch from its observation deck high above the city streets.
This originally gothic-style church is affectionately known as Alter Peter – or "Old Pete" and was likely the original construction around which the metropolis of Munich was actually built.
Munchner Stadtmuseum – Munich Local History Museum
Just around the corner from the Rindermarkt Cattle Square, this very local museum outlines much of the city's culture and history, making it an excellent museum to consider having a look at, especially if you're a history buff.
Victuals Market – Viktualienmarkt
Just 100 meters away you'll find the vast, sprawling 200-year-old farmer's market with over 100 stalls selling goods bespoke handcrafts, fruit, flowers, meat, and all manner of fresh produce.
Many people buy their lunch at the Viktualienmarkt and retreat back to the often quieter Rindermarkt Square to enjoy their wares and food by the fountain.
Rindermarkt Munich Wrap-Up
Combining historical significance with excellent modern shopping opportunities, the Rindermarkt Cattle Market Square is an excellent destination for many people to visit when sightseeing in Old Munich. 
Moreover, with numerous local museums, plenty of other touristic sights, and excellent access, it's easy to add this Munich Destination to any trip or city itinerary.
This part of Munich offers so many amazing insights as to the founding and heritage of the Bavarian Capital, that after spending a few hours in the area, you'll actually feel part of the city yourself.
We hope you enjoyed this brief article on Munich's Rindermarkt and surrounds, and we look forward to hopefully having you look over some more of our articles on Munich and Bavaria right here with us at Absolute Munich.
Tschüss, bis bald (Goodbye, and see you soon).