As a newcomer in Munich, one administration office you'll quickly encounter is the München KVR (kreisverwaltungsreferat = Regional Administrative Office).
Inevitably, there are two departments with which you'll be quickly and involuntarily acquainted within the KVR Munich.
To clarify the confusion, the Bürgerbüro (Citizen's Bureau) is where you would go to go for your address and car registration (Anmeldung). 
For issues such as visa/blue card/residence permit/passport, you'll have to go to the "infamous" Ausländerbehörde (Foreigners Office) at Poccistrasse.
Unfortunately, if you ever talked to anyone (local or foreigners) about their experience with the KVR, 10 out of 10 people would tell you it was a nightmare!
It is hard to believe that Germany, although recognised as a hi-tech developed country, they are very slow with digitalisation, especially if you compare it to Asia. Even booking a Termin (appointment) online is an art itself.
If there's anything positive we can say about Corona, is that it actually pushed Germany to be more digitalised.
As new systems had been implemented over the last few months, we want to give you up-to-date information and tips on how to get an appointment with the KVR, so that you will not make the same mistakes like many of us did.
We hope this post will make your KVR experience smoother, so you can enjoy Munich without unnecessary headaches.
KVR Bürgerbüro : Citizen's Bureau
If you've planned to stay in Germany for over 3 months, there is a Meldepflicht (registration duty) that you register your residence address at the Bürgerbüro. This applies to foreigners and locals.
At any time, if you ended up moving out of Munich, you must also deregister.
This registration is very important, as the Anmeldebescheinigung (registration certificate) is required for almost everything you need in order to settle in Munich. From setting up a bank account, new apartment rental, job applications and eventually for visa/citizenship application.
With this registration, you will also receive your tax ID (steuerliche Identifikationsnummer).
You must do this within 2 weeks of arrival.
Luckily, you can do this in person or authorise another person to register on your behalf. In this case, make sure the authorised person has the required documents, including a confirmation letter (Wohnungsgeberbestätigung) from your landlord.
For all the forms and documents required, you can find them here.
As for the Termin itself, thank goodness, besides at Poccistrasse, you can register at multiple KVR Bürgerbüro. The process is fairly straightforward as long as you have provided all the correct documents.
The best way to get an appointment is by online booking using this link.
Unfortunately, all the information is in German.
The picture below here shows the translation.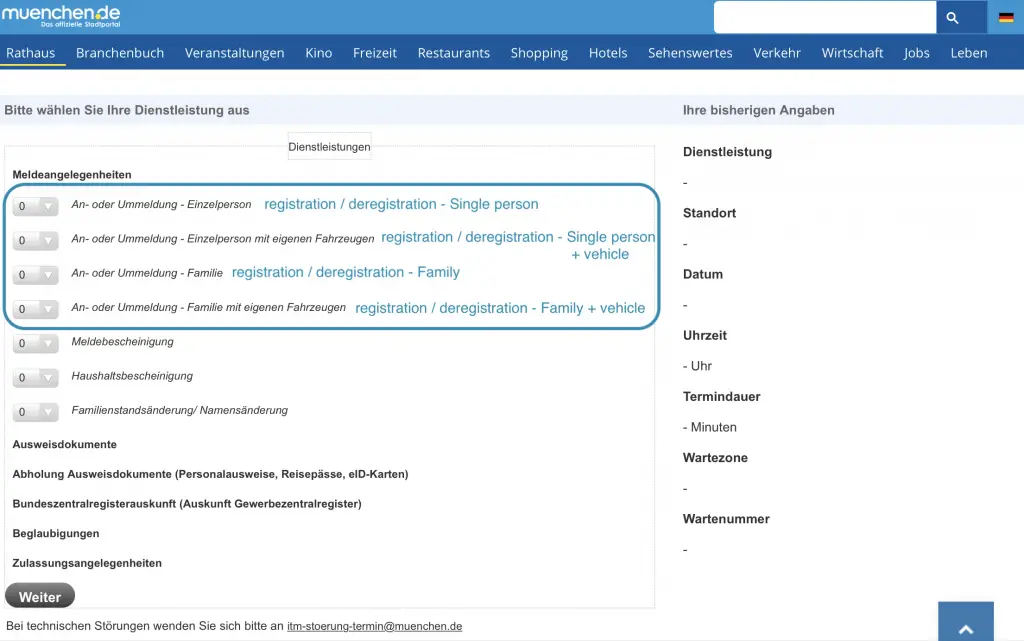 Before Corona, it was quite easy to get an appointment. However, as the offices had been closed for a long time, sadly, even if you go to other smaller offices besides the main office at Poccistrasse, it is now tricky.
Unfortunately, there's not much you can do except checking the website every day for availability. In our prior experiences, it's worth checking it early in the morning before the office even opens.
Although this method has not worked for some, it did for us!
In the past, people also queued up at the KVR before the office was actually opened. There is no guarantee for this, especially if the office is closed during Corona.
Another option suggested on the official website, is registering by post.
Additionally, you can email the office buergerbuero.kvr@muenchen.de.
You won't get an appointment through this method, but this is additional evidence that you've tried to register, but no appointments were available.
Lastly, if you managed to get an online booking, make sure you check your email to confirm the appointment again! It is not a confirmation email, but a verification. So, don't make this rookie mistake!!!
KVR Ausländerbehörde : Foreign Office
As you can imagine, getting an appointment at the Foreign Office can be even more frustrating.
I can never shake off my memory of freezing on an early winter morning queuing outside the KVR entrance, nor being almost stampeded entering the waiting room to get a ticket just to pick up my already approved visa!
Gott sei Dank (Thank goodness) things have changed since Corona. Although there was still the long unknown waiting period of visa approval (my wait was 6 months), once actually receiving an appointment, the process was much more efficient.
My last visit at the KVR was in Jan 2021. They have re-painted the interior walls to make them more friendly and rechargeable USB sockets were installed on the waiting benches. (little things counts right?) Most importantly, they have streamlined the process. This time around, I was only there to pick up my temporary residence card.
Unlike before, this time, I actually received a letter of confirmation with precise instructions. Although it was only German, it was very clear.
It included a ticket number, time slot for my appointment. It indicated the fee amount and payment instructions. The payment is to be completed with a machine (not at a cashier) before the appointment inside the KVR.
Overall, my waiting time to see the staff was reasonable and the process was also fairly fast.
Just make sure you follow all the instructions correctly and bring all the required documents.
As for booking the appointment, unfortunately, the situation is similar to the KVR Bürgerbüro. You can submit your application online and upload the required documents here.
The picture below here shows the different applications categories after the disclaimer.
After submitting your form, you will receive an email stating they have confirmed receiving the application. Make sure you keep this, in case you need evidence to show your attempts to reach the KVR.
It is then just being patient and wait. There's nothing much you can do. Leider (unfortunately), for many of us, it means we have to stay input in Germany and not travel abroad.
During this horrifying roller coaster ride, I did receive advice from Die Rechtshilfe für Ausländer*innen München e.V.. It is an NGO that offers free legal consultant service for refugees & immigrants. They were very helpful in explaining my legal rights in Germany and definitely calmed my fears.
Although my experience was exhausting, I did eventually get an appointment with KVR and the staff was friendly and also gave good advice. I received my residence card few weeks later by verifying my ID at my local post office. And yeah, I'm officially legal!
So whichever stage of application you're in, stay optimistic and be patient. There is positivity at the end of the rainbow.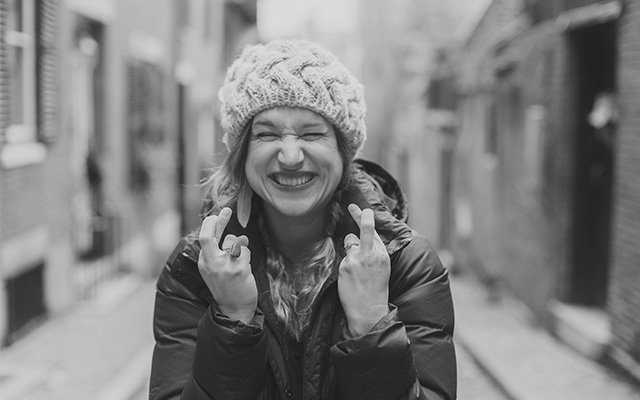 As many of us are still probably struggling with the application process, we love to hear about your journey and experience. Please write to in our comment box. Updated information will be extremely useful!
In the meantime, we hope our posts inspire you to enjoy Munich!
Stay positive and we hope everything will work out soon!
Wir drücken der daumen für Sie! Fingers crossed!
München KVR: Kreisverwaltungsreferat Regional Administrative Offices Location Map
With so many different Bürgerbüro locations in Munich, we figured we better help you out with discovering their whereabouts. Below you'll find all the München Citizens Bureau office locations as well as the Ausländerbehörde München Poccistraße