As a newcomer in Munich, one administration office you'll quickly encounter is the KVR Munich:
die München KVR (kreisverwaltungsreferat = Regional Administrative Office).
This article was updated to reflect the most recent KVR Munich information including updates to their contacts, processes, and administrative practices in May 2022
The KVR Munich is the Government Department administration office that handles Work Permits, Visas, and Residency among other things.
Inevitably, there are two departments with which you'll be quickly and involuntarily acquainted within the KVR Munich.
To clarify the confusion, the Bürgerbüro (Citizen's Bureau) is where you would go to go for your address and car registration (Anmeldung). 
For issues such as visa/blue card/residence permit/passport, you'll have to go to the "infamous" Ausländerbehörde (Foreigners Office) at Poccistrasse.
Unfortunately, if you ever talked to anyone (local or foreigners) about their experience with the KVR Munich, 10 out of 10 people would tell you it was a nightmare! It is as scary as looking for an apartment rental in Munich.
It is hard to believe that Germany, although recognised as a hi-tech developed country, they are very slow with digitalisation, especially if you compare it to Asia. Even booking a Termin (appointment) online is an art itself.
If there's anything positive we can say about Corona, is that it actually pushed Germany to be more digitalised.
As new systems had been implemented over the last few months, we want to give you up-to-date information and tips on how to get an appointment with the KVR Munich, so that you will not make the same mistakes as many of us did.
We hope this post will make your KVR Appointment and Registration experience in Munich experience smoother, so you can enjoy Munich without unnecessary headaches.
KVR Bürgerbüro : Citizen's Bureau
If you've planned to stay in Germany for over 3 months, there is a Meldepflicht (registration duty) that you register your residence address at the Bürgerbüro. This applies to foreigners and locals.
At any time, if you ended up moving out of Munich, you must also deregister.
This registration is very important, as the Anmeldebescheinigung (registration certificate) is required for almost everything you need in order to settle in Munich. From setting up a bank account, new apartment rental, job applications and eventually for visa/citizenship application.
With this registration, you will also receive your tax ID (steuerliche Identifikationsnummer).
You must do this within 2 weeks of arrival.
Luckily, you can do this in person or authorise another person to register on your behalf. In this case, make sure the authorised person has the required documents, including a confirmation letter (Wohnungsgeberbestätigung) from your landlord.
For all the forms and documents required, you can find them here.
As for the Termin itself, thank goodness, besides at Poccistrasse, you can register at multiple KVR Bürgerbüro. The process is fairly straightforward as long as you have provided all the correct documents.
The best way to get an appointment is by online booking using this link.
Unfortunately, all the information is in German.
The picture below here shows the translation.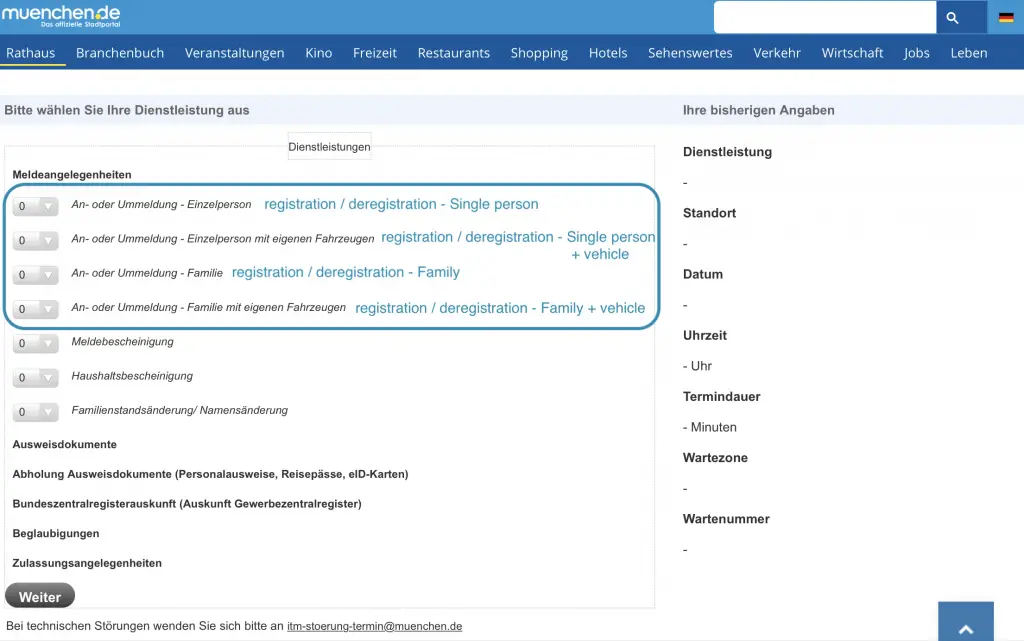 Before Corona, it was quite easy to get an appointment. However, as the offices had been closed for a long time, sadly, even if you go to other smaller offices besides the main office at Poccistrasse, it is now tricky.
Unfortunately, there's not much you can do except checking the website every day for availability. In our prior experiences, it's worth checking it early in the morning before the office even opens.
Although this method has not worked for some, it did for us!
In the past, people also queued up at the KVR before the office was actually opened. There is no guarantee for this, especially since the office only allows a restricted number of visitors.
Another option suggested on the official website, is registering by post.
Additionally, you can email the office buergerbuero.kvr@muenchen.de.
You won't get an appointment through this method, but this is additional evidence that you've tried to register, but no appointments were available.
Lastly, if you managed to get an online booking, make sure you check your email to confirm the appointment again! It is not a confirmation email, but a verification. So, don't make this rookie mistake!!!
KVR Ausländerbehörde : The Munich Foreign Office
As mentioned ealier, the Ausländerbehörde take cares of matters such as citizenship, residence permit and work visas applications.
For the people who arrived before the COVID pandemic, they probably had the experience of queuing up early winter morning in front of KVR hoping for an appointment. Sometimes after long hours of waiting, after receiving a waiting number from a ticket machine, you can still go home empty-handed!
As digitalisation is in demand, the KVR have also evolved. Although the waiting time for an appointment still varies, the online portal is now more organised and efficient. To start, you can find general information on different immigration topics. The good news is, this site is now actually in English.
To Antrag stellen (submit an application), you will have to first complete the online application. After approval, you will then receive an appointment.
If you have a question and would like to book a KVR appointment, you can first upload all the relevant information through this link. You must agree to the privacy policy before filling in the Kontakt Formular (contact form). Note, the Ausländerbehörde will only accept pre-booked appointments.
Although the waiting time is still unknown, but it seems at least the system is now more organised. From my last experience in 2021, although waiting was 6 months, once I've actually received an appointment, the process at the KVR was very efficient.
Since my last visit, the KVR building itself has been renovated with a more modern facade. There's even a nice café at the main entrance. To me is still not very wheelchair or baby pram friendly, but there are some improvements.
The corridors are re-painted to look more friendly and approachable and in the waiting area, there are actually rechargeable USB sockets installed on the waiting benches. The little things count right?
Also unlike "the old days", instead of queing at front desk to get a ticket number or needing to fight your way to the ticket machine, just for further wait for an appointment, the online registration has cut this process.
From my last experience of collecting my residence permit, I first received a letter of appointment invitation. In the letter, it gave precise instructions what documents I need to bring and things I need to complete prior the appointment. Although it was only German, it was very clear.
In the letter, it specified my waiting number, time slot and the waiting room number. In the waiting room, there was a large screen showing the ticket number and the assigned appointment room. It also indicated the fee amount and payment instructions. The payment was to be completed with a machine installed in the KVR (not at a cashier) before the appointment. So everything was very straightforward.
I waited about 15minutes (compared to my last 3 hours wait) in the waiting room and the appointment itself was also short. Overall, the process took around half an hour. Just make sure you follow all the instructions correctly and bring all the required documents.
Wir drücken der daumen für Sie! Fingers crossed!
I know it's still frustrating having to wait for a long time for an appointment and it can feel like riding on a never-ending roller coaster. During my wait, I felt very helpless. Luckily, I contacted the Die Rechtshilfe für Ausländer*innen München e.V. This NGO offers free legal consultant service for refugees & immigrants. They were very helpful in explaining my legal rights in Germany and it definitely calmed my fear.
Like many of us, the experience with the KVR can be exhausting. I was over the moon when I eventually received my residence card. It took few a weeks after my appointment and I only need to verify my ID at my local post office. And finally, yeah, I'm officially legal!
So whichever stage of application you're in, stay optimistic and be patient. There is positivity at the end of the rainbow.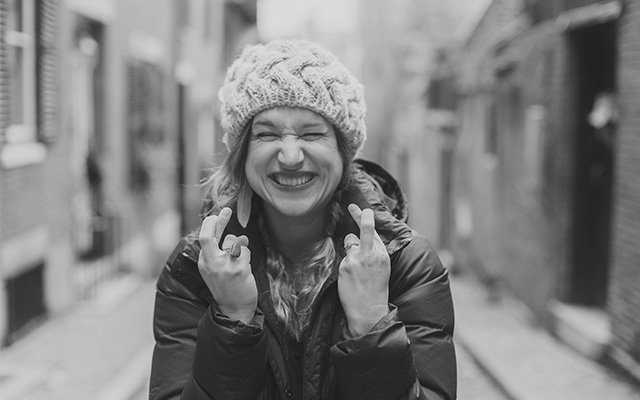 As many of us are still probably struggling with the application process, we love to hear about your journey and experience. Please write to in our comment box. Updated information will be extremely useful!
In the meantime, we hope our posts inspire you to enjoy Munich!
Stay positive and we hope everything will work out soon!
KVR Munich Address & Opening Hours
Landeshauptstadt München
Kreisverwaltungsreferat (KVR)
Ruppertstraße 19
80466 München
Opening Hours (for general inquiry)
Mon, Weds, Fri : 7.30 – 12.00
Tuesday 8.30 – 12.00, 14.00 – 18.00
Thursday 8.30 – 15.00
München KVR: Kreisverwaltungsreferat Regional Administrative Offices Location Map
With so many different Bürgerbüro locations in Munich, we figured we better help you out with discovering their whereabouts. Below you'll find all the München Citizens Bureau office locations as well as the Ausländerbehörde München Poccistraße 
Getting an appointment and attending a KVR Munich Appointment in 2022, whilst still being far from easy, is definitely a much-improved process post-Covid.
Staff have been retrained, buildings have been painted and modernised, information has been updated and the experience is not as harrowing as it once was.
It's still a massive hassle for anyone – even those that speak German – but the digitalisation and streamlining of the department through Covid is certainly appreciated by Germans and Foreigners alike.
De-Registering With the KVR Munich
Sounds crazy but its actually a requirement in Munich (and Germany) to deregister when leaving the country.
If you fail to deregister the German Government may still chase you for taxes among other things.
The Government states that you should've sent of your deregistration form no earlier than 7 days before you depart the country and LEGALLY deregistration should occur within 14 days of your departure from Munich (or Germany).