So you're now Living in Munich and have just scored yourself a job or a placement in a University in the Bavarian Capital.
You're very excited to try the famous Bavarian Beer and the Pork Knuckle, but you're also wondering about how expensive it actually is to live in Munich.
Unfortunately, due to the high demand for affordable housing in Munich, renting in this city can be a challenge! And for many, is a nightmare!
From personal experiences in renting apartments – before and during COVID, we thought sharing a few hacks and tips will help you find your perfect nest in this beautiful city and hopefully ensure your Living in Munch experience is a positive one.
In this blog post, we'll cover topics such as Rental Cost Expectations, the Best Neighbourhoods in Munich to Live, Rental Search Resources, and Rental Documentation Preparations. 
So, auf geht's (Let's go)!
The Popularity of Munich City
So you might ask, why is it so hard and expensive to find an apartment to rent in Munich?
In short, Munich is one of the most desired German cities to live in. It's even considered as the "Secret Capital of Germany". The city is safe, clean, and it has a thriving economy.
Being the home of numerous high-tech and commercial powerhouses like Siemens, Allianz and BMW, you can also find well-established universities here.
Munich is also comprised of numerous green spaces. With the Isar River running in the middle of the city, it surely makes the city enjoyable to live in. Therefore, you should be not surprised that Munich is a popular city to live in.
In conclusion, the high rental housing crisis is the typical "demand and supply" scenario.
To give you a general perspective, according to a survey conducted by the Munich Tenants Association, around 40% of tenants spend more than 35% of their household net income on rent.
An updated record also shows in April 2022, the average rental price is €20.82/m2.
Here, you can see in detail, the rental price trend relative to apartment size and cost in varied areas.
Living in Munich: Where is Best?
Now after knowing the price, you might be a little shocked. Auf jeden fall (in any case), you have decided to Live in Munich. You then ask yourself, where is the best place to live in Munich?
There's of course no one single easy answer to this question, as it's depended on your lifestyle, family and financial situation.
To decide which neighbour is most suitable for you, you can first have a look at the average cost for rent in different areas here.
We have also generated a map to show you the more popular neighbourhoods. 
The areas marked in yellow are areas preferred by the younger crowd. Not only there's a wide range of shopping, cafes and restaurants in this area, but also great for enjoying the night-life.
The green-marked areas are more favoured by families with kids. In these neighbourhoods, they are filled with numerous green spaces with parks and have a more community (Gemeinschaft) atmosphere.
As a rule of thumb, like in every city, the closer you live to the city centre and the higher accessibility to public transportations, the more expensive it is.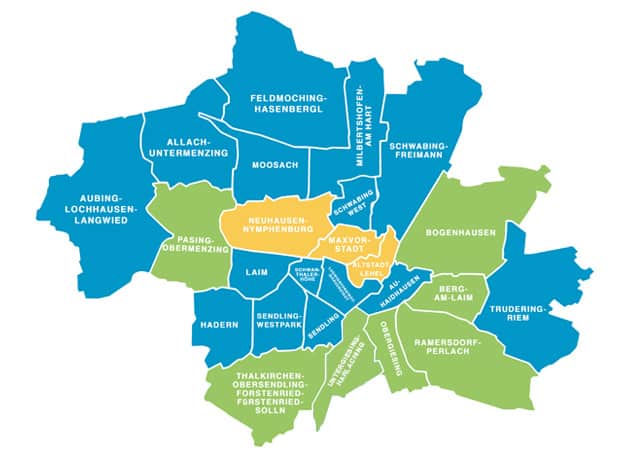 How to search for rental Properties in Munich
Knowing where you want to live in Munich now, we will explain the different ways to find rentals in Munich.
Here are our recommendations for resources that will definitely assist your dream of Living in Munich. recommend.
For Short-Term, Fully Furnished Rentals In Munich:
The following are useful sites for people who have yet arrived in Munich and/or need temporary accommodation. The advantage of these short-term rentals is that you get to explore different areas before settling down to a full-term contract.
These platforms are user friendly and the contract can be easily done online. In saying that, you should be ready to pay a higher rent than the local market.
Mr. Lodge : features luxurious properties, catering studios, small and family sized apartments. It's particularly convenient if you have a pet, as most short term by local leases will not allow it.
LifeX : offers modern co-living space. Ideal for single, young professionals.
Spotahome : full apartments and co-sharing spaces are available. The advantage of using this service is that the agent will do the viewing for you.
A 360-degree tour guide is offered with HD photos, the company will even suss out the smallest details to your satisfaction.
Homelike :it works like something between a hotel and Airbnb booking. It offers private studios, apartments and also co-living spaces. The advantage of this platform is that you can book instant online, it allows free cancellations and has self-check-in system.
WG-gesucht : WG is short for Wohngemeinschaft, meaning shared accommodation.
This is particularly handy for students or young professionals, as the rooms are usually already furnished and utilities like wi-fi are already set up. You can literally move in with just your suitcases making Living in Munich a breeze!
If you are new in Munich and want to live in a more social Gemeinschaft (community) atmosphere, this could be a good option for you.
For long-term, fully furnished and unfurnished rentals In Munich
In contrast to many countries, long-term apartment rental is very common in Germany. A survey in 2020 indicated 65% Bevölkerung (population) in Munich age 18 live in a rented property. 
Although many city dwellers have moved out of the city since the COVID pandemic, the price of rent and properties have nevertheless remained high. Sadly for many of us, this trend will remain. You can see another trend report of property here.
With a lack of supplies, no wonder landlords can be extremely picky. This is why sometimes people describe getting an offer from the ideal apartment as like winning the lottery.
So let's dive into what to do to find long-term rent.
Where can I find Property rental listings In Munich?
There are various means where you can rental advertisements.
Several newspaper outlets (print form and online) offer the immobilienmarkt (property) section. Abendzeitung, Kurz und Fundig (Tues & Fri) and the Süddeutsche Zeitung (Weds & Fri) are the more popular ones. You can also post an advert in the stadtteilanzeige (local newspaper) in the area you are interested in.
These days, online platforms are obviously more practical. From experience, we recommend using ImmoScount24.
This is by far the most widely used site by both locals and expats. It is a portal that is used by private owners and estate agents for leasing and selling. For this reason, you will find a diverse selection of accommodation across different areas as well as prices.
Tips & Preparations for Rental Property Viewings
Remember that there are hundreds of people liking the same apartment that you've seen. Therefore, to get a higher chance of a viewing offer, there are a few pointers that you can try.
For example, write your message in German and personalise it. It doesn't need to be long. A short sentence about you/your family and your profession would be sufficient. This is to make yourself more memorable.
Registering as a premium member it's also lohnt sich (worthwhile). The landlord can see you are a serious searcher and you also receive more exclusive ads. It costs around 30Euro for 2 months, but you'll get your money's worth.
The last and most important tip is that you show your reliable financial record before even contemplating any sort of Living in Munich arrangements.
Your financial credential shows your reliability to pay rent. Therefore, just like going to the KVR, you should organise your documents well and are ensure they are easily accessible for the submission process.
What financial documents do I need To Be Able to Rent Property in Munich?
Below is a guide on what financial records you should provide to the landlord.
SCHUFA
In brief, the SCHUFA is a document that shows your credit history, debts etc.
According to a recent survey by ImmoScout, around two-thirds of applicants who submitted their proof of income and a self-disclosure form were successful in getting their "dream property". Therefore, clearly getting a SCHUFA is definitely beneficial.
Luckily, you can request a free SCHUFA check one time per year. Although you have to pay for the certificate, it's definitely worth paying the 30Euros to increase your chance subsequently.
You can get your SCHUFA via Immoscount or from the official website.
If for whatever reasons, SCHUFA is not available for you, alternatively, you should at least provide your bank statements from the last 3 months. Your employment contract and a reference from your employer are also useful.
Besides your financial records, don't be surprised that other home finders will also provide their C.V. (I'm not joking here, it's really like getting a job!) Of course, it's not as detailed as your professional C.V, but adding a nice picture and showing your professional status will increase your chance of being noticed.
Rental contract: what information should I be aware of?
After countless viewings, you've finally received an offer. You're ready to take the next step and sign the contract.
Before you jump ahead, it is wise to review all the Costs in Regards to Living in Munich. Sometimes, they are not so obvious.
Here are a few pointers that you should pay attention to before signing the contract.
kalt/warm mieten : rental prices are shown in kalt/warm mieten

(cold/warm rent). Whilst

kaltmieten

excludes

Nebenkost

(additional cost),

warm

is inclusive.
This makes a huge difference, as Nebenkoste may include fees like building maintenance, city/communal services (e.g. garbage disposal, water supply). Also, watch out for the Heizkosten (heating expenses), especially in buildings with central heating, as it is sometimes excluded. It is also a good idea to check the energy consumption rate shown in the property description.
Kaution : this is the deposit. The Kaution

is often the equivalent of a three-month rental, so keep this in mind.
Furnished/unfurnished : in Germany, an unfurnished apartment can mean not only the flat is without the "movable" furniture like sofas, but also it may mean without fitted furnishings such as the kitchen or bathroom.
For example, you may have seen a fitted kitchen in the viewing, but the previous tenant may remove it or ask for an extra fee if you want it to remain.
Lastly, read and re-read before the contract you sign. We obviously cannot show all the details here, but it's absolutely crucial that you understand the details.
We know there is a lot to take in, and you might be just a little overwhelmed.
Although the renting process in Munich can be very stressful, after understanding the procedures and after taking the time to prepare, the experience of Living in Munich will become less frantic, we assure you.
If you are in a position to do so, allow yourself few a months for the entire process. We understand of course, that this is not always what can be a reality.
To end on a positive note, "Du schaffst das!" (You Can Do It!)
Perhaps after the mad chaos, you are ready to proceed with moving to a new home and need some furniture, check out our other post about Second-hand stores in Munich. You can be an environmental hero and sparren (save money).
Living in Munich: Good Luck Everybody!