Besides the well-known Munich Events and annual festivals like Oktoberfest and the Christmas Markets, Munich has many more diverse events to offer both locals and tourists alike. 
Each year, there are numerous events held, celebrating arts, music, design and sports throughout the city. During summer the locals flood to these outdoor events and indulge themselves whilst enjoying the long sunny days and warmer evenings.
With many of these events being free or with Angebote (special price offered), you can really get a feel for the city and experience "The Real Munich" just like a local. 
So get your planner out and start jotting in the events!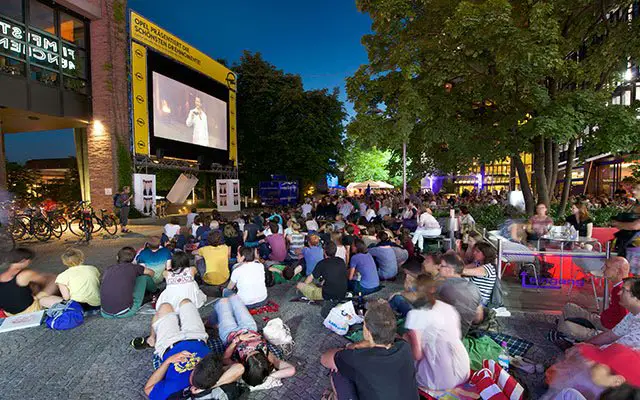 Who doesn't like movies?
Well, you're in for a treat, as FilmFest Munich offers over 200 feature films, documentaries and TV movies to enjoy.
Ranging from romance, comedy, science fiction, independent, and international blockbusters, to movies for kids, who'd want to miss this annual "movie marathon"?
Held at twelve different venues across the city, with the main stage at the cultural hub, Gasteig, there are both indoor and outdoor locations available.  What a way to spend an enjoyable evening with family or friends relaxing and enjoying Munich's fresh summer breeze.
For us English speakers, this is a bonus treat! During the ten day long festival, there are many English Titles screening as well as plenty of foreign films with English subtitles!
News: FilmFest Munich has just announced for summer 2021, there will be over six outdoor locations, including the beloved locations at Olympia Park, West Park and Bahnwärter Thiel.
To see the updated program & information, check out the official Filmfest Munich website.
Photo Credit: FilmFest Munich
Munich Creative Business Week (MCBW)
As design and technology are at the core of economic drive in Germany, it's only natural that there's also a creative platform for designers and businesses to connect at this HUGE Munich Event.
Operating for over 10 years now, and running for around 10-days in March, experts and new upcoming designers come together to join forces and collaborate at the MCBW.
This is the biggest design event in Germany where exhibitions, talks and workshops are held, covering topics such as visual communications, fashion, product design and animation.
With BMW and Steelcase being the regular core event partners, you can certainly expect to discover new trends and future technologies at the annual MCBW. Beyond the glam, topics such as sustainability and digitalisation are also prominently featured at this most progressive of Munich Events.
Apart from the in-house programs, there are also plenty more off-site events to attend. Design city tours, pop-up shops/exhibitions and expos such as the StijMarkt or Future Design Days are some examples.
Ready to be inspired?
All night long Music : Der Langen Nacht der Musik
If you like music and bar hopping, you should give one of our favourite Munich Events, "Long Night of Music", a try.
Since its inception in the year 2000, locals have been indulging their music curiosity over the long mild spring evenings Munich has to offer.
Between April-June, in one single night, over 100 live venues including large establishments like concert halls, museums, cultural centres, churches, and down to small pubs, restaurants and even swimming halls, are occupied with nothing other than awesome live music.
With one simple ticket (around 18Euro), you can use this to Get Around Munich with the specially arranged MVG shuttle bus to visit as many of these venues as you like.
Of course, it wouldn't make sense to squeeze too many venues in one night. Otherwise, you might end up like the gang in How I met your Mother, in one of their NYE episodes!
Surely though, it'd be super fun to go to a few, especially when you have from 8pm in the evening to 3am in the morning to enjoy your musical preferences.
So make sure you check the program and make your bucket list prior to heading out for an amazing night!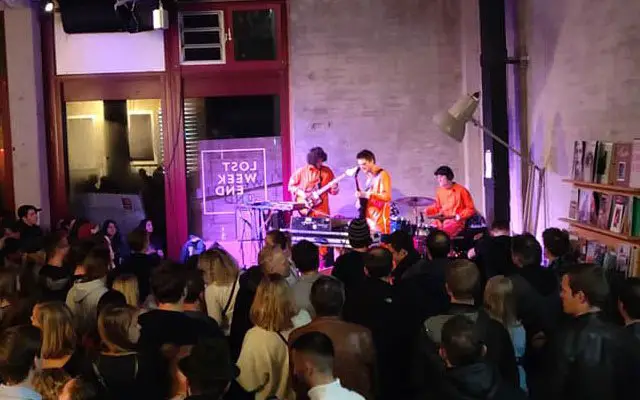 Open-air classical music at Odeonsplatz
Germany is home to some of the most important and influential classical composers the world has ever seen. Although classical music might not be your first choice of music styles, whilst in Munich, perhaps a night at the open-air Klassik am Odeonsplatz will open up your musical palette.
Each year, over two evenings in early July, one can enjoy masterpieces in the illuminated Feldherrnhalle.
Under the stars, you can experience a delightful musical journey with the Philharmonic Orchestra and Bavarian Radio Symphony Orchestra.
To see the updated program & ticket information: klassik-am-odeonsplatz
Long night at the Museum: Die Lange Nacht der Museen
Yes, there really is a Long Night at the Museum! And no, it's nothing like the Ben Stiller film where he got trapped in the Museum. If anything, you'll have a lot more fun, especially if you already had a taste of the Long Night of Music.
Don't be hesitant with fear of being bored, as you won't be staring at "Masterpieces" or "Historical Artefacts" the whole night long.
Munich offers a huge variety of museums showcasing art, culture, nature and technology, and many of them are very interactive. 
One of the all-time favourites for adults and kids is The Deutsches Museum. They also one of the participants in the Long Night at The Museum program of events.
During this event, there are also special programs like secret city tours as well as kids programs starting as early as 2pm, so it's a great treat for everyone!
To get in a lighthearted mood, kick start your night at their opening party (in 2019, it was held in The Hotel Bayerischer Hof) or perhaps hitch a ride in a vintage car.
Thanks to the Association Classics for Charity e. V, you can get a feed of the auto history during your ride from Verkehrszentrum to The Deutsches Museum. It depends on your luck, but you might end up in a classic Mercedes sedan or a colourful retro VW van! It almost feels like an Oscar Night with a great buzz and exciting energy.
Like the Long Night of Music, only one single ticket is required for all museums, transit and its special programs. You can hop on a Historical Museums Tram for a city tour or as a transit between your museum visits.
So before the arrival of winter nights, enjoy your October evenings discovering something totally new, or a journey blast from the past.
To see the updated program & ticket information: museumsnacht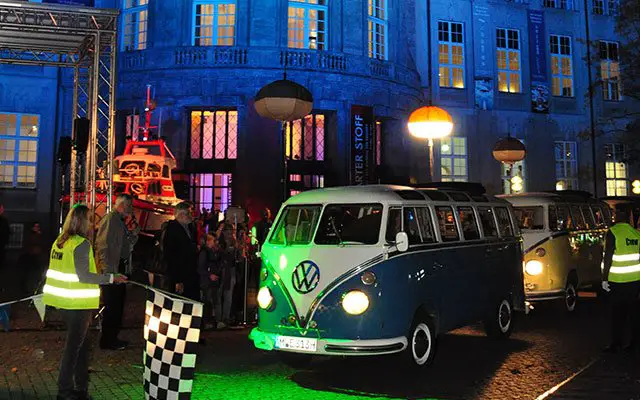 Photo credit : Museumsnacht Muenchen, Rollendes Museum, by Maren_Koehler
Festivals on the street: Streetlife Fest | der Corso Leopold
This is the time when people claim the road!
Stretching along Ludwigstrasse from Odeonsplatz and Königsplatz and from Münchner Freiheit to Schwabinger Tor, twice a year in Spring and Autumn, the streets are reserved to be "car-free".
Over the weekend, two festivals: Streetlife Fest and der Corso Leopold are set up with stages and markets. Locals come to join and relish live music, performances, and numerous fun activities.
This festival, which is now the biggest street event in Europe, surprisingly originated from a celebratory and impromptu get-together of football fans partying on Leopoldstrasse.
Inspired by the idea of a "street for people, not cars", in 1995, the founders of Green City e.V. organized a bike tour as a peaceful protest. Started at 60 different locations in Munich, their destination was Felderrnhalle. Unexpectedly, thousands of residents also followed suit, joining the movement by walking from the Corso to Münchner Freiheit.
This subsequently led to the beginning of the Streetlife fest. Since 2000, Green City e.V. became the core organizer for the event, promoting sustainability with core themes of mobility, urban design and energy consumption.
Celebrating art and music and incorporating sumptuous food delights, at Corso Leopold, you can basically dance till you drop.
With an array of stages and performances from independent bands, beatbox challenges and orchestral acts, there are also workshops such as screen printing and street art.
Are you ready to reclaim the street?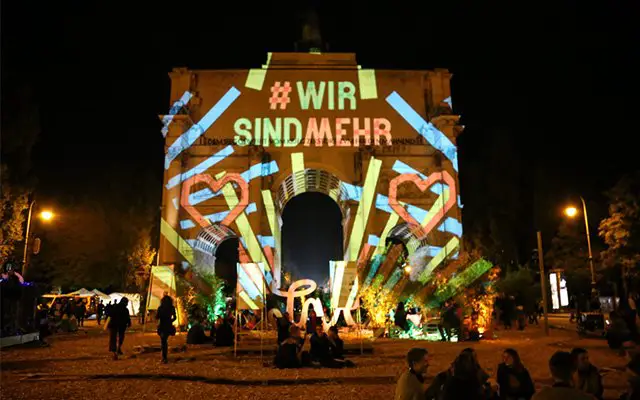 A week of rainbow colours in Munich!
Celebrating LGBTI and commemorating the gay uprising in NY in 1969, Christopher Street Day is celebrated in July.
During this week, there is a line-up of spectacular activities including many informative workshops to bring awareness to LGBTI. These range from film screenings, dance workshops, discussions, yoga, barbecues and of course, a parade!
The Pride Parade takes place on Saturday. Like the Gay Pride Festival in the US and the Mardi Gras in Australia, you can expect drag queens, high heels, bling-bling glitter costumes and exuberant music to dance to.
Starting in the afternoon, the parade usually begins at Dienerstrasse and sees its ending at Marienplatz.
Needless to say, the celebration doesn't end till more dancing and livebühne (live stage) music has been enjoyed long into the evening.
To see the updated program & information: csdmuenchen.de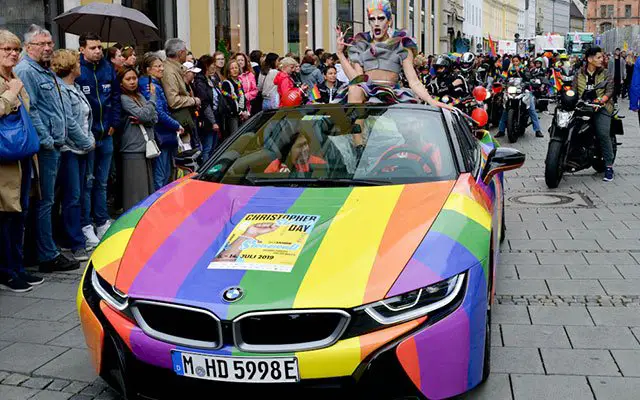 Bring it on! It's time for some extreme sports in Munich!
At the beginning of summer Munich's Olympia Park becomes a haven for skaters, wakeboarders and BMX riders.
Many slopes and ramps are constructed in order to showcase the sporting talents of world champions from around the globe.
With the highlight of Munich Mash gathered at the Red Bull Roller Coaster, BMX Lake Line and Wakeboard Park this most exciting of Munich Events is surely bringing crowds to an adrenaline high.
This massive event would not be complete without other hip and cool activities happenings and in different designated zones, you can simply chill out in the sun, grab a bite from food trucks, check out trendy art & designs or just party hard with wild dancing.
To see the updated program & information: munich-mash
What are your favourite Munich events?
Not sure about you, but we're definitely always excited about these events. We hope through these, you can enjoy the local scene and get a real vibe of Munich, just like the locals do.
With that being said, the more well-known festivals are unquestionably important to the heritage of the region, and we've also covered many of these in our other posts on this blog.
Now it's over to you!
Why not let us know in the comment section below, what your favourite Munich Events are, and why!