The Alter Südfriedhof in Munich is one of the city's most historically significant and culturally enriching sites.
As one of Munich's oldest cemeteries, it offers valuable insights into the region's past and is home to elaborate monuments and tombstones of artistic note.
We've visited this burial ground a few times, and have always found it a peaceful sanctuary amidst the bustle of the Munich Old Town which is just a short walk away.
Let's now uncover its secrets together and find out who lies here and why you should check out the Alter Südfriedhof for yourself.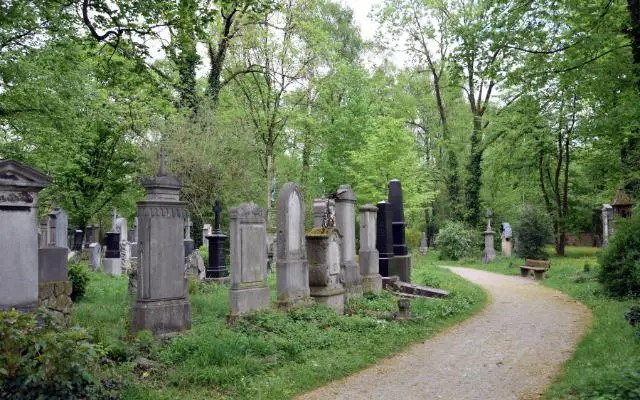 History and Establishment Of The Alter Südfriedhof
The cemetery here was founded in 1563 by Duke Albrecht V as a cemetery for victims of the plague. At the time, Munich suffered numerous outbreaks of disease, and a burial ground was needed outside the city walls to prevent further spread.
This makes the Alter Südfriedhof one of the oldest cemeteries in Munich and as you traverse its walkways it certainly has that ancient feel to it.
The cemetery is located in the Sendling area, which has a long and fascinating history. During the Sendling uprising of 1705, rebels were executed here as a warning to others.
This tumultuous event is memorialized by some of the cemetery's elaborate monuments and for locals, this burial ground is treated as a sort of a peaceful open-air art park more than a cemetery.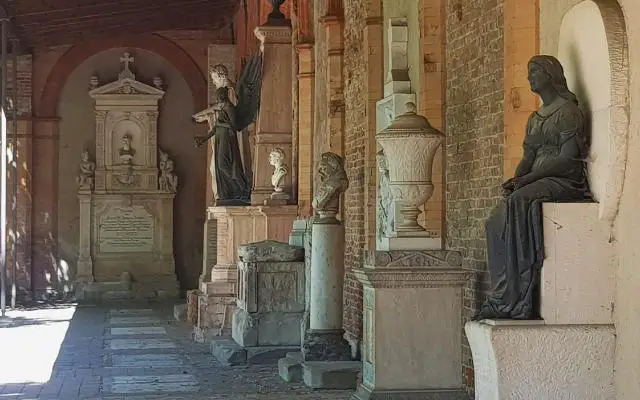 Notable Interments: Who Is Buried Here?
Some of the most significant figures in Bavarian cultural history are buried at Alter Südfriedhof.
As we wandered the rows of gravestones, we came across the prominent names of Ludwig Schwanthaler, Leo von Klenze, and Simon Freiherr von Eichthal, all men whom we've mentioned many times in our Absolute Munich blogs.
Schwanthaler was a renowned sculptor who created the 26-foot-tall Bavaria Statue that watches over the Oktoberfest grounds (Lady Bavaria).
Von Klenze served as court architect and oversaw the construction of the Glyptothek and other neoclassical buildings. Von Eichthal was a banker and philanthropist who supported the arts and sciences.
Architectural and Artistic Significance
Alter Südfriedhof stands out for its lavish tombstones and monuments, many designed by prominent artists and architects.
The cemetery almost serves as an outdoor museum, with striking tomb art and mausoleums in styles from neoclassical to art nouveau.
The cemetery is considered an official cultural and historical monument and efforts have been made to refurbish crumbling mausoleums and preserve the intricate details of stonework and ironwork.
A Lapidarium was also established onsite to display cross sections of tombstones and inform visitors and stands as a sort of a strange cemetery museum.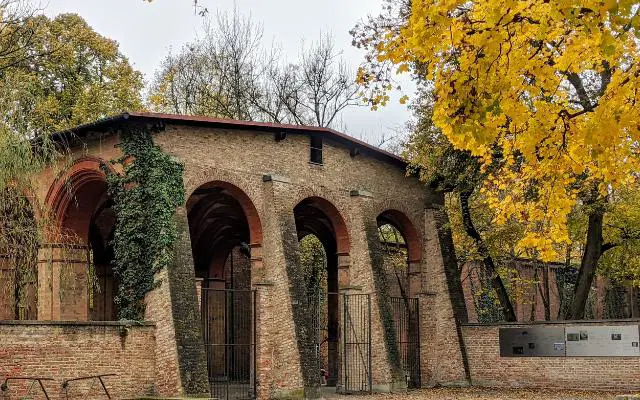 Current Use and Public Perception
Today, the Alter Südfriedhof retains its status as a cemetery but also serves as a public park for the people of Munich. Locals and tourists alike enjoy strolling along the cemetery's tree-lined paths, reading the historic inscriptions, and finding a spot of quiet contemplation amidst the graves.
Many see the Alter Südfriedhof as a green oasis, in contrast to the stone and brick that surrounds it.
There is a certain peacefulness and beauty to this resting place of Munich's past luminaries and the cemetery's rich cultural history makes it a meaningful historical Munich City site to visit.
If you're interested in this sort of thing, of course, might be a bit morbid for some!
Location and Transportation: How To Find The Alter Südfriedhof
The Alter Südfriedhof is located in the Sendling area, a short distance south of Munich's city center.
By U-Bahn: The closest U-Bahn stations are Sendlinger Tor and Fraunhoferstraße, both on the U1 and U2 lines. From either station, it's about a 10-15 minute walk to the cemetery. Goetheplatz is probably a little closer and is on the U3 and U6 lines.
By Tram: Tram lines 16 and 17 stop at Müllerstraße, which is just 5 minutes north of the cemetery.
By Bus: Busses operating on services 62 and 68 stop right by the cemetery on Thalkirchner Straße and Kapuzinerstraße.
Walking from Marienplatz: It takes around 30 minutes to walk from Marienplatz in the heart of the city center to Alter Südfriedhof. The route takes you south through Sendling Tor and along Müllerstraße before you turn down Thalkirchner Straße to reach the entrance.
With its proximity to both tram and subway lines, getting to the cemetery is a simple task. Visitors have plenty of public transit options to choose from and Getting Around Munich is a very easy task.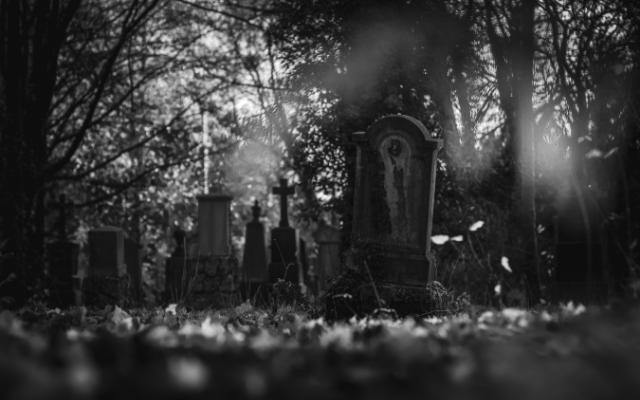 What Do We Think Of The Alter Südfriedhof
With its long and multifaceted history, the Alter Südfriedhof has become an integral part of Munich's character.
As both a burial ground and a cultural landmark, it connects the city's past and present and we always enjoy spending time amidst the weathered tombstones and memorializing those who helped shape Munich into the city it is today.
The legacy of the Alter Südfriedhof endures as a treasured place for remembrance and introspection. Why not come and check it out and find out why for yourself?
Cheers and thanks for reading!
Read more about Munich Landmarks in this article HERE.